Jimmy Carl Black
By T.E. Mattox

e played with Frank Zappa, Jimi Hendrix, the Jefferson Airplane, the Muffin Men and Howlin' Wolf. He fronted his own bands, including Jimmy Carl Black and the Blues, The Mannish Boys, Geronimo Black, the Soul Giants and the Grandmothers. As an original member of the Mothers of Invention, Jimmy Carl Black and his band mates were often considered the counter-counter culture. What hippies were to the Summer of Love, the Mothers were to the Burnt Weeny Sandwich. While the Beatles shouted they wanted to 'Hold Your Hand,' the Mothers screamed "My Guitar Wants to Kill Your Mama.' When protesters demanded an end to Viet Nam, the Mothers became the clear and present 'Voice of Cheese.' Reviewers and critics used terms like 'caustic, disemboweling' and 'brilliantly vicious' when describing their music, yet today their influence continues to impact artists, fans and musicians the world over. From Bonnie Raitt to Andy Warhol, the Mothers of Invention in some form or fashion had a profound effect on each of us.
I ran into Jimmy Carl Black in Europe back in the early 90's and when we sat down to talk, our conversation began almost 30 years before with the formation of a band called the Soul Giants. "Well, in 1964 I'd just gotten out of the Air Force at McConnell Air Force Base and I moved to California. I started playing with Roy Estrada on bass and we had a band called the Soul Giants. Probably about three or four months into the band, the singer got drafted, and Ray Collins joined the band. We had to get rid of our guitar player, because he wasn't what was really happening and Ray said he knew this guy named Frank Zappa. So Zappa came and auditioned for the band, passed the audition and a month later he took over the band and the rest is history."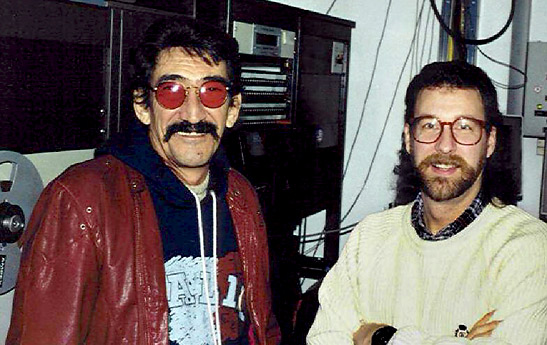 Jimmy Carl Black in the studios of Southern Europe's Best rock radio station, Z-FM. circa: 1992. Photo: Yachiyo Mattox
I'd heard the band had several different names before you settled on the Mothers of Invention? "We were actually called 'the Black Outs', 'the Bat Men', one gig we played as 'Captain Glass Pack and His Magic Mufflers', and then it was just 'the Muthers.' M-U-T-H-E-R-S."
The Mothers of Invention were originators on so many levels, both musically and visually. How did the visual and theatrical performances start? "It was just things that we did to keep from getting bored. Actually, the band was a highly-rehearsed band, I mean a lot of times people said, 'well those guy's sound real bad.' But it was meant to be that way. That was exactly the way Zappa had it planned. He wanted sometimes to sound bad. But you know, Frank's a self-taught musician, he barely got out of high school. Although he has honorary PhD degrees from a lot of the music schools in the United States. I mean, he WAS a self-taught musician….but he's a GENIUS!"
Can you tell us a little about a few of the shows from the Garrick Theater in New York? "We played six months there, it was an off, off Broadway show called, 'Absolutely Free.' Of course it wasn't absolutely free, but that was the name of the second album the Mothers did. And one night these girls had given us this giant giraffe and so we ran this tube up this giraffe's leg and underneath the tail and stuck it out. We got behind this keyboard; Zappa didn't even know we were going to do this. Myself and Ray Collins, we were bored at the time so we got about ten cans of pressurized whip cream and in the middle of 'King Kong' or one of those songs, the audience was all intense and all of a sudden we started squirtin' this whip cream right under the tail of the giraffe and sprayed the first three rows of the audience. (laughing) I think the Wall Street Journal was there reviewing the show that night and they called us, 'Hell's Angels without their bikes.'"
The Mothers played at the Fillmore West a lot. "The Fillmore West and East, we played both of them and they were great because back then they had the psychedelic light shows happening where they used the gels and were projecting them on the walls…it was just a whole feeling."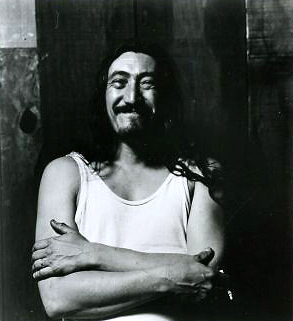 Jimmy Carl Black -
Geronimo Black publicity photo
You were friends with Bill Graham. "Bill Graham, one of the greatest guys ever in the world and it's too bad we lost him." (Graham perished in a helicopter crash in October of 1991, returning from a rock and roll show.) "I was really saddened by that. Bill Graham was a good one, a very good friend of mine."
You said the band rehearsed a lot? "The band was highly-musical, we rehearsed…when we weren't on the road, we rehearsed eight hours a day. It was a job and if you didn't go to rehearsal you didn't get paid."
How many of the Mothers albums are you on? "To date right now (1992) I think there's 26 discs that I'm on that are finally out. There's a new one out that just came out about three months ago. It's called, 'You Can't Do That on Stage - Vol.5' It's a 70-minute CD of all original Mothers of Invention (material) from live shows and it's an excellent album. Lowell George was playing with us at that time, you know the originator of Little Feat. Lowell used to be one of the Mothers, when he was a real young kid."
Do you have any favorite recordings or albums from that list? "My favorite album is 'Cruising with Ruben and the Jets,' because there's not any stops, not a lot of frog noises and stuff. And plus I like R&B and so does Zappa. Zappa's a big R&B fan and a good player of R&B."
No, No, No was also on that album… " 'No, No, No' and 'Cheap Thrills' was off of that album."
Any special memories from those sessions? "One day all of us refused to go into the studio, till Frank paid us. And so he said, 'Well, I don't care if you guys come in.' And he did 'No, No, No' and 'Cheap Thrills' that night by himself. He played all the instruments. Did a drum loop; he played the drums on it. Then he did a bass loop, I mean he did everything! All the vocals…everything himself on those two songs. It's what we get for not going into the studio."
Can you talk to us a little about 'Freak Out?' "Well, Tom Wilson (who also produced some of Bob Dylan's earliest material) worked for MGM Records and he's the one that signed the Mothers of Invention. He came in and heard us play one song and it was called, 'Trouble Coming Every Day.' It was about the Watts Riots. And he thought he was signing an R&B band. When he walked into the studio the first day and we started playing 'Hungry Freaks, Daddy' and 'Who are the Brain Police?' he didn't know what to think. It freaked him out, is what it did! And actually that's where the term, 'freak out' came from. Kids use it all the time, 'Aw he's all freaked out.' Well the Mothers started that term."
The Mothers had such an enormous impact on everyone, especially other musicians. I read that the Beatles were even fans. "I know that the Beatles did like the Mothers, I think John Lennon more than Paul McCartney." (laughing) "We did a take- off…'We're Only in It for the Money' is a take-off of the Sgt. Pepper album cover. We wore dresses for that. Aw man, I hated that! (more giggling) The dumbest thing I ever did….but not really. It was the best thing I ever did actually, for my musical career."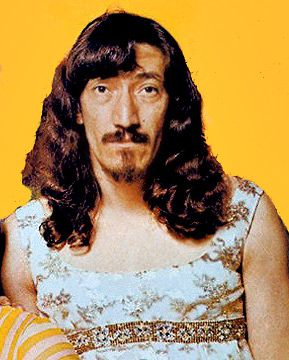 Jimmy Carl Black in drag from the Mothers album 'We're Only in It for the Money'
One of my favorite albums was Uncle Meat. "'Cruising with Ruben and the Jets' was recorded at the same time 'Uncle Meat' was. We did two albums in the studio at the same time."
Uncle Meat was a double album, that's a huge amount of material… Jimmy is nodding his head, "Oh yea, and plus they had just released 'Mother Mania.'"
Now, I'm freaked out…Man, you guys were some sort of productive… "We put out a LOT of records, in that short period of time. But 'Uncle Meat' was actually the beginning of the classical, a pretty heavy classical influence. 'Dog Breath, in the Year of the Plague' was on that album. 'King Kong' was on that album…'Sleeping in a Jar.'"
The 60's were a tremendously diverse time in American History; the British Invasion, the Summer of Love, the drug culture, Woodstock, the Viet Nam war…. "You know there was never a song on any of our albums that was against the war. He (Zappa) didn't do that. What he was singing about was social injustice in the United States; the Great Society, the Establishment is what he was mainly singing about. You know Frank is a very political guy, very political. And he's a smart guy about it. He's got good ideas about what should happen in the country. He has his own beliefs about how this government should be run…in fact he was thinking of running for President. I don't know how serious it was, but it could have never happened because of his illness. But I would have voted for him because he does have some good ideas and this country actually needs…our country needs something to happen. I just came over here (Europe) from the United States two months ago. You know, we're not in that good a shape over there. I don't really like some of the things that are happening in the cities. It's dangerous to be there. Literally, for your life, dangerous to be just about any place in the United States right now. It's too bad. And it's going out to the urban areas, little towns now, not just the big cities. I'm hoping that we get lucky here and have a good President that really wants to do something for the country."
"Jimmy Carl Black…a great guy! We met in the 60's when he was in Zappa's band. They came to Miami where I was living and we hit it off right away. Jimmy and Bunk Gardener were two of the 12 guys I knew when I came to California in '70."
- James Harman
What's your most lasting memory of the making of 200 Motels? "My birthday! Ringo gave me a party. It was the most beautiful thing I'd ever had. I mean he brought this 15-pound birthday cake in for me, 10 or 12 bottles of champagne. I mean it was a real party and for Ringo Starr to do it was the biggest thrill of my life. Because I'm an avid, avid Beatle fan, from the beginning I always have been."
Earlier you mentioned Lowell George of Little Feat. "He was a great guy. In fact he had feet about this big. (Jimmy spreads his hands about 6 inches apart) I wish they could see it. I mean he had little feet. And I told him if you ever start a band you out to call it, 'Little Feet.' But I meant f-e-e-t. And he did. (Little Feat) But he was one of the best slide guitar players that's ever been. Him and Ry Cooder, and he learned from Ry Cooder. That's who taught him how to play slide."
Speaking of talented musicians, you've played with a few in your lifetime. "People I've jammed with in the 60's… and it was just because all of us were doing it together, you know we happened to be playing together. But I've played with Hendrix, I've played with B.B. King, which was a great thrill of my life to get up and sit in with B.B. King. Chuck Berry, the Howlin' Wolf. The Mothers did some recording; I think it's on 'Bathing at Baxters' with the Jefferson Airplane. We played with Country Joe and the Fish, the Doors. I knew the Doors before their first record came out, and watched Jim Morrison get thrown out of the Whiskey A-Go-Go…for saying the 'F' word on stage. Elmer Valentine, the owner of the Whiskey came up…'you got five minutes to get off that stage and out of my club and never back in here again. Take your equipment and go,' and literally threw them out of the club for saying that word on stage. Things have changed."
Let's talk a bit about the post-Mothers… "I started a band called 'Geronimo Black' with Bunk Gardner and Denny Walley who played later on with Frank. And then I had a band called, "Big Sonny and the Lo Boys.' We were a West Texas Boogie band, like a West Texas ZZ Top band."
On that Big Sonny album there was some unusual technology. "We used a talk box, one of the first times I've ever heard a talk box used."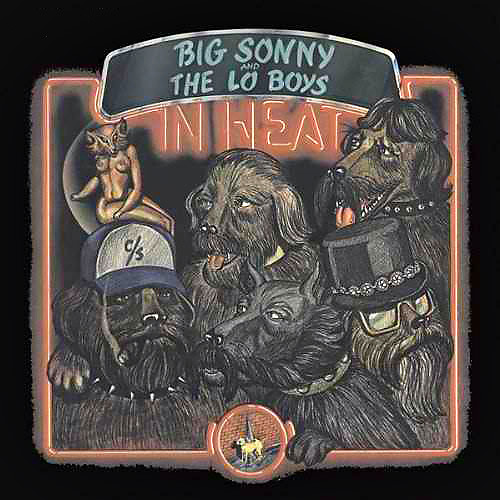 Album 'In Heat' by Big Sonny and the Lo Boys
When I picked up the Geronimo Black LP, I also noticed a name I recognized from my days in Los Angeles. He's an internationally-known harp player that most of you know as 'Icepick.' His name, of course, is James Harman and he told me in no uncertain terms, "Jimmy Carl Black was a great guy; we go back a lot further than those recordings in the 80's. We met in the 60's when he was in Zappa's band. They came to Miami where I was living and we hit it off right away, and just like Canned Heat invited me to come to California and they would help me start over… which they did. Jimmy and Bunk Gardener were two of the 12 guys I knew when I came to California in '70."
Harman's memories of that time also included other new faces and a lot of club dates and college gigs. "There was Geronimo Black, my band (Icehouse Blues Band), Black Oak Arkansas and a band from Toronto, called Bush. We were the four new bands on the scene in the LA area. For instance, we would trade off opening and headlining Fridays and Saturdays at the Irma Hotel in Van Nuys. We also played many concerts together all over SoCal, so I used to see Jimmy quite often."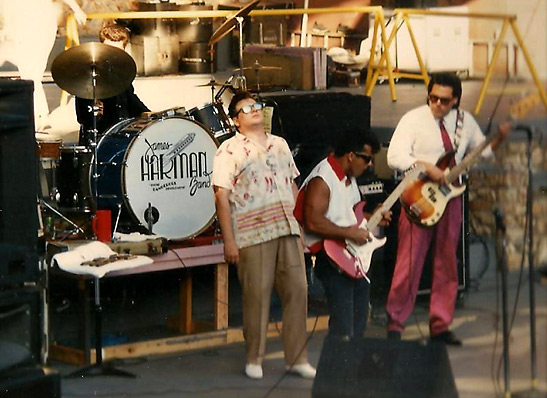 James Harman lights it up in concert. Circa: 1988. Photo: T.E. Mattox
"Much later when they decided to do the Grandmothers project they used my drummer Roger "Meatball" La Chasse, so Jimmy could sing out front. They asked me to play some harp on a couple of songs. Denny Walley had left Captain Beefheart by then and was playing guitar; Tom Leavey was playing bass, Andy Khan was playing piano/organ, Bunk and TJ were playing saxophones and damn, they had a mighty thick sound back then. We always had a good time, because we were all serious record collectors."
I did notice that your name was spelled 'Harmon' on the album jacket. "I didn't remember that my name was misspelled, but you know some minimum wage hippie chick at the label did that. Most of my old photos were stolen by my first ex-wife, so I have no physical evidence of my past." (Is it just me or is anyone else disturbed by the thought of somebody stealing ANYTHING from a guy named 'Icepick) "I know I have some of us at gigs with Geronimo Black here somewhere, but can't put my hands on them right now; I don't know what more to add, but yeah… Jimmy was a great guy. The last time I talked to him he was living in Germany I believe, and seemed happy."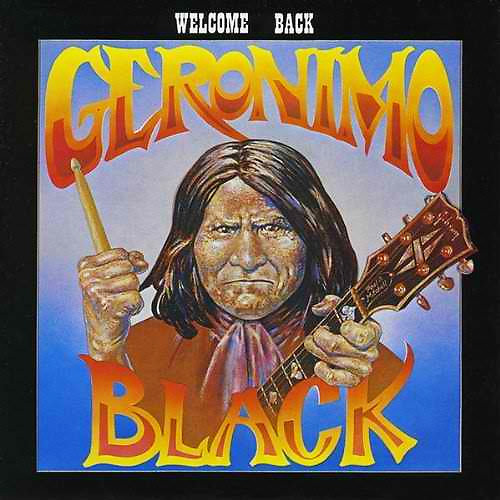 Album jacket from Geronimo Black
I'm truly amazed by the longevity of the Mothers…they still have fans around the world and their popularity remains even today though they rarely, if ever, get airtime on the radio. "I just did an interview with this fanzine magazine in Mestre (Italy) right down by Venice, called 'Debra Kadabra.' They send it out to, I don't know how many thousands of people in Italy who are big fans of the Mothers. And they've got these fanzine magazines all over the world."
Where are the rest of the Mothers now? "Most of them are in California. Don Preston, Bunk Gardner lives there. Roy Estrada lives there, Ray Collins lives there. Art Tripp is now… Doctor Tripp. He's a chiropractor maybe three miles from Beefheart in Trinidad, California. And nobody knows where Billy Mundy's at, and Motorhead…I think he's in San Jose. Motorhead is a carpenter. I just spoke to him about two weeks before I left. I haven't talked to Ian in a while. Ian Underwood's a big studio guy in L.A."
When was the last time you worked with Frank? "I did an album with Frank in 1980, called 'You Are What You Is.' I sing another country and western song called, 'Harder Than Your Husband.' It's an excellent album."
(Zappa would lose his battle with cancer in December 1993. He was 52 years old.)
Tell us a little about your latest project, the Grandmothers. "From Austin, and will hopefully be over here (Europe) before too long, on tour. We do thirty of the old Mothers of Invention songs, exactly like the record. Most people have never heard them played live because the Mothers are gone. But this band can play those songs exactly the right way. Frank would be proud of us. We do Peaches En Regalia, a lot of stuff, that's the kinda' stuff we do."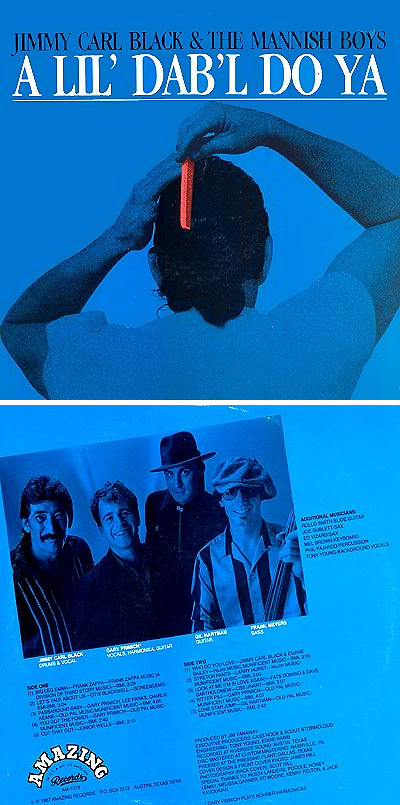 Jimmy Carl Black and the Mannish Boys album issued on Amazing Records.
Anybody I didn't ask about? "In Austin, Texas when I first moved there. I couldn't make a living playing music, there's too many musicians in Austin. So, I started painting houses. And my partner in the painting business was a guy by the name of Arthur Brown. The 'God of Hellfire' himself, was my partner in the painting business. He still lives in Austin. And we recorded an album and it's called, 'Brown, Black and Blue' Arthur Brown and Jimmy Carl Black. We released it about two and half years ago. It's an excellent album. Oh you'll like this one. What we did, is we took all the old R&B classics like 'Unchain My Heart' and 'Fever.' Howlin' Wolf songs but with Arthur's interpretation as a singer. Arthur Brown is one of the most magnificent singers that's ever walked this planet. And he still lights his head on fire! (laughing) Oh yea, the God of Hellfire, he's got one of those helmets that he still lights his head on fire when he performs. He performs with the Grandmothers, he sits in with us all the time."
What are you listening to currently? "Mainly 60's stuff…I'm sorry to say man, but I'm not real thrilled about some of the new music. You know, I don't like what they're saying in some of the words. I don't think it's healthy. I think some of these guys don't realize how much power they've got and how much power is in the words of songs that millions of kids listen to. Because those kids listen to that, and they take that seriously…I mean, let's sing about saving the planet, that's what's important. And I'm not putting it down because that's fine if that's what they want to do, that's okay. I wouldn't dare want to censor anybody's music, that's not my trip. It's just that's not my choice. I like the music of the 60's because it was for real; it was from the heart. All the music, I mean there was a lot of good music from the 60's; Jimi Hendrix, Cream, all those people were real, serious musicians."
What's next for Jimmy Carl Black? "Well, who knows about the future? I know one thing; I'm in music for the duration. And I'm going to be in Italy for a couple of years, at least…maybe longer. Jimmy Carl Black and the Blues will be playing around, come out and hear us if you want to enjoy some good music."
True to his word, Jimmy Carl Black was in music for the duration. According to his website, Jimmy passed away peacefully November 1st, 2008. He says hi to everybody and he doesn't want anybody to be sad.
It won't be easy.
Related Articles:
Lowell George; Canned Heat; BB King; Johnny Winter