John Nemeth
Doubles Down
By T.E. Mattox

ohn Nemeth is a busy guy. He and his band, the Blue Dreamers, tour constantly and rarely leave the road. But when they do it's just long enough to feed the heads of their rabid and enthusiastic fan base. Personally, I've witnessed multiple Nemeth shows in both intimate and festival settings and not once have I ever seen a patron stagger away without a face full of grin. So when word came down that a new recording was in the works, my grin got wider. "I was under pressure to get my new music out." John says. "These days you have to put something out every other year. It takes so long to do a full scale production and publicity and it takes some serious capital. So I mixed up the new music (Feelin' Freaky) and sold it only from the stage for a year. I did not advertise it or promote it. It boosted ticket sales and gave the fans a great raw in the flesh record."
So the CD 'Feelin' Freaky' that I've had in my car for the past six months has been… upgraded? "We reformatted the album," John says. "The band really wanted to change some things in the mix and make it vinyl ready. So we remixed it and put the sparkles on it. To make it ready for vinyl we had to re-master it and the result is a super Hi-Fi 180 gram platter. The original album idea did not have my name or album title on it. I loved it but the marketing folks said no way. So we redid the album art and added a lyric book including a fold out jacket with pics from the sessions."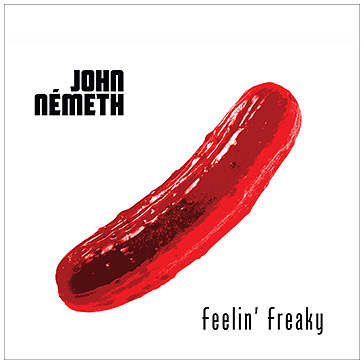 And the final consensus? "I love it!" John professes. "This has been such a long time coming and is a huge milestone in my career. 'Feelin' Freaky' (Memphis Grease Records) is an all-original album from the deepest reaches of my bag, produced by Luther Dickinson (North Mississippi Allstars, Black Crowes, Phil Lesh and The Word) and performed by the Blue Dreamers along with the grooviest staples of the Memphis Scene."
The 38th Blues Music Awards are coming up and if my math is correct you've received no less than nineteen nominations since your Best New Artist debut in 2008. Once again you're on the short list for the B.B. King Entertainer of the Year. How does that happen? "I think a lot of my entertainment style is very old school," John says. "It's very '40s and '50s driven, but I let the music do the talking. And when the songs done, then I speak. But I don't use a song to be a vehicle for just fanfare, that's not what I'm in it for. I'm in it for staying true to the song and playing it like the record. That's my gig. And that's a lot like B.B. King, so in doing that, that's how I've gotten the nomination for that kind of award."
* * * * * * * * * * * * * * *
"It's just got a funky culture about it, you know? That feel in the music is the feel of the city. It's the people; it's everything about that town."
– John Nemeth on why he loves living in Memphis
* * * * * * * * * * * * * * *
How would you describe John Nemeth's music? "John's music," he grins. "John makes up a vocal line and a melody and all of a sudden you've got something like," he breaks into song. 'If it ain't broke, don't fix it. When you got it good, don't nix it. If you take it straight, don't mix it. Don't go looking for love when you got it, if it ain't broke.' What I sing has a groove to it and I take this to the band and I say, 'band this is going to be something a little different than you've done before and I want you to play right with my groove. When you play right in my groove, then you're right in my wheelhouse. It's a common misconception that it's just the melody, but no it's the melody and the phrasing of the melody and that's what I love about all the great blues guys, that great delivery."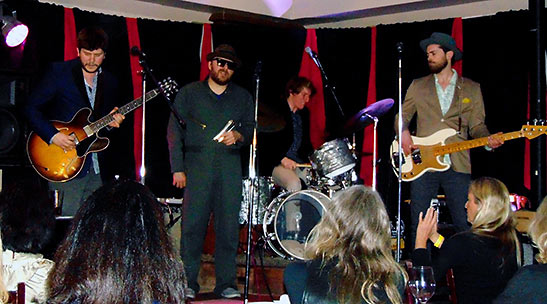 John Nemeth and the Blue Dreamers. Photo: Yachiyo Mattox
You would be hard-pressed to categorize Nemeth's music into one genre; his live shows can glide through slow blues and contemporary soul ballads only to turn, twist and torque fans into a frenzied, funky dance sweat. There seems to be no limits or restraints to the Nemeth sound. According to John, there's a perfectly good reason for that. "I started off my career in a town that didn't care what you played so long as it was good music. My first gig was actually outside of my hometown, an even deeper culture out there in the sticks. I started playing at this place called the Grubstake Saloon in Horseshoe Bend, Idaho. The guy hired me and said, 'listen I want you to play outlaw country, I want you to play Credence, Chuck Berry and whatever else.' So the 'whatever else' was blues. We learned from playing the hits to these folks and how to make your songs work like hits. I mean now the music industry is in such a bizarro place, you know? A guy like me… the music business is so conservative they just don't go that freaky like they used to. Old guys back in the day… the old guys would say, 'Wow, this is something new, have you ever heard anything like this? Well hey, we got it first, we're putting it out. What happened to that? You wonder why the music business is failing, it's because people are too afraid to try something new and fresh." John pauses, "And going fresh, means going back to the old days."
Last year I caught you at Gator by the Bay in San Diego and you were on stage with Johnny Vernazza and Roy Rogers, did you meet them in the Bay Area? "I met those guys in Idaho. I'd never even seen them play. There's a bar called the Blues Bouquet. You know I've been to a million bars in America, and I have to say the Blues Bouquet was one of the most beautiful bars in the whole United States. It had a bar that was probably one hundred and fifty feet long. I'd never seen anything like it and all mirrored out and beautiful patina on it. The bars are where it's at, I played five nights a week and these guys came through there. I used to see Johnny V with Norton Buffalo all the time. Because Norton Buffalo had a wife from Nampa, Idaho, he used to come up there all the time. How cool is that? And I remember the strangest thing, man. I'm playing harmonica out back and Norton walks out and he says, 'Hey man, how are you playing that harmonica?' And I said, 'Well, I curl my tongue and use it to block out the other holes.' And he says, 'Man, I recognize that. That's exactly how I play.' I said, 'No way!' And nobody plays like that, it's like you and me, brother." (laughing)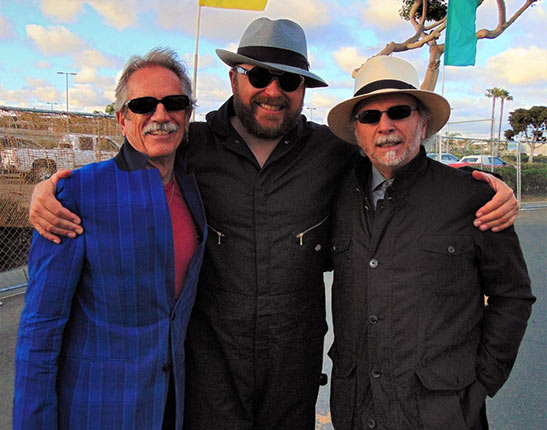 L to R: Johnny Vernazza, John Nemeth and Roy Rogers. Photo: T. Mattox
I know you haven't been playing with Roy and Johnny a lot, but when you got together on stage, it really felt and sounded like you'd been touring for months… "That is a pure creative moment up there. We talked about what we were going to play and we put the set list together right back behind the stage. You know what it is, we all listened to the real old blues…that feel, that attitude about it. We've listened to all those same cats and that has seeped into our soul."
What took you from the Bay Area to Memphis? "It just got too expensive. I had a baby girl and everything, everywhere is going up. If you're a working musician that's never had a hit, well you're never gonna' make it playin' music in the Bay Area. That's just the way it is, man. I mean, you have to have some major success to hang in there. So I told my wife that we're gonna' need to move and she says, 'Well, where are we gonna' go?' I thought for a moment and said, 'I think we should go to Memphis.' So we flew out there and checked it out for a week and if we liked it we were gonna' get a place. And we both really liked the city, it's just got a funky culture about it, you know? That feel in the music is the feel of the city. It's the people; it's everything about that town. It's why Johnny Cash still has that same element that Otis Redding has. Don't cheat the backbeat; it's very hip-driven music and every facet you can drive with your hips."
The original music you create has such a familiar feel to it, how do you approach song-writing? "Spontaneous." He says. "There's no real getting worked up to do something but I force myself to be aware of when it's time to go. Like, hey baby not today… song coming. And I get right in it. I'll get about 75 percent of the song done and then the last 25 percent, that's what takes a month or two with some serious thought about it and that's the difference.
A previous project, 'Memphis Grease' received amazing accolades from both critics and fans; you had to be happy about that. "That was a great record, man." He grins.
Can you talk a little about working with the Bo-Keys? "Well, I tell you what, working with the Bo-Keys is great! A-number One is the baddest drummer on the planet. He has been mimicked ever since, I don't know, '66, '67? He's the guy that invented the straight beat and how you can work around it. I mean you can listen to AC-DC and you hear Howard Grimes. Howard Grimes is the guy on all the Al Green music. He's the rhythm behind makin' babies. Howard Grimes is the man. When I cut the record and went out on a coast-to-coast tour with Howard Grimes, that's when I had a shift in my understanding of things… knowing that most of my music is based around Memphis. I'm a big fan of Memphis music and that whole region right there."
I gotta' ask about your fashion sense, you're the only guy I know who wears coveralls to play. It's the ultimate working man's wear. "You know the suits just kept getting tighter! Living in Memphis is difficult, when I'm off the road I have friends and family visiting and they want to eat fried chicken and bar-be-cue. And man, the best bar-be-cue in the world is in Memphis. Trust me, I've played all the bar-be-cue joints and I've eaten at the ones that don't have music and I'm a connoisseur, look at me. That's why I'm in the coveralls. These are so nice and I can sleep in these, too. They are so comfortable to sleep in, some nights I just turn the TV on and watch the Warriors play or the Grizzlies, it's beautiful." (laughing)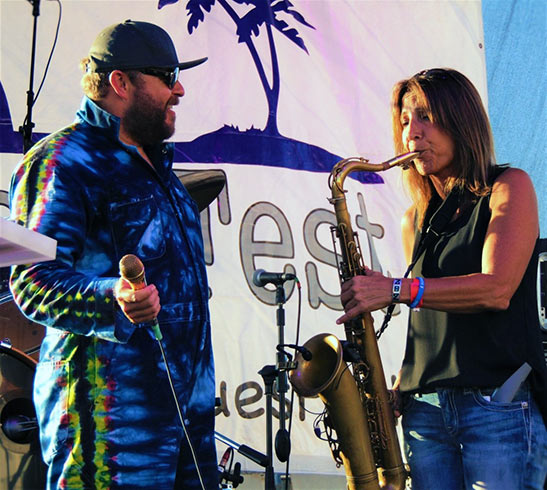 Nemeth and Deanna Bogart on Rosarito Beach, Baja Mexico 2016
You've played with so many people; let's talk about a few of your musical pals…Junior Watson. "Tell you what; Junior Watson is probably one of the greatest talents I've ever had the opportunity to work with. Junior can play anything and make anything his own. He is a master, he is a master and that's why he is loved around the world. He's a beautiful spirit and a big pain in the ass sometimes, but you got to pay a price for something in this world. Junior Watson is well worth it, he's the greatest."
Anson Funderburgh. "That was the gig where I really learned to sing the blues. I was filling in for Sam Myers because he had throat cancer. Man, it was the biggest job I ever had to fill, and I mean there's no filling it. Sam Myers had groove and wisdom beyond my years, but I thought it was really cool that Anson gave me a shot to sing with that great band. He in turn helped me out and produced my 'Magic Touch' record which was my first big record for Blind Pig. He's a great guy and he's got a wonderful family... a calm and creative cat."
Rick Estrin. "Oh man, I love Rick Estrin, I love Rick Estrin's songwriting. I love his wit and humor; I'm a big fan of Louis Jordan and Nat King Cole, that jive-style of songwriting. Rick is a master at writing great songs. I've done the 'Booty Song,' If you dig it, 'Don't Do It.' His version of 'My Last Meal,' I've done 'Dump That Chump,' and 'Smart Like Einstein.' I've done, 'I'll Take you Back,' and 'Side Stuff.' He's been a huge help for me."
Another harp master, Charlie Musselwhite. "Oh, I love Charlie Musselwhite. Talk about a guy that has the guts to re-invent his own way of playing blues harmonica and it's fabulous."
Living in Memphis, you must hear a lot of great musicians and players. "I get to go see this great guy, Earl the Pearl. He plays every Tuesday and Saturday and he has members of the Hi Rhythm Section backing him up. They're just a fabulous band and they respect him so much. And he can play the most simple, beautiful blues and he can sing so simply and beautifully and in such a groove and that's exactly what Charlie Musslewhite has too. He has that calm and guts to play some wildly, harmonically beautiful stuff. He paints a real soundscape for the audience."
Musselwhite came up during an era that featured a whole host of harp players including Paul Butterfield. "Oh, another great harmonica player, Paul Butterfield was another great guy. All those guys have rubbed off on me so much. I didn't get to work with Butterfield, but I did get to work with Elvin Bishop and that's pretty close. I don't know how many records I did with them. Elvin has a hell of a groove, Elvin can make people feel wonderful. It's a constant joy up there when Elvin is playing. Even the hardest hitting stuff has this positive energy flowing out of it and that's an amazing skill. And Elvin Bishop was a part of that sound and a part of shaping the landscape of the Seventies. Those guys had a lot to do with how people understand groove now. You know, Sam Lay and I think Jerome Arnold was the rhythm section in that band… Wow!"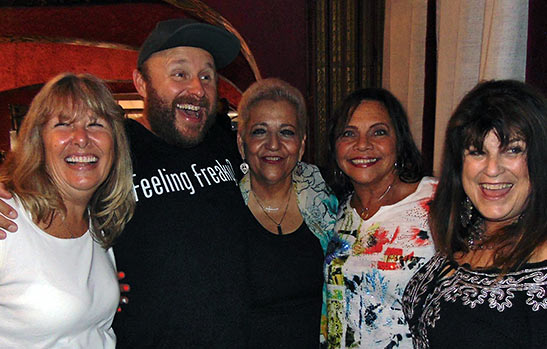 Nemeth surrounded by friends and fans. Photo: Yachiyo Mattox
Any parting wisdom you'd care to share? "Don't be afraid to have a good time and don't second guess yourself. If you have the notion to go out and listen to some good music and dance and have yourself a good time… just do it! Even if you're starting to feel a little tired, go out there and you'll feel better than you've ever felt before… or maybe in a long time. And the rest of your week will be better and better. So just get out there and see some music, hear some music, move to some music, its part of being human."
Check out John Nemeth's remixed, reformatted and remastered CD 'Feelin' Freaky' scheduled for release on May 19th this year. And for a great night of live music and entertainment peruse www.johnnemeth.com for tour dates and times near you. Rest up, 'cause you'll need it.
Related Articles:
Charlie Musselwhite… Returns to Southern California; San Diego's Mr. Natural: Billy Watson; The Blues is Like a Family (BB King); Mark Hummel and the Blues Survivors