John Mayall...
Breaking New Ground
By T.E. Mattox


've heard it said that 75 is the new 60. But if John Mayall has anything to say about it, it would probably be closer to 40. I don't know what's in this guy's water, but I could use a quart or two in my coffee mug right now. Much like that drum-beating bunny in commercials, Mayall's phenomenal energy level and unrelenting enthusiasm for his work, just keeps going and going….
Two quick stories….I arrived at the club early, so I could sit and chat with a few artists right after sound check. As I walk in the front door, there's John Mayall opening up a huge display of CD's. Being the wise-cracking, schmooze that I am, I quipped; 'Mr. Mayall, you probably could have someone give you a hand with that.' Without batting an eye, he looked at me, smiled and said, 'I'm self-employed.' Great sense of humor.
Story Number Two…. About three hours into one of the most impressive evenings of blues music I've ever experienced, the headliner, Mr. Self-Employed, steps on stage into a blinding solo spotlight. No band, no fanfare, just John Mayall and his harmonica. As he speaks into the darkness, this rowdy crowd of close to 700 that hasn't missed a round of drinks since arrival, and are wedged into every corner, table, nook and cranny of the place, take a collective, quieting breath. John begins a tale of Sonny Boy Williamson trying to teach him a particularly difficult riff on his harmonica. By the time he finishes the story and begins to play it the way Sonny Boy taught him, not even the plates from the kitchen could be heard. Just Mayall, alone with his harp in that single, white shaft of spotlight. I still get chills thinking about it.
I've mentioned many times in my ramblings, on this site and elsewhere, that I've been truly blessed to sit and talk with some of the most legendary players and musicians to walk the planet over the last 30 years or so. And for the life of me, I really can't think of anyone more generous and accommodating with his time than John Mayall. On three different occasions now, he has stopped, patiently listened and responded to questions that you know he's been asked a thousand times. I'm eternally grateful to him for that, and the fact that he dropped that pesky restraining order. Did I say that out loud?
I remembered from an earlier talk that he mentioned a Belgian musician by the name of Django Reinhardt….so that's where we started.
"Django Reinhardt was not necessarily an influence of mine," John said, "but he was the first person I heard playing jazz guitar. My father had a very large collection of 78's and a lot of that was Django. So obviously when I was a little kid that was the kind of music I was hearing as I was growing up in the 30's and 40's."
What about Blues recordings of that era?
"The earlier people I was listening to were Josh White, Teddy Bunn, Blind Lemon Jefferson, Blind Blake, there's a whole slew of them, but that was the generation of players, blues singers I was exposed to."
Growing up listening to the originators, its' little wonder why John is so readily identified with the Chicago blues explosion and that talent-rich generation of players. His relentless touring, musical associations, songwriting skills and recordings placed John squarely among his peers. It just so happened, Mayall's peers had names like Sonny Boy, Otis (Spann and Rush), John Lee, T-Bone, Muddy….. But as he reminded me, that was a different time.
"The Chicago Blues boom happened later, a thing of the 40's and 50's, really. That was the time when Sonny Boy Number #2 (Rice Miller) came to the foreground along with Little Walter, Muddy Waters and the whole Chicago Blues scene."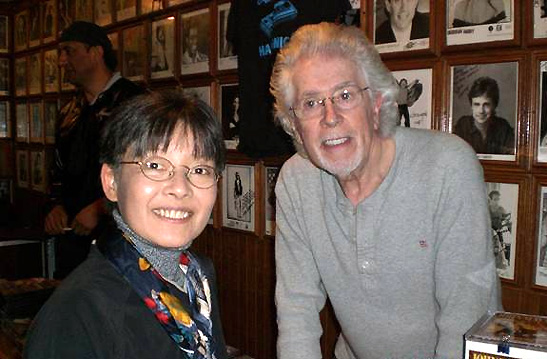 A fan greets John Mayall at the Coach House in San Juan Capistrano, CA Photo: T.E.Mattox
John Mayall has probably played, recorded and toured with more blues and jazz artists in the last fifty years, than any other musician alive today. Yet, he's very pragmatic, almost matter of fact when he recalls those days.
"They are great memories and it was a great privilege, but we didn't think it was as important at the time, as it came to be. We kind of took a lot of it for granted, but of course, anytime an American Bluesman came over to England to do a tour or a concert, I was there right at the beginning of that. In the club scene, John Lee Hooker was the first one who came over and did a club tour in England and the Bluesbreakers and myself were his backing group. That opened the gates for Sonny Boy to come over and he worked with the Yardbirds and I also did a few gigs with him. T-Bone Walker, we backed him for a month all up and down the country. Eddie Boyd…I worked with him and just about everybody who was on the scene I met one way or another; whether I saw them in concert or backstage or whatever, so it was a great grounding."
Even the greenest of blues enthusiasts know about Mayall's legacy and storied background, but what they may not have known, is that John spent 3 years in the British military, serving with the Royal Engineers during the Korean War.
"In the British Army I think you were only allowed to be there (Korea) for a total of, I think, 14 or 15 months because of the extreme winters. It took two months to get there on the boat, and two months to get back so 18 months, about half of my three years service."
If you go back in your music library to 1971, look for Mayall's 'Memories' LP. You'll get a little personal perspective of John's time in uniform with the songs, 'The Fighting Line' and 'Back from Korea.'
Another little known fact is that John spent a great deal of time in his youth photographing some of America's most legendary jazz artists.
"As a photographer, I was always backstage at the Free Trade Hall in Manchester anytime any of the jazz packages came through. That's where I met Art Blakey, Miles Davis, just everybody who came through. Duke Ellington. It's amazing really, to look back on it now, to think that most of these people are gone now. I feel very privileged that I was around at that time when they were in England or in America and I got to work with them."
Although widely know as the 'Godfather of British Blues,' Mayall is quick to credit others; like Chris Barber, Alexis Korner and Cyril Davies for laying the groundwork for the British Blues Movement. But for baby boomers the world over, it took John Mayall and a number of young English lads to, as Willie Dixon once so aptly expressed it, 'Bring it on home.'
It was John Mayall's Bluesbreakers that introduced America to some of the most prominent musicians and session players from the latter half of the 20th Century. Names like Eric Clapton, Mick Fleetwood, John McVie. Peter Green, Jack Bruce, Mick Taylor, Harvey Mandel, 'Sugarcane' Harris, Coco Montoya, Walter Trout, Red Holloway…you get the idea.
When John looks back, especially on those early days, he smiles a little. "They all were pretty young; they were teenagers at the time they were in the Bluesbreakers. It's a wonderful legacy. I'm obviously very happy with it, the way it's all turned out. At the time, when all these band selections came to be, you were a working musician you get together and hire people, who's playing you admire, and want to work with. It's all kind of casual, really."
Casual went out the window in 2003 when a few of his former band mates came back to Liverpool to play with Mayall on the occasion of his 70th birthday. In John's own words the resulting concert CD and DVD were "somewhat of a reunion. It was the regular Bluesbreakers of that time, Buddy Whittington on guitar, Hank Van Sickle on bass, Joe Yuele on drums and Tom Canning on organ. And then we added to that, Eric Clapton. He had a guest spot on it. Mick Taylor was the other notable, ex-Bluesbreaker guitar player. So the two of them and Buddy really had something going."
Something going, indeed! You can check out the critically acclaimed John Mayall and the Bluesbreakers and Friends, 70th Birthday Concert, on Eagle Records.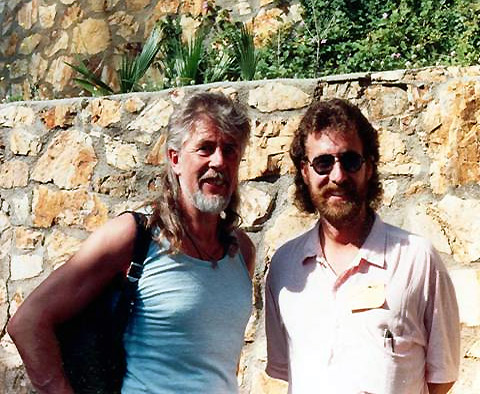 John Anson Ford Amphitheatre, Hollywood, CA circa: 1988 Photo: Joe Reiling
It has always fascinated me how the blues had to circumnavigate the globe just to make it into my headphones. Leaving the Delta South by any conveyance possible, discovered and appreciated all over the world, only to be reintroduced to America's youth years later?
John just shakes his head. "That's entirely to do with the racial situation. There was black America and white America at that time and never the two mixed. At the time when the blues and jazz was in its heyday; the 20's, 30's, 40's and 50's it was a segregated thing. A lot of the people weren't allowed to hear each other. But of course in Europe, all the jazz people from the 20's on… were booked over in Europe and treated like gods, really. So it was a mind-blowing experience for black American jazz and blues musicians to find that kind of audience.
The fact that we didn't have that on our own doorsteps, we revered the music and there came a time when the wave from traditional jazz moved to Alexis Korner and Cyril Davies who kicked off the blues movement in England.
Chris Barber is probably one of the most important trad jazz figures who helped to introduce American bluesmen to English audiences. Chris was very important, I think people tend to forget that before Alexis Korner and Cyril Davies, Chris out of his own money used to bring American bluesmen over."
(Note: Upon further research, I found Mr. Barber was also instrumental in bringing Big Bill Broonzy, Sonny Terry, Brownie McGhee, Louis Jordan, James Cotton, and many other legendary American musicians to the British Isles. Barber too, was an additional 'friend' on Mayall's 70th Birthday concert CD.)
"He was the first one to bring Muddy Waters over and it freaked English concert audiences out because Muddy plugged in to an amplifier and it scared people to death! Of course I got to see that and see Otis Spann who is one of my piano idols."
Speaking of plugged in, John Mayall is by far one of the most prolific recording artists working on the planet today. He has an amazing wealth of discography and at last count…"There's 56 original albums. I don't even know how many there are where people have repackaged things and compilations, I don't even count those. I sort of creeps up on you, the latest album we have, we recorded probably a year ago. It's our tribute to Freddie King; 'In the Palace of the King' is the title of that one."
Putting together his new band, John says he hopes to be back in the studio and have a new album ready for release sometime in the fall of '09. And what about touring? Just how long has Mayall been 'on the road?' "You figure out the math, but from 1963…. (he laughs) get out your calculator."
Doesn't the road take a toll? "No, I love it. You get to see places, and I love to play. I never play instruments at home, and never have, so it's my only chance to play."
The first time I met John, many years ago, I discovered he had master carpentry skills and actually built his own home. So I had to ask if he was still doing construction. He starts to laugh…"No, no…there comes a time when the place is finished! You can't keep knocking holes in it, once it's done, it's done, you know?" The man is also a graphic artist and designer, just look through his montage of album jackets and CD covers. But does he still use those professional skills? "Only when it's called for, usually designing album covers. Whatever comes up, really."
Personally, I'm kind of hoping he'll start working on making 80 the new 60.