Johnny Winter
A Fire Still Burns in Winter
By T.E. Mattox


ohnny Winter is the ultimate Road Warrior. He's been at it since the middle of the last century when he began working with his younger brother, Edgar. As I looked at date after date on his current tour schedule, I just shake my head and finally say, "I can't believe you're still alive!" His response is instantaneous, "Sometimes I can't either," he laughs. The man's a survivor; guess that comes naturally when you name one of your first bands, Black Plague? "Yeah, that was one of the names we had….because we all wore black." (You just know Johnny Cash was kicking himself for not thinking of it first.)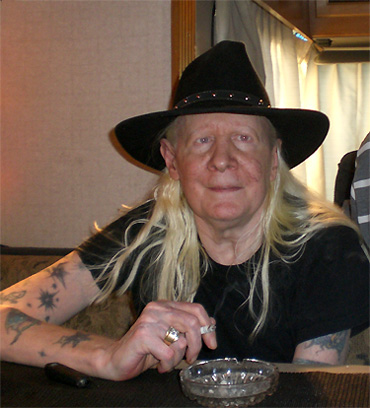 Backstage in San Diego, CA photo: Y. Mattox
The Johnny Winter Band is just finishing their East Coast-West Coast national tour prior to heading overseas for the better part of a month. It seems Winter and his blues are revered in Europe just as much, if not more than they are here at home. Johnny thinks it's because "they don't get as much of it as they do in America." But after this last nation-wide blitz, it's apparent the JWB is altering perception the old fashion way. One blues fan at a time. Johnny just smiles, "We're trying."
Humble, almost to a fault, this American icon still has the utmost respect for those who paved the blues highway, and holds fond memories of those early gigs and 'special' shows of his youth. The first that comes to mind was a place in Beaumont, Texas, called the Raven. "I didn't play there at all except with B.B. King. I sat in with B.B. and it was great, we got a standing ovation. We came in and he thought we were from the IRS, he thought we were tax people and he didn't want to let me play. (laughing) He asked to see my union card and I showed it to him and he finally decided to let me play. He said he felt like if he was in a white club and they didn't let him play that it might be because he was black, and he didn't want me to feel he wouldn't let me play because I was white, so he decided to go ahead and let me."
Considering the times, I can't imagine some of those rowdy clubs, especially down through the South. "There were some VERY rowdy ones!"
Ever fear for your life? "A lot of times! A LOT of times!" (laughing)
Willie Dixon and James 'Snooky' Pryor always talked about a club in Chicago called The Bucket 'O Blood. Ever frequent that one? "Nah, but I heard of it. (laughing) Bucket O' Blood!" (laughing)
Any place or event that you'll never forget? "I remember one place in Galveston where this gigantic guy kept asking us to play 'Midnight Hour.' We'd already played it three or four times and he said if you don't play the song again, I'm going to destroy the band stand. And he rushed the band stand and I hit him in the head with my guitar and knocked him out."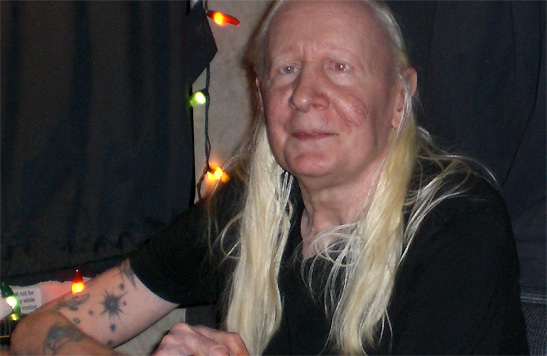 A moment of quiet before show time
Whether it was a roadhouse, bar, or club it really came down to adaptability and versatility. "Some of them were really unbelievable." And the occasional country dance. "Yeah, we played some of those. A band always had to be able to play some country (music)."
Back in those days when bands first started out, cars and U-Haul trailers became your lifeline and the next town always presented possibilities. The payoff for those long days and late nights was that 'rare and special' opportunity to get on stage and perform with other 'well-travelled' bluesmen. For Johnny Winter that made it all worthwhile. "I jammed with Freddie (King) a lot in Austin; he was a real good guitar player. He loved to jam. We had a good time and playing with the original guys was more fun. I learned a lot playing with those guys. I had a great time doing it."
Another musician that had a significant impact on Winter's career and blues education was a man he met at the Vulcan Gas Company. "It was a place in Austin, Texas on Congress Street. It used to be an old hotel." The headliner that night was McKinley Morganfield (Muddy Waters). "He was playing and we opened up for him." That booking began a relationship that would continue to strengthen and grow as the years went by, bonding both men as close as father and son.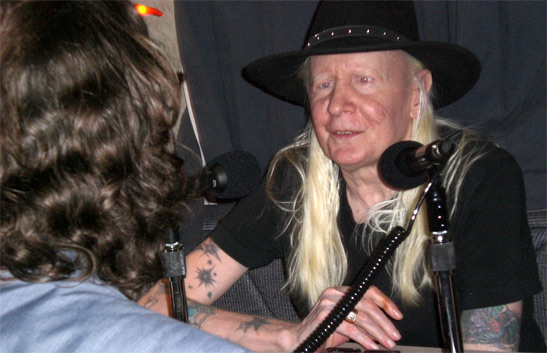 Johnny talks to the troops around the world on the American Forces Network
More than a full decade after that first meeting, Winter would return the favor by producing four critically-acclaimed and award-winning recordings for the delta bluesman. Johnny just smiles, "I loved him and he loved what I did for his career." Recording sessions that even today, remain vivid to Johnny Winter. "It was one of the high points of my life. I loved working with Muddy. He's always been an idol of mine. We did everything in just about one cut, at the most, two. It went real quick, 'cause he had good players that knew how to play blues. And it went really fast."
Good players? There's an understatement for you. On the Hard Again disc, along with Muddy and Johnny on guitar, there was 'Steady Rollin' Bob Margolin, Charles Calmese on bass, 'Pine Top' Perkins on piano, James Cotton on harp and Willie 'Big Eyes' Smith on drums. The other three Waters albums produced by Winter, I'm Ready, King Bee and Muddy 'Mississippi' Waters Live, also featured Big Walter Horton, Jimmy Rogers, Jerry Portnoy, Luther 'Guitar Junior' Johnson and Calvin Jones. Good players? Ya' think?
And for those of you that didn't get the memo, the Hard Again album got its name, "cause Muddy said this music's so good it makes my 'peepee' Hard Again."
With a studio crammed full of talent like that, was there any experimentation in the recording process? "No, he (Muddy) didn't experiment much; he just did what he was used to doing. And I pretty much knew what I was doing, I didn't have to experiment. I knew exactly what he was supposed to sound like. He said I knew his music better than he did, (laughing) but I don't think that's true."
I wouldn't want to debate that with any of my blues friends. I just know that I burned through multiple copies of every one of those vinyl treasures.
The road still beckons to Winter; after all this time and all the miles, is there anything he'd change? Regrets? "I wouldn't do heroin!"
Johnny has always been adamant about how personal the blues are to him. And he describes them as…"very emotional, expressive music, that make you feel good. It doesn't make me sad at all. Some people think blues is sad music, but it makes me very happy. And the fact that I can still do it. I'm just glad to still be around."
And when he walks off the stage for the last time, how does he hope history will remember Johnny Winter? "Just that I was a good bluesman; that I just loved to play for people and loved the blues."
Photo: Yachiyo Mattox
Lucky for us, the future holds no limits for Johnny and the band. "I just want to keep doing the same thing for as long as I can. I'll do it till I can't do it anymore." The 40th Woodstock anniversary stirred up a lot of memories for boomers of my generation and Johnny says he will never forget "the mud…. and all the people." His music highlights the newly released Woodstock Experience. Check out the extended version of 'Mean Town Blues' and the three tracks that feature his brother, Edgar. It's like a walk down memory lane, or more specifically, 'Tobacco Road.' Another newly released project that's essential to any audiophile's library, and well worth the investment, is entitled Johnny Winter 'Anthology.'
So, what can Johnny Winter fans expect in the coming year? "Some good music." Any studio time, new recordings? "We're going to try to do it in the next year. We just can't afford to get off the road." And word on the street is….there will be an autobiography on the life and times of Johnny in the not-too-distant future. One can only imagine……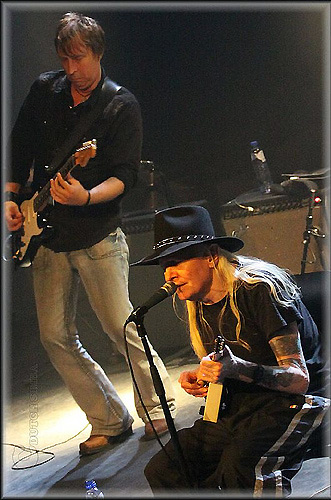 Paul Nelson and Johnny tearing it up
There is no denying the wealth of incredible new talent on the blues scene today and that includes the Johnny Winter Band. Johnny recognized Paul Nelson's gifts the first time he met him. "We were recording and he was at the studio in Stamford, Connecticut. He's a great guitar player." Again with the understatements.
As it happened, Nelson, the former Berkeley College of Music student and guitarist with the metal band, Liege Lord, was working as a session player at the Carriage House Studios in his home state of Connecticut. "I was in there doing session work for the XFL." Paul told me. (The XFL was wrestler Vince McMahon's short-lived foray into a new Football League.) "Well, I did all the music, and Johnny walked in because his session was right after that. And he heard me playing and said, 'hey you sound pretty good, I'm coming in here to do my next record, would you be interested in writing a song for me for the record, I'm looking for a slow blues?' I go, uh yeah, great!"
Long story short, he loved the first song so much he asked for two more. Nelson said Johnny then mentioned, 'you know there's some rhythm guitar parts in there, you want to play second guitar?' "Well, let me check my schedule…OF COURSE! So he goes, that's great, you know as a matter-of-fact, you should just come on the road with me. Three days later I'm in Bishopstock (Festival) in England sitting at a giant table getting ready to perform. I'm sitting next to Taj Mahal and all these blues greats, having a tuna fish sandwich. I'm thinking, this is great!"
Nelson, an overachiever in his own right, is now multi-tasking as both manager for the JWB, guitarist and on-stage incendiary to one of our few remaining living legends. As if history is repeating itself, the student has become the teacher, and Paul Nelson has an All-Access badge. "To me, it's like having the greatest guitar teacher in the world."
I, too, have learned from this truly American bluesman. For example, I bet you didn't know that in the past two years, Johnny has taken time out during his tour schedule to participate in, and be a featured part of, three different radio specials aired over the American Forces Network. And the reason you didn't know, is because he didn't make it about self-promotion or publicity. He simply did it for our men and women in uniform.
The shows included a Blues retrospective during Black History Month; another provided a real-time glimpse backstage at one of Johnny's recent Southern California appearances, expressly for our troops serving overseas and aboard U.S. Navy ships at sea. He was also the guest host for an AFN|radio Holiday Special called, 'A Rock 'N Blues Christmas' with Johnny Winter.
Being a Johnny Winter fan since my youth, our conversations have taught me one thing for certain. Referring to him as simply legendary is an understatement of massive proportions.
If you want more news and information about Johnny Winter, the JWB, or tour dates check out his website at www.johnnywinter.net
The same goes for Paul Nelson at www.paulnelsonguitar.com