The Journeyman
Plumbing the Depths with John Hammond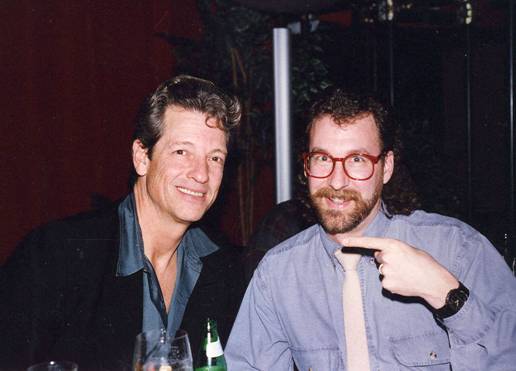 John Hammond with T.E. Mattox

he blues," according to John Hammond, "is the most honest way of looking at life. It's reality but with humor and the deepest feeling. Blues is not like sadness, blues is like...depth. Like the sky is blue, like the ocean is blue, it's forever."
A musical philosophy that John's fans embrace every time he takes the stage. His style reflects an earthiness, a richness that's steeped in blues tradition. When he speaks of the early masters, you can hear the admiration in his voice. So it really comes as no surprise to learn Hammond, like most of his blues predecessors, honed his chops on the street.
"That's where I started playing professionally. That was 1962. I played on street corners and little coffee houses, at picnics. Anywhere I could get heard. When you're starting out, you'll play for whoever will listen.
Blind Boy Fuller, a lot of the guys, Blind Willie McTell, Blind Blake, all these guys were street players and this is a tradition that goes back as far as time."
Time, as far as the Blues are concerned, started when John turned seven.
"I remember hearing Big Bill Broonzy and Josh White, Sonny Terry and Brownie McGhee. I grew up in New York City in the 1940's and 50's. In the 1950's there was a disc jockey named Alan Freed and he played a lot of R & B, blues influenced, what became rock and roll. Guys like Ray Charles, Little Richard, Bo Diddley and Chuck Berry. Gene Vincent, Jerry Lee Lewis and Elvis Presley. Those were my earliest musical discoveries...that I latched on to."
Hammond, the son of legendary record exec and talent scout John Henry Hammond, seemed intent on becoming his own bluesman, his own way. He took a giant leap in that direction in 1963 at the Newport Folk Festival.
"In the 60's that was the biggest gathering of folk artists and about the most prestigious thing. I'd been playing for about a year and I was invited to play there. It was a tremendous honor and I happened to do very well that day. It led to a lot of good things for me."
The resulting album catapulted Hammond into the national spotlight. His music features the traditional instrumentation of harmonica, guitar and vocals, yet he seems more than comfortable exploring multiple, regional styles and varied techniques in his performances. A potpourri if you will; from Texas and Mississippi country blues, some bottleneck slide, maybe a sampling of ragtime with a bit of Eastern seaboard Piedmont, John pays homage with every set he plays. It's little wonder why he became a 'bridge' between early Delta players and the then, modern-day folk performers. A bond that grows ever stronger when Hammond reflects on the originators that became mentors. There's a respect, almost a reverence, when he talks about the man known as the 'King of the Delta' players, Robert Johnson.
"Well, I would say in terms of my actually playing the guitar and playing professionally, I'd say he (Johnson) was my inspiration. I'd heard a lot of the country blues artists and I thought he was like the synthesis of all of them. He had styles of Lonnie Johnson and Blind Boy Fuller. He had obviously heard everybody and he had come up with his own style. He was just a phenomenal player."
Over a career that now approaches five decades, Hammond has recorded and performed with some of the most talented and significant musicians of the last century. His impressive body of work (I lost count after more than two dozen albums) is truly a living aural history of America's Blues. If you ask John about favorites he just smiles.
"I worked a lot of gigs with Sam Hopkins. He was a really dynamic player. I was very impressed with the fact that he was a solo artist and could put so much emotion and feeling into his playing. His voice was so powerful, he was just a mesmerizing artist."
Another bluesman that John considered larger-than-life was John Lee Hooker.
"When I first heard John Lee, I guess it was 1956. I imagined him to be probably seven feet tall and ate like whole chickens for dinner and stuff. It was a tremendous surprise when I met him and saw he was about five foot five and a really slender guy. But when he opened his mouth to sing, this incredible, incredible voice spanned the ages."
In the early 60's a blues contemporary, Michael Bloomfield, introduced Hammond to Muddy Waters as well as a couple of studio players who were working to make a name for themselves.
"I recorded twice with Michael. I made an album in 1964 called, 'So Many Roads' with Michael, Robbie Robertson, Levon Helm, Garth Hudson and Rick Danko. I met Michael the first time I went to Chicago in 1961. I was hanging out and saw a blues festival at the University of Chicago and I met him there. We just became friends immediately. We were both blues fanatics, but Michael knew ALL the guys. I mean Michael jammed with Howlin' Wolf and Muddy Waters and everybody. To meet Michael was like an introduction to the entire Chicago scene. He was a wonderful guy. He was a friendly, wonderful man and I miss him a lot."
(Gone too soon, Bloomfield was found dead in his car from a drug overdose in San Francisco, February 1981. Michael Bloomfield was just 37 years old.)
Hammond's own reputation as a bluesman was continuing to grow and it wasn't long before other musicians began to recognize his talents. John Mayall would become one such believer.
"On my first tour to England, I was fortunate enough to be on a show with him (Mayall) in South Hampton. We just, sort of, started talking. He had never heard of me and I had never heard of him. We became friends right away. He had a band at that time, that included Eric Clapton and Stevie Winwood and oh, God, just about who's who in the British rock scene. This was before they had become big stars. We sort of hung out and we did a little tour together. We got invited to do a TV show called, 'Ready, Steady, Goes Live' and they backed me up as my band. It was really phenomenal."
Hammond's musical collaborations, both then and now, have been all encompassing. Not only has he played and toured with Mayall and Clapton and recorded with Spooner Oldham and Duane Allman, but for a short period early in his career, shared the stage with a young guitarist named Jimmy.
"He called himself Jimmy James then. Unfortunately it was just about a two-week time span that I got to know him. He played with me and we put a little band together in New York at a club called Cafe A-Go-Go. It was there he was discovered and went off to England and became a big star."
It didn't take long for the rest of the world to recognize the phenomenal talents of Jimmy James, only you and I got to know him as….Hendrix, Jimi Hendrix.
The British connection also played a significant role in Hammond's 'I Can Tell' album sessions.
"The Rolling Stones were in New York. I had met them, they had come to hear me play at the Village Gate and then I went over to England. I was very good friends with Brian Jones. Brian was wanting to play harmonica on the session, but I said, 'No, I'm playing harmonica.' And Bill (Wyman) said, 'Gee, I know you don't play bass.' So Bill played the bass on it. It was a real super session. Artie Butler on the piano, Bill on the bass, Robbie Robertson on guitar, me on guitar and Charles Otis on drums."
A Grammy Award-winner, John takes great pride in his craft but places an even higher value on his friendships. And his friends run the gamut from the late Roosevelt 'Honeydripper' Sykes to legendary harmonica ace, Charlie Musselwhite.
"Charlie played the finest harmonica, and still does to this day. He's one of my idols and a great friend of mine."
The road continues to twist and turn for John Hammond. The miles have taken him from street corners to international music festivals, from roadhouses to supper clubs. But when it comes to status, nothing holds a candle to the performances at New York's prestigious Carnegie Hall.
"It is a thrill. It's one of the most beautiful theaters that there is...in the world. I mean you look up and there's five tiers of golden balcony. Your knees tremble, literally your knees tremble."
But Hammond, the journeyman, remains rooted. He's a realist who candidly admits to playing some of the lesser known venues.
"A lot of the clubs I played, where I wondered, 'what the hell I was doing there?' I really was fortunate that there wasn't holes in my head.
Always the essence of diplomacy, "I don't want to mention any names," the legendary bluesman laughs, "because I may have to play there again."