JW-Jones… Breaking the Ice
By T.E. Mattox

anadian JW-Jones is right in the middle of a North American tour of biblical proportions. Forty days and forty nights loaded with non-stop blues that has torn gapping holes through the U.S.- Canadian border. Yet, Jones can't seem to stop smiling. Along with band mates, bassist Laura Greenburg and drummer Jamie Holmes, the Ottawa guitarist is determined to prove to everyone north of the equator, JW-Jones is NOT your average, run-of-the-mill blues trio.
Jones' says his love of the blues began while still in his teens, but readily admits after seeing B.B. King play live, "It changed my life." In 2000, with renewed focus JW made his recording debut with the release of 'Defibrillatin.' Thirteen years and six albums later the current tour is in support of his latest project; appropriately entitled, 'Seventh Hour.' The bands constant travel schedule has paid dividends attracting both national and international fans and as of this writing, garnered an amazing 11 Maple Blues Award nominations. An award Jones took top honors for in 2004 as the Electric Act of the Year.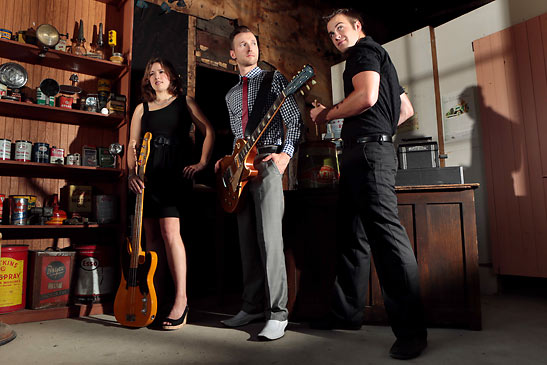 Greenburg, Jones and Holmes. Photo courtesy of JW-Jones
On the bands last night in Southern California, Jones took some time to talk about his road, his friends and the people that have helped shape his blues.
Let's talk about the diversity in your music. "I just like so many styles of blues." JW told me. "I love Kim Wilson and the Fabulous Thunderbirds and Jimmie Vaughan. You know, they're into all that swamp stuff and the Gulf blues but I also like the swingier stuff like Little Charlie and the NightCats. I love it all; I don't want to play ONLY Chicago blues, I don't want to ONLY play Texas blues… I just love it all. We try to make it all wrap up into the same kind of package where you can dance to it and have a good time."
I was a little surprised that you started as a drummer? "I started on drums when I was thirteen or fourteen. You know I was listening to Hendrix and Led Zeppelin and all that classic rock stuff (laughs) when I played drums. And then I started listening to blues and it's obviously an easy path to go from classic rock to see where they got it all from."
You've always said B.B King had a big impact on you. "Yeah, I saw him when I was 15 and it changed my life! (laughing) "I've never played with him; I've met him, and hung out with him on his tour bus a few times."
* * * * * * * * * * * * * * *
"…we did a song called, 'Howlin' with Hubert' and we got to go back and forth
and trade licks. It was amazing."
– JW-Jones on recording with Hubert Sumlin
* * * * * * * * * * * * * * *
Let's talk about the first album, specifically the title, 'Defibrillatin?' "Well, actually since my grandfather was helping me out with that one, he'd been through some heart surgeries, and I wanted to start a different theme. You know, because Albert Collins has the 'Ice' theme? And because I love his instrumentals and stuff, I wanted to start my own theme. So I started that kind of medical thing. There's 'Defibrillatin' on that one, the next one has 'Flatline.' The one after that has 'Code Blue,' the one after that has 'Parasomnia' which is me sleep-talking."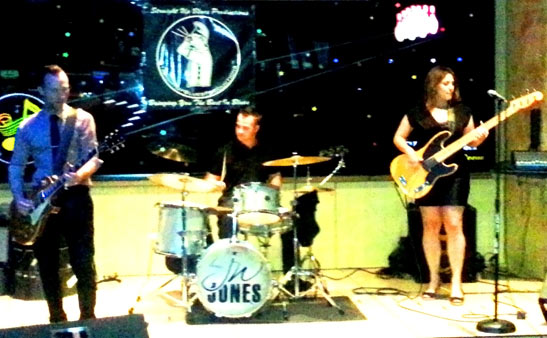 The JW-Jones band unleashing some 'Critical Care.' Photo: Yachiyo Mattox
* * * * * * * * * * * * * * *
The Maple Blues Awards (Canada's equivalent of our BMA's) have recognized you multiple times over the years…that must feel good. "Well, we won it in 2004, we've been nominated I think, 11 times. It's great to be recognized, you know?"
Looking at your discography I was surprised at the number of people you've recorded with…on 'Bogart's Bounce' you feature both Kim Wilson and Gene Taylor. What was that experience like? "Amazing! Kim's always been one of my biggest influences. Not just his singing and his musicianship but also the way he leads a band. And he's a great guy; he helped me out a lot in the beginning. Being on that album was huge. A huge foot into… it helped me get into the U.S."
You've also played with an impressive group of West Coast players, Richard Innes, Junior Watson, Little Charlie Baty, Rod Piazza and then there's a guy from down in Texas, named Anson Funderburgh? "Oh man, I met him when I was 17 years old. He brought me backstage and all my friends and we got to know each other and he was just super nice. I played with him and the Rockets. I played with Sam Myers probably for two or three weeks in a row in Dallas, Texas when I was down there once. I ended up on stage with him almost every other night. And that was a great experience too."
Talk a little about the project you're currently touring behind, 'Seventh Hour.' "'Seventh Hour' is our newest release. It's almost all original, we have two covers on there, one by Little Milton called, 'I'm Trying' and one by Roy Orbison called, 'So Long, I'm Gone.' And the difference in this one we just wanted to change it up and not have any guests on it. Just kind of do it with the touring band and it's different from you know, your typical traditional blues album. I was kind of branching out a little bit. I wanted to write songs and let them come out the way I wrote them rather than force them into sounding like a Chicago blues song or something."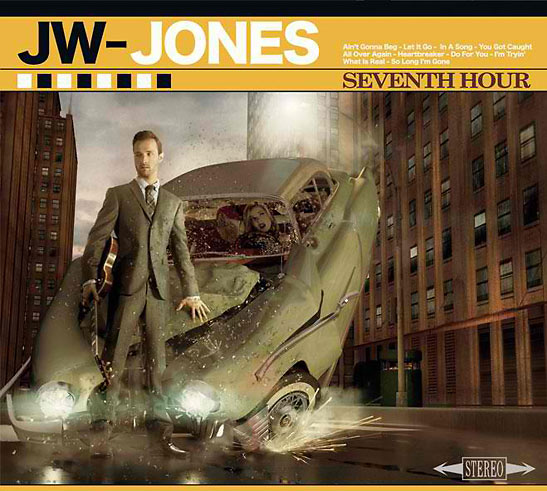 'Seventh Hour' CD (Design by Cyrus Hogg – Test Pilot Productions
Photo by Mitch Lenet – Spyglass Photo)
* * * * * * * * * * * * * * *
You added horns to create a much fuller, big band sound to your album, 'Kissing in 29 days.' You also invited another legendary musician, David 'Fathead' Newman into play. (This brings another big smile to Jones' face.) "Went down to upstate New York and recorded with him." JW says. "He cut his solos in like, ten minutes. We were done in ten minutes, so I just asked him to play it again, you know?" (laughing) "Just to record them again so we could hang out and listen to him. Man… so cool."
And we can't forget to mention fellow Canadian, Colin James. "I just ran into him this summer, actually. I was texting him the other day. He's one of my favorite singers, period… ever. I just love his voice so much and he was on a record we did, that Kim Wilson produced, called 'My Kind of Evil,' in 2004. Yeah man, a super awesome guy and a huge star in Canada."
What was it like to work with the late Hubert Sumlin? "I played with him in Saskatoon. I only played with him 'live' once, but of course he was a guest on our 'Midnight Memphis Sun' album which we recorded at Sun Studios. And on that album we did a song called, 'Howlin' with Hubert' and we got to go back and forth and trade licks. It was amazing."
That recording also featured 'Memphis' Charlie Musselwhite. "Yep, yep. He was on that same record too. A wonderful guy… I always wonder how many people catch that lyric in 'Kissing in Memphis?' I said, 'Memphis Charlie is wailin,' wailin' down the street.' And I wonder if people ever catch that?"
They will now.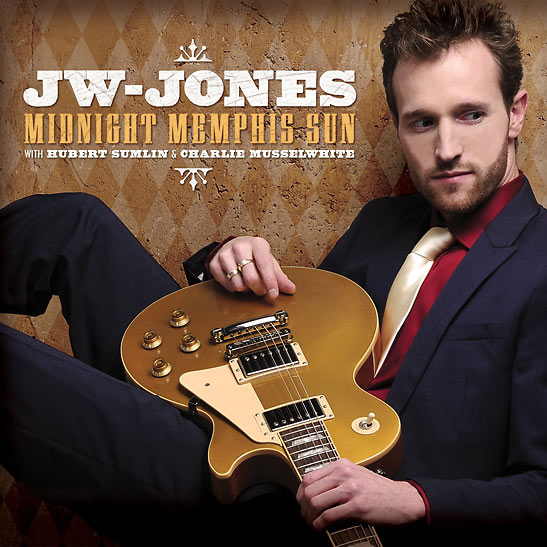 JW-Jones album cover
You played at Buddy Guy's club in Chicago…what was that experience like? "Well when we played at Buddy Guy's… he was there, in Chicago. We played 'Snatch it Back and Hold It,' in front of him, which is pretty scary. I put it on YouTube, you can catch it there."
(I jokingly note that playing a Junior Well's classic in Buddy's club takes some rather large and brassy… nerves!) "At Legend's… in front of him!" JW repeats and nods his head. "I wanted to do it. I wanted him to know how much I appreciated his influence. And after the set he said, 'It sounded really good.' And he said to me, 'I really love the way you do that B.B. King stuff.' And I said, 'Oh, I tried to do some Buddy Guy in there, too.' And he said, 'Aw, it's all B.B. and T-Bone.' I thought Jimi Hendrix might beg to differ, but he was really sweet and really nice."
You not only write and perform… but also produce? "I produced all of them except for one. The one that Kim (Wilson) produced. I don't know, I mean I really enjoyed the experience with Kim and I learned a lot. We needed that at that time, the direction, but I have pretty good ears for what I want to hear. I know what I want to hear… I don't know it's hard to explain. I know what I want and I can play with it, till I get it."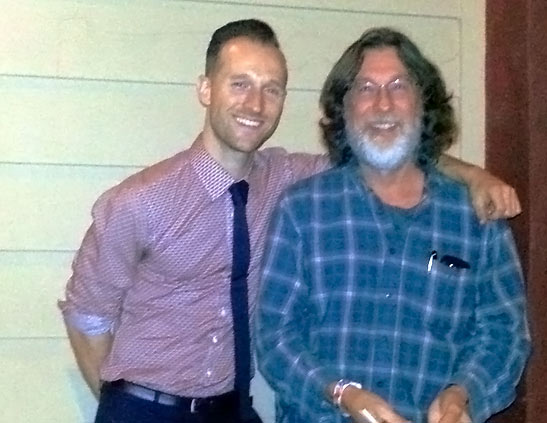 JW-Jones and a fan. Photo: Yachiyo Mattox
Little wonder your music is so diverse, considering your wealth of influences... that list is like the who's who in Blues and continues to grow. (JW is nodding his head) "I mean, all the old blues guys, of course. You know, B.B. King, T-Bone, Albert King, Albert Collins, Freddie King and the newer guys Little Charlie (Baty), Junior Watson, Anson Funderburgh, everyone I've worked with, that's been on any of the records… have been big influences." Jones adds, "I don't think I can touch any of those guys…"
I'm thinking JW-Jones fans would probably argue that point.
Last Call… A special shout out and thank you to Straight Up Blues Productions and my buddy, Art Martel for turning me on to, and sharing the blues talents of JW-Jones. It is much appreciated my friend.
Related Articles:
Rod Piazza and the Mighty Flyers; Life on the Road (with Charlie Musselwhite); BB King; Hubert, 'Big Daddy' Kinsey and 'Pinetop' Perkins; Charlie Musselwhite Returns to Southern California; On the Road with Buddy Guy