Lightnin' Malcolm:
North Mississippi Hill Country Blues
By T.E. Mattox

here is a raw and relentless style of blues that came drifting out of the hills of Northern Mississippi more than a century ago. Actually 'drifting' isn't the proper descriptive terminology. The blues that originated in that region screamed and stomped its way out of those hills and have been lovingly described by generations since as 'hypnotic,' 'possessed,' 'powerful,' 'tranced' and 'driven.' Lineups vary, but usually range from a solo guitarist pounding out time on a footboard to a guitarist-drummer tandem capable of generating the melodic tenor of machined pistons. And as far as proximity, the closest you'll ever get to a brass section is a fife or the occasional Mississippi saxophone.
Most of the originators are gone but the names are legendary; McDowell, Burnside, Hemphill, Belfour, Kimbrough, Turner and T-Model Ford. Fortunately, the present day wave of Hill Country players has a number of shining lights; Sharde Thomas, Trenton Ayers, Chris Chew, The Dickinson's; Cody and Luther, and the Burnside prodigy, Duwayne, Garry and Cedric. The list is vast, but for my money none are breaking brighter than Lightnin' Malcolm.
Constant touring and mentoring from many of the aforementioned originators, Malcolm gained some serious national attention in 2009 when playing with drummer Cedric Burnside in support of the album, '2 Man Wrecking Crew.' That same year he was nominated and won the 'Best New Artist' honors at the Blues Music Awards.
When I first ran into him at a music festival in Southern California, he was on-the-road again in support of his latest release 'Renegade.' His drummer at the time was another young player with advanced North Mississippi credentials; Junior Kimbrough's grandson, Cameron.
* * * * * * * * * * * * * * *
"….the older you get, you know what licks go straight to people's hearts,
what licks go straight to their spines and their nervous systems."
– Lightnin' Malcolm
* * * * * * * * * * * * * * *
Having just witnessed their intense hill country set, I noted how wonderfully reminiscent it was of the late, R.L. Burnside. Lightnin' immediately smiled and simply said, "He was one of my favorite inspirations. He was a great guy and we made pretty good friends. He was always very encouraging to me. I remember a couple of times when he was getting really sick and he was laying in bed and he would hold my hand. He would hold my hand, just looking at me. We didn't talk about it, but I knew what he was saying. He was saying, 'Keep this going man… keep the sound goin.' It runs very deep."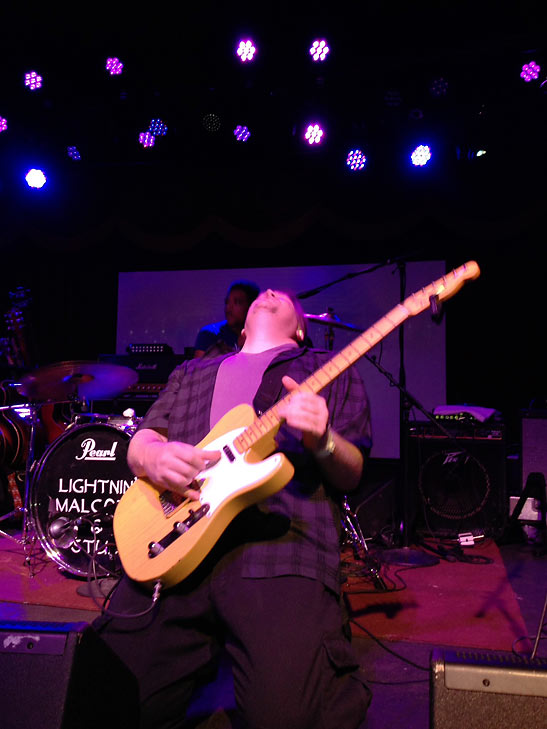 Lightnin' and 'Stud' feeling it. Photo credit: Donna Deady
If you ask Malcolm about his blues he'll tell you "I like the old fashioned music, the roots… way back to the roots. The type of blues I like is really almost ancient. You know the boogie, like the John Lee Hooker Boogie Chillen-type, just a couple of notes that's got this universal beat. You know I listen to a lot of different music too, but that's like my foundation. So I kind of mix it all together, but I try to do it in a way where it won't get watered down. It keeps the root!"
The same applies to his writing style. "I try to make everything, every song I try to write, I try to make it where the words really mean something. It can also mean different things to different people." He adds, "And I just try to make sure it's got a badass guitar riff you can dance off of, and then the rest can take care of itself."
Lightnin' is the first to admit his love for the blues runs soul deep. "It does, I mean you have to love it. As soon as I heard it, I loved it. When I was a little kid, the first thing I heard was Muddy Waters and it just stopped me in my tracks, 'Oh man, what is this?' From that day to this day, that's been my whole life."
Deeper Than the Blues
Malcolm's mindset about the music is never more apparent than when he speaks of his relationships and lifelong friendships with a number of the hill country originators. "I wanted to be around guys I could learn from and they were the best. I knew they weren't gonna' be around forever so I tried to take as much time as I could. It was genuine… It wasn't like I was gonna' make a bunch of money hangin' around those guys, but the friendship and the love of the music… and they loved me back, they saw something good in me, you know what I mean?
They would talk to me about stuff, not necessarily about guitar licks and music even, but about life. The deeper stuff, you can't really show somebody how to play it. People say, 'Man, show me how you play that song?' You already know how to play the notes, but making it come to life on the dance floor, that's a different story. To play the deep blues like that, you've got to understand some things about life. That's why the older you get, you're fingers might not move as fast but you become more effective because you know what licks go straight to people's hearts, what licks go straight to their spines and their nervous systems. It's like you can get a direct connection to people, the older I get, the more experience I get, the more gigs I play, the more songs I write, the more I learn how to do that better with actually less notes. You just find the right notes, you've got your little secret codes in this universe if you pay attention and listen with your heart, you can find 'em."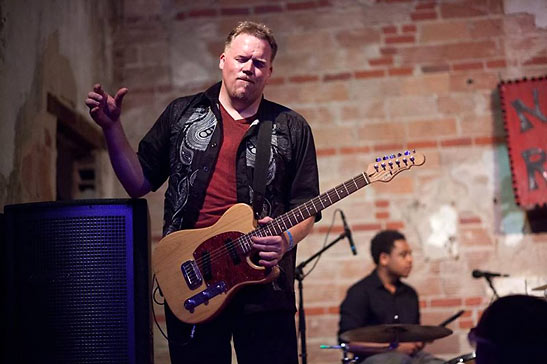 Plumbing the depths with Lightnin' and Stud. Photo credit: Neil Lardner
Lightnin' has played with multiple drummers throughout his career and is currently partnered with T-Model Ford's grandson, 'Stud.' "From the time he was like one year old until he was 7 or 8 Stud watched me playing drums with T-Model, and he would get on my lap and I'd show him how to hold drumsticks; we are so connected because of that history. You know the drums are a very, very important part of the sound. You're only as good as your drummer; I think Keith Richards might have said that. And by him watching me so many years playing with T-Model, he knows the kind of 'drive' that I like, you know? Hit just the right notes and then you get elevated and the next thing you know you're playing some licks you never thought of… it just comes out." But Lightnin' cautions, "Sometimes you can reach for it too fast, when you should just stay the groove and wait for it to come to you."
It's a real family tradition. "Yea, yea... keeping the family store open for business." He says, "I know T-Model would be extremely happy. You know me and T-Model really loved each other, we went all over the world together and had times I could never explain to people. And Stud was his favorite, he just loved Stud."
Since we first met a few years ago, Malcolm found love, got married and just recently became a father. Has it changed the way you approached your craft? "It's really upped my game." You can hear the change in his voice. "I feel like I was… It's almost like going from black and white to color. Everything I write means so much more and especially the music. I've noticed, we just recorded a new record the last few weeks and I can hear it in my licks… it's by far the best I've ever played and I know it's from the baby being born. I've got some serious things on my mind and it comes through in the medium. There's a fire in there. I know everybody always says that, but I think its way hotter."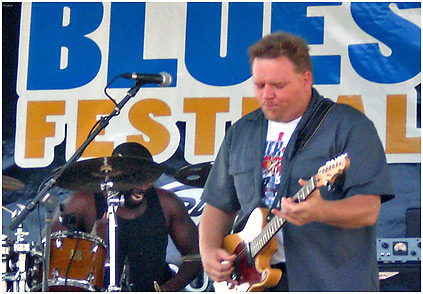 Lightnin' and Cameron Kimbrough 'in the pocket.'
Photo: Yachiyo Mattox
We talked about the impact R.L. Burnside had on you, who were some of the other players that influenced your blues? "Fred McDowell, was one of the biggest." Lightnin' says. "I didn't know him in my lifetime, but his records and stuff. I mean, there's so many, John Lee Hooker… CeDell Davis, Big Jack Johnson, Sam Carr on drums was one of my biggest influences. T-Model Ford, Robert Belfour. T-Model Ford… the way he had a huge sound on the guitar, like a Delta orchestra, when he got in the zone. Big Jack Johnson had a big influence as a person… as a man and a musician."
I confessed that CeDell Davis was one of MY favorites, playing the slide with his silverware. "Butter knife!" Lightnin' corrects me, "I lived with CeDell for awhile, man. CeDell was one of the guys that really educated me."
You're about ready to hit the road with your pals, the North Mississippi All-Stars… and Robert Plant!!! I know you've known the Dickinson's for some time, but how did you meet Robert Plant? "He came to see me play a couple of years ago, right before Stud started playing with me, when Cam was still playing. He came and saw me one time in Clarksdale and we hung out for a minute and I gave him a CD. I hoped he liked the show, but I didn't know, and he said he really dug it. And the All-Stars put out their 'World Boogie' record and they were coming to Memphis and set up a session and had a song called, 'Goat Meat' that I wrote. And I had to do the singing… with Robert Plant in the studio. He was playing harmonica, but he made me sing. Ain't that something, one of the best singers in the world in here and I gotta' do the God-damned singing." (laughing)
(As you read this the North Mississippi All Stars with Lightnin' Malcolm will be touring Europe for most of the summer in support of Robert Plant and the Sensational Space Shifters. Check your local listings for time and place.)
Malcolm admits it's a real kick to play with his All Star buddies. "It's been a good teamwork, a good all-around thing. I love playing with them guys they've got a good sound and they're well-respected in the music industry and they're good guys and lots of fun to play with. My primary job is playing the bass with them and it's more fun than playing the guitar in some ways. You can get into a groove and become like an animal sometimes, it's crazy."
I don't think a lot of people realize that you and Cedric Burnside were like the anchors on the Big Head Blues Club – 100 years of Robert Johnson sessions. "Man that was awesome." Lightnin' says, "I was like the music director. Basically you had Big Head Todd and the Monsters, the rock band and you had the old cats like Hubert and Honeyboy and I was almost like the translator. Because they kinda' spoke different languages. It was really fun for me, because I got to play a bunch of stuff on that tour that I've never hardly ever played. On my own tours, I may do a couple of R.L. Burnside or Junior Kimbrough or T-Model Ford, but not too many covers. Especially like Robert Johnson type stuff, but I do know how to play it from my teenage years. But to play it with Hubert and Honeyboy… that was the last tour of both of their lives. Within a year they were both gone, and they really went out in style. That tour, we were playing big theaters and really good towns and they had a good band and worked up the songs good and traveling on a tour bus, they were traveling in style. It was a lot of fun man.
I sat up on the tour bus, me and Honeyboy and Hubert, especially me and Hubert because he didn't sleep that much and we'd stay up all night talking and he'd tell me stories and stuff. I played some of the best guitar of my life, we'd just look at each other and he'd just smile at me and he had a way of making me feel so good about what I was doin.'"
I'm thinking that's probably the same thing Howlin' Wolf said for more than 25 years.
Your CDs 'Renegade' and 'Rough Out There' added a number of unexpected elements to the traditional hill country blues. You seemed to explore more musical genres and branched out a little. "I did a lot more; at least I wanted to anyway. I love Hank Williams, I love Bob Marley. Bob Marley is one of my favorite musicians of all time. Those last two records, especially 'Rough Out There' they're really varied and have a lot of different styles. And I think that's a good thing. Sometimes people in the business, they respond with, 'just play the hill country stomp records.' Which I do love and I could do that and it would be safer. But when you write songs and put them out there you take a chance that people may not like it, especially when you stretch out. I'm hoping people like it… but if I can be true to myself… I feel real lucky because I'm my own worst critic but I don't like to do just exactly what people expect."
Was that incentive to start your own record label? "Yeah, Shakedown Records. Guerilla warfare business at its finest."
The tour will take up most of your summer, but what can we expect in the future from Lightnin' Malcolm? "Just keep working and keep moving forward and making our music, and keeping the old sound going, too. It feels good to find a balance in the new music we write and the old music tied in… and try to make the words mean something. So we'll just keep writing and keep working…. keep growing."
Check out Lightnin' Malcolm's music at www.lightninmalcolm.com or the latest on his tour dates with The North Mississippi AllStars at www.nmallstars.com/tour-dates/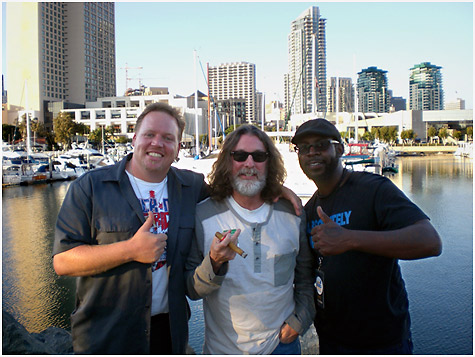 No good can come from this….. Photo: Yachiyo Mattox
Related Articles:
The Blues and Lives Well-Lived; Honeyboy Edwards; 2011 San Diego Blues Festival; Big Daddy Kinsey, Pinetop Perkins and Hubert Sumlin; 2013 San Diego Blues Festival