Ode to Little Walter
By T.E. Mattox

here is something mythical about the Blues and the men and women who generate them. More often than not an occupational hazard, especially if you happen to be a storyteller. Over decades as legends flourish, a select few artists become luminaries, but far fewer attain that rare air of 'icon' status. As technology powered through the 20th Century, the world plugged in and amplification electrified both instruments and audiences. But even with emergent electronics, one aggressive young blues musician managed to set himself octaves apart with his versatility, distinctive tone and pioneering technique. He was considered then and remains today, one of the most meteoric and innovative blues harp players to have ever walked the planet. His name was Marion Walter Jacobs. Generations since know him simply as… Little Walter.
Born in Marksville, Louisiana in May 1930, Jacobs taught himself to play the harmonica as a child and left home for the streets and clubs of New Orleans during the onset of WWII. He had yet to turn 13. There are dozens of biographical accounts, globally produced documentaries and countless articles and expose's written about this bluesman and his style of play. Yet, trying to determine where fact becomes fable or verifying personal details surrounding Walter's life and storied-career, a blues elder once told me, is like 'separating fly $&@# from pepper,' not an easy task.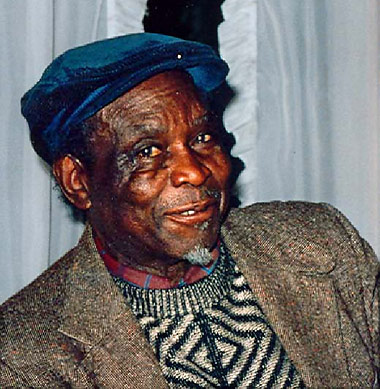 Honeyboy Edwards. Photo: Yachiyo Mattox
One unimpeachable source, at least for me, would have to be one of America's National treasures, David 'Honeyboy' Edwards. Years ago he provided insight about Little Walter and his first trip north to Chicago. "I carried Little Walter Jacobs with me in 1945, he come there with me in '45. In the winter of '45 I went back south; I was scared of the cold weather. Walter told me, he said, 'Well Honey,' he say, 'I ain't goin' back. I'm gonna' lay around and hang around here awhile.' He liked it up there. And I left. In '46 in the fall I heard Walter's records. Walter had recorded with Muddy Waters. I said, 'That boys done recorded'.....I say, 'I'm goin' back' I say, 'I'm going where I can do me somethin'. So when I come back Walter was hooked up with Muddy Waters."
Honeyboy Edwards became well-acquainted with both Little Walter Jacobs and Big Walter Horton. When asked if anyone could top Little Walter's unique tone, harp style or technique, Honeyboy just shook his head. "Can't do it. Both of them Walters' had a good tone. Little Walter had a tone that Big Walter didn't have. Little Walter had like a Louisiana style, down on the bayou music but he had his own style of playing harmonica. He had a good, full sound. Little Walter had a better, fuller sound than Big Walter had…but Big Walter played more harp than Little Walter played. You understand me? He knew more riffs. But Little Walter had the best tone."
Even from his youth, players recognized Little Walter's skills and knew he was ahead of his time, but those who knew him personally grew to realize his time wasn't long. Honeyboy was of the latter. "Walter could play that harp. The boy was good, but he lived too fast. He got down to Chicago and was makin' money. He was a nice-looking boy and had a lot of womens and a big Cadillac. It went to his head."
Fortunately for all of us, Jacobs most lasting and certainly most meaningful memorial is his bountiful treasure of recorded session work and catalogued discography. Possessing an innate ability to express both mood and emotion, Walter could move listeners from pure joy to dark desperation in twelve bars or less, leaving ears ringing from pain no doctor could cure. And the ability to do it instinctually with just the turn of a phrase, a moan, a shout or a mouth full of chrome is truly…extraordinary.
"Walter was playing with Muddy when I came to Chicago.
That's the guys I kept my eyes on"
---- Otis Rush

Now more than four decades since his passing, accolades continue to amass in recognition of Walter's musical accomplishments, innovative skills and the total mastery of his craft. In celebration of his life and music, some of the most gifted harp players performing today came together not long ago, to pay homage in a 'live' recording as a tribute to Jacobs. The project entitled 'Remembering Little Walter' was recorded December 2012 in an intimate music and dinner club called Anthology, just a block up from the San Diego Bay.
Two friends that actually knew and played with Little Walter, Charlie Musselwhite and Billy Boy Arnold personalized the evening, while James Harman, Sugar Ray Norcia and player/producer Mark Hummel brought the event to life with full blown harp virtuosity. Hummel said when they put together the playlist, "everyone picked their fave Walter tunes." A fact that became obvious to attendees, the instant each artist hit the stage.
It's said that listening to Jacobs' early recordings you hear the distinctive influence of his favorite harp players including both Sonny Boy's; John Lee and Rice Miller. But Little Walter's unique style and sound can just as easily be compared to a number of 1940's big bands and sax players of the era like Louis Jordan.
One of the most powerful moments of the night came when Hummel began to highlight elements of Walter's jazz influence. He broke out the big chromatic harmonica early in the show, launching into 'Blue Lights' then followed immediately with, 'Rocker.' Mark confided later, "'Rocker' was picked strictly for that reason at our Tuesday rehearsal."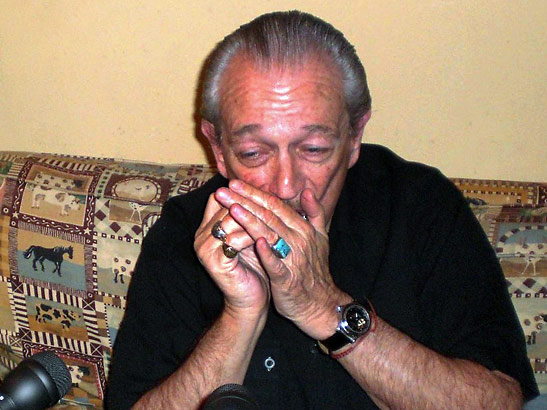 Charlie Musselwhite lays down a musical greeting backstage…
Photo: Yachiyo Mattox
The jazz feel that often riffed through Walter's music isn't lost on players today. Los Angeles-based musician, Preston Smith talked about the trendsetting Jacobs, "Yea, he's my favorite of all the blues harmonica players. Little Walter, I think was the Charlie Parker of the era. The way Jimi Hendrix was to rock guitar, Little Walter was to harmonica. When he first came out, he was the first person to really use over amplification and everybody thought it sounded like sax lines, jazzy almost…like 'Blue Lights' and all those hits he had."
One of the headlining bluesmen for the Little Walter Tribute is a true legend in his own right, Charlie Musselwhite. When Charlie first moved to Chicago and was still working outside music, he got to know a Little Walter that was much different than that of his reputation. Charlie says "I'd pass a bar that had a sign on the front of it saying, 'Little Walter, Wednesday night.' I'd see all these places, write down the addresses and be right down there at night." And since Musselwhite was in the process of establishing quite a reputation of his own, he smiles. "I was just having such a great time, I didn't give a damn. I was wild and drinking, but big enough to take care of myself. I never would back up from anybody! So right away they'd figure I was either crazy or not worth messing with." Of course, none of this seemed to matter when it was discovered Charlie played. "Walter would have me sit in and he'd often give me a ride home after the gig. He was always acting like he was looking out for me; I was a tough man, but we always got along fine."
Charlie thinks Walter's sound might have come from his environment, and began "probably with the urban influence of Chicago horn players." Walter's distinctive saxophone-like phrasing Musselwhite says, "combined with his creativity and amplification really took harmonica playing to a whole new level that hadn't been heard before."
Charlie then proceeded to stop the show with 'Just a Feeling' and 'It Ain't Right.'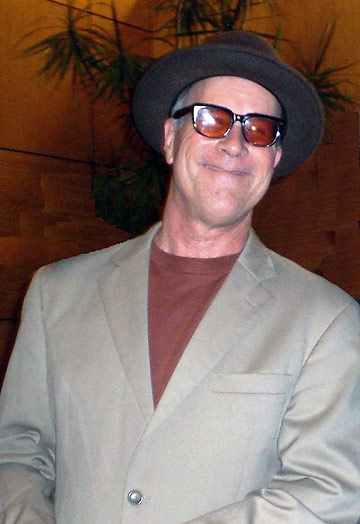 Mark Hummel, multi-tasked at the Little Walter Tribute. Photo:Yachiyo Mattox
Without question Blind Pig Records made this Tribute 'the right way' by ensuring the project was guided by a four-time, blues harp BMA nominee and Little Walter devotee, Mark Hummel. When conversations turn to the legendary Masters of the Blues Harp, Hummel says there's little doubt, "Its Little Walter…because his playing was so fluid and swung so hard. He was so inventive and such a masterful musician." Hummel, who has eighteen CD's to his credit and produces the wildly popular, West Coast Blues Harmonica Blowout Series believes, "Walter changed all the rules and raised the bar so high that nobody has yet surpassed him…" And when it comes to his music, Hummel enlightens us that Walter's iconic recordings "have become the holy grail all other harpers are still trying to aspire to."
Hummel can also be credited with putting together the house band for this special evening. The guitarists for the occasion; Little Charlie Baty formerly of Little Charlie and the NightCats and San Diego native, Nathan James who currently fronts his own band the Rhythm Scratchers. The drummer, Jun Core, came from Charlie Musselwhite's band and playing upright bass for the night was RW Grigsby who also played with Hummel's Blues Survivors and the late, Gary Primich.
* * * * * * * * * * * * *
Don't get the impression it was just harmonica players who took notes when Marion Walter Jacobs came to play. Countless blues men and women throughout the years have praised Jacobs' talent and skills and that list included Luther Tucker. Tucker played guitar on dozens of Little Walter's recording sessions and many of his biggest hits, including 'Mellow Down Easy,' 'Confessin' the Blues,' 'Crazy Mixed Up World' and 'Hate to See You Go.' When asked about Little Walter, Tucker in his usual reserved and respectful manner told me, "He was quite some character, a very…lively fellow. Outspoken sometimes, you know? A very beautiful musician. He had a beautiful talent for the harmonica. He was the best. Nobody could do it like Mr. Little Walter."
Another noted guitarist that would make his own mark in the blues talked about seeing Little Walter in the early 50's. "I heard Muddy Waters after I came to Chicago," Otis Rush said. "Muddy was the first guy I saw on the bandstand, and I said, 'well this is for me,' you know? All the guys, Howlin' Wolf…Little Walter, but it was Muddy! That's the guys I kept my eyes on. Little Walter, I began to watch him. Walter was playing with Muddy when I came to Chicago. And after I got here he broke out on his own style. 'Juke,' yea that was…that changed a lot of things." Otis is nodding his head. "Sure did, sure did!"
Back in '92 Chicago harp player Carey Bell said he remembered working with Jacobs in the late 1950's at a club called the Cadillac Baby Bar when he first got to Chicago. But it wasn't playing with the already legendary performer that intimidated Bell; his biggest worry turned out to be his birth certificate. "When I went to Chicago I was too young to get into clubs. I had to go in the back door. And I had to sneak around." When asked about Walter's reputation, Carey was quick to defend his friend, and the rumors surrounding his volatile behavior. "Nah, everybody tells the same lie!" Then, begrudgingly he gave ground. "But, I guess he was… if somebody jumped on him. Everybody have to take care of…defend their self, you know?"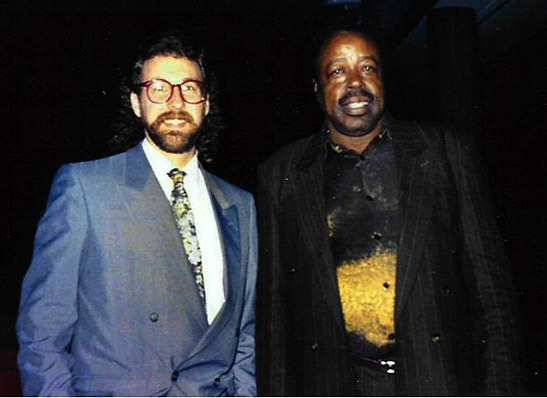 Carey Bell Harrington in Northern Italy, 1992. Photo: Yachiyo Mattox
The one thing Carey Bell had no disagreement with, and that was just how amazing and creative Walter was on the harp. Shaking his head, he said. "Yea, he was. Well, he gone now, but he still got some stuff out…that's still great stuff."
Little Walter not only impacted the music, but his playing gave his instrument, the harmonica, more credibility, increasing the respect among musicians of all genre's. According to Buddy Guy, "…until Little Walter and Muddy and them amplified that thing man, it was obsolete in the music store. You would walk into a music store before Little Walter made 'Juke,' and you say, 'how much is the harmonica?' and the guy say, 'I don't know man, give me anything to get it out the way, 'cause it's just in the way.' Because before he made 'Juke' all harmonica's was a dime and five cents."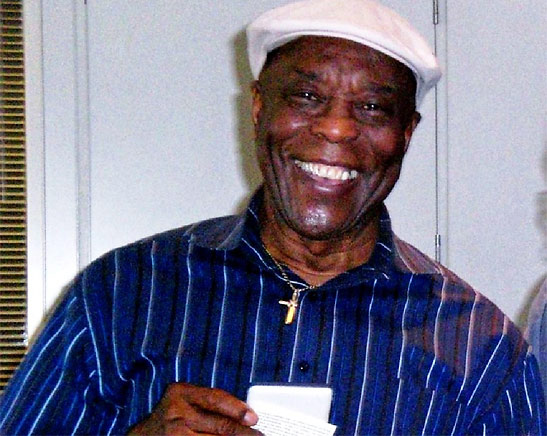 Buddy Guy in Los Angeles 2011. Photo: Yachiyo Mattox
Buddy recalled vividly, an early conversation he had with Jacobs, "Walter made a comment before he made 'Juke' he said, 'if George Washington Carver can get out a peanut, what he got out of a peanut, I can get somethin' out of this harmonica.' And he did."
That is, if he wanted to. A legendary Chicago bluesman who wrote for, and recorded with Little Walter during the most productive and successful periods of his career was Willie Dixon. Dixon knew exactly how stubborn Jacobs could be. "I had a hard time in getting Little Walter to do 'My Babe.' Two years," Dixon held up two fingers. "Two years I was trying to get him to do 'My Babe.' He didn't want to record it. He just didn't like it. But after he recorded it, and it started going over…it was his top running number."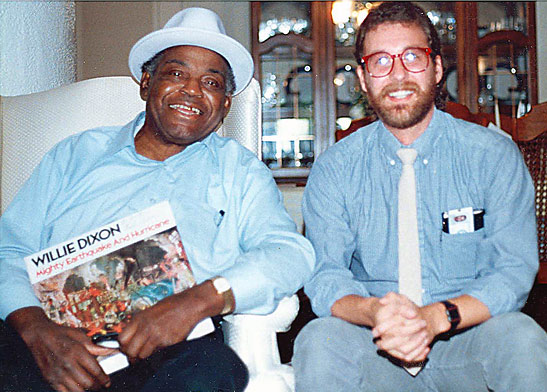 Willie Dixon at home in Glendale, CA 1987. Photo: Joe Reiling
Marion Walter Jacobs aka Little Walter, would go on to chart a string of popular R&B hits after Juke and My Babe and is to this day, considered by most to be one of the most creative amplified harp players that ever picked up the instrument. West Coast bluesman, Rod Piazza was emphatic, "Oh yea, Little Walter he was something else, man. I don't think that anybody could play the harmonica back then or now, like Little Walter could. I used to pester George Smith about him all the time you know because they had come up together back there and I think George was the second best harp player in Chicago… behind Walter. That boy just made so many great records, that I can't, I can't play enough of his songs, man."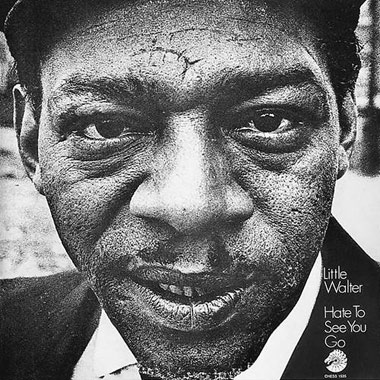 The Man, the Myth, the album cover…
As these musicians can attest, Little Walter's music is just as admired and respected today as it was when he recorded it; maybe more so. And his innovative style of play continues to influence present day players more than four decades since his passing. Like much of his life, there are still unanswered questions and speculation surrounding Jacobs' death. Whether attributed to a blood clot, too many years of drug and alcohol abuse or natural causes from a violent past, the fact remains that Little Walter's life ended in 1968 after a fight in the streets of Chicago. He was 37 years old.
Like Carey Bell said, Walter's got a lot of 'great stuff' out. If you're uncertain, any 'Essential' or 'Best Of' compilation is a good way to start. Then dig a little deeper into some of the amazing contributions Walter made to Muddy's early Chess sessions. But definitely keep an ear out for the Blind Pig 'Remembering Little Walter' Tribute CD coming this spring. It was an incredibly spontaneous 'Off the Wall' evening of blues harp that you just know Walter would have loved.
Related Articles:
Mark Hummel; Life on the Road (with Charlie Musselwhite); Rod Piazza and the Mighty Flyers; Honeyboy Edwards; Willie Dixon; Otis Rush; Buddy Guy; The Blues and Lives Well-Lived