Time Loves a Hero -
Remembering Lowell George
By T.E. Mattox


s I was poking through my garage I came across an old trunk amidst my lifetime of baggage. A dust-caked time capsule, that I had forgotten about but had planned to open, I guess, on this very day. It was filled with old analog reel-to-reel tapes, cassettes, photographs and assorted junk I have accumulated over a period of 40 years or so.
One tape immediately caught my eye. A cassette that simply said:
Lowell George (backstage) Nakano Sun Plaza, Tokyo, Japan - July 7, 1978
I had to smile, because 30 years just melted away. I was once again a young Navy Journalist on my first tour in Asia, working for Armed Forces Radio in Tokyo. And I was given the opportunity to sit down with one of my all time favorite bands, Little Feat. They were touring in support of the just released, 'Waiting for Columbus' album and were well into their fourth month when they got into town.
Prior to the show and just before they took the stage, guitarist Paul Barrere told me, "the Feat had recorded half the album in London (The Rainbow Theatre) and the rest in Washington, D.C." (George Washington Universities Lisner Auditorium). I pointed out to him that my ticket stub for tonight's show had March printed on it, but as Barrere explained, there was a perfectly good reason for that. "Lowell had been injured in a motorcycle accident and ruptured the sixth and seventh disc in his vertebrae. This caused a loss of sensation in his left hand."
I was still thinking about that as the band walked out on stage to a packed house of adoring Japanese fans. As Lowell stepped into the spotlight, wearing his trademark, white-bibbed painter's overalls, there was little doubt of his intent. He and the band had come to play and after those first, few searing slide riffs it was apparent to everyone, tonight there would be no prisoners.
"I was a live wire in a loose wig you might say." - Lowell George
After that Tokyo show in the summer of '78, I knew that Little Feat had made an indelible smudge across the back of my brain pan, and as the man said, "it's usually permanent when it takes place." The whole band seemed excited to be out on the road and especially playing for their world-wide fans. They were at their peak, riding the success of 'Waiting for Columbus' and just happy to be there. And best of all, in the words of Paul Barrere, "they were all writing and collaborating…"
With the last notes of the encore still ringing in my head, I sat down next to Lowell as he tweaked on his 9 year old guitar…."Stratocasters are like a Ford Fairlane," he told me. "You can get one in most cities of the United States. If you break it you can go get another one, right away. If you got a Ford Fairlane it starts in the morning, gets you to work and you come back again. It's not very fancy, but it works. That's what we're here for."
Bet you wished you'd been in a Ford Fairlane earlier this year…? What happened?
"I had a small accident on a Yamaha….on a motorcycle, in the dirt and crazy. Trying to have a good time and over did it. I was supposed to have some physical therapy and said what the heck and didn't do it, of course, because I'm stupid. It got out of hand. I had a couple of discs removed from my neck. Put on 20 pounds lying in a hospital. But since the operation which was four months ago, I feel much better. Anybody with back trouble, I'd suggest you have the operation. And if you need a doctor, I know a good doctor."
Rock and Roll Doctor?
"No, he's not at all. He was a tough sucker. His name's Heifetz. His uncle is…uh, (neither of us could remember Jascha's name) he has two sons, one's a brain surgeon, the other one's a concert violinist like….'Uncle' Heifetz. So this guy was no slouch. He came on like gangbusters."
Lowell did six hours on the table… "That particular operation, you have to sit up for it. They put you out and strap you in. It takes more time. In my case the guy realized that I was a musician and made a real concerted effort to revive the nerves that had stopped in my hand. Cause I couldn't play the guitar anymore. And I have to say, only when I get tense does it bother me at all. And it's mostly just minor pain in my back. I went back to work two weeks later."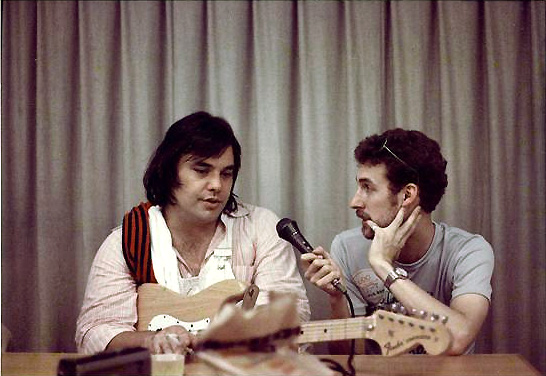 Lowell George (backstage) Nakano Sun Plaza, Tokyo, Japan - 1978 Photo: Yachiyo Mattox
For relaxation, Lowell loved to fish and his eyes lit up when he spoke of catching a 15 lb. King Salmon on a trip to Alaska.
"I live near the beach in California, and go out as often as I can. You have to sit there and there's nothing you can think about except relieving yourself of the difficulties of living in Los Angeles."
And what about the job? "The pressure of the music business you really forget about it right away, getting out there on a boat. You get all kinds of people on a party boat."
Feat bassist Kenny Gradney adds, "When we were in Florida, Lowell caught a 100 lb carp…brought it in. The only guy on the boat that caught a fish."
Lowell laughs, "I'm really into a basic kind of fishing. I do it because I grew up; my father taught me how to go hunting and you know, fishing I picked up on my own. I learned about guns at an early age." When other kids would show off… 'Here's pop's Three-Fifty-Seven magnum!' "I'd tell em, put 'em away ya' jerk, when I was nine or ten years old. When you have a lot of guns around you don't mess with them.
Fishing is the same kind of thing. Corey Wells in Three Dog Night, is a fly fisherman. He's really good. American Sportsman calls him up. And I'm into… if I catch a fish I want to eat it, or I want to know that someone is going to consume this animal. What if all of a sudden we had no electricity overnight? You go back to the basics. Man as an animal, as a creature started out as a forager and then became a hunter/forager; Omnivorous. We just got out of the caves, if you know what I mean. That really plays a part in it.
The place where I go fishing some folks have done some scuba diving in the area. They were archeologists and they found a Chumash Indian village site. About 7,000 years old with fishhooks, the same stuff these yahoos's I get out there on the boat with are doing. It's an age old thing, takes you back to the basics." He pauses and says, "I play a little guitar in my spare time, too."
Let's talk about that, when you first started who were some of your influences?
"I actually started as a flutist. Henry Mancini, I saw Peter Gunn and went ta,ta,da,da,da Hey man, Jazz! I would begin improvising rather than reading the notes. Then later on I started playing guitar when I was twenty-one. And bottle neck when I was 25."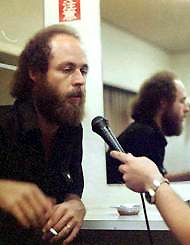 Paul Barrere of Little Feat Photo: Yachiyo Mattox
"Saxophone and flute were Lowell's primary focus during the formative years, "music is…to me the human voice is the most intricate and complex instrument used anywhere. I mean you can play the piano, Bartok back, forever and still never get into the intricacies the human voice can get into. A violin is that kind of instrument that has that kind of quality to it. The way I play guitar, I try to get that vocal quality to it. And a horn can be like that. A good horn player will bend notes a certain way. King Curtis could bend notes great. John Coltrane could play great that way, bending notes. Rahsaan Roland Kirk was the master of three instruments at once all bending notes together. He was blind; he didn't know he was doing. It just sounded good."
Tell me about the song, 'Cold, Cold, Cold.'
"That was one of the first experiments I ever had with a tape recorder. I was a live wire in a loose wig you might say, at Richie's (Hayward) house, our drummer. I had a tape recorder and a guitar and this rhythm machine. I sat down and started playing; just playing anything that came into my head. Then I took the tape and I cut it down into a form and then I put words to it. And since that time I've written a lot of songs that way. But that was the first time I ever did it."
My favorite line from the song, 'I'm down here on my knees…' Lowell smiled. I told him I could probably qualify as a groupie. Lowell nodded his head in agreement, "Me too."
Who would you follow?
"Sun Ra. Marvin Gaye, singers for instance… Stevie Wonder. I'd crawl on my hands and knees to beat on his shoes with a pair of sticks. I mean, he's as good as you can get, without getting any better. It's impossible. It'sincredible. It's really interesting too. I mean, Stevie Wonder really can cross barriers. When you have musical excellence of his caliber, it crosses all boundaries. Doing a concert in Africa, doing shows in Europe, doing shows all across the United States, I mean the guy has crossed so many barriers, because I think, there's a quality of love. A belief in honesty, sincerity, mercy, kindness, joy, happiness, God…whatever. He actually does come across with it. There are very few….Marvin Gaye, I have to say, is the same way. What he's singing about. I met him once, when he was in the middle of working on… (Lowell starts singing) Party…. He was right in the middle of doing it and I walked in and I'd never met him before and this friend of mine introduced us. He stopped what he was doing, got up and shook my hand and talked to me for fifteen minutes. He was right in the midst of it and all these people were waiting, engineers were sitting around waiting for him. I was telling him, please go back to work, go back to work. He said, no I want to talk."
Talked the talk and walked the walk, so to speak.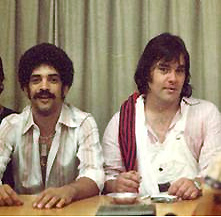 Kenny Gradney and Lowell Photo: Yachiyo Mattox
"Yeah, what he's writing about in his songs, is honesty. I try real hard to do the same thing. It's the hardest thing to do, to say…I'm like this. The Japanese have an expression, 'Gom-bah-ru.' Don't quit, do your best. Do as good as you can do. A lot of musicians will say, let's make a buck first and think about the music afterward. When in fact, if someone is really concerned about making a buck, you have to think about the long run. Financially speaking, to play what I play, the way I want to play it, so I don't get bored or too high or get off the track. Like, Jimi Hendrix was fantastic but he got too high and it got too messed up, and had no control. Janis Joplin, there's a long list of people who got messed up in a financial way that effected their music. My whole plan is to just get enough, so we're not all scrambling, or hustling gigs, as they say. We used to hustle gigs all the time, but now we're to a point where we had a real small following that built into, actually a gold album at this point, in the States. I quite honestly don't plan any of that stuff. Say you plan ahead, all of a sudden Plan A turns into Plan B. And you have no Plan C, but you jump into Plan C, you're up the creek, so-to-speak. So rather than plan everything out very carefully, we really play it by ear."
Like most Feat fans, Willin' is an anthem to me.
"I have to say I love it too, even though I did write it, it's almost like I didn't write it. When I was writing the song, people would walk through the room and say something and I'd write it down on a piece of paper. This lady walked in the room and said, 'My gosh, that chair's been warped by the rain.' And I went, 'Oh, okay...bbrrrrt and that was the beginning of it. Then somebody else came in and said something about 'weed, whites and wine' as they were walking through the room and I just started writing all the stuff down and putting it in some kind of order."

A little less than a year later, Lowell George was touring behind a solo effort entitled, 'Thanks, I'll Eat it Here.' He had performed the night of June 28th at the George Washington Lisner Auditorium in D.C. to a packed house in a show described by many fans as 'inspired' and 'energetic.' There were rumors of health issues associated with weight gain, and reports he had been experiencing chest pains and suffered from heart-related issues, but the fact remains on the morning of the June 29th, 1979 Lowell George was found dead in his Arlington, Virginia Hotel room. He was just 34 years old.
As I finish writing this article and place the cassette back into my 'time capsule,' I think I'll spend the rest of the week listening to 'Sailin' Shoes,' you know, 'let my memory drift, and do nothing at all.'
Thank you, Lowell and R.I.P.