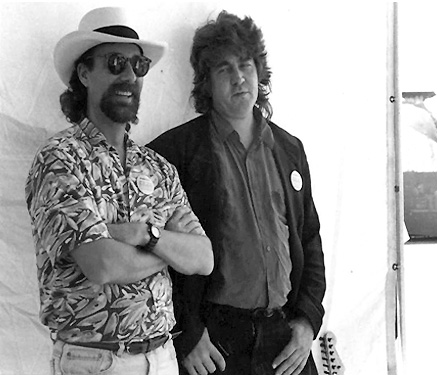 Listening to the blues with Mick Taylor - Long Beach, CA 1993.
Photo: Yachiyo Mattox
Memories of a Rock and Roller:
Mick Taylor
By T.E. Mattox


t's not everyday you run into a man who was both a Bluesbreaker with John Mayall and a Rock and Roll Hall of Fame guitarist with the Rolling Stones. But I did just that, turning around to face Mick Taylor a few years ago, backstage at the Long Beach Blues Festival. When I was finally able to wipe the idiotic 'big-fan' grin off my face, our conversation started with the legendary Sonny Boy Williamson...
"I never knew him," Mick admitted, "But I did see him play in England once…at a Folk Blues Festival."
Noting that influential players seem to have no borders or limitations, I was curious if he felt that his playing may have influenced others?
"Me, personally? I hope, well maybe. I think perhaps a few guitar players, yea. I've certainly been influenced by a lot of guitar players."
Who were you listening to when you were growing up?
"Anything and everything I could possibly buy. I mean I used to listen to jazz guitar players, Wes Montgomery. I used to listen to Charlie Christian, but mostly blues guitar players. B.B.King especially. Freddie King, Albert King. But I would say that my favorite guitar player was Jimi Hendrix."
Hendrix, as most know, moved to the United Kingdom in the mid-60's and found instant recognition from a much more progressive European audience. Not only were they more receptive to his music and flamboyant style of play but readily accepted him as the imaginative guitar virtuoso he was becoming.
"Yea, he had to go to London," Mick agreed. "He was too freaky for American audiences."
Did you ever have the opportunity to play with Jimi?
"I did. I played with him quite a few times. In fact John Mayall, who I played with at the time, used to have a tape of me and him playing together, but it got lost."
I read John's house burned years ago.
"That's how it was lost, yea."
Has it always been blues for` you?
"I used to like all kinds of music. In fact, I started playing guitar when I was about ten years old. I would say, for at least three years I just more or less learned to play songs and learned to play chords. It wasn't until I heard Chuck Berry and rhythm and blues, American rhythm and blues that I got interested in playing lead guitar. And I guess the best exponent of that in England at the time, when I was about 14, was Eric Clapton. He was the only one that could sound like that, so he was a big influence."
* * * * * * * * * * * *
"I'd like to write a book….what it was like to grow up in England in the '60's….and be a professional musician from the age of 17."
----Mick Taylor
* * * * * * * * * * * *
Tell us about your first band?
"The first real band was, I guess, John Mayall's Bluesbreakers. (Mick replaced Peter Green in the Bluesbreakers, when Green left to form Fleetwood Mac) John Mayall, myself, a drummer called Keef Hartley, John McVie and we had a horn section too…a trumpet and tenor sax. The first record I did with John was 'Crusade.' And I was with him about four years."
It was after leaving the Bluesbreakers following an American Tour, that Mick Taylor's life would change…seriously change.
"I went straight back to England and about two weeks later, I joined the Rolling Stones."
Mick Taylor had stepped out of one legendary band right into another, replacing Stones co-founder Brian Jones. How long did you play with the Stones?
"Too long!" (laughing) "No, not really. About five maybe six years, actually. I joined them in May of 1969. The first record I did with them was 'Let It Bleed.'"
So the question has to be…Can you give us a few special memories or a favorite moment from those days?
"Well, I remember the sex, I think. (laughing) No listen, we had good times. The good thing about those days was that being from England and admiring American music so much…you all say that we influenced you (British Invasion) but in actual fact we couldn't wait to get to America and hear people like B.B. King. It was great to go to places like Chicago and go to clubs on the Southside and sit in and play with those people."
Did you have many of those opportunities?
"Tours weren't like they are today. We used to stay in New York for maybe two weeks and play in the same club for a week or ten days. Then we'd go to Chicago and then we'd go somewhere else. Then probably end up in Los Angeles for three weeks, then San Francisco. We used to play at the Whiskey (A-Go-Go on Sunset in L.A.) and the Ash Grove (also in L.A.) on Melrose. I saw Taj Mahal there once."
After you left the Stones what was your follow up project?
"I formed a band with Jack Bruce. (Bluesbreakers, Manfred Mann, Cream) It was just a band and we played very well together, but it never really jelled in a kind of permanent thing."
Do ever see him or any of your band mates from those years?
"Well Jack Bruce, I actually did a show with him in Italy about a month ago. San Remo."
Have you ever felt there was a cultural difference between American and International audiences or fans?
"Well if you're doing a blues festival, they're pretty much the same everywhere. It's a pretty international thing these days. It seems to have a universal appeal. I think European audiences are a bit more civilized."
By civilized, you mean they show more appreciation for the genre? More recognition and respect for the musicians?
"They do actually, I'm not just being facetious, they do, yea."
After your work with Jack Bruce, what were you doing?
"Nothing!" (laughing) "I did quite a bit of session work, all kinds of different stuff. I did a sort of, jazz fusion group called, 'Gong.' I did stuff mostly with friends; I didn't really do a lot for about two or three years. I did work with Bob Dylan for a couple of years, from 1983 until 1984."
You worked on an album with the late Gerry Groom called, 'Once In a Blue Moon.'
"I play on it, yea. I met Gerry Groom about ten years ago in New York. He passed away unfortunately, about a year ago in a scuba diving accident in Florida. But he's a great blues singer and he plays… he's special, he was playing dobro. So I basically just play an electric guitar on the album."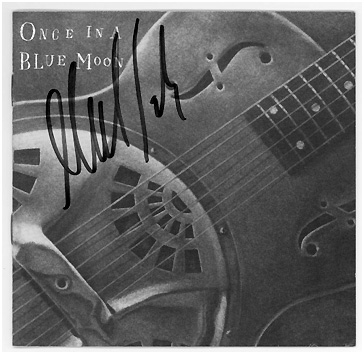 Album cover of "Once In A Blue Moon"
Do you listen to a lot of music? Radio?
"I don't listen to the radio, except for when I'm in the car. I used to listen to the radio; I used to listen to all kinds of music. A lot more than I do now. I used to be a record collector. I think the more you get into playing music and the older you get, it's not that you become less interested, it's just that you've heard so much. You get more self- absorbed, is what I'm saying."
What do you think about some of the contemporary or popular bands playing today? (Remember this was 1993) Just as an example, a band like, 'Crowded House.'
"I'm glad you picked that…I like some of the stuff they've done, they're good, yea. They're melodic, aren't they? But I like all kinds of music"
Are you a classical music fan?
"I never used to like classical music, but I do now. But it depends on what kind of mood you're in, you know? I mean, I went to a Guns N' Roses concert last year and really enjoyed it. But I wouldn't sit at home and listen to it. It was great, because I was part of the event and the atmosphere was great and they played great. In fact, they actually played better than you would think, from just listening to their records. I mean, the two guitar players did some great, great stuff together. Instrumental solos and they did an instrumental version of 'Wild Horses' and 'Lucy in the Sky with Diamonds.' It was just a great show."
Do you feel you've done your best work or is it still to come?
"Probably my most well-known work might be behind me because I'm most well-known for my period with the Rolling Stones and probably always will be, but on a musical level, no. I've done better stuff…well; I'm talking as a musician, not as a listener, I think even people interested in guitar. I've done stuff since I left the Rolling Stones that hasn't been released yet, that I'm very proud of that I'd like to release. I've got an album that's three-quarters finished and I've got a song of Bob Dylan's on it that hasn't been released yet. A song that I co-wrote with Keith Richards and the rest is just original stuff."
Do you ever run into John Mayall?
"I did when I lived in Los Angeles, but I moved to Miami about a year ago."
The road you've travelled, the body of work to date, and the life you've led, seems incredible.
"It has been interesting. I'd like to write a book about it. I'm going to do it, but it's not just going to be about the Rolling Stones. It's going to be about; I don't know…memories of a Rock and Roller, just an autobiography about what it was like to grow up in England in the 60's. During that whole scene and be involved and be a professional musician from the age of 17."
Speaking of England back in the early 60's…not long ago I spoke with John Mayall about his musical influences (Josh White, Django Rheinhardt) and the fact skiffle music was the prevalent music in Britain at the time….
"Yea, skiffle. There are always people who…there are always exceptions, you know? People sometimes say, what is it, 'people are ahead of their time.' I don't think so; most people are just behind theirs, that's all."
At the time of this conversation, Mayall had just released a new record with Buddy Guy.
"I played on that record too. On a track called, 'Wake Up Call.' It's a good record, very good. I think it's actually one of the best records he's made in a long time."
Let's go back a little, there must be something you CAN talk about concerning those earlier 'crazy' days…?
"They were never as crazy as…well, they still ARE." (laughing)
Okay then, tell me some things you did with your clothes ON. (laughing)
"Oh well, NOW you're talking! I don't know, I guess one of the musical highlights of my career up-to-date, was working with Bob Dylan for a couple of years. I was involved in making the 'Infidels' album with him. And then we sort of put a band together and toured Europe for about eight weeks in '84. They put out another album which was made up of outtakes from the 'Infidels' sessions. I really enjoyed playing with him because he's been an idol of mine since I was 14 or 15. I think his songs are brilliant, you know? He's written so many great songs."
Dylan's poetry and music definitely electrified the folk era of the 1960's.
"Well, I think he started off in the folk genre, as you put it. But I think he's created his own genre."
Are you still up for touring, you still like the road?
"I do. I do, but I don't want to play in bars for the rest of my life. That sounds…let me put it another way. I want to play in places where people come to hear music, not where they just come to drink and have a good time. I mean there's a place for that, too. It's all down to me sort of making a record, because I haven't done that for a long time, so we'll see what happens."
If you can, tell us a little about your latest project, the Mick Taylor Band. Who's playing with you?
"I have another guitar player who plays with Bruce Springsteen. His name is Shane Fontayne (formerly with Lone Justice). A bass player called Wilbur Bascomb, from New York who's played with B.B. King. And a drummer called Bernard Purdie who used to play with King Curtis and Aretha Franklin. And a keyboard player from England who's name is Max Middleton. Very good musicians."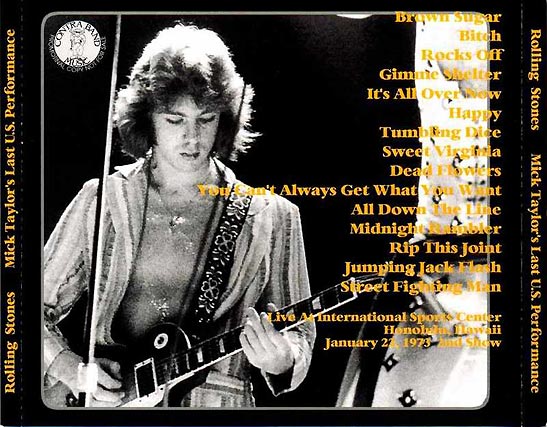 During our conversation, John Hammond Jr. was onstage performing and I was curious if Mick had ever met him?
"Yea, I've met him before; I met his father once too. His father was the one who actually discovered Robert Johnson." (John Hammond, Sr. is also credited with discovering Benny Goodman, Count Basie, Billie Holiday, Bessie Smith, Aretha Franklin, Pete Seeger, Bruce Springsteen…and of course, Bob Dylan).
"In fact, that's where I met his father, backstage at a Dylan concert. And John's (John Jr.) great, actually. When you think about it, it's interesting really. Because blues music is more and more popular than it's ever been…like internationally. There are blues festivals all over the world and yet the classic blues artist, like from Chicago, people like Muddy Waters, Albert King are all dying off. But I think there's a whole new generation of people growing up, taking their place. I don't think you can really say it's an exclusively American black music anymore, you know what I mean, though? I mean, Christ, Eric Clapton is great blues player. There are festivals all over the world and there's more every year."
The fact that Mick Taylor is still touring today gives blues and rock and roll fans an opportunity like none other. You should never pass up the chance to catch him live. The guy loves what he does and you get the feeling it wouldn't make any difference if he was booked into a festival or playing on a street corner. And he gladly admits, "I enjoy playing in big places and small places….I'll play anywhere really."
As we shook hands and I told him how much I appreciated his taking the time, it dawned on me that for Mick Taylor, it wasn't about the fame, the money, the women or the bands; it was simply about the music.
Okay, I'm not even buying that….It was the MUSIC and SOME of the women.
How about....the MUSIC, some of the women and a modest pile of money…….!!??