Double Trouble with Otis Rush
By T.E. Mattox

he good news: I was given the opportunity to interview the legendary Chicago bluesman, Otis Rush. Even better news: I had to pick him up at Los Angeles International Airport, do the interview in route and deliver him to his hotel. Obviously, I would need a blues accomplice that would willingly face the 405 freeway during 'Rush' hour traffic, then careen into and out of LAX at a peak time, just for the privilege of cruising with Otis Rush. I made one call to long-time blues friend and renowned L.A. musician; Preston Smith.
Little did Mr. Rush realize as he deplaned the relative security of his 707, that he was about to come face to face with real 'Double Trouble.' The commute from the airport to his hotel would include a pair of inquisitive blues freaks that wanted to grill him on every historical detail of his storied career. Although seemingly resigned to the fact, I'm pretty sure he began experiencing a few reservations, and almost certainly imagined a number of 'bluesman abducted' scenarios, as he haltingly approached Preston's vintage soccer mom van. After words of encouragement and reassurance, Pres hit the gas and appropriately, blue smoke poured from our 'limo.' I turned toward the strapped-in blues legend and hit my record button.
Born in Philadelphia, Mississippi, was your family musical? "My uncle was into music." Otis said. "It wasn't planned, just played around the house, you know? That was enough for me. My brother's all had guitars, but they didn't play."
I was surprised to learn you started with harmonica first. "I did start with harmonica first." Why the change? "Well the guitar was laying over there and I got the harmonica in my hand. So I want to try the guitar, right? I wasn't doing too great with the harmonica." (laughing)
Too much competition? "Not at that time. There wasn't no Little Walter and stuff like that. I never heard the Howlin' Wolf blow the harmonica, I never heard Junior Wells. It was just me."
Do you remember when you first heard blues? "Well I listened to the radio all the time. I listened to Western music, you know country music. Eddy Arnold…and the bluegrass boys and all those guys. Aw man, I listened to all of them."
"Well, I remember crawling on my stomach like a snake trying to keep from gettin' shot, up in there." (laughing) "I remember that!"
---- Otis Rush on bar crawling in Chicago
Who do you think influenced you most in your style of play today? "Well I heard John Lee Hooker, see? Then I heard Muddy Waters after I came to Chicago. Muddy was the first guy I saw on the bandstand, and I said, 'well this is for me', you know? And they were sounding very good and I felt like I had to do the same thing…to get me going."
Any others? "All the guys, Howlin' Wolf…Little Walter. That was after I arrived in Chicago. Chicago was uh… I was really excited, you know? Because I had heard these guys on stage and I said well I gotta' do something. I was working a day job and I quit the day job to make $5 a night. But like I said it was Muddy! That's the guys I kept my eyes on. Little Walter, I began to watch him, Willie Mabon, Willie Dixon."
What kind of work were you doing outside of music? "Oh, I was working at a steel mill, packing house, different places to pay that rent." (laughing)
Your style of play and association with Cobra label mates is often referred to as Chicago's 'West Side Sound.' "The public came up with this, not me. You know they had the West Side, South Side and North Side. They started naming it Chicago Blues. I don't know, Chicago Blues, San Francisco, Los Angeles, New York who cares… its Blues, you know? I helped some of the guys get started, like Magic Sam. Magic Sam and Buddy Guy... and like I said, Junior (Wells) was already out there. There's a lot of guys I helped man, I don't know, I don't know their names."
Let's talk a little about the clubs of Chicago. Do you remember your first? "It was at 2711 So. Wentworth, Club Alibi. That was where I got my first start. $5 a night." (laughing)
I remember a story Charlie Musselwhite once told me about bumping into you at a rowdy night spot called the I Spy Lounge. You knew that place, right? "Yea, yea, yea, I do! Well, I remember crawling on my stomach like a snake trying to keep from gettin' shot, up in there." (laughing) "I remember that!"
After hearing Musselwhite's stories about patrons carrying butcher knives, meat cleavers, and the ever popular 'hogleg' hidden under shirts or tucked into waist bands, it didn't come as a huge surprise when he said he too had 'run into' Otis while on hands and knees as they both scampered for the exit. Charlie further relayed that Otis had told him, the I Spy was probably the roughest club in Chicago, and if Otis thought that, then it was probably true.
Otis is nodding and with a huge smile across his face, starts to laugh again. "It were rough! Me and my bass player met each other, you know the bar was round…and I'm crawling on the floor trying to get to the front door. And who do I meet but him." (laughing) "On the floor!" (laughing) "Yeah, they was shootin' up in there so we was trying to get out."
You must know Charlie pretty well. Otis is still smiling and nods. "Charlie is a swell dude. Really swell."
You started as a solo performer. "I've always had my own band. I've always played lead, but I've always had my own group." And Rush's bands have always featured stellar musicians. "At some point I had Fred Below, you know the drummer? Louis Myers, Dave Myers. Junior Wells played with me. A lot of other guys, man."
Looking at some of your recordings, you've always seemed to feature some pretty talented guests. Duane Allman for one. "Yea, he was a guitarist on this, (Mourning in the Morning) he was playing second guitar. Luther Tucker was on some of my albums…and shows, you know?"
How did you come to know Duane Allman? "That was through Nick Gravenites, Nick and Mike Bloomfield." They produced that album. "Yes, so they had them all set up and waiting for me."
Could you tell us a little about your first recording session at Chess? "I remember it was me, Willie (Dixon) I think Brother Montgomery on piano sometime, Leake sometime. Leake… Lafayette, you know? Different people. That was in the '60's at Chess. In the beginning who I recorded for was Cobra, that's the old stuff, that's who I started out with in the very beginning, then Chess, then Duke."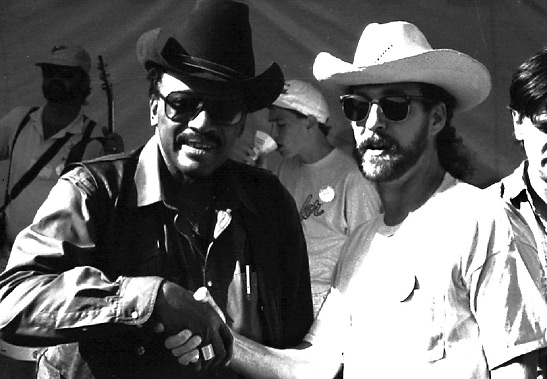 Otis Rush, backstage at the 1990 Long Beach Blues Festival. Photo: Mike Meadows
I read that you've been credited for playing some of the first electric bass. "Well, me and Willie D. Warrens. We brought electric bass to Chicago. See they didn't have it up there; they didn't have no electric bass. Muddy Waters and them was using second guitar, just for bass. Me and Willie D. Warren's was the one's that got the bass going. We ran our strings down, the bass strings, giving it a bass sound, different from the guitar tuning. We ran it down and we was the hottest thing in Chicago. Musicians… Stars was coming by to see where we was getting this sound from. Say, 'you got two guitars up there, how you do this?' So, about 6 months later everybody had it. They didn't ask where it come from, they just started playing it."
Seems to me you should've received a little more credit for it. "They was in a hurry man, (laughing) It's true. Some of them say, 'Otis, how'd you get this sound?' Some of them ask my bass player. But true, all of them in a hurry."
Rush's music has been recorded by a host of players and musicians; Zeppelin, Mayall, Clapton to mention just a few and almost every rock and roll guitarist in the past half century credits Rush as an influence. That includes Clapton, Page, Beck, Santana… That must make you feel good. "Well it makes me feel real nice. But I've got a lot of ground to cover, yet. A lot of work to do."
Can you talk a little about touring and life on the road. "I've been here, home, back, in and out, you know? The only time I do three or four weeks, or a month is when I go to Europe or Japan."
Let me ask you about some of your blues playing peers and you tell me what comes to mind.
Muddy. "Well, Muddy…I didn't go to his house, I just knew him from the stage and from going to the clubs and he'd come by where I play sometimes, that's it. I didn't know him too well, but they was nice peoples."
James Cotton. "I knew James before he got with Muddy, before he started playing with Muddy. Yea, he was trying to get a gig. Otis Spann, too. Yea, we used to go to clubs together, trying to get gigs. Muddy hired a harmonica player, then he wanted a keyboard and Spann was there."
Little Walter. "Walter was playing with Muddy when I came to Chicago. And after I got here he broke out on his own style. 'Juke', yea, that was… That changed a lot of things? Sure did, sure did!"
George 'Harmonica' Smith. "We started out together. He was tough man, you know? He was great on the harmonica, nice dude and he moved out to Los Angeles. He could blow, man."
Willie Dixon. "Well, Willie sort of helped me get started with Cobra. Before I recorded the first record I didn't know Willie too well, we just played at the 708 Club. Him and Eli come by and asked, 'did I want to record?' I said, 'Yes!' you know? Imagine me, hearing myself, playing back a record on me! It was really exciting, the first record."
John Lee Hooker. "Well I knew him from records in the South. I met him after I got to Chicago. At different places, out here in Los Angeles, I met him at the San Francisco Festival. We played on the same show in Chicago for a week. Albert King for a week. Little Milton for a week. We all goes the same route. It's the blues, right? If I don't see the guys on this show, maybe the next show we'll meet up. If not, two or three shows later. When we're out of town we'll meet up. Some of us, then the other's going the other way."
How about some of the earlier guys, Robert Johnson or Johnny Shines? "They're great musicians, you know? I can't take anything away from Robert or Johnny, they're all great musicians. Make that known, I love all the guys. And we're all trying to do something for the blues."
Anybody I didn't mention? "I think you mentioned them ALL!" (laughing) "There's lots more but I can't think of them. You got Buddy Guy, Jimmy Johnson, they're great guitarist's man, great vocalist's. Little Jimmy Johnson up there in Chicago."
What is it about the blues that seems to take people so early? "I don't know, man. It's just life. You know, life? I feature the blues but I play some of the other stuff too. And I love it, I love it all."
What are the blues to Otis Rush? "Trouble! Troubles!" (laughter) "Double Troubles! Double troubles, believe me the blues…if you get 'em right, you got the Blues! They come from that woman, and financially… Needs…and you know, Love."
The show that night at the Music Machine on Pico in West L.A. was unforgettable. And when he broke into 'Double Trouble,' I just had to smile when he sang the line, 'Bad Luck and Trouble has taken me…'
If you want to hear Otis Rush at his best, I'd recommend 'The Essential Otis Rush' for his early work with Willie Dixon at Cobra.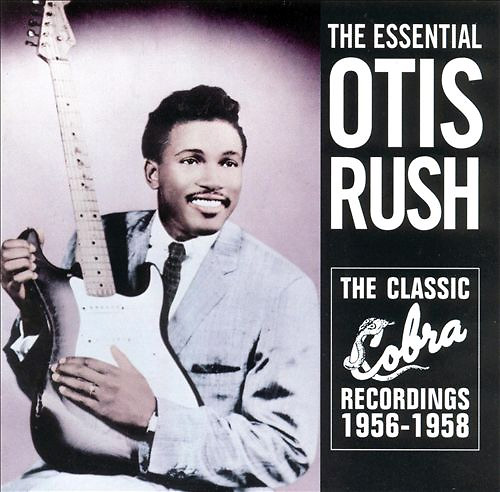 Then follow his timeline into the 1970's with 'Right Place, Wrong Time.' His sessions with guitarist/producer John Porter and pianist, Bill Paine of Little Feat in the 90's culminated in one of my favorites, 'Ain't Enough Comin' In.' And then there's Rush's 'Any Place I'm Going' which won the Grammy for Best Traditional Blues Album/Recording in 1998. Enjoy.
Related Articles:
Blues Storytellers, Buddy Guy, Preston Smith, John Mayall, BB King, Pinetop Perkins, Honeyboy Edwards, Willie Dixon, Charlie Musselwhite