Phil Gates Plays it Forward
By T.E. Mattox

ran into Phil Gates at the San Diego Blues Festival this year, and liked him immediately. I think it was because I knew he could very well have been on stage that day, but instead had chosen to kick back, enjoy the sunshine and relish in the performances of his friends, peers and fellow blues musicians. Over the years it's been my experience that most artists have a genuine respect and a mutual appreciation of other player's abilities and talents. And in itself, it's really not that unusual or uncommon in the blues community. But witnessing it firsthand gave me a lot more insight into Phil Gates the person, the blues fan and the artist.
Immediately after Lucky Peterson and friends finished hammering us non-stop about the head and shoulders with an intensely raucous festival set, I coerced Phil to talk a little about his music and the road he travels. To my amazement he agreed, so we started with his appreciation of all genres of jazz and blues. "Absolutely, I don't bag on any kind of music unless I can play it really well and have an informed opinion about it, and then go, 'Yeah, I like it… or not!'" Gates says his "early influences were jazz… Coltrane and Parker and those cats. But also a heavy dose of like, Roy Buchanan, Carlos Santana, Tommy Bolin, Hendrix of course and a lot of those folks. What I try to do is try to learn a lot of different kinds of music so that it's like spices in the kitchen. So I can go okay, 'I wanted a little more spicy today or a little less spicy,' and then the way I mix it becomes Phil Gates."

Phil Gates & Lucky Peterson - San Diego Blues Festival 2013.
Photo: T.E. Mattox
You mentioned you worked as a music studio tech… "That was very cool, that was in Texas at this wonderful venue called the Caravan of Dreams, which is closed now. But that was where I got a lot of my mixing chops. I co-produced a record with Zac Harmon, 'the Blues According to Zachariah.' I produced one for Stanley Jordan's daughter and for a couple of bands out here. But that was great, it was a live club. Dizzy Gillespie, Wynton and Branford Marsalis, Eartha Kitt, Buddy Guy and Junior Wells, Albert King… everybody played there, it was insanely cool. And those guys don't bring sound engineers with them, so I got to mix there for about two and a half years for the house sound."
Tell me a Dizzy story. (laughing) "Well, it was the first time that Dizzy Gillespie was coming into the venue. So we're super nervous and we're doing sound check and I would always listen to the latest album to see if they wanted it brighter or darker or anything like the record. 'Cause the records grow once they start playing them live. The songs change. So he's on stage and I'm like, 'Mr. Gillespie, how would you like your monitors?' And he's like, 'That's alright my man, you'll get it.' (laughing) I was like, 'Oh, that's right. You've been doing this since before there WERE monitors.' (laughing) And it's cool because the thing is; those guys listen to each other so well to each other on stage."
Phil told me that's exactly the type of performance connection and artist interaction HE wanted in his projects. "That's one of the fun things about the new record of mine. The guys in my band they think like that and listen like that, you know?"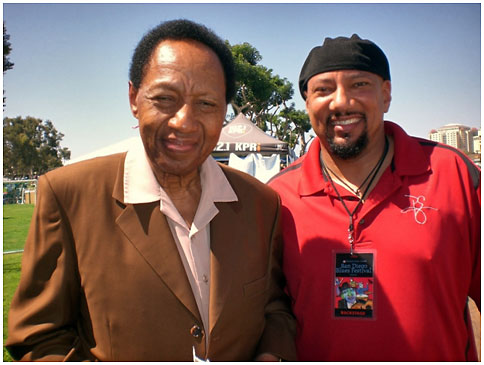 Billy Boy Arnold & Phil Gates backstage at the S.D. Blues Fest.
Photo: T.E. Mattox
* * * * * * * * * * * * * * * *
"…one of the most comfortable places in the world for me is onstage.
And when I get onstage it's like, it's my living room."
– Phil Gates
* * * * * * * * * * * * * * * *
Who are you playing with these days? "My band today is Ron Battle on bass, Keith Williams on drums and Larry Houston on keys… or Mo Beeks. Morris Beeks is on the record, but Larry also has been playing with me since 2000. And these guys are just ridiculous monsters."
You said you feel a great rapport with them. "Yeah, well the thing is, a lot of bands get together… as bands, and then they have political differences or this or that, you know? I used to do a lot of 'gun for hire' work which is basically there's a show Saturday, here's the music, this is what it pays, show up and know the set. So I noticed that those guys weren't breaking up so much and I just started hiring guns to do my shows and they just do whatever I ask. It stays a dictatorship (laughing) …it stays Phil Gates and yet I get the best of all of them because they know they can just come and play. So the rapport is wonderful because we have this really great relationship of, they get treated like professionals and I give them the freedom to do what they want and yet they support me. So it's really cool."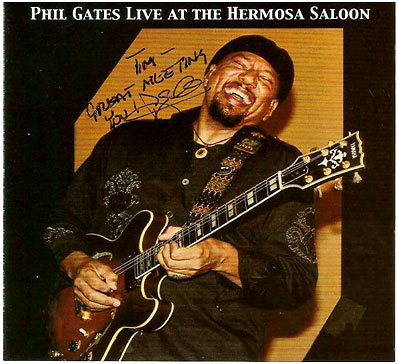 Let's talk a little about your latest project that's called... "Phil Gates Live at the Hermosa Saloon. This project is a really killer FUN project. This is record number eight for me. Or should I say CD, maybe I'm dating myself? But what ended up happening was that I recorded a few shows so the band wouldn't stiffen up and go, 'oh hey, we're recording tonight.' So I would just record a bunch of the shows and this one particular night, we were just on fire. There's so much stuff on the record that is just band interplay… of things that WE have never done before. I mean, every band has hits and specials that they do in their shows that are different than the record, but a lot of this stuff is just off the cuff… in the moment. It was SO cool and I was so glad that we actually captured it. I said okay, this needs to be the record. And also, I want people to hear what we're like 'live.' It's not easy to make a studio record, but it's hard to sometimes connect the dots between… but what's this going to be like, 'live?'
So the 'Live at the Hermosa Saloon' is a really good 'live' record, it's doing really well on the Roots Music report right now, we're number #14 for blues. We're number #1 for California and number #1 for internet play. I gotta' thank all the radio stations that are bold enough to play new music and Betsie Brown from Blind Raccoon for being a great publicist on the record. She's done an amazing job. But that's the whole thing about what I'm trying to do, is move blues forward. And get people to play new stuff, play new music, so I really applaud all the DJ's and those that continue moving blues forward and entertaining new music.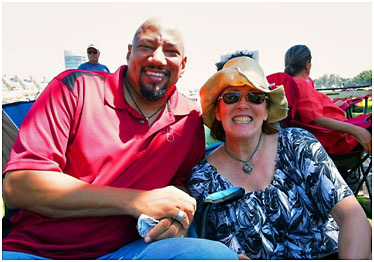 Phil and Blind Raccoon's Betsie Brown. Photo: T.E. Mattox
When you write… is there a Phil Gates process… "Yeah, it's mostly about, I'll come up with a pocket first. A little riff or something like that, that's just kinda' fun that emotes a certain kind of emotion. And that emotion will kind of dictate how that makes me feel… will dictate the storyline. And then I'll start going down that path. If it makes me feel sad, well then it's probably going to be a relationship song about breaking up. But if it's a funky pocket song, it's probably going to be a club song.
Gates says currently, "I'm mixing a lot of New Orleans kinda' sound in with the blues, so I've got a song called, 'Touch' that's a lot of fun. It's a really cool, funky pocket song but I automatically heard it as a great club song. So yeah, I start with some kind of line and go from there with the rest."
Do you write with your guitar? "Actually I write almost by hearing. What I'll do sometimes is I'll have drum loops on CD's and I'll just lay down in bed when it's bedtime and I'll just hear different drum loops and a line will come to me. I almost want to hear stuff in my head. There's one song that I wrote that came out, I don't know four or five records ago, called 'Querida' and it's a salsa tune. And I mean I heard the WHOLE song (snaps his fingers) like that. The horn parts and everything like that, so my approach is varied. Sometimes if I hear a good storyline, you know? I'll take it from there."
'Phil Gates Live at the Hermosa Saloon' is on shelves everywhere, what's next? "This record is a great record and it's doing really well. And the next record is even going to be funkier. I'm working on one and if I had to give it a movie trailer line, it would have to be early Buddy Guy meets The Meters. So it's going to be a funky, High Energy record."
Never afraid to push the envelope, Gates is determined to shape his own sound. "I'm hoping that blues organizations and blues stations and magazines and all that, will accept it."
So give us the Phil Gates philosophy? Gates just smiles. "I've beaten this horse to death. It seems that a lot of the people 'in charge' of the blues, are afraid of it becoming Rock and Roll. The blues started with violin went to acoustic guitar went to a guy on a stool with a dobro and then went to Chicago and got electric. Now if you go, 'well if they have a band… that's Rock and Roll,' then you just cut out Muddy Waters. Okay, if you go, 'well a guy playing a distorted guitar behind his head is Rock and Roll,' then you just took out Buddy Guy. (laughing) "It moved it forward! These guys were not afraid to move it forward and I'm excited to see if we can STILL move it forward, or if people are going to say, 'Nah, if it doesn't sound like 1960's or earlier, it's not really the blues."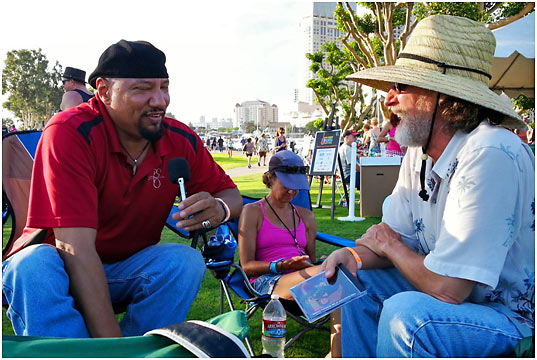 Gates imparts words of wisdom… More Blues! Photo: Yachiyo Mattox
I get the impression that you truly enjoy your time performing. "Absolutely, what I like about it is that one of the most comfortable places in the world for me is onstage. And when I get onstage it's like, it's my living room. It's like, hey come on in and get yourself a glass of wine or a beer, have a seat, let's have some fun, man. We're just going to chill out and have fun. Because I love being onstage and interacting with the audience. I headlined some larger festivals; I've played everything from small clubs to the halftime of the Super Bowl and ALL of them are fun. Whether it's a small crowd or large crowd it only takes a couple of people to have a great time."
You did military time. "Yeah, I spent five years in the Air Force, working in avionics on F-15 fighter aircraft and then I extended and was involved with the Air Force talent competition. You can be a musician in the military and get signed on as that or the military has a type of Star Search or American Idol and the winners become what they call, 'Tops in Blue.' And twenty-five people do a stateside tour and twenty-five people do a world tour and I was fortunate enough to be selected for the world tour. We did twenty-two countries and I was on the road for 373 days and we finished by playing the halftime at the Super Bowl. So that was a lot of fun. The military truly paved my way, you know? It brands you with responsibility at an early age; it teaches you a ton of things about discipline, about structure and about order. The clearances that I had helped pave the way after that, because I ended up having a great career in aerospace after I got out of the Air Force."
Quite a career leap from aerospace to Blues…? "Before I made the change to go, I thought okay 'this is what I can do, but this is what I want to do.' And music is what I want to do, because if it was about the money… I should STILL be in aerospace! (laughing) So it's definitely about the passion for music, it's about the passion of working with other great musicians, the passion of the fans and the crowds and the whole thing."
Check out any of Phil's projects by going to his website and definitely pick up a copy of 'Phil Gates Live at the Hermosa Saloon' it's a romp and I think you'll come to the same conclusion that I did. You'll really like this guy!
Last Call: I can't forget to say Thank You to my wonderful friend from Memphis, Betsie Brown, President of Blind Raccoon. I swear she knows more people involved in 'the Industry' and Blues music than anybody I've ever met. You are amazing! Thank You for your kindness and friendship. The next round's on me! T-
Related Articles:
2013 San Diego Blues Festival; 2011 San Diego Blues Festival; Buddy Guy; The Blues and Lives Well-Lived; Joe Bonamassa; Blues Storytellers; Preston Smith ; Dennis Jones; Otis Rush