Preston Smith
The Real Deal
By T.E. Mattox


'm a lucky guy. Over the years I've had the privilege to meet and talk with some truly amazing musicians. To a person, they've all had two things in common. All have been exceedingly creative and for the most part, possessed more than their fair share of talent. The only true differences, at least that I can discern, seem to revolve around how each individually approaches their craft and the style in which they choose to express it. There have been players with highly technical skills that can blow your hair straight back, while others rely heavily on performance or precision to 'lube your lumbar.'
Then there are those that move in their given direction much like a journeyman leans into a 40-hour work week. Head down, collar up with 'amplified' tools at-the-ready. Now imagine if you will, one performer that incorporates all of these dynamics AND a bullhorn…that my friends, is Preston Smith.
One of my favorite memories from the Preston Smith scrapbook wasn't a planned performance or scheduled gig. It actually came in the middle of Sunday Brunch at our favorite local bistro. While enjoying a leisurely meal with Preston and a small group of friends and neighbors, the restaurant staff began making a fuss over the table immediately behind us.
As we turned heads, collectively as one, the waitressing crew was surrounding an elderly patron, smothering her with hugs, kisses and well-wishes. When our server brought coffee, she informed us this woman was a café regular and today was her 102nd birthday. Again, as one, we all turned our heads in her direction but this time we joined in the revelry and accolades along with most of the other customers.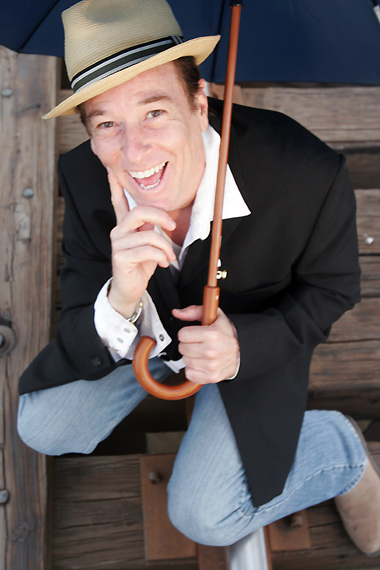 Courtesy of Preston Smith
A balloon with 102 emblazoned across it suddenly appeared on the back of her chair and words of praise and encouragement came from every table. As I turned back to my few remaining home fries, I noticed Preston was missing. Out of the corner of my eye, I see him coming back into the eatery carrying his guitar. I'm thinking this is going to be a little different.
Preston pulls a chair right up in front of the birthday girl, whose cheeks are turning rosier by the moment. I hear him ask her if she has a favorite song and without hesitation she responds, 'Pennies from Heaven.' Pres smiles, strums two or three chords and begins to sing quietly just for her, 'Oh, every time it rains, it rains pennies from heaven.' I look at the woman; she's wide-eyed, grinning from ear-to-ear and I could swear she's looking younger with every refrain. As the rest of the clientele begin to recognize what's going on, the restaurant becomes totally still. Even the fry cooks are peering out the food pass-through window. '…if you want the things you love, you gotta' have showers,' Preston sings, oblivious that the entire place is frozen in its tracks. He's singing for an audience of one. 'They'll be pennies from heaven, for you and me.' As he finishes the song, quiet applause ripples through the building.
Ladies and gentlemen, welcome to the Preston Smith Show. Expect the Unexpected.
Depending on the locale, the carnival caravan that is Preston Smith can go from a solo acoustic guitar and harmonica rack, to a full-fledged rock and roll band full of 'Crocodiles' and the occasional brass accouterment. And the diversity of music and styles on a given night can run from ballads and standards through the quirk of Indie rhythms to a straight, deep Delta blues.
Preston Smith is so much more than a bluesman, and the music he plays mirrors that. "It's just gotta' have some soul to it, no matter what I do. Either it's got to have a great lyric if it's a song I cover, or I kind of become a stylist, taking other peoples music and making it into my own. I blend styles, like a Hank Williams' song and put it into a Muddy Waters feel or pick a Muddy Waters song and put it into a Jamaican-Harry Belafonte feel. Transcend the boundaries.
But now, I'm focused on my own songwriting and it feels like an amalgamation of all the styles I've been playing, really. I've been such a big fan and audiophile, and have so much respect for those earlier musicians and have learned so much from them. It's like tipping my hat to all my heroes. I try to give that respect and be truthful to it, keep the feeling while adding a little something with it, too. Ultimately all the great musicians were innovators, even if you think of somebody as traditional as Muddy Waters. At that time that was considered psychedelic blues because it was the first electric band."
"I feel like now, I'm writing songs in color...
where I used to write them in black and white."
---- Preston Smith

Preston writes in what should be called, the Shotgun approach… "Sometimes when I write; I'll get an idea, just a title or a thought that comes first. I can write a song in just five minutes, sometimes in three minutes or two minutes. If I get a strong title and I know what it's about, I create the script of verses from there. I've written so many songs now, I rhyme almost naturally. I've learned so many…hundreds and hundreds of songs and written hundreds, that I have more of a songwriting vocabulary to draw on now days."
If there is one constant (the word 'obsession' fits nicely here as well) in the life of Preston Smith, it has got to be his ongoing study in word craft and setting lyrics to music.
"Some songs are done like an essay, a stream of consciousness; with just what I feel about a certain topic. More and more I put myself, like an actor, in someone's situation, whether it's mine or something I observed. I'm writing a song right now called, the 'Murder of Medgar Evers,' about the civil rights worker. In retrospect, I was looking at this history book and I found that everything around Medgar Evers revolved around the letter 'M.' Like he lived in Mound Bayou and his wife was named Myrlie and it happened in Mississippi and they had a March in the Morning…everything is m, m, m….. I haven't finished that song, but wow, there are so many M's. And that summer of '63.
Now days I've opened it up; still rhyming, but more into alliteration…like a whole new tool. I've written about forty or fifty songs just in the last few months. I feel like now, I'm writing songs in color, where I used to write them in black and white."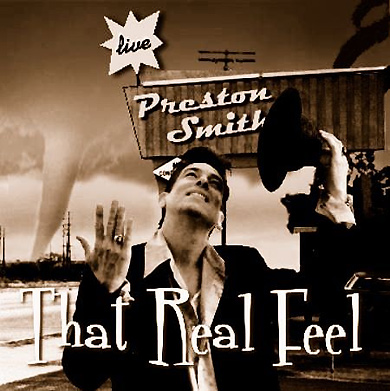 Courtesy of Preston Smith
With seven albums under his belt, Smith is always working on the next CD. "Some of the songs will have a very delta-singer-songwriter kind of Dylan meets Muddy Waters or Al Green. And then some of them will have a little bit more of a Motown, funky, Sly Stone kick with horns and stuff." His aim, "a nice blend, I don't want it to be all sad and lonely, it's got to have some kickers on there." A philosophy Preston lives by… "Brownie McGhee made a great statement I thought, which was something to the effect that everybody thinks the blues, is associated with down-heartedness and things like that. They don't realize the music of blues is actually about being uplifted and going beyond your blues. Where it came from was a very down-trodden time for a down-trodden people and it was about forgetting your cares. To me, it's music of joy really, even though it sounds so sad sometimes. I think any great music is…it's that dichotomy of the joy with the sadness." But back to the new CD… "Most of the tunes are about the 'ins and outs' of love. But there'll be a couple of 'social observations.' In the past ten years the country has changed so much and everybody is questioning everything."
From the Top
"Top 40 AM radio," was Preston's original influence and musical inspiration. "Back then AM radio for me was like a free-for-all. You could hear everybody from Jimi Hendrix to Frank Sinatra in any given moment. And it was requested back then." Preston's stage show and CD's still reflect that musical diversity. "Rock and Roll really was about fusion of culture and then as Rock and Roll got corporate… it's harder for the guys in suits to sell something that's different."
Born in Houston, Preston spent most of his formative years in the Southwest. "In Arizona you just heard, like Buck Owens from every radio coming out of every store. You really didn't think about it. I heard Mariachi music and Buck Owens, that's what the old people listened to, right? Then I got really into the psychedelic rock and blues, Zeppelin and the Beatles. Hendrix had a profound effect, Johnny Winter, Bob Dylan, but once I got into Hendrix…"
Not only does Preston play different styles of music, his instrumentation can sometimes travel great distances through a myriad of devices, before reaching the audience. "Bonnie Raitt called me up on stage to play with her….she saw my show and liked the Hank Williams and Robert Johnson covers I did. While backstage she told me, 'I'm going to go sit in with NRBQ and I'm going to call you up and I want you to play some harmonica with me, okay?' I said cool. So I waited; she called me up and I went up there with my bullhorn. And NRBQ was like, 'who the hell is this alien?' and, 'what the hell is with the bullhorn?'
What's funny is, I went for about two years without it, it kept breaking, and I was just tired of it. My show has changed so; I'm playing so many instruments at one time, that it's not really that conducive for me to play the bullhorn…except for the 'Jiminy Cricket' song. But everybody asks for it, 'where's your bullhorn? We brought our friends out just to see this song.' So finally I went down and bought another bullhorn. I got it back in my arsenal."
Like most musicians, Preston was pulled in at a very early age. Starting with his mother's pots and pans and progressing to drums in the school band, eventually he discovered songwriting and poetry…and then of course, there was Hendrix.
"Jimi Hendrix had such a demon-like hold on me. I wanted to be Jimi Hendrix and decided to play guitar."
Courtesy of Preston Smith
A repertoire that now exceeds 600 songs, Smith is his own music library. "I can play almost all of them without missing a verse. I don't use lyric sheets. I'm not one of these singers that learns songs he doesn't like. I love all these songs and if I pick up a guitar and play some old Louis Armstrong, Nat King Cole, Bob Dylan, Ray Charles, Marvin Gaye, Stevie Wonder, Beatles, whoever; I know hundreds of these songs and I love them. Ultimately, every time I play one it teaches me something again, they always keep changing. Change a key, make them better, delta-tune them or something, a Bob Dylan song with a delta tuning."
Blues Just Don't Let Go
I've always been impressed with Preston's dexterity on the harmonica. He is a master of improvisation and sometimes reminds me of an earlier, exceptionally creative harp player by the name of Walter Jacobs.
"Yea, he's my favorite of all the blues harmonica players. Little Walter, I think was the Charlie Parker of the era. The way Jimi Hendrix was to rock guitar, Little Walter was to harmonica. When he first came out, he was the first person to really use over amplification and everybody thought it sounded like sax lines, jazzy almost like 'Blue Lights' and all those hits he had."
Having attended numerous Preston Smith shows, I've personally witnessed some of the wildness that often occurs during the course of a performance. So I had to ask, 'anything come to mind when you think 'unforgettable' or outright weirdness at a show or venue?' "They're ALL pretty weird. (laughing) I played a gig in South Phoenix; it was kind of a social club that was open until four in the morning. And these little kids, like 12 years old, had guns and stuff." I think that qualifies. "I played an old Veteran's hall where these old blues guys were all nodding off, strung out on heroin." I immediately flash on John Prine's, 'Sam Stone'… pretty strange. "Then I played in a biker bar with the 'Hare Krishna Blues Band.'" (No Crocodiles?) "For fun that's what we called it for about a week. This is a weird story; the bikers brought one of their dead friends, and they brought him down one last time to have one last party with the dude, before they turned him into the morgue. They were hoisting up drinks and smokes for him. Maybe to them, it was their way of sending him off."
And we have a winner!
Lastly, if you had to describe your music or the sound of Preston Smith, how would you do it? "It's Americana. It's a melting pot like Americana really is. Not just blues or jazz or anything. Those charms are really just put on by record company people. I think its true Americana because America is fusion; it's a fusion of cultures. And my music has Latin in it; I have American Indian in my blood, English, Irish, Mexican and Scottish. If you look at my record collection it's mostly African-American. Its fusion man, not jazz type fusion….Americana Fusion."
Don't pass up the opportunity to experience Americana Fusion, fresh from the Preston Smith ovens. He plays almost constantly throughout Southern California and the Southwest. But if you can't make it to a live event, jump on the internet and check out www.myspace.com/prestonsmithmusic for just a taste.