Robin Henkel
Been There and Gone!
By T.E. Mattox

ome of Robin Henkel's first musical memories center around the Seattle coffee house scene his parents frequented during the folk era of the early '60s. But one of his most lasting memories, and one that would have a substantial impact on his direction in life came in 1962 when his father took young Robin to see a bluesman named Josh White perform at Seattle's Convention Hall. Henkel says simply, 'I was knocked out!' Not only did Henkel experience his first blues concert, he and his father went backstage after the show to meet the legendary artist in person. Even as a 10-year old, Robin remembers vividly, "Here he was, bigger than life like Paul Bunyan, he had his shirt off and was drenched in sweat, with a towel around his neck, a cigarette hanging out of his mouth and was just chilling out after the show." Robin's eyes gleam when he recalls, "I had my little playbill and I go, 'c-c-c-could I-I-I h-h-have y-y-your au-au-au-tograph?' He signed it, 'Robert, I wish you best always.' And I have that framed today some 50 years later."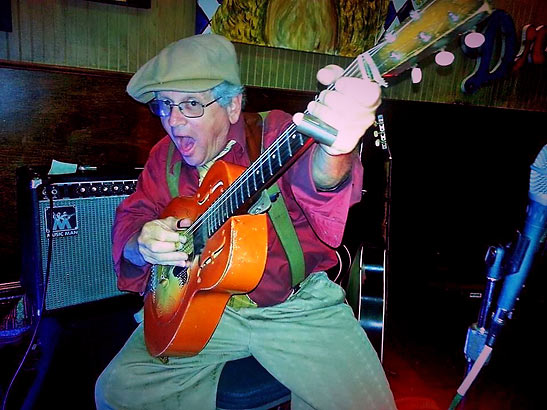 Robin Henkel hard at work. Photo: T.E. Mattox
Born into a Navy family in Pensacola, Florida the fall of 1951, Robin and his parents would relocate to the Northwest and eventually, San Diego. Henkel says he's been a West Coaster since 1957 and can recount the San Diego music scene from about the age of eleven. "There was a fellow named Pat Foster and he played a 12-string guitar." Robin says. "And back in that folk music era that was like plugging into a Marshall amplifier. I remember him playing 'John Henry' and have a strong memory of that. The earliest folks I played with… a fellow named Jay Graft who was just a high school buddy. But by the time I was in high school, about 17 years old or so, I don't know how this happened but I got in a soul band. We played James Brown, the Temptations, all of those Motown singing groups. We played 'Mickey's Monkey,' 'the Philly Dog,' 'Soul Finger,' 'Walkin' the Dog,' and 'Green Onions.' The band was called The Highlights and at 17, I was the oldest one in the band. Everybody in the band could read music except for me. They had an arranger, I mean a legitimate arranger that wrote musical charts for horns. I musta' done something right, I stayed in there, playing bass. I was a bass player in that band. That was really, really good."
Fine-tuning his ear for music and with repetition, Robin says he became more of an instinctual player. "In addition to hearing folk music and the blues with Josh White… with those old record turntables when the needle goes to the center, it goes out and plays the song again. And I'd be out in the garage building something and hear that record like 5 times over until I couldn't stand it anymore and flip it over and hear it 5 more times on the other side. So, by the time I got good enough on guitar, those songs just started to almost play themselves because I just heard them so many times."
* * * * * * * * * * * * * * *
"… we live in a culture where if you see a song on MTV, you're looking at a woman's butt and a '55 Chevy on the video. And that's what music has become."
– Robin Henkel
* * * * * * * * * * * * * * *
Henkel is known largely as a bluesman, but his repertoire much like his presentation can be extremely diverse. Something the musician doesn't shy away from. "If we were to take a cue from the 'blues police' aficionados, sometimes I add a little too much. You know I'll add a little jazzy chord that you would never hear in a Jimmy Reed song. I remember one time, Kenny Schoppmeyer, we were playing a Muddy Waters tune and he would jokingly tell you when you're not playing the right stuff. He would always do it with a smile on his face and I was doing this ninth chord and Kenny said, 'Muddy never played that chord in his life." (laughing) "Because he knows the official way that song went and had a sense of authority about it. I didn't take that as a put down."
You played with the Blues Ambassadors? "Yeah, I played with the original Blues Ambassadors... for two or more years. When Earl asked me to play," Henkel recalls. "In a way that brought me back into the blues scene, the actual blues scene. That put me in the clique of people in San Diego that were doing it. I was playing the U.S. Grant Hotel in a tuxedo, playing Fred McDowell tunes, Robert Johnson tunes with no real cultural or social connection to the other groups of musicians that were doing that. Playing with the Blues Ambassadors brought me into Croce's, brought me into contact with Blind Melon's which was probably the most important one. Because at Blind Melon's you had Bill Magee, Len Rainey, O.C. Anderson and national acts coming in. I warmed up for several national acts with Blonde Bruce or the Blues Ambassadors. I remember we opened for Elvin Bishop and B.B. King… Junior Wells. By the time '89 came around, I was playing with Earl and there was a blues scene. Eric Lieberman had his band, Earl Thomas, and like I said Len Rainey, Bill Magee… God, there was lots of other bands; Fuzzy Rankins and the Bluesmen, Candye Kane. Why that was important for me was really the social element of hearing these people play and more so, just meeting everybody. Blind Melon's would have a blues fest like once a month. They would start the music at five or six in the afternoon and each band would do a 90 minute set and they could get five or more bands in until closing time."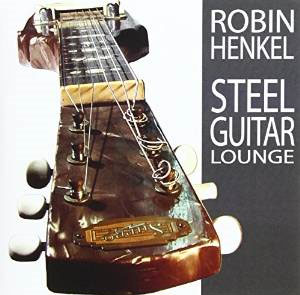 You list so many musical influences, do you think that is why you seem to explore more diversity in your style of play? "As a musician you lose your innocence. When you hear something you go, 'Oh, check the bass line, check that…' and you get a lot of benefit from your knowledge of music. One of my English teachers said, 'You lose your innocence when you learn stuff.' You're not just listening for the sheer enjoyment. Being into jazz and Antonio Carlos Jobim and stuff like that, you definitely become a student of beautiful and well-executed chord changes. You become somewhat of an intellectual about harmony. I'm always analyzing people, where did they get that? Is that natural ability or did they go to music school? Who did they study with, where did they get those ideas? Was it their parents, did it happen by accident?"
It's always a learning experience when attending a Robin Henkel performance. You drop so many pearls of wisdom during a show, and you seem so well-versed in the guitars, their craftsmanship as well as the originators who played them? "Well, I don't know all the history and I haven't studied it, I just know little bits and pieces. And when you put your bits and pieces together and talk to a crowd of people, you might sound like you know everything. But you don't. You're just giving them little anecdotes about Fred McDowell, Josh White, Miles Davis, whatever. I haven't read those people's biographies and studied their entire discography and I don't really qualify myself as that. But from a person listening to me talk, they may go, 'God, this is some kind of friggin' professor or something!' And I'm not tryin' to bullshit people, I'm just sayin' if you've got a couple of unique anecdotes, just at the right time and can back it up with a little song here and there, it really goes a long way to pull people's interest in. And I think that's kind of marvelous in a way, because we live in a culture where if you see a song on MTV, you're looking at a woman's butt and a '55 Chevy on the video. And that's what music has become."
Henkel raises both hands as if to say, don't get me wrong. "I love women's butts and I love old cars, I love both of those things. But this is a song, right? Junior Brown has a song called; 'My Wife Thinks You're Dead.' In that video there are all these bizarre little scenes of him running around and it's cute as hell, but when it goes to the guitar solo, it GOES to the guitar solo. You see the guys hands play the solo and I go, 'that's the REAL DEAL!' That guy has an appreciation of the musicianship culture. Even though I've been entertained with all this other stuff when it cuts to the solo, I can watch the guys hands play it. That's right on. So when I get asked, 'what are you, what do you do?' When you talk about me performing, that's part documentary, part history and part music, I do all of those things but I don't qualify myself as a historian that could actually teach a class, but we're saying it's interesting. When you hook people's interest and it's not about cars or butts, it's about the actual history of the music; that to me is the real deal. So, I have a sense of pride talking about music and making the music and the history and what happened to a lot of these guys and where they came from and what they did, make THAT the entertainment rather to have to fall back on jokes about drugs… it's real."
When I see you playing with Billy Watson and Whitney Shay… it just seems like you all are having such a great time together, how does it get to that point? "I don't have to fake having a good time. When you enjoy the people you're playing with it's that much easier. Even though Whitney and I have plenty of songs that we do, over and over and over again, and there's somewhat of a set routine, I don't know if I'd call it improvisational, it's like a 'just play it out as it goes' element. So it's not always the same every time. We'll veer away from the arrangement, Billy's in there too and it comes out a little different each time. There's a certain fun in that. Each one of us is good a taking the lead, and each one of us is good at falling into the background and supporting. Jazz musicians are really good at doing that."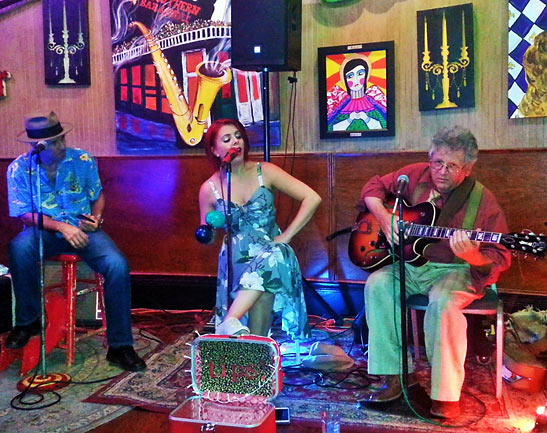 Billy Watson, Whitney Shay and Robin Henkel. Photo: Yachiyo Mattox
You also have a history with another blues woman named Anna Troy. "I met her at an open mike at LeStat's." Robin says. "What year I don't really know... maybe 2000, right around there. When I saw her perform, I didn't know who she was, but I noticed her. She stood out. When she hit the guitar, BAM, she hit the guitar, like a ballsy attack! When she sang, the combination of her voice and her guitar playing and… Whoa! A 20-year old young lady… she's pretty ballsy, really. Her sister now apparently, is kind of a rock star, Lindsey. But Anna and I became friends and I think she started picking up on what I was doing, the blues thing. We hung out together and played together and Anna was very prolific at writing songs. She was always coming up with a new song and she would get her heartbroken by something."
Ten albums currently, are there any new projects in the immediate future? "Number Eleven is on the way." He smiles. "In the last 8 years, I have recorded twice with the intention of making a record and not finished it off. I was working on it, working on it, working on it, got busy doing gigs, got busy doing gigs, work on it, busy doing gigs, six months go by… I forgot about it. There's a little bit of a disease in perfectionism. You want it to be good and while you're trying to make it good, you're burning out on it. And by the time you make it as good as you want it, you don't like it anymore. So what I did, I went over the last 30 years and I've found tapes and I'm going to put out a record from 1988 till now, from recordings that were made in that time but were never released or very limited release. So this is a compilation of some of the best recordings I've ever made. There's only one blues song and there's only one cover song. I might have two records out in the same year. I'm recording right now; I need to come up with another 'just country blues' record, with a few covers and several original tunes in that genre."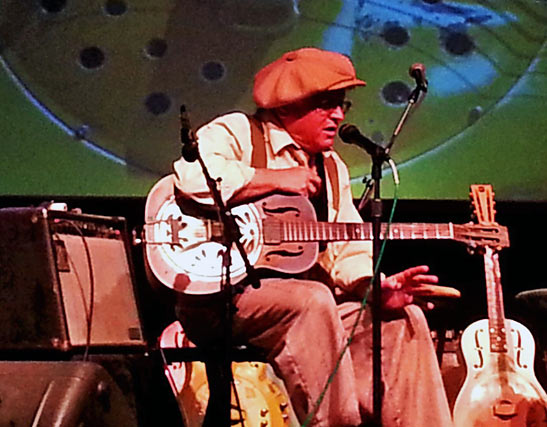 Henkel narrates the story of the blues. Photo: Yachiyo Mattox
I've heard you've been spending a lot of time in jail!? "I've been going to jail… and teaching some guitar. Rob Bird is my contact for that. There's a program, it might have been started by one of the guys in the band, the Clash that wanted to create some sort of outreach for guys that are prisoners. To give them a guitar, provide some creativity and a means of self-expression while they're in prison. I think it may have started in England but it came over to the United States and it's called, Jail Guitar Doors. Rob Bird asked if I would like to go to one of the local prisons and teach. And I found out later it was definitely a low-security place down on the Mexican border. It's about self-esteem building to a point where it's almost not about the guitar and more about socialization and getting use to other people and you get a guitar lesson out of the deal, too."
Find out more about Jail Guitar Doors here; to find out where he will be playing in 'general population,' check out Robin Wenkel's website.
Related Articles:
San Diego's Mr. Natural... Billy Watson; BB King; Phil Gates Plays it Forward; The Blues Are Alive and Well in Southern California; Nathan James: Southern California Roots Run Delta Deep