It's Not Your Skin…It's Your Soul!
The Gospel According to Rory Block
By T.E. Mattox


ll kidding aside, I've got just as big an ego as the next guy. And when it comes to blues players, their lives and their music, I consider myself relatively well-read and somewhat knowledgeable. But I recently sat down with a phenomenal musician; songwriter, blues historian and musicologist that gave me pause…and shiny new perspective in my career as village idiot. Let me put it another way, if blues music and a history of Delta players was a college course, this woman would be the Dean of Academia.
Not only has Rory Block been playing guitar since the age of eight, this East Coast native literally sat at the feet of, played for and with, some of the most legendary names in blues. Greats like Skip James, Mississippi Fred McDowell, John Hurt…and Son House.
But I'm getting ahead of myself. During the Southern California leg of her current tour, Rory took a few minutes to talk about her music, her life and the road she travels. We began our conversation with one of my favorite blues quotes; 'It's not your skin…it's your soul.'
"Well, I say to people, you're looking in the wrong place. It's not an outward thing, it's a spirit thing and you can't control what inspires the human heart."
How was it that the blues grabbed you so hard, and at such an early age?
"It's really hard to explain because it's just that…I loved it. And love is not something you can truly explain, why you love, who and how and what. It just is a feeling… of being drawn to it as the most beautiful sounding music I'd ever heard, and the most passionate, soulful music in the world, as far as I was concerned."
**********************
My first encounter with Rory Block and her blues, was a small venue, a guitar shop actually, called McCabe's, in L.A. back in the mid 80's. After seeing her show, I found it amazing that she wasn't born and raised in the Mississippi Delta. But rather spent her formative years in SoHo and the West Village in New York City.
She smiles, "It was magic." And her best Manhattan memories? "Probably the music scene, I would say. Definitely the music scene in fact, I won't even be vague about that. It was extraordinary."
Your mother bought you your first guitar?
"She bought the guitar, not FOR me, but she gave me her own Galiano guitar as a way to start me off when I was eight."
Tell us a little about Washington Square Park on Sundays.
"Oh, that was also pure excitement. Each group was a different style of music, and the whole place was packed. You'd hear what was going on in THAT group, and make your way through the crowd, and you'd hear bluegrass. You'd hear David Grisman, who'd go on to play with all the best, top bluegrass masters. You'd hear Frank Wakefield and all of these truly magnificent players. Then you'd go over here, and that's how I met Stefan Grossman, and there'd be like ragtime guitar over here, with the various ragtime players. There were a handful of people playing unbelievably ornate ragtime, and they would all be in a cluster. Then there would be blues people playing over here, and then there would be the folk singers over there. It was like everything you wanted to hear, all in one small area of the village."
With so much cultural diversity around the West Village in the early 1960's, it wasn't surprising that you could run into about anyone…anywhere. And that included Rory's fathers' place of business, the 'Allan Block Sandal Shop' on West 4th Street.
"It was all about incredible musicians and amazing people. I did come in the sandal shop one day and there was Bob Dylan. I didn't know it was Bob Dylan until he left and I don't even know if his first album had come out. But my dad spotted him and told me about him and said, 'You see that young man, he's an artist and he's a poet, first and foremost, and he will never compromise his art. He believes in staying true to his art. He's not interested in the business side of things, he's a poet.' When Bob Dylan left, my dad said, 'that young man is going to really make his mark in the world.' And boy was he ever right."
Looking back it seems Block was a true child of destiny. Early in life she had the incredible good fortune to meet some of the Delta's most talented and influential bluesmen. And she is the first to agree.
"I was lucky and who would have thought that being in New York City was the place to meet…Son House, Skip James, Bukka White, Rev. Gary Davis, Mississippi John Hurt and others. Who would have thought that? But it happened."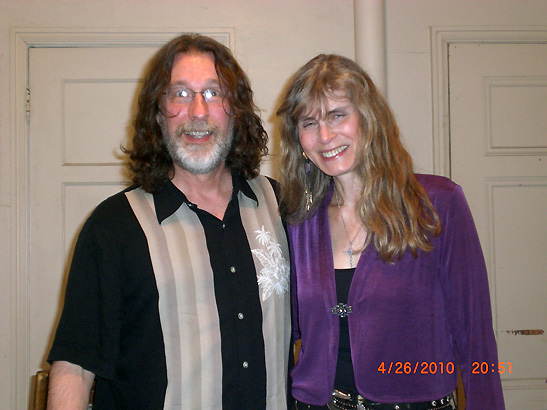 Rory Block and a fan. San Diego, CA. Photo: Yachiyo Mattox
Do you have a most memorable moment about John Hurt?
"Oh, that he offered us Maxwell House coffee when we went to his house. That was the ultimate in coffee in 1964, '65."
How about Skip James?
"Well the book that I've written, there's a chapter for every one of the Blues Masters. It's not really, per se, my favorite story, but we did visit him in the hospital, a very sad story. He had cancer and as we were headed down south we stopped in to see him. I mean, he was very, very down you know? Understandably."
Son House.
"Oh! He's my mentor, he's my mentor. And Son was just a powerhouse of Mississippi Delta blues playing. He was the guy who taught Robert Johnson. He told me that. That REALLY meant a lot to me, because I brought Robert Johnson up to him.
But see, at the time that he said he taught Robert Johnson to play guitar, there was no craze about Robert Johnson, so it wasn't like he was trying to build up a myth. As far as he knew I was the only person who remembered Robert Johnson in 1964, as far as he knew…at that moment. It wasn't like getting on the bandwagon; he just told me the truth. He said, 'I taught Robert Johnson how to play guitar.' And I just thought, 'Man, this guy is just the Master.'"
And now, the student has become the teacher.
"When I was 16, I had this thing…you've got to apprentice. I was wrong, but that's how I felt then. I felt like, well Robert Johnson followed Son House around and this one did that….there were no teaching DVD's in the 1930's. You had to have a good ear. So I teach my students, 'hey when the electricity goes out, you can't count on the internet. You have to go back to grass roots.' So I do that with my teaching, as well as selling DVD's."
"It's all wild… screaming, happy-hour people…'vomit-through-the-nose' bars… where the bras are hanging from the rafters."


Rory Block
When you see Rory Block in concert, she's literally surrounded by six or seven different guitars. As she finishes a song, she'll exchange one guitar for another, while relating a tale of an originator or early Delta master who paved part of the blues highway. Her stories make the heritage and history of blues come alive. Then as she adjusts her capo and finishes her 'lesson', her foot begins to stomp. And as if adding punctuation to her story, the metal slide on her ring finger peels back, yet another layer of your epidermis.
Her dynamic style and presentation surely channeled through Son House and Mississippi Fred McDowell can be traced back through her journeyman existence, performing in clubs, bars and in front of all manner of clientele.
"It's all wild. Once I was singing to a completely mad house in Massachusetts. This was years ago, and a thunderstorm swept in and all the power went out. I could've walked off, but I didn't, I just did the show. But I ramped up the volume and I remember thinking that I learned something about projecting, that night. I did the show, without a sound system with a bunch of screaming, happy-hour people, and no electricity…so that was fun!"
I read somewhere a friend of yours; Jorma Kaukonen (Hot Tuna) had a great name for those types of venues.
"Oh yea, 'vomit-through-the-nose' bars. He's a little bit on the direct side with that one. He talks about certain venues and says, 'Oh, THAT place! That's the place where the bras are hanging from rafters.' You know it's just, that's THAT kind of place."
Now more than three decades deep into a lifetime of blues, does the stage and audience interaction still amp you up, invigorate you?
"Oh yeah, they do all the work. I'm just sitting there enjoying their energy. (laughing) That's my office out there. (Points to the stage) I used to be really a nervous performer then I realized, wait a minute. There not here because they hate me, they're my friends. What do I have to be worried about? And then I got comfortable and I went, (again pointing) that's my office. People go into their offices every day and they don't sit there like, being afraid to go into their office. They do what they need to do, they do it well and that's my job."
The offices of Rory Block, Inc. are rapidly expanding….especially in Europe.
"Because of the Internet, I guess, yea."
Tell us a little about your relationship with Holland?
"Well for awhile, it was my second home and I really love it there. The people there don't realize how wonderful they are. They're just…humble. And if you tell them, 'you guys are wonderful,' they get embarrassed. But, they all happen to be…wonderful!" (laughing)
Along with being a multiple W.C. Handy Award winner, Rory Block is also a realist.
"You like to say that it doesn't matter, but it does. When I say that it does…it's not a superficial thing, it's a spiritual thing. Like you feel washed in support. At the same time you mustn't become completely discouraged or gauge your value if you do NOT win an award. That's important. You cannot say, well what I do is of no value, I've never won an award! That's important.
You can allow yourself to feel joy. That's how I perceive it. It just made me happy; it just felt like someone cares. Even though they cared before I got the award, it just felt really sweet. Like getting a gigantic hug from your parents when you were a little kid, you know?"
You are such a prolific writer…do you have a set process when writing or in your musical composition?
"Not really. It's all very off the cuff. You could say this one formula tends to work for me, which is… I might record a guitar part that I just come up with, and then I take a recording of it and drive around. And the words come to me while I'm driving. That's actually one way…it's not the ONLY way, but it's a good way."
As you read this, Rory says she's working on yet another tribute album. The project will commemorate the music of friend and fellow blues musician, Mississippi Fred McDowell. She also dedicates a chapter to him in her forthcoming book. McDowell's unique slide sound originated from a 'filed-down' beef bone, and is probably one of the most recognizable of all the Delta bottleneck players.
And Block smiles when she thinks about him. "What a character… what a great guy!" You've got to believe McDowell isn't far from her thoughts every time she pushes a slide onto her left hand.
As Rory prepares to return to her 'office' she moves with a casual grace toward the stage door. As she steps back into the spotlight, an appreciative and welcoming applause echoes through the night's venue. It's all too apparent, it's not a job anymore for Rory Block; it's a labor of love.