San Diego Blues Festival 2011
By T.E. Mattox

here are literally, thousands of Blues Festivals staged around the world these days. From Latvia to Long Beach, Chicago to Caracas, the Blues orbit this earth like the melodic version of Morse code. The message is always concise, a rhythmic tapping in the hollow of your head; 'that trains done gone, and took your good girl too!' Blues you see become personal, and connect on an emotional, almost intimate level that other syncopated verse can't seem to duplicate. Not to say they don't borrow a piece now and again, but when it comes to that gut-deep, raw intensity, only blues can generate the handwringing angst that is derived from a simple-stated truth or unrequited longing. And it does it with surgical precision and/or random blunt force in just twelve bars or less. It's a beautiful thing!
********************
I was in attendance this year at the San Diego Blues Festival and the feeling was special before the gates even opened. Local San Diego bluesman, Robin Henkel greeted fans outside the venue with a rousing and versatile welcome on his acoustic slide. The man set the tempo for the entire festival.
Opening the show, the Mercedes Moore Band proved to the growing audience that espresso doesn't hold a candle to their vibrant, energetic blues. The MMB set bounced across the embarcadero and effectively lifted the fog from the bay and an appreciative crowd. I had to make mental notes to pace myself.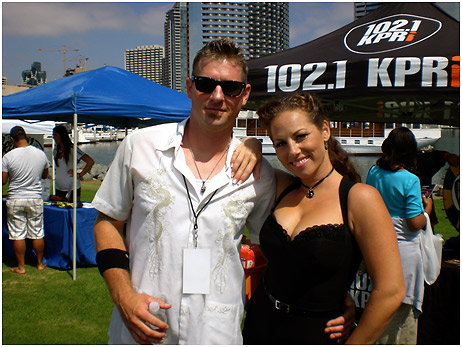 Guitar Scoty and Mercedes Moore. Photo: T.E. Mattox
I had heard about the Red Lotus Review from a friend, Rod Piazza, and that guy knows his blues. The Review did not disappoint. Vocalist and harmonica player, Karl Cabbage told me a little about his previous band, 'the Smokin' Knights' and an epiphany experienced while in Memphis. "We had decided to do, like a Sonny Boy Williamson tribute band, and it just kind of evolved from there."
RLR Guitarist Pete Fazzini nods his head in agreement. "When we came back, the Smokin' Knights kinda' disbanded. We had just met Jimmy Zollo and we started to do a Sonny Boy tribute band and then it evolved into a Little Walter, Howlin' Wolf, Muddy Waters type thing…and Robert Nighthawk. A very traditional mid '50's to very early '60's blues. We also do some early Smokey Smothers stuff, and originals in the same vein."
I'm smiling because Smothers, in my opinion, was much underrated when it comes to Chicago's noted bluesmen. Both Paul Butterfield and Elvin Bishop played with, and were influenced by, Little Smokey Smothers. These guys have won me over, but I was curious why the band doesn't have the traditional instrument line-up that most Chicago blues bands carried. Cabbage says, "We decided to save money." (laughs) "No actually, just instrumentally we chose to not have a bass player. We thought nobody's doing that anymore, so…" Pete adds, "A lot of it too, came from the Maxwell Street stuff, like Hound Dog Taylor didn't really have a lot of bass players. It came more from the realization we could get the sound we were looking for without a bass player." Karl finishes, "Yeah, and how much more space there was, with the lack of a bass filling up that space, you know, sonically."
This whole band is young, really young, so what was it about Blues that hooked you so deep? Karl tells me, "Other than gospel music, it's the most honest music form available."
I note that gospel and blues seemed tied, their roots cultivated in the fields that cut through the Deep South. "Like the field hollers," Cabbage relates, "The good news doesn't mean a whole lot unless you get the bad news, right? I tell you what, about the music. This is American music and it comes from the South and there's just something about it. You take Mississippi for instance, I can name like twenty major…MAJOR bluesmen that all lived within a hundred miles of Jackson, Mississippi. It's just amazing."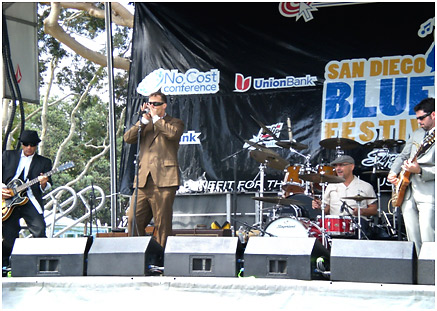 Red Lotus Review performs at the San Diego Blues Festival.
Photo: Yachiyo Mattox
As a harp player, I was curious if his influences included Sonny Boy number One, 'John Lee' Williamson? "Absolutely!" Karl points to Chris James, who is preparing to step on stage to play with Patrick Rynn and Rob Stone. "Chris James over there from San Diego, but really cut his teeth in Chicago, introduced me to a lot of Sonny Boy No.#1's work. Chris played with Sunnyland Slim, Pinetop… a whole bunch of people."
How about another Chicago harp legend, James 'Snooky' Pryor? "Snooky Pryor? ABSOLUTELY! I was able to meet him before I knew how great a man he was." Karl admits, "I was much younger and not very wise, and now after he's passed away, I get the depth of what he was saying."
What is it about the blues that seems to be able to cross any and all language and cultural barriers…?
"The blues is so international. It was innovated so far away, you know? And you think about W.C. Handy in the middle of his 'St. Louis Blues' it's like an Argentinean tango piece. We just got back from an International Blues competition, and they're guys from all over…you would NOT believe, like the guys from Poland and the Eastern Bloc, and Japan and they are ALL 'getting' the music." And why do you think that is? "Because this music is universal and it's eternal."
Amen.
"Well, blues do a lot of things for you, you know? Sometimes they make you sad, sometimes they make you comfortable....They do a lot of things for me. They make me....they make me cry. Sometimes they make me cry."
--- James Cotton
It is non-stop and Tracy Nelson was up next. She too, is legendary. If you're in the boomer bracket, and like me, claim you don't remember the 60's, then yes, the same Tracy Nelson from the '60's psychedelic folk-rock band, Mother Earth. Her voice is just as strong as her days at the Fillmore in San Francisco with Jimi and Janis, James Cotton, The Dead, Albert King, the Airplane…
The woman is ageless and seems capable of switching from Country, Folk, to R&B, to Jazz and Blues on a whim. Nelson is touring behind her latest CD, Victim of the Blues that covers everyone from Muddy, the Wolf, Percy Mayfield and Jimmy Reed. And she proved to all of us this day, she does it with a genuine love of the music.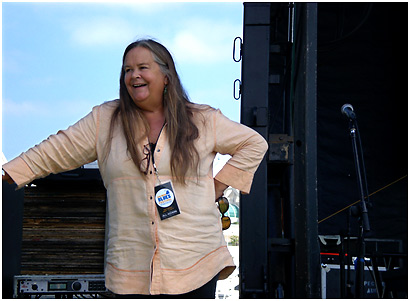 Nelson smiles at fans from stage left. Photo: Yachiyo Mattox
********************
I had heard a little about Lightnin' Malcolm and Cameron Kimbrough, but was blown away when these guys lit up the stage with their driving, North Mississippi hill country blues. The entire set was wonderfully reminiscent of the late R.L. Burnside. Lightnin' says, "He was one of my favorite inspirations. He was a great guy and we made pretty good friends. He was always very encouraging to me. I remember a couple of times when he was getting really sick and he was laying in bed and he would hold my hand. He would hold my hand, just looking at me. We didn't talk about it, but I knew what he was saying. He was saying, 'Keep this going, man, keep the sound goin.' It run's very deep."
Malcolm, and drummer Cameron Kimbrough told me how they got together. "We met about 11 years ago through his dad. His dad is one of the best drummers in the world, Kenny Kimbrough. We played at the juke joint one night and Cameron came with him. He jammed with me that night and sounded great. I had a show the next night opening for the North Mississippi All-Stars on Beale Street, just solo. And I was like, 'come up to Memphis with me man, play drums with me on the show, it'll be cool.' And he did it, and it was great, you know. We made good friends, Cam's a great young guy and I could just tell he was into it."
Malcolm would leave to go back on the road, touring, even live in California for a time before eventually losing track of Kimbrough. During this period Lightnin' would work with another, well-respected drummer by the name of Cedric Burnside. But destiny stepped in a little more than a year ago when Kimbrough and Malcolm got reacquainted in a chance meeting at a Laundromat in downtown, Holly Springs, Mississippi. You can't make this stuff up; a Laundromat in downtown Holly Springs. Cameron says, "It was just one of them things, man. I was just in there hanging out, you know? A place I don't ever go." Lightnin' laughs, "Me neither, we just happened…you know?" Sounds like it was meant to be, Malcolm smiles and Cameron shakes his head. "Sounds like it."
Cameron says his influences were very close to home. "Well of course, my grandfather Junior Kimbrough, and my dad's been one of the biggest, 'cause he's a drummer. I grew up watching him and pretty much the whole family, Uncle David Kimbrough, Robert Kimbrough and other artists. I was around home, so pretty much those guys."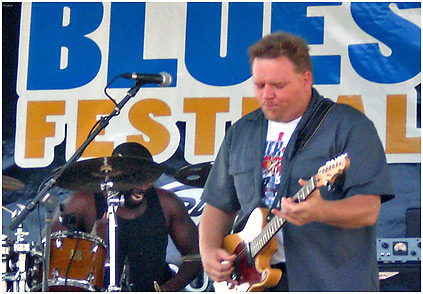 Lightnin' Malcolm and Cameron Kimbrough 'in the pocket.'
Photo:Yachiyo Mattox
Lightnin' tell us a little about writing music? "Almost everything we play, we wrote. Riding down the road or sitting around the house, start jamming. Usually I make up stuff when I least expect it, like I'm riding down the road and something just comes to me, or I just think of something, you know? But it always be a 'real life' circumstance that cause it, and then the song will come real easy. If it don't come easy, it don't come! For me, like I don't worry about writing, if it comes to me, cool. If I have to work too hard at it, I'm not ready for it."
We talked earlier about R.L. Burnside being an influence on your guitar style. Any others? "Fred McDowell, was one of the biggest. I didn't know him in my lifetime, but his records and stuff. I mean, there's so many, John Lee Hooker…but as far as living guys, like CeDell Davis, Big Jack Johnson, Sam Carr on drums, one of my biggest influences. T-Model Ford, Robert Belfour. T-Model Ford the way he had a huge sound on the guitar, like a Delta orchestra, when he got in the zone. Big Jack Johnson had a big influence as a person…as a man and a musician." Lightnin' looks over at Cameron. "His dad, (Kenny Kimbrough) Cedric (Burnside) on drums, all them guys were big influences, you know?"
CeDell Davis is one of MY favorites, playing slide with his silverware. "Butter knife!" Lightnin' corrects me, "I lived with CeDell for awhile, man. CeDell was one of the guys that really educated me."
If you would, describe your style of blues? "It's just a groove; it's not real flashy like a bunch of fast notes. It's all about 'pocket.' Like we work on the pocket, a groove people can dance to. We don't worry too much about solos or even fills, you just FEEL it."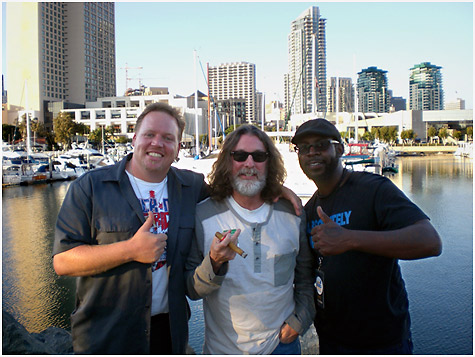 No good can come from this…..
As a two-person band, the music you create sounds like a lot more people are up on stage. "When he plays and that bass line rings out," Cameron says, "it makes it…that makes it full." You both are on the road a lot. Ever get old? "No, we LOVE it! We eat it like candy." Malcolm grins, "We f@%$#* love it! I'm 37," (Cameron is just 26) "but you have to know how to take care of yourself on the road. You can make it rough on yourself or make it hard." Lightnin' admits, "Now, we have a good time, but we're all about business and I'm kind of learning to get off and get some rest, now. I used to stay out the whole week… wear everybody out and still play my show. I almost did it at people, to show 'em I could do it. But it's not very smart because, I say, 'Hey man, take your time, that's not putting no money in your pocket."
You guys are currently touring in support of you latest CD 'Renegade.' Talk a little about the project. "Well, it's all original songs and mostly a two-piece album. But we've got some horns…horn section on a couple of tracks. A couple of little twists and turns, but it's pretty cool. But for the most part, it's a 'live' two-piece album."
What can we expect in the future from Lightnin' Malcolm? "Just keep working and keep moving forward and making our music, and keeping the old sound going, too. It feels good to find a balance about new music we write and it's got the old music tied in…and try to make the words mean something. So we'll just keep writing and keep working….keep growing."
********************
For me the most anticipated event of the festival was the appearance of one of America's few remaining early Delta players, James Cotton. These days the man's voice is barely audible but his mastery of the harp is never in doubt, his phrasing is crisp and clear. While he now sits to play, his fans at this event NEVER do. We were there to witness living history and James Cotton IS the blues.
It was an uncle who would coerce the very young Cotton to walk up to, and play for King Biscuit Time radio personality Rice Miller (Sonny Boy Williamson II). What happened then is the stuff of legends.
"I told him I was orphaned, my uncle told me to say that. I walked up and played my harmonica to him and he talked to me, you know? Me and him (Sonny Boy) got to talking, so he took me in. My uncle talked to him also when he seen it was working, you know?" Cotton would live and tour with Sonny Boy for "six years. Sonny Boy kinda' taught me how to play the harp."
Did you play on the street? "Yea, I played on the street a little bit. Not much because I was lucky enough to be in a band with Sonny Boy and we were working pretty good."
It wasn't always roses and rainbows when you ran with Sonny Boy Williamson. Recently Bruce Iglauer, founder and head of Alligator Records said James shared, "with great affection" this story "about how, when he was a kid working with Sonny Boy Williamson, they had a gig at a country juke joint and Sonny Boy hired someone to drive them there. Then he gambled away all the gig money and the driver realized he wasn't going to be paid, so he left. The band was left walking down a country road in the middle of the night. Some white guys slowed down, perhaps to give them trouble. Sonny Boy made a Masonic sign with his hand and when they realized he was a Mason, they gave the band a ride."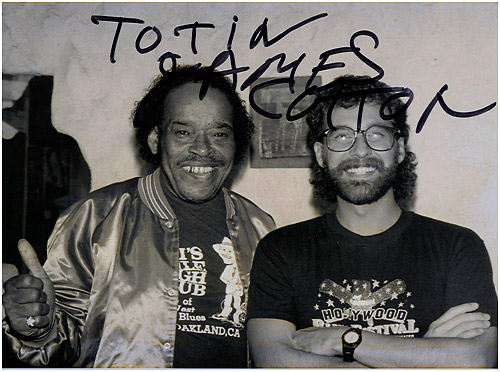 James Cotton and one of his biggest fans… 1987. Photo: Brian McGowen
Cotton told me he moved to Chicago in 1954. "Had a job with the late, great Muddy Waters. Muddy brought me to Chicago. He had been on a tour, down through the South and Junior Wells left the band. He (Muddy) was looking for a harp player and he had heard about me in Memphis. So when he was coming up from Florida, he came through Memphis and asked me if I wanted a job."
Cotton had just become an integral part of the quintessential Chicago band. "Well, I had a beautiful time playing with Muddy. I had the pleasure of working with Muddy twelve years. I had a really good time; he was like a father to me. I learned a lot of things in that band. He was doing a lot more recording than Sonny Boy was. A lot about the studios, things like that."
Chess provided a pretty good environment? "It was beautiful in the studio, but I guess he'd been doing it so long, when I got with him, you know? Chess had got hip to the blues, man. I have to say this about the Chess brothers. I've never been in the studio where they recorded the harmonica like the Chess brothers did. They were good at that."
You must have known Little Walter Jacobs? "Little Walter was a beautiful cat, man. I had the pleasure of working in Chicago with him, four or five years before he died. I don't thinks nobody will ever be better than Little Walter. I think he's so far ahead of his time, you know?"
You still having fun? "The music does as much for me as it does to the people out there. It makes me get up and go, too. When it ain't fun no more, that's when I quit. I'm certainly not getting rich, so when it ain't fun, I'll have to go home then."
James is on stage as the sun begins to set and most of the other artists at today's event are standing at the backstage stairs, paying homage, showing their respect. As James reflects on the passing of his friend, Willie 'Big Eyes' Smith, he starts to blow a slow, heart-felt blues. The entire audience experiences a collective pain for another legendary loss until the band snaps us back into a Mojo Working frenzy.
Now ain't THAT the blues!?
It was a great day on the Bay. Wish you were here. There were lots of other performers, but unless I turn this into a novel, let's just say, 'a good time was had by all.' The crowd was lively, and exceptionally generous. Everyone was asked to contribute can goods to benefit the Jacobs & Cushman San Diego Food Bank and donate, they did. Blues fans filled up what looked to be multiple 5X5 avocado bins with thousands of non perishables. As the Festival playbill so prominently stated, 'Nobody knows the Blues like the Hungry." Nice work San Diego and Thank You Bruce Iglauer for the stories and Michael McClune for the opportunity. Can't wait till next year.
Related Articles:
Blues Storytellers, Field Hollers, Mark Hummel and the Blues Survivors, Rod Piazza and the Mighty Flyers, Buddy Guy, Pinetop Perkins