SoulSauce
By T.E. Mattox
Something Borrowed


f you're anything like me, you've recently been listening to a boatload of different music. There are so many talented musicians and bands out now; if you're not overwhelmed, I'm afraid you've been plugged-in way too long.
Having spent most of my adult life unable to differentiate between Attention Deficit Disorder and Analog Digital Digital, I thought what better way to decompress than to share a newly discovered audio nugget and take a fond look back at a 'royal' classic that stands the test of time.
A new buddy of mine, CT Hogoboom recently shared his latest CD project, so I wanted to play it forward by sharing it with all of you. CT and his long-time California coast collaborator, Tommy Lee Nunes, have put together a new band that bares the same name as their 'fresh-out-of-the-studio' disc: SOULSAUCE.
According to CT, he and Nunes "started playing together in the mid eighties when we discovered we both had a love for acoustic music. Tommy is a Central Coast native born and bred in San Luis Obispo. I was born in upstate New York, and moved to Fresno. After graduating high school I moved to San Luis Obispo in 1971 to attend Cal Poly. Our sound is definitely influenced by what we have heard and people we have played with locally, but also in large amounts from the music out of SF to the north and LA from the south."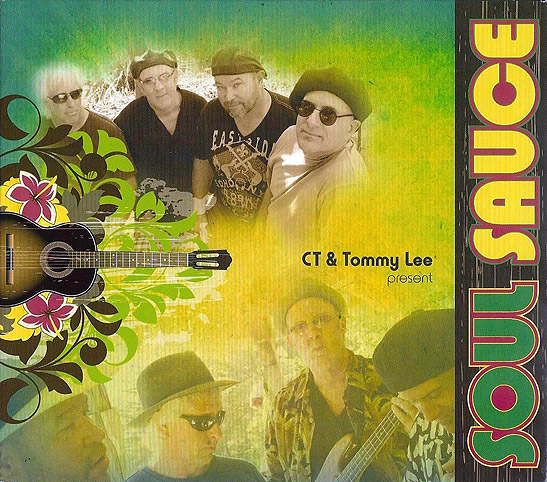 This album, their follow-up to the 2005 release of 'CT and Tommy Lee' also features Bruce Sorensen on bass, and drummer Keenan Michael Vallone. "I think that is what helps make SoulSauce the sweet mixture it is. It is a stew of all the influences and styles we've played and been exposed to. We have both been fortunate enough to play with talented and varied players over the years. Bruce Sorensen who plays bass with us now is an excellent singer that we only utilized as a background singer on the CD since these songs were already complete we he came aboard. Bruce has got the bass voice to go with the bass guitar. And Keenan Michael Vallone has an excellent upper range voice."
And to add a little more sand to your board shorts, the band brought in a few other faces very familiar to anyone who's ever crawled from a Central Coast club or staggered out of a California Beach town tavern: keyboardist Alex Kizanis, Stan Sine on harp and guitarist, Steve Tracy.
"The lineage we have with other players is definitely a part of who we are as musicians." ---- CT Hogoboom
One remaining element came in the form of a 'rogue wave' that rolled in from up the coast. This legendary horn player would put the 'curl' into the entire set. A pure touch of spice from part-time Cambria resident, session phenomenon and the artist known by most as 'the Stones favorite sax man,' Ernie Watts.
"Bruce our bass player ran into Ernie when he was in Cambria relaxing after just coming off the road. Bruce told him about our CD project and got Ernie's number. I called him and talked to him about coming in to play on a couple of cuts. Needless to say we weren't able to pay him anything close to what he would have demanded in L.A. He agreed to come in and play on two songs as kind of a friends and family offering. Once there, (at Painted Sky studios) he got in the mood, dug the music and we coaxed one more song out of him. He is so good it was very difficult to decide which take to use. It really added a special touch to the CD."
The result speaks for itself, one heaping helping of sand, sun and surf. A day at the beach courtesy of... SoulSauce. From beginning to end, there's a refreshing diversity in the music's culture and tempo. An offshore breeze blows through the opening track, 'Summerland,' and never stops. The band embraces Latin beats and weaves harmonies into their Rhythm and Blues. They are masters of blending reggae with acoustic folk and 60's surf rock, and as CT reminded me, "If it feels good we'll do it. If it's really danceable that's even better."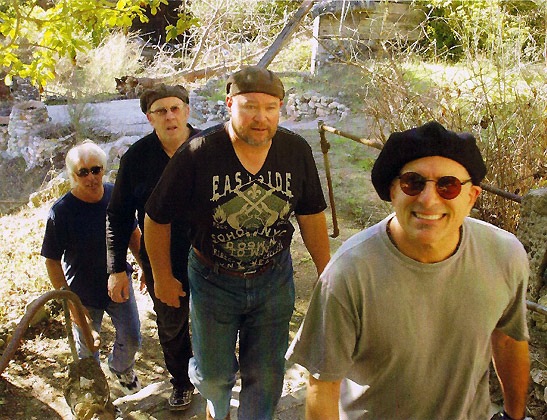 L to R: Keenan Michael Vallone, Bruce Sorensen, Tommy Lee Nunes and CT Hogoboom. Photo: courtesy of SoulSauce
Then there's a lyrical core. Hogoboom and Nunes have created poetry out of virtually everything from apathy and attitude, to protest and regret.
"We collaborate well together, although occasionally one of us will have a song that is pretty much complete that we will just work on, to polish it off. Other times we just sit down and play ideas for each other and see what sticks. Fortunately we have similar tastes and very rarely disagree on what's right for a song we're building. The other players come in and we introduce the songs and they help us out by adding their creativity to the arrangements and parts they play.
Currently I'm reviving a swing blues song of mine called, 'Not Really Blue' and Tom has several songs that he has riffs and ideas for (that) he was playing for me today.
You can tell CT feels good about what the band is doing because he's already looking ahead. "There is a lot more variation still to come in future CD's. The SoulSauce music continues to evolve; we try and keep it sweet and funky."
And you always wondered what success smelled like...
Just when you think you've got all the original pieces in place, the band lays out a last, brutal shot of reality. The old lady leaves you, rips out your heart and then adding insult to injury, she also rips off your…VELVET ELVIS! Damn, that's just cold.
Something Blue
Like most American Baby Boomers that came of age in the 1960's, my early introduction to blues came from distant shores. Strange though it was, I'm eternally grateful to that handful of amped, mostly British bands for exposing me to an indigenous music produced less than 250 miles south of my Midwestern upbringing. And too, like most Boomers, I don't remember much of the 60's, but I still have a massive collection of vinyl that tells my story better than I EVER could.
Starting with John Mayall's Bluesbreakers and his cast of thousands, that in turn gave us Clapton, Cream, Blind Faith, Fleetwood Mac, Mark-Almond... it was endless, really. Alexis Korner, Long John Baldry, the Stones, the Animals, and of course Jeff Beck, Van Morrison, Yardbirds, Led Zeppelin... the influences were wide-ranging; the talent... brilliant.
The curious thing for me was that album covers and sleeves always had more names on the recordings than faces in the band. Names like Morganfield, Burnett, Dixon, Hooker, Johnson and Williamson.... who were these guys and how did they write songs that seemed to describe exactly how I felt? I needed to know and my 'Key to the Highway' turned out to be the local record shop. And that is where I first discovered… Freddie King.
My pick for the essential blues collection is a compilation from 1975 Shelter Recording Co., Inc. and re-released by Dunhill in 1990 titled, 'The Best of Freddie King.' The recording shows just how versatile Freddie King could be when surrounded by musicians of his own caliber. All tracks were produced by Leon Russell with help from Denny Cordell and the legendary, Don Nix.
Side One opens with Nix's own, 'Going Down.' It's a full, 'live' studio session that doesn't just pull you into Freddie King's world; it yanks you out of your chair and slams you into the wall. Listen closely when Mr. King leans away to solo, you can hear him wail to punctuate his guitar. The man has been DOWN before!
John Fogerty's 'Lowdown in Lodi' is next and shows off Freddie's graveled, rasp of a voice followed immediately by 'Living on the Highway.' This Russell/Nix composition could be, and probably should be, Freddie King's autobiography. The classic Lowell Fulson, 'Reconsider Baby' is straight up, bourbon and blues music. Drink up. 'Me and My Guitar' and 'Boogie Man' finish out the side on an upbeat, feel good roadhouse romp. As the song says and Freddie shouts, "I'm a King-sized, Boogie Man!"
Side Two opens with a slow blues that highlights the soul in King's voice, 'Woman across the River.' But immediately you're back on the road and in familiar territory with the gospel-tinged rocker, 'Palace of the King.' 'Same Old Blues' written by Don Nix, puts you in a low-down and dirty place....on a rainy day. The next track at least gives you an alternative, Leon Russell's haunting, 'I'd Rather Be Blind.'
This disc takes you on an emotional journey of highs and lows like very few can. It reinforces the versatility and creativity of these artists during some very special recording sessions. The culmination of these efforts comes full circle with Willie Dixon's testosterone-infused anthem, 'I'm Ready' and closes with the coups de grace, a Russell penned, heart-breaking plea, 'Help Me Through the Day.'
Leon Russell brought together an incredible group to back Freddie King on these recordings; Chuck Blackwell, Jim Keltner, Don Preston, Carl Radle, Duck Dunn, John Gallie, Charles Myers, Jim Gordon, Rev. Patrick Henderson and the O'Neill Twins. You just know they had a wonderful time putting it together, because it resonates in every note they play.