Whitney Shay –
A Voice of Recognition
By T.E. Mattox

hitney Shay, like so many of her musical peers in San Diego, takes her craft very seriously. What sets Shay apart from her colleagues is that she vents her talents across such a wide array of platforms. As an actor and entertainer she has appeared in stage productions, experimental and improvisational theater and films. As a musician, it's the voice. Shay's octave-defying vocals transition easily between standards, ballads, '40s big band swing and straight ahead jazz. Adaptability to band mates and her surroundings set the mood and consistently highlight Whitney's love of the challenge. Her skill set can jump start your party with '50s R&B, or drop you to your knees with a gospel-tinged hymn. But her songbook is also brimming with blues, from the heights of the Kansas City shouters to the depth and grit of Etta, Ruth Brown, and Big Mama Thornton. A fact not lost on the San Diego Music Awards who nominated Shay in three different categories including 'Best Blues' and 'Best Blues Album.'
Shay's musical diversity is often reflected in the size of her performing ensemble. Shows can incorporate the solo spotlight, duets, trios and by adding horns, quartet performances. On special occasions you might find her engulfed by the lush arrangements that can only originate from the gale force of a thirteen-piece or larger, big band.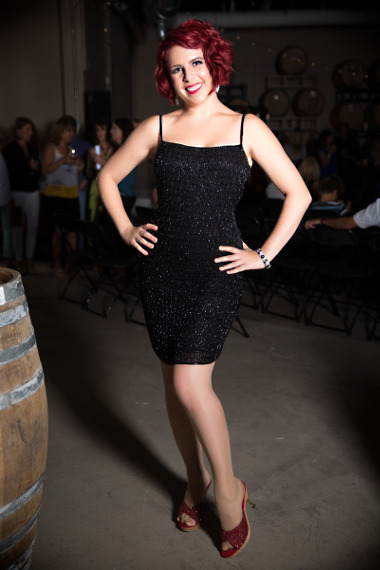 Whitney Shay. Photo credit: Strayshots – Frank Rodrick
Over the years her 'place of business' has proven to be just as varied and eclectic. Shay has performed in both tradition club and bar settings and the customary hotel lobbies and restaurants. But then there are the 'unusual' environs that have included private corporate gatherings and jumping out of a birthday cake to the strangely bizarre center aisle of her local Asian grocery store. But, it's all good and this native Californian says she's right where she wants to be. "San Diego is awesome," she laughs. "Why move? My families here… my mom is a native San Diegan, too. She was born and raised here. I grew up in East County, born in La Mesa and my parents kept moving further and further East, so now my parents have a house in Alpine and have horses and cows and llamas and chickens and all kinds of stuff. They're building a barn right now; barn-raising is a real thing, it's not just 'Seven Brides for Seven Brothers.'"
What captured your interest in the performing arts so early? You were really young… "Really, really young," she says. "I was three. I don't know, it's funny because my mom is not a performer at all and not really into the arts. She was always kind of an animal person and farm girl and stuff. I don't know, when I was three and a half my grandmother and my mom and I took a trip to Europe and I used to sit through plays and movies when I was three. Just sit and be mesmerized. We went to see the Royal Shakespeare Company doing the Wizard of Oz, which was my favorite movie and afterwards my mom said, 'Oh, what did you think?' And I said, 'Well, I liked it, but I thought I was going to be on stage.' My mom was like, 'Uh, I don't know where that came from?' When we came back, she found a theater company that would take me. And I've been around a lot of people in the theater and a lot of stage parents pushing their kids, but my mom was never like that. My family has always been supportive and drove me to rehearsals for a long time when I was a kid, doing theater, dance and voice lessons."
What do you think pulled you so hard toward entertainment? "Probably the music, music has always been a big part of my life. I've always loved singing… and loved performing. At this point I've been doing it for so long it's like second nature to me. I love being on stage, its fun."
Can you talk a little about those who influenced you in your acting and in your music? "That's a tough one, in college I studied theater so we did all kinds of stuff, I did film acting, we did Shakespearian stuff and really cool improvisational 'out-there' kinda' experimental theater. I've always been drawn to dance in theater, when it comes to movement on stage. There were a lot of professors in college who got me out of my shell, but I don't think I really came into my own performance wise, I was always doing theater where you're still reading a text, you know what I mean… where it's somebody else's words? But I think in the last five years or so I've really found my own voice through music. I've found what I really want to do, even though I love acting and I still want to do it, I just feel more at home and I don't have to work so hard at it. I still work hard at it, but it's on my own terms and I get to pick what I want to do."
* * * * * * * * * * * * * * *
"Someone told me years ago, 'you shouldn't sing anything unless
it means something to you."
– Whitney Shay
* * * * * * * * * * * * * * *
"And musically, my influence… Etta! Etta (James) is number one for me. I love Bonnie Raitt. Julie London is one of my favorite jazz singers and Sarah Vaughan. Contemporary singers, Melody Gardot, I love her, she's really good. It's mostly female vocalists."
You do some really nice Billie Holiday tracks in your shows. "I do some Billie, but she wasn't one of my influences. When I was hanging out with Nathan (James) he got me to listen to a lot of older recordings which I probably wouldn't have listened to. I couldn't listen to those older recordings, all the scratchiness. I really had a hard time listening to that and enjoying it. But Nathan said he got into listening to the '50s and '60s stuff, which helped him go back and appreciate that. And that's exactly what it was for me and I was able to go back and listen to the '20s stuff. Now, I love the great jazz vocalists, and I love Robert Johnson, Memphis Minnie, Sister Rosetta Tharp, Oh man! Anything like gospel, blues, and R&B related that's like my favorite. Big singers… Big Mama Thornton, Big Maybelle I love all the big blues shouters basically from the '50s. Ruth Brown, LaVerne Baker… I love LaVerne Baker, Oh my God. Helen Humes is another one."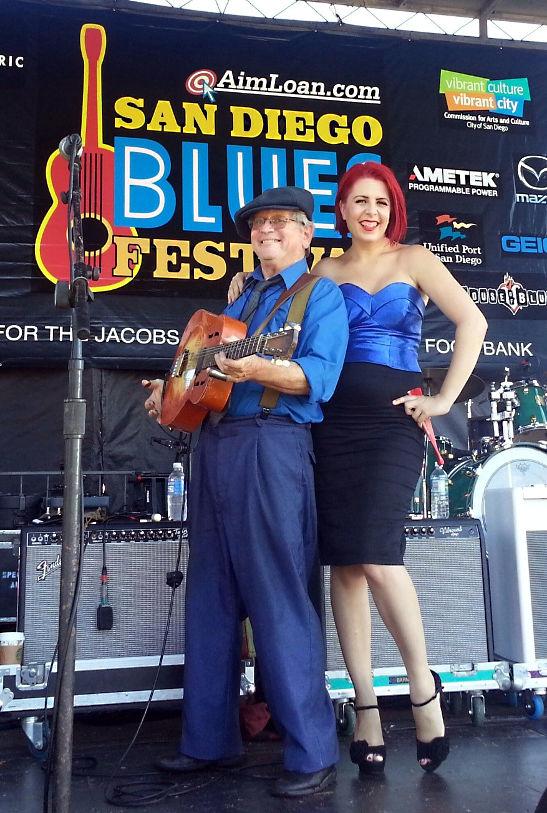 Robin Henkel and Whitney Shay at this year's San Diego Blues Fest. Photo: T.E. Mattox
You play with so many different musicians, Michael Leroy Peed, Jodie Hill, Marland Waak, in duos, trios and even big bands, and your diversity spreads over multiple styles and genres, how do you describe the music of Whitney Shay? "I like soulful music! Whatever that means, whatever I like, whatever I find soulful. That's how I try to encompass it all. Let's be honest, I'm not trying to do pop music, that's not what I want to sing. I try to sing things that speak to me, in a certain way. Someone told me years ago, 'you shouldn't sing anything unless it means something to you. Unless you really love it,' and I agree with that completely. That's really important."
Let's talk about some of your ongoing collaborations… "Four main projects… I've gotten to the point in my career now where I've learned there are a lot of really talented musicians out there. But you have to really like the people that you're working with. I mean, it's basically a relationship. I see musicians I'm working with more than I see my boyfriend. My band mates are my friends so we don't have drama and that's really important if you want to stay sane in this business. At least right now, career-wise I don't have a project where it's like a band where we're equally responsible for choosing music and booking things. Except for Robin (Henkel), Robin and I switch off when it comes to that. I'll come up with a song or he'll come up with a song or he'll book a gig and I'll book a gig, but most of the time it's just me and the musicians I'm working with. I think a lot of the blues bands are like that. Billy (Watson) is kind of the leader and he chooses the music, it's the same with Nathan (James). He's the leader, he does the work. And there's nothing wrong with that model and it's probably actually a little bit better because there's no fight for control."
How does it work with the big band performances? "With the big band it depends. I've worked with three different big bands and it depends on the show. I did a show with a big band, the JazzKatz and we worked the Fillmore and there was a producer. He had Celine Dion song he wanted me to sing and I'd never sung a Celine Dion song in my life. So he had this song and the band has an arranger, the guy who writes all the music out and arranges it for the band. So it's a little more structured because musically it has to be. With Billy and Robin it's a little more improvised but when it comes to a thirteen, sixteen or an eighteen-piece band, it has to be arranged. With the big band you're reading the music."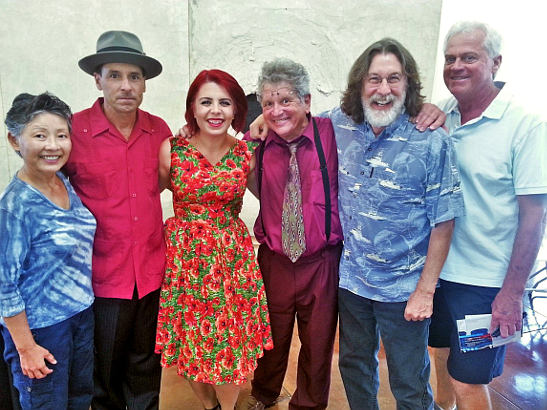 Billy Watson, Whitney, and Robin Henkel pose with fans
You're writing more music now. "I'm trying to, and I'm trying to get better. What I've done in the last few years, since I don't play an instrument… I just come up with lyrics. I've written poetry for a long time and I can come up with a piece of a melody or something, so now I'm going back and taking piano and guitar. To make myself learn an instrument enough for writing purposes and to better my music theory and music knowledge because I don't want to be just the 'chick' singer." (laughing)
It seems like you are always challenging yourself. "I try, I try because I work with really good musicians and I want to be able to keep up."
In 2012 you release Soul Tonic. "Soul Tonic was a project with Archie Thompson, a producer I still work with a lot. I met him actually, through Nathan and it's kinda' funny. Our jazz group was playing at the Gaslamp Speakeasy one night, and the general manager of the U.S. Grant was walking home and walked by and saw us and he was like, 'Who are you and why aren't you playing at the Grant?' So he called Archie and I started working with him at the U.S. Grant and some corporate work and he wanted to get into producing and I hadn't made an album so we started working over the next few months and came up with this album. He wrote some the songs and I wrote one of the songs and we picked out a couple of obscure covers. He picked 'Behind Closed Doors' and I think it came out really well. It showcased that I like a lot of versatility… there's R&B, soul, there's blues, there's jazz, there's an Etta song on there, there's a Lou Rawls song on there. We did it three years ago and now I listen to it and I'm tired of it, you know? I want to make something… now. I think it's a really good record but I'm ready for something new."
The business of music in and around San Diego seems to revolve around social media now, fans of any genre can go online, hear or see someone and find out where, when and what time they're playing pretty easily these days. "What you're talking about on the internet, here's a perfect example. Scottie Blinn, I love Scottie Blinn, when I came out with my record Soul Tonic, he shared it on his Facebook page and said, 'Oh my gosh… listen to Whitney's record, it's great.' All these DJ's in Europe started emailing me, so they're playing my music. I'm looking at my website this week and it shows all the people that have viewed it. There are people in Brazil, Australia, there are people in Europe, and the Netherlands… I've never played over there. It's kind of amazing."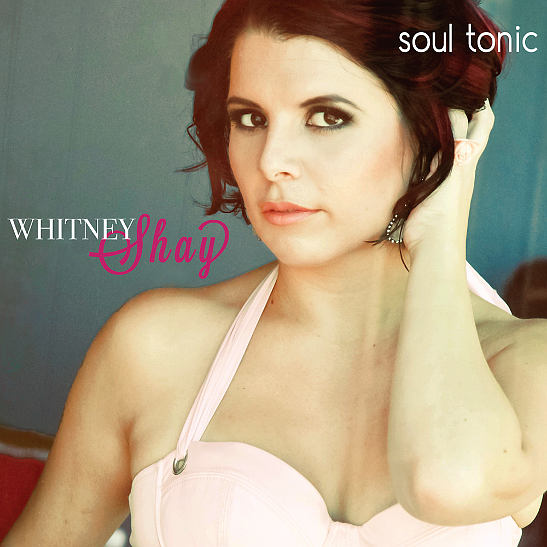 San Diego has a 'community feel' that surrounds the music, where musicians seem to regularly support each other. "It's true, and I don't know if it's like that in the other music scenes, like the Indie scene… but in the blues and jazz community everybody goes to support each other and that's kind of awesome. I've talked to Gilbert Castellanos and he said there's more going on in San Diego than there was when he was in L.A."
It's the same camaraderie that you display when you perform with Robin and Billy… "Robin has been like a Godsend, I love working with him. He's a funny guy, a great guy and one of the best. And I love playing with him because we have so much fun together. And I love Billy Watson. I think Billy Watson is one of the most creative performers I've ever seen, and I'm not a real huge harmonica fan. I love blues, don't get me wrong, but I'd rather hear sax than harmonica. But with Billy, there's something about his solo's that are really creative and so engaging. He really knows how to engage a crowd. He is a consummate performer."
You pop up on all kinds of stuff, you sang backing vocals as part of the Harmanettes with Candye Kane and Nina Anderson on James Harman's latest, Bonetime. What other assorted gigs and happenings have you been a part of...? "I recorded on this new album with a guy who lives on my street. He has a local scene podcast and he brings lots of different people on. The album is called, Music for Spy's and Lovers. It's interesting; it's very different from what I normally do." She pauses ever so slightly. "I've done lots of weird things in my career. I did an improv show the other day; they asked me questions and made up an improv show about it. I jumped out of a cake, I got hired to sing Happy Birthday and jump out of a cake. I've done a couple of jazz gigs at Asian grocery stores before. I sang jazz in the middle of a grocery store."
For more information and the very latest on Shay performance and tour dates check http://www.whitneyshay.com/ or if you're lucky, you might just run into her in the 'Confectionery' aisle at your local market.
Related Articles:
Billy Watson: San Diego's Mr. Natural; Robin Henkel; 2013 San Diego Blues Festival; 2011 San Diego Blues Festival; Missy and Heine Andersen; Nathan James: Southern California Roots