Willie Dixon
"The Pen is Mightier............."

miss Willie Dixon. I had the tremendous good fortune to sit and talk with him on several occasions during the 1980's, and he never failed to amaze, entertain and enlighten me. During those years you couldn't go into a Southern California club, blues venue or attend a music festival without seeing the man surrounded by an entourage of adoring friends and fans. He was finally acknowledging his role as blues ambassador and accepting it with his natural ease and grace. Willie Dixon had become everybody's favorite uncle; the elder statesman whose dues had all been paid.
As a bluesman who had been there and done that, Willie lived his life exactly like he wrote songs; simply, without pretension and at gut level. A huge man both in girth and talent, he became a voice for the broken man and the troubled woman. He had a genuine gift for musical arrangement and composition and is, to this day, still considered one of the blues' most prolific songwriters. He was incredibly intuitive when it came to pairing songs with musicians and musicians with sessions, then successfully capturing on vinyl, the best from both. Just look through any of the Chess or Cobra libraries.
As a studio producer, songwriter, session player and stage performer, Dixon had few peers. His remarkable body of work remains the watermark for today's generation of blues players. A keen ear for talent and ribald sense of humor made him versatile, but Willie's observations of the human condition and flair for innuendo, made him legendary.
Born seventh in a line of fourteen Dixon children, Willie could trace his education and understanding of the blues directly to his family upbringing. "One of the phrases my parents used to teach me, especially my mother, 'Think twice before you speak once, and think the third time before you act.' And another thing she always said was, 'Anybody can get mad, but anybody can't get smart. It pays to get smart but it don't pay to get mad.' When I was a youngster I couldn't understand it because it didn't make sense. But today it makes sense because the world can make anybody mad."
"Another thing, 'If you don't listen you can't learn' and those are three things in life that a person have to do to really understand and learn to enjoy life, because if people make you angry you will never enjoy it. And these are the kind of things that had a great influence on me after I got grown, even though I knew them as a youngster." Shaking his head, he admitted, "But many a-times I done things without thinking."
THE TRUE FACTS OF LIFE
Willie had the unique ability to relate life's experience through his music. A twelve bar documentary of the world around him. "That's why I wrote so many songs, because I've been writing about the true facts of life that exist today and what I hope, tomorrow, will be a better future. I've been writing songs all my life, you know? I used to walk around with a gunny sack full of songs. I couldn't get nobody to do them. I used to sell them outright for $10."
If there has ever been a central figure or seminal root of the blues, that list of names would begin with Willie Dixon. From a dirt-poor youth in Mississippi to the revered and respected elder of America's only indigenous music, Dixon began his pursuit at the tender age of eight.
"I was a kid in Mississippi and we used to be outside of a place called Zack Lewis'. He had a little tavern; they called it a barrelhouse in those days, and Little Brother Montgomery would be in there playing piano with his band. We used to follow Little Brother all over town. I'd be bare-footed, running up and down the road behind them, they'd be up on a wagon bed or a T-model Ford truck and he had a piano up there. Little Brother was short and little at that time and we always thought he was a kid, but he was several years older than we was. I know every time we chased him all day long, I'd go back home and get a whippin' for missing school and following the band all day."
Those first short, dusty steps would begin a lifelong journey for Willie Dixon. A path he embraced with open arms and sometimes clinched fists. Occasional brushes with the law and time spent in reform school exposed Dixon to the serrated edge of life.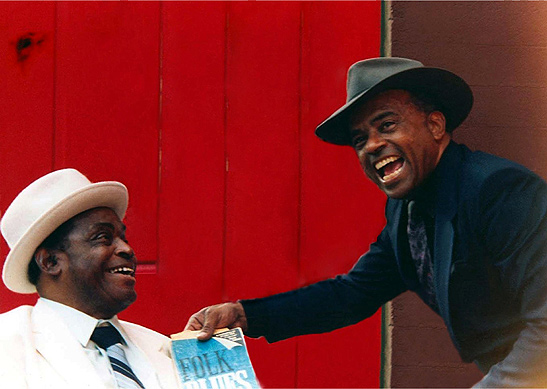 Willie and Roy Gaines share reading material and a laugh. Photo by: Yachiyo Mattox
I'M READY
"I used to be a fighter, you know?" I used to train at Eddie Nichol's Gym in Chicago. Fightin' is a hard job. Of course, I won the Golden Gloves in 1937 and I fought pro a few times. After I found out everybody was getting money but me, my management company was taking advantage of me, so we got into quite a hassle and it caused both of us to get expelled. Fights get into your system like everything else, you know? Until you finally get beat enough to give up. I got a chance to train with the 'Brown Bomber' (Joe Louis) down to Eddie Nichol's gym I was supposed to go on a tour with them, but I never did go. My manager didn't want me to get shell-shocked before I got out there too far, you know?"
Shell-shocked is the pivotal word here. As often happens with dramatic and unforeseen turns in life, Willie, while somewhat disappointed, began to contemplate his options. "After sparring with Louis, I knew from that point on, and for the rest of my life, that I wanted to be.....a songwriter. The music don't fight back and you don't have to be ducking and dodging and running and keeping yourself together, you know?"
Eddie Nichol's place may have witnessed the end of Willie's fight game, but it also provided the catalyst for his next career. A fellow musician and delta native, who was also a ringside regular, would steer the impressionable Dixon in a totally different direction. That fight fan was Leonard 'Baby Doo' Caston.
"He was the one teaching me about the musical things, you know? He used to come around the gymnasium where I was training and sitting around there playing guitar and singing all day. The first instrument I started on was a one-string tin can 'Baby Doo' Caston made for me. I had been singing bass in the south as a youngster on the spiritual side, I knew a pretty good bass line and I'd learned how to play that on one string, so it wasn't hard for me to learn."
As part of the short-lived 'Five Breezes' in the late 30's and later "The Big Three Trio", Dixon and Caston were fast becoming Chicago's original blues brothers. The Windy City was experiencing post-war prosperity where jobs were abundant and high-paying. The continuous migration of southern laborers and struggling musicians along with the sudden influx of returning, cash-laden military personnel combined to make the south side of Chicago an entertainment flashpoint.
Venues materialized as quickly as the crowds. Clubs, bars and boulevards (Maxwell Street) beckoned to blues players from every region of the country, especially the talent-rich Delta. Some clubs were more prestigious than
others.
"Playin' in some of them old dives in Chicago, every night when you walked in you was lucky to get out. I could name a lot of places we used to play, you know? Like 708 when they was first gettin' out, and they used to have a place down on Indiana they called 'the Hole'. You'd have to look goin' in and look comin' out because you didn't know whether you were gonna' make it goin' in or comin' out. I remember the I Spy Lounge, that was on 43rd street. Richard Stems owned the I Spy. The Green Door was another place; they used to have a lot of those rough places. People now days don't even know what rough stuff is. A lot of times guys you were workin' with had their guns and things and I was more afraid of them than I was the folks out there."
THE GOSPEL ACCORDING TO McKINLEY
Chicago, in the late 40's, was Mecca for blues players but their styles were diversifying and experimentation produced a new, amplified city sound. On any given night you could find Willie, Big Maceo, Sleepy John Estes, Sonny Boy, Memphis Slim, Memphis Minnie or Son House hanging out at Tampa Red's place.
"Tampa Red had a big old room back there, he lived right up over a pawn shop on 35th and he had an old, raggedy bed sitting in the corner and a broke-down piano in another corner. Everybody could get in there and could sit on the bed or on the floor or on the piano and they'd all be in there arguing about songs, you know and making songs, like that. Lester Melrose would be in the front room and he'd always have the old lady cooking something; chitlins or something. He'd come back there, 'What you fella's got?' And each one would come up with what he got."
Creative juices flowed like hot grease down the Melrose stove. Working with Leonard Caston and Ollie Crawford at local clubs, The Big Three would occasionally find themselves on stage with another Delta musician. Willie's personal association with this one time plantation resident would last a lifetime and their collaboration would become legendary. McKinley Morganfield and Willie Dixon were about to alter the world's perception of the blues.
"Muddy Waters was one of the first ones that starting doing some of my tunes, you know? I was walking around with 200 songs in a bag and nobody would do none of 'em. I'd go around and sing 'em to him, so he said, 'Man, I like that song.' I had a little trio called the Big Three Trio at that time; we had recorded for Columbia and also for Bullet Company. We done that song about the 'Signifyin' Monkey' and 'Wee, wee baby you sure look good to me' and other songs.
So this 'Hoochie Coochie Man', Muddy Waters liked it, you know? So I started to go out there and jam with him with our trio. He told me, 'Man I sure like that song, if you let me, I'll record it.' Sure enough he got with his manager. I got with Muddy over on 14th Street one night, I took the song over there and he said, 'Dixon, I'm gonna' do that song tonight.' He didn't know the song, he'd just heard me singing it.
So I took him in the washroom on the intermission, and we practiced the song. He walked out of there and he said, 'Man, you better let me do it first, so I won't forget it. By the time he came out of the washroom, he went on the stage and he started doin' the 'Hoochie, Coochie Man' and he done it til the day he died."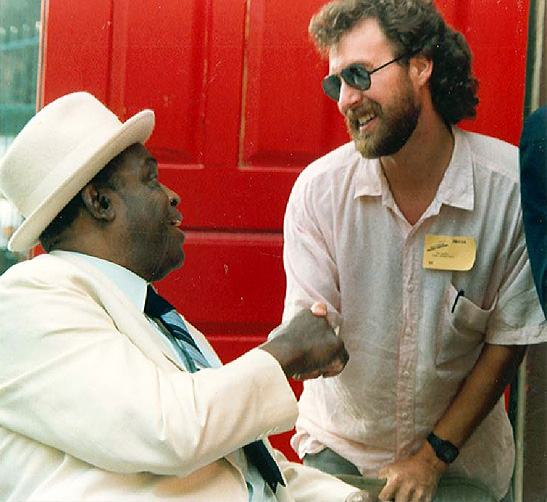 Willie Dixon says hello to one of his biggest fans: me. Photo: Renda Lowe
Writing music occasionally created conflicts among Willie's friends, especially if an artist wanted, or didn't want to record a certain song. And Dixon was the first to admit that writing the song wasn't necessarily the most difficult part of the recording process.
"Sometime I just have the idea of the experience that people go through involving themselves in different things, and this is what I write about. And then sometime I try to find people that I feel like can properly express these things, because sometime people can express a thing better than another one... sometime. "
One case in point, 'Wang Dang Doodle:' "Oh yeah, Howlin' Wolf recorded it long before Koko Taylor, but the Chess Brothers wouldn't release it. In fact, I wrote a lot of things for people they never actually would accept and I'd have to give it to somebody else. And then ten to one after somebody else get it, then they'd like it. I used to always have trouble with Muddy and Wolf because one thought I was giving the other one the better song, you know? So I got to the place I just used a little backwards psychology on 'em. The one I be writing for Wolf, I tell Wolf, now here's something I wrote for Muddy and that's all I need to do. (Wolf would say) 'Man, how come you got to give that to him, that's better than mine.' And vice a versa, that's the way it worked."
Another case in point, 'My Babe:' "I had a hard time in getting Little Walter to do 'My Babe'. Two years I was trying to get him to do 'My Babe'. He didn't want to record it. He just didn't like it. But after he recorded it and it started going over, it was his top running number."
I AM THE BLUES
"Learn to respect the wisdom of the blues, because the wisdom of the blues and the blues itself is the greatest music on the face of the earth. The blues has proved to have more wisdom and understanding than any other music. And once you learn the wisdom of the story of the facts of life, it gives you a better chance in all of life. And I think that's a great thing for people to do all over the world." --Willie Dixon
AMERICAN FOLK BLUES FESTIVAL
As the self-appointed ambassador of the blues, Willie Dixon and a few special friends began spreading the word outside America's borders. "Memphis Slim and I started the American Folk Blues Festival. We was just working as a duet, we went to Israel and other places trying to promote the blues there. None of these blues organizations was even thinking about them at the time, but everywhere we went we talked about the blues and promoted them. Some of the people got into it before we could complete our thing. I'm glad they did, because today we've got the blues thing going."
During the early sixties the American Folk Blues Festival featured some of the most recognizable names in the genre; players like John Lee Hooker, Sonny Terry and Brownie McGhee, Victoria Spivey, Otis Spann, Muddy, T-Bone Walker, Big Mama Thornton, J.B. Lenoir, Lonnie Johnson, Big Joe Williams and the Wolf.
It wouldn't be until years later that Dixon would discover the profound effect he and his friends had had on a very select group of young British musicians.
"Well when they was young, overseas, me and Memphis Slim was over there and they had their groups going, but that was before they was popular. The Stones, they was kids over there. I didn't know one from the other because they didn't have no name then, you know? When I was over in Europe and other places, I would give songs to everybody and a lot of kids tell you, 'I'm gonna' do this and I'm gonna' do that', and how would I know who's who?
But when they come back years later they say, 'You remember you gave us that song here and gave us a song there,' well I don't know them but they know me. Some of them gave me their picture when they was young, you know? And when they came to Chicago, a lot of them would come to my house or we'd meet in different clubs and things. How are you gonna' remember a bunch of kids, man? As many countries as I went into and meet 'em from all over everywhere, I worked with so many different people in so many different places, I can't remember them all no way."
A MAN WITH A MISSION
Active for most of his life, Willie thought about retirement when he moved to Southern California, but it wasn't to be. If anything, demands on his time increased.
"Ever since I've been out here, it's been one thing right after another. I try to back off from 'em, but with the Blues Heaven Foundation I have retired away from working for myself, and by being able to reap some of the benefits of some of my own royalties that I should have got years ago. And this is why I started the Blues Heaven Foundation so I could help other people that wasn't as lucky as me.
Not only does it try to get some of the capital that's been owed to artists, people who been beat and cheated out of their thing, but we also help 'em to learn how to protect their songs and copyrights. We do this with donated capital and the Blues Heaven Foundation takes not a penny from nobody. I do all of my work for Blues Heaven for nothing. All the people that has passed on and their families didn't get anything, all they had to do is prove that they are involved or in the family and they can reap the benefits of their forbearers.
You know when you feel like you're underprivileged, and know you're underprivileged and not getting your rights, you always want to know why? Believe it or not, (prior to the civil rights movements in the 50's and 60's) people didn't know they had a black law book and a white law book at that time but today most of them know about it. It wasn't until after the Martin Luther King era and the government ratified the 14th and 15th Amendment, that everybody had to hear us out and give us just dues just like everybody else. My chance for justice as well as anybody else's is good today."
BLUES HEAVEN
"That's the reason I'm trying to expose the Blues Heaven Foundation because you don't have to die to enjoy the great things of life. You don't have to get to the place where you have to have this religion or that religion, fighting over ten dollars and then tell me you're going to a place where the streets are paved in gold. Don't you know I don't want to go there if you've been raising as much hell over a dollar here? So I figure if we can enjoy the luxuries of life here as we should, everything is here you need. They say if you went to heaven you'd get milk and honey. We got milk and honey here.
It's just a matter of time because you see, everything have to change, everything changes. People get more experience and understand each other better, but when you haven't been taught any of the right things, naturally you can go wrong because you're only thinking about yourself and not others."
With a chance to reflect on his life and given the option to change the outcome, Willie just smiled. "Frankly with the experiences I've had since I've been involved in these blues, I wouldn't take billions for it, but I wouldn't want to do it all over again for trillions'."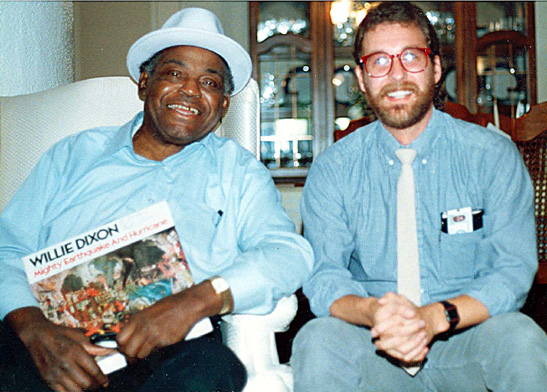 At Willie's home in Southern California, 1987. Photo: Joe Reiling
Through his Blues Heaven Foundation, lovingly minded by his widow, Marie and grandson, Alex, Willie continues to touch the lives of disadvantaged youth and the surviving family members of early blues greats. Whether it's assisting students through scholarship programs, donating musical instruments, or recouping lost royalties, Blues Heaven continues to educate, perpetuate, and carry out Willie's most heart-felt wishes.
Willie Dixon lived, worked and breathed the blues. His music conveyed the depth and drive of that battered old upright bass. To use boxing vernacular, it was his combinations. He could double you over with thumping bass lines and drop you to your knees with devastating lyrics. The name Willie Dixon will always be synonymous with the blues, but to paraphrase the late Dr. King, it's the 'content of his character' that we'll all miss the most.