Under Doctor's Orders:
The Good Guys in White Hats
And Black Jackets
Story and photos by Tom Weber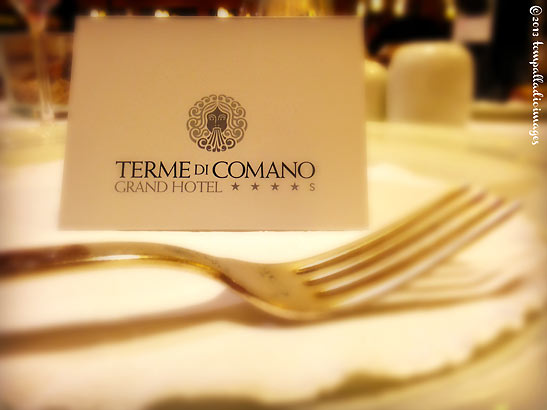 hile the feel of the well-balanced silver cutlery still weighs in my hands, the splendor of wild forest berries from delightful ruby-red wines continue to dance around my palate, and a Cheshire cat-like smile remains etched on my face, I have to remind myself that, like Dorothy in the Wizard of Oz, I am "no longer in Kansas."
Actually, Terme di Comano (TdC) to be exact, sitting at a table reserved daily just for me at the Grand Hotel Terme (GHT) restaurant.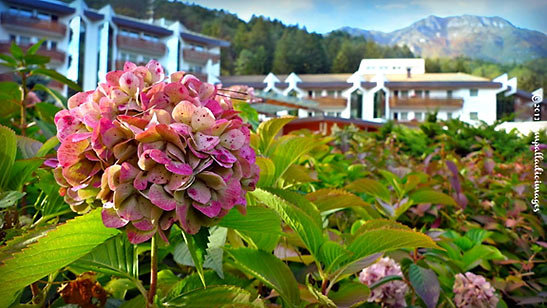 Sadly, after 16 days of being pampered and fed like a king up in the Trentino Alto Adige region of northern Italy, my medically prescribed spa-wellness trip, like all good things in life, has come to an end, and so, too, the Under Doctor's Orders series.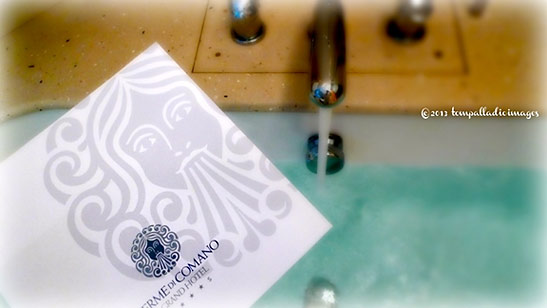 Doctor D, my personal physician back in my adopted hometown of Vicenza – the City of Palladio – in the Veneto region, prescribed two weeks of water therapy, under the supervision of TdC medical staff, to treat a dermatological disorder that's been bugging me for a while. Thankfully, my skin is already showing positive signs of improvement from the magical waters that run down from the Dolomites into the tiny village of Comano.
Little did I know before heading off on this Rx adventure, that one of the side benefits of "the cure" would be a mouth-watering regime of gourmet dining from around the Trentino.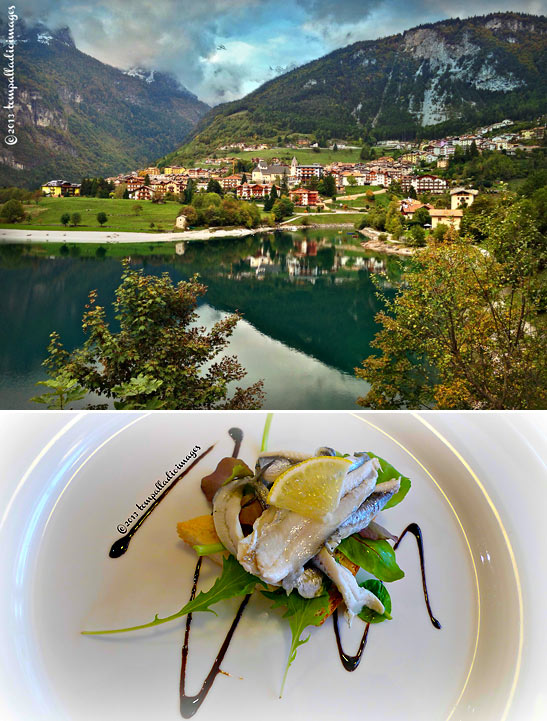 In between my two-a-day soaks, I've enjoyed numerous photo shoots around the area and the haute cuisine that awaited me afterward, expertly prepared by Christian Ventorini, GHT's executive chef, and his white-hatted sous and pastry chefs, and plated elegantly before me by the superlative wait staff in black tie and jacket.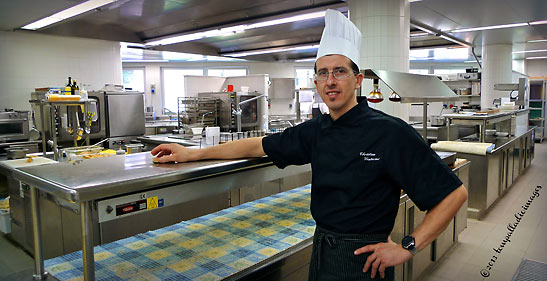 Just before the "Last Supper," I met up with lo chef, and he took me on a personal, red spatula tour of the kitchen and explained his rivisitato (revisit) style of cooking.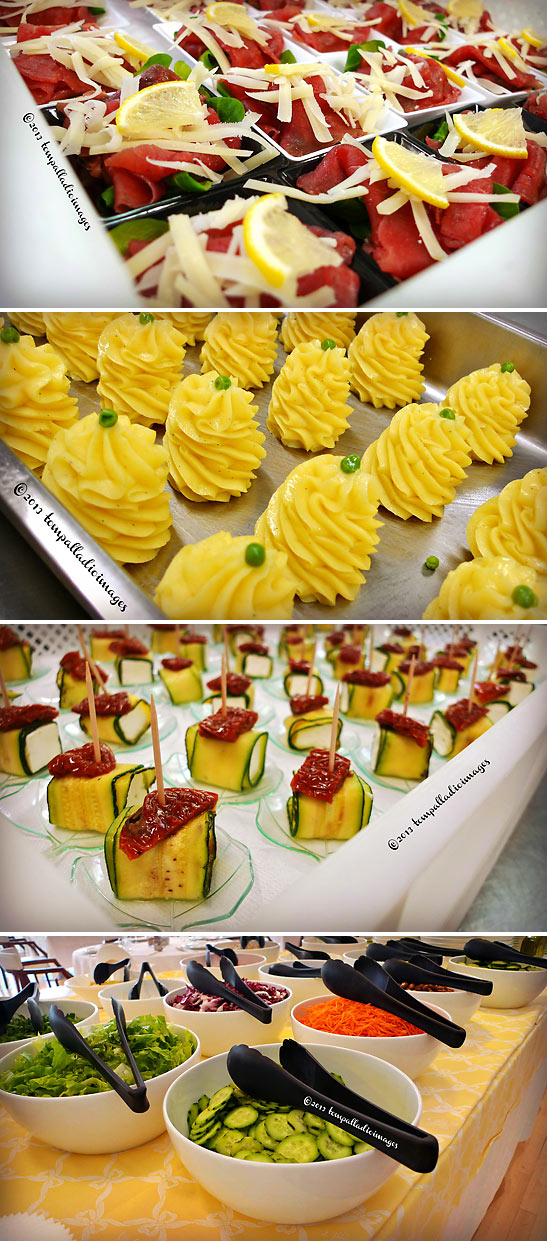 It's a creative interpretation of the traditional Trentino kitchen that uses fresh ingredients found in and around le Guidicarie. Ventorini's to-die-for rivisitato recipes are prepped morning, noon and night for guests of the GHT, along with the occasional wedding and other special-event dinners.
Living a dream, I managed to consume, actually savor, 21 four-course lunches and dinners during my stay, not to mention the daily breakfast ritual of a macchiatone – an extra-strength cappuccino with a double shot of espresso – accompanied by freshly baked chocolate and fruit-filled brioche (pastries), along with the occasional pre lunch or dinner Ugo (Hugo) aperitivo and the mandatory post-meal caffè macchiato, all prepared with TLC by Claudia, GHT's effervescent barista, and delivered to me out on the patio. Amazingly, I didn't gain an ounce.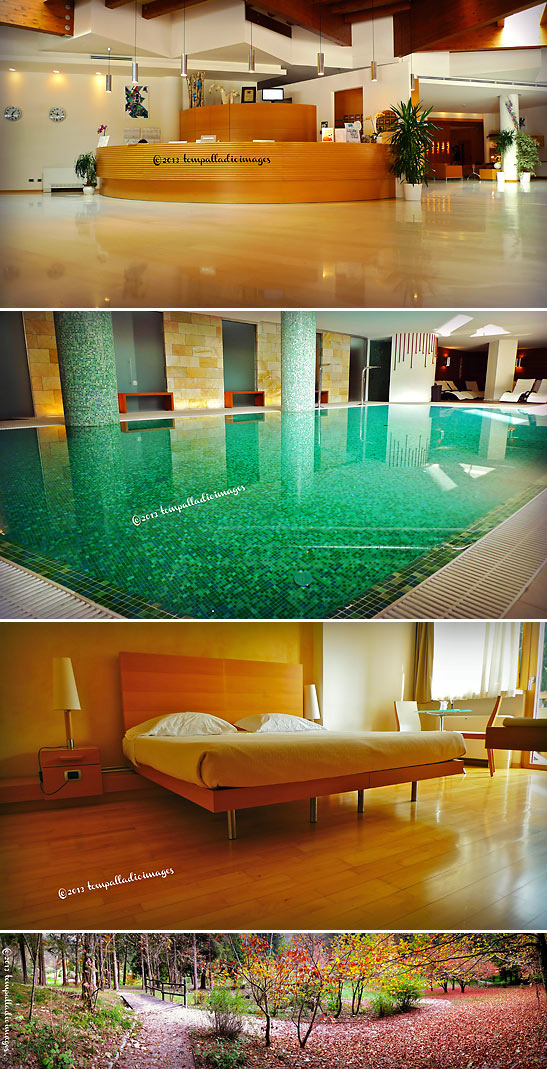 The staff – administration and front desk, in-house spa and wellness, medical, maid service, restaurant and kitchen – not to mention the great facilities and services, and the surrounding idyllic, park-like setting, made my retreat at GHT everything I imagined it would be and so much more. My 16 days in paradise was worth every euro that I spent as the hotel went above and beyond the four-star S rating that sits alongside its name.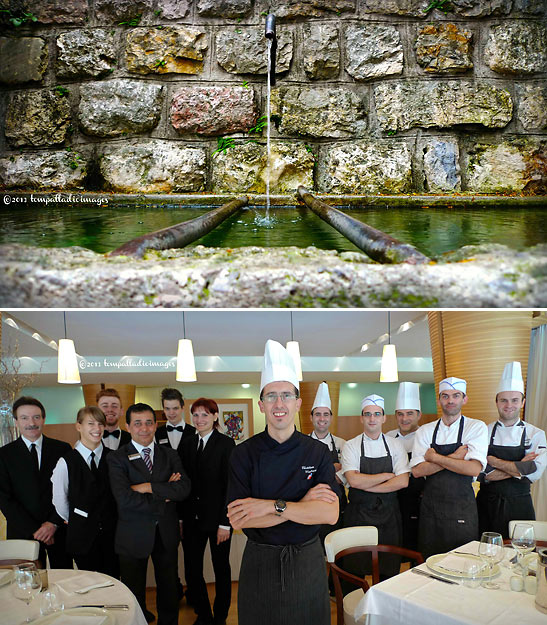 And, before you even ask, the answer is NO. As much as I'd love to share, I cannot give out Dr. D's telephone number or email address. I'll need him again in six months to prescribe a return trip to Terme di Comano for another session of the water therapy inside my personal Shangri-La that is the GHT. No doubt, I'll uncover more great sights and locales with my lenses, AND savor more tantalizing dishes prepared, plated and presented by those good guys in white hats and black jackets.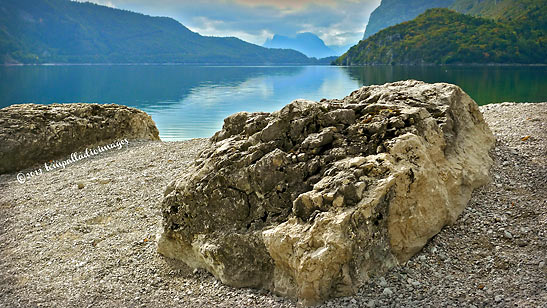 If you missed viewing any of the previous installments of the Under Doctor's Orders photo-shoot series when they first went to press on Traveling Boy, you can see them right from here. Just click on the following titles: Terme di Comano, Lago di Molveno, Deggia, Rango, Fiume Sarca, Balbido, Fiavè, Canale di Tenno and Fratelli Pisoni Winery.

For complete information on a spa-wellness vacation at the Grand Hotel Terme in Terme di Comano, just log on to the hotel's English language website.
And, for complete information on picture-postcard perfect Trentino, visit the Office of Tourism's official website.
BUON APPETITO, BUONA SALUTE e BUON VIAGGIO!