Skiing the Dolomites:
True Grit, Goulash and Chicken Wings!
Story by Tom Weber, photos by ©Tom Palladio Images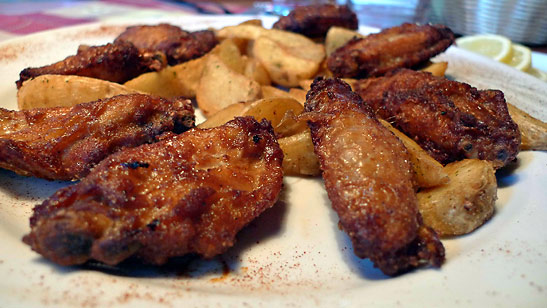 Plate of chicken wings served at the Baita-Hütte Raut on the Pista Raut, Monte Elmo


ome of the tastiest barbecued chicken wings outside North America that you'll ever smack your lips over are prepared to perfection daily in a small, rustic rifugio (refuge) midway down a challenging black-marked ski run on the slopes of Monte Elmo up in the snow-covered Dolomites of northern Italy.
Chicken Wings? Italy? ARE… YOU… CRAZY?
No. Well, yes, if you consider the only way there and back is via that treacherous pista nera, which my ski bum friends have dubbed the "Chicken Wings" run.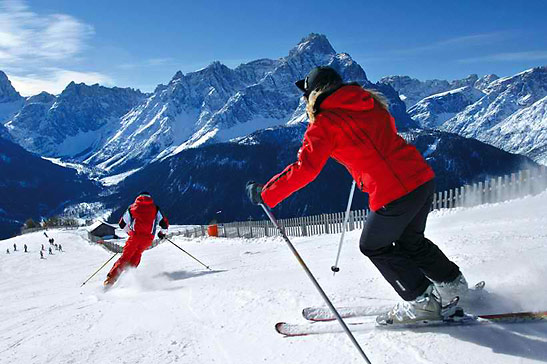 Making the run down Monte Elmo. Photo courtesy ©Hotel Adler, Villabassa, Italy
GERONIMOoooooooo!
WHOA! Hold your horses there, Bode Miller. Before you go blasting down the hill for some Italian El Pollo Loco, let me explain.
23 Years and Counting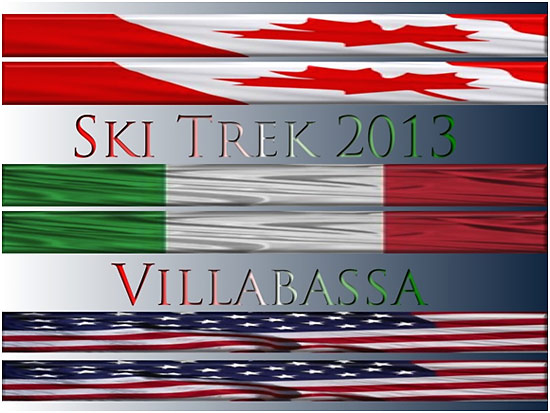 Since I returned to Italy permanently just over six years ago, I've managed to set aside one week almost every January to reunite with about 40-50 of my closest friends. And, this year was no exception.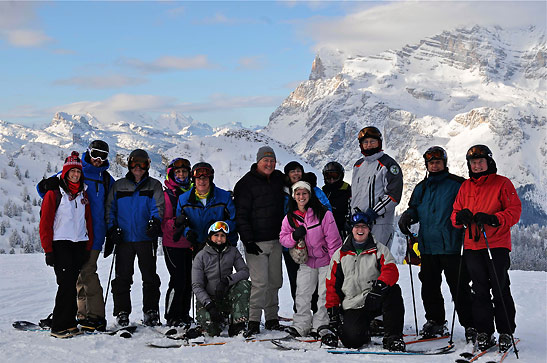 Atop Cristallo, Cortina d'Ampezzo, Italy. Photo courtesy ©Susan Halligan Rodgers
We're an avalanche of Italians, Yanks and Canucks, and we act like one, too, as we literally take over the Hotel Adler in Villabassa, nestled in the Val Pusteria area of the Trentino-Alto Adige region of Northern Italy – just a snowball-throw away from the Austrian border.
This week-long getaway to the slopes is known here in Italy as a settimana bianca (white week), but my ski buddies/revelers from both sides of The Pond have branded our annual "pilgrimage" to the Dolomites as Ski Trek Villabassa (STV). And, this year's STV was the 23rd annual.
A Top Chef and Top Slopes - What's Not to Like?
STV is a fun-filled 168-hours highlighted by mouthwatering gourmet dining straight out of Hotel Adler's resident chef and proprietor Helene Markart's cookbook, The Magic of Dolomites Cuisine.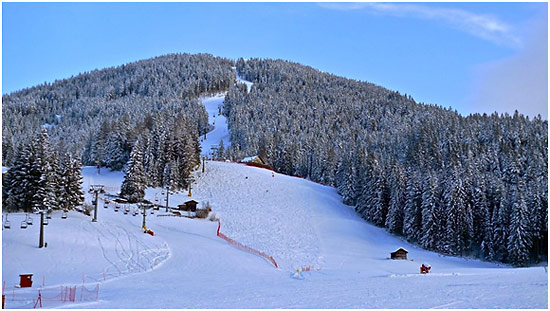 Along with being pampered at la tavola, there are loads of winter sports: skiing, snowboarding, x-country, sledding, ice skating, curling (Give it a try!) and snowshoe trekking.


Panoramic scene during the "Sella" run. Photo courtesy ©Stefano Sacchiero
We're primarily a skis-n-boards group, and STV makes it a point to change gears and run through a different area each day – weather, road and lift conditions permitting – from our list of six faves: Baranci, Cristallo, Croda Rossa, Monte Elmo (he loves to be tickled and tickles back, too), Kronplatz/Plan de Corones (conveniently reachable by a relaxing train ride that stops right behind the hotel), and a modified version of Italy's longest ski-snowboard traverse known as the "Sella Ronda." Take the Sella and you'll get a glimpse at almost all of the breathtaking Dolomite peaks.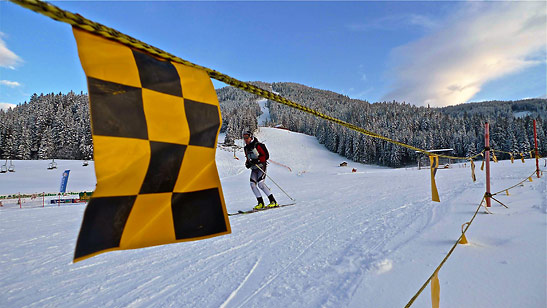 There's competitive sledding (à la the chariot race scene from the movie Ben Hur); a torchlight ski run and a moonlit sled run (weather permitting); end-of-the-week, officially sanctioned and timed ski and sled races; lots of après-ski merriment (wink-wink); swimming in the hotel's heated indoor pool (CANNONBALL!); spa treatments after a long day on the slopes; a pro hockey game at nearby Brunico; and, of course, the countless re-telling of tall tales from STVs past that only grow taller as the week moves along. "Hey, remember that time…."
Mano-a-Mano with Mother Nature
Armed with our Dolomiti Superskipass (see the If You Go section at the end), our ragtag group of skiers, snowboarders and "SLEDdog Millionaires" had plenty of weather challenges – mainly continuous snowfalls morning, noon and night for the better part of our stay. But, none of those heavy-laden gray skies dampened our spirits or forced us to endure cabin fever. Nope. We never stopped the PARRRRRRRR-TY.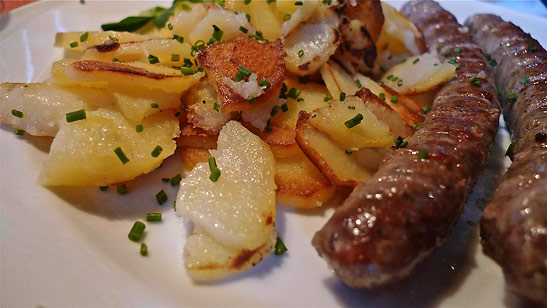 Just like U.S. Marshall Reuben J. "Rooster" Cogburn in the movie True Grit, we "saddled up" and took what Madre Terra doled out, day in and day out. And, we never missed a single day on the slopes, nor all the après fun (imbibing and casual strolls around the nearby villages), nor lots – and I mean LOTS – of eating.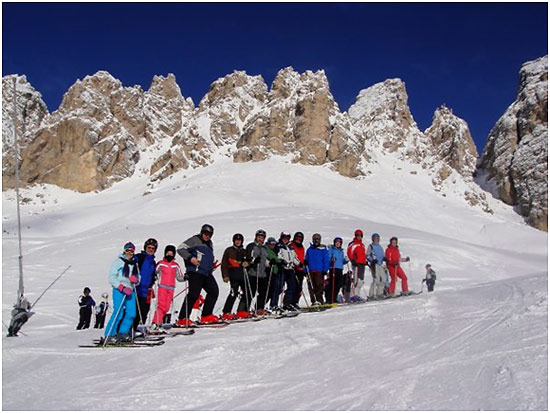 Photo courtesy ©Susan Halligan Rodgers
As the days weathered on, Mamma Earth ended up blessing us with four days of freshly fallen skier's gold – POWDER – followed by bright sunshine and breathtaking blue skies the remainder of the week. The clearing upstairs made it easy for us to gaze at all those unique, panoramic, panettone-like, snow-covered peaks known as the Dolomites.
A Day at the Races
We crowned a new "king" of the downhill, as one of the members from the Italian squad (I-T-A-L-I-A!) took the slalom trophy, while one of the happy-go-lucky Canucks (OH CA-NA-DA…) was the "queen" of the distaff side. In the sledding competition, Team USA (U-S-A! U-S-A!) bookended the competition and took home the gold with the fastest Adam-and-Eve sleds. And, the overall men and women's combined slalom-sledding winners both came from the La Squadra Tricolore.
For most of us sporting race numbers, we really didn't care where we finished – at the front, or near the end – because we really came for the food, drink, laughs and camaraderie. Race Day was just a bit of powdered sugar atop a warm slice of apple strudel.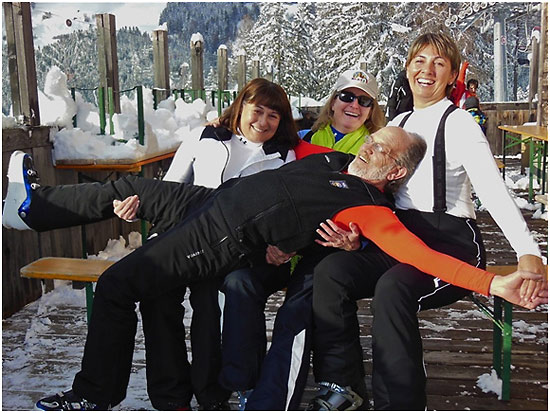 Photo courtesy ©Mike Rodgers
La Grande Bouffe
In the controversial 1973 French comedy-drama film La Grande Bouffe – La Grande Abbuffata in Italian, The Big Feast in English – four friends gather for a weekend of eating and debauchery at a country villa that gradually reveals itself as a suicide pact. The four BFFs eat themselves to death, literally, right before our very eyes up there on the big screen and not a morsel of the feast goes undocumented.
Although none of the "Fortune 50" that made up this year's STV ate themselves into oblivion like the four amigos in the flick, we all pretty much had to stuff ourselves into cars, vans and SUVs as we bid farewell to our hotel hosts at the end of the week.
Kulture Klash in the Kitchen
Sure, we all came primarily for the skiing/snowboarding/sledding, sightseeing and the après fun, but we were all equally here for the food and drink, too. Look, you cannot come to Italy without glass and fork in hand. If you care more about your waistline than sampling some of the best regional cuisine and wine pairings this side of heaven, then you might as well just stay at home.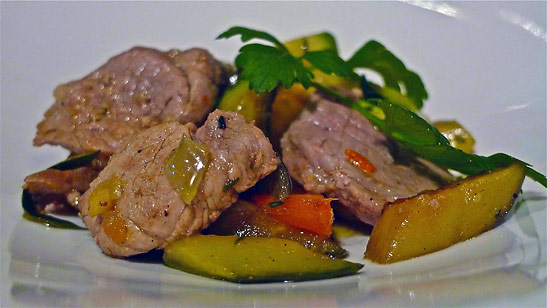 For seven days, we dined like kings and queens – actually, it was more like a continuous feeding frenzy around the Serengeti Plain – at the nightly gourmet dinners at the hotel and at our daily stops at the various baite/hütten/rifugi (refuges) where we skied/boarded.
Up in the Alto Adige portion of the Trentino-Alto Adige region of Italy – commonly known as Südtirol – where German is spoken and Italian acceptable, the cuisine is hearty from the area's Austro-Hungarian roots, but creative and eye-appealing following Italy's annexation of the region after World War I.
It is here, in Sudtirol – where canederli (bread dumplings), spätzle (small egg noodles) gulasch (goulash – thick soup/stew) and speck (smoked prosciutto/ham) top the charts and traditional Italian fare gets a big foot in the door – where a fantastic fusion of two dramatically different cultures comes to life in the kitchen.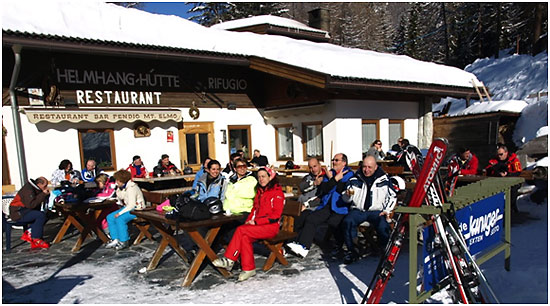 With a history of 23 years cruising the Dolomites, veteran STVers know all of the great eating spots/watering holes that dot the slopes; so, our ski runs nearing lunchtime were tailored for the daily foodie destination. Heck, we know the best kitchens so well that we just call ahead and reserve tables…WHILE WE'RE SKIING. "STV, party of 20!"
At the Hotel with Team Markart
Executive chef Helene Markart, along with her three sous-chefs and incredible wait staff, gear up for the nightly crowd – hotel guests in the main dining room, and interested foodies ordering à la carte in the hotel's smaller restaurant.
Team Markart orchestrates that delicious fusion of Sudtirol and la cucina Italiana to perfection, with a different menu tailored nightly for STV: a primary, five-course dinner, or alternate choices per course, along with four recommended wine pairings.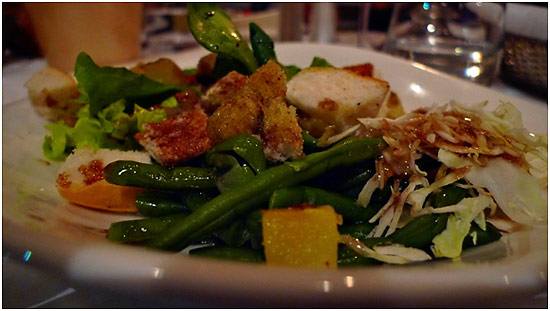 In addition, Hotel Adler showcases an array of traditional regional dishes one night during our stay with a Südtirol Night, complete with an accordion player who whistles, yodels and belts out time-tested folk tunes from around the Dolomites.
Add to all of the above an impressive wine cellar – well stocked with over 300 bottles of red, white and sparkling at the ready – and a bar staff that can prep an Aperol Spritzer or Hugo – two refreshing aperitifs of Sudtirol – or a snowcapped stein of draught beer, or anything else that you desire before you can even ask (after 23 years they pretty much know what we're thinking), and you quickly realize why we come for the snow, but stay for the food and drink. Guten Appetit! Prosit!
Slow Food on the Slopes
No matter where you run your skis or snowboard in the Dolomites, you're just a fork's distance away from one of the countless small, medium or large-sized baite/hütten/rifugi dining and watering holes.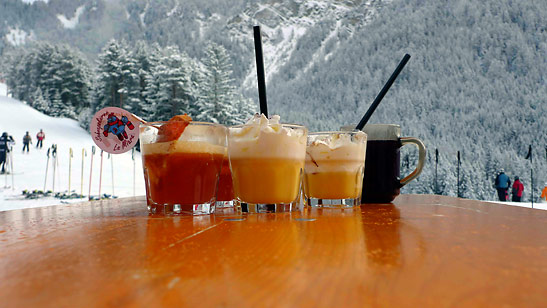 At one of these warm and inviting rest stops, you can grab a quick, savory bite then head right back out on the slopes; or, like me and my mates, take all the time you want around the table or at an après-ski bar after the final run, or both. Hey, we're in Italy. WHAT'S THE RUSH?
Like at the hotel, these Tyrolean flavored bistros-in-the snow serve up some pretty fantastic regional and fusion dishes as well. The menus are vast, and not just sausage-and-taters or chicken wings (actually quite tasty), as you might expect.
Arrivederci! Auf Wiedersehen! See You Soon!
Like every vacation, STV has a long prelude (anticipation), a slow beginning and, sadly, a quick ending.
As they say in Hollyweird, "That's a wrap!"


Photo courtesy ©Stefano Sacchiero
We all thoroughly enjoyed sampling the variety of great food dishes prepared for us – about 21 per person – during this annual "pilgrimage" to the Dolomites, and the skiing could not have been better.
It's no wonder STV has endured for 23 years and counting.
As one member of our group exclaimed, "Hip replacement be DAMNED, I'm going to Villabassa this year." And, he did. And, he skied. And, just like Rooster Cogburn, he overcame and conquered. Talk about true grit.
Ski Trek Villabassa 2013. A great week for 50 or so really lucky souls. You should've been here. Maybe next year, okay? If so, you bring the GRIT, I'll order the GOULASH and CHICKEN WINGS!
If You Go
Getting here: Arrival from North America is best served by flying into either Munich, GE or Venice or Verona, IT, and then rent a winterized car, van or SUV for the approximate 3.5 hr. ride to Villabassa. Due to its location from the nearby slopes, you're really best served to have four wheels at the ready.
Dolomiti Superskipass: With over 1,200 kilometers of ski slopes connecting 12 valleys via a network of 450 lift facilities and 475 runs, a Dolomiti Superskipass (DSSP), purchased at the start of your week, gives you all-access to every hairpin turn and all poma, chair, aerial trams and funiculars. And, the DSSP will save you some money, too, vice purchasing day passes at each location you decide to make your runs. There are discounts for seniors (over 65), kids and groups, too. A standard one-week adult pass is 220€ ($285).
For complete information, in English, on skiing, exploring and enjoying the Dolomites, logon here.
Recommended lodging: Hotel Adler, Villabassa (BZ) – German meaning Eagle, the Hotel Adler has been welcoming guests for more than 400 years from its "perch" in the southern reaches of the Tyrol. Now, that's staying power.
The "Eagle" is owned and operated by Christian Pircher and Helene Markart – he manages the hotel while she works her magic in the kitchen.
With its outstanding and professionally trained hospitality staff, this family-run, four-star hotel is a great option for a "Ski the Dolomites" vacation, and has served as our base-of-operation going on 24 years.
For complete information on all-things Adler, visit the hotel's website, in English.
Related Articles:
Civita di Bagnoregio; Riviera di Ulisse; The Little Village Atop the Hill (Castelluccio di Norcia); Norcia, Umbria; Piovene Rocchette, Italy; Northern Italy; Taos Ski Valley; Skiing at Big Bear Lake; Whistler Blackcomb Resort; Humbled in the French Alps; Braving Mammoth Mountain