Country Roads:
Paparazzi at the Osteria
Story and photos by Tom Weber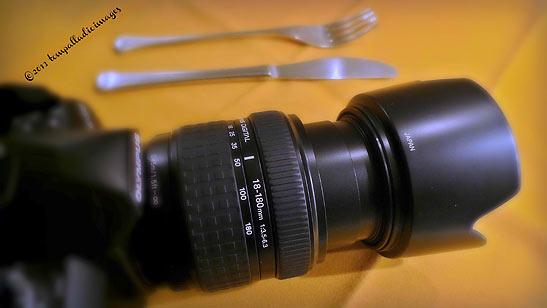 ne of the drawbacks of being on tour as part of an international media group – we're 23 strong and guests of Insight Vacations (Insight) on its abbreviated Country Roads of Italy journey through Umbria and Tuscany to sample la dolce vita – is that everyone in our pack, and I mean EVERYONE, goes after the same shot with their cameras, and all at the same time.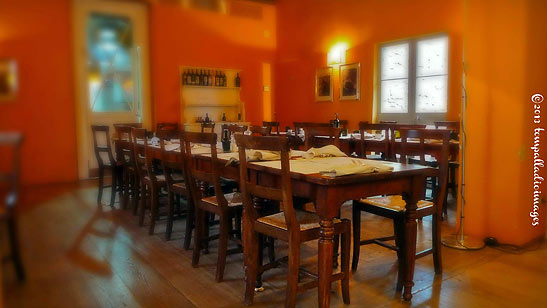 Some locales are better than others, but the epitome of our paparazzi state-of-mind really comes into focus around dining room tables and bar counters. Lenses, long and short, poke out wherever and whenever fine food and drink is on display.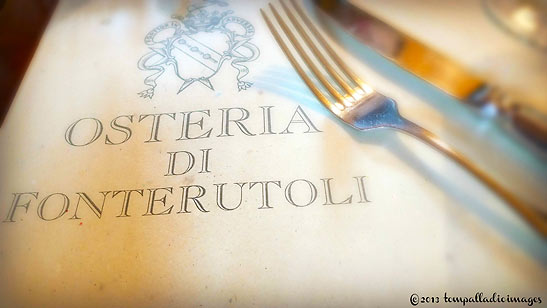 We jockey for position around la tavola based upon available natural light, or lack thereof, and go straight to work. CLICK!-CLICK!-CLICK! That's the sound you hear when an assortment of DSLRs and mobile handhelds say "formaggio" (cheese) in unison to the plates and glasses that catch our eyes.
I guess it's a small price to pay when you're touring around Italy on someone else's euro, right?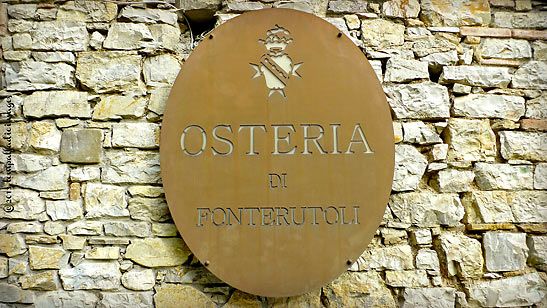 Our next "photo op" finds our band of merry media seated inside the upscale Osteria di Fonterutoli, guests of Doctor-slash-Marchese (Marquis) Francesco Mazzei, as well as the purse strings of Insight, for a degustazione (tasting) of wines and gourmet food.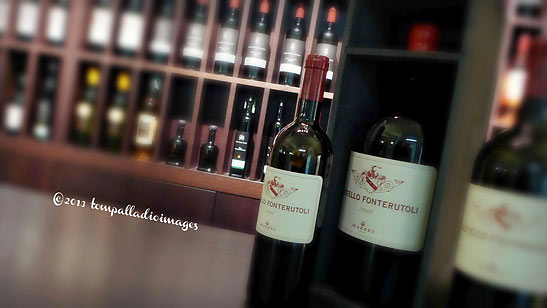 And the stars of this lens-loving affair? The osteria (CLICK!); the creative dishes being prepared for us (CLICK!); and, the wines from the nearby Castello di Fonterutoli winery. (CLICK!)
Doctor Mazzei (CLICK!), looking very smart in his tan sport coat and open shirt (some of the gals in our group want to place him on a piece of toast), welcomes all of us and begins to describe the characteristics of the first of two labels that we will sample: Vermentino di Toscana. (CLICK!)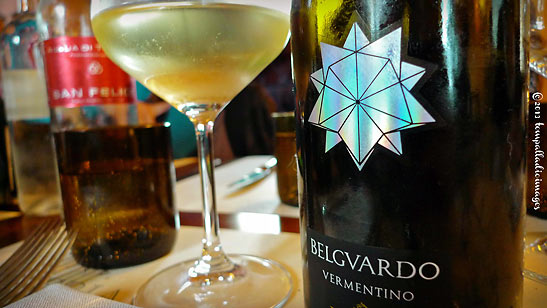 This IGT appellation (Indicazione Geografica Tipica – Typical Geographical Indication) white varietal, comes from Mazzei's Belguardo Estate in the hills of southwestern Tuscany, between Grosseto and Montiano, not far from the Tyrrhenian Sea.
As Dr. Mazzei explains, "This dry Vermentino shows real character, fine texture and a softness from a bouquet of aromatic notes, including those of yellow peaches."
We swirl, smell and sip.
The good doctor continues, "It pairs quite well with fish soups, grilled fish and crustaceans, pasta with vegetables and cheese-based appetizers."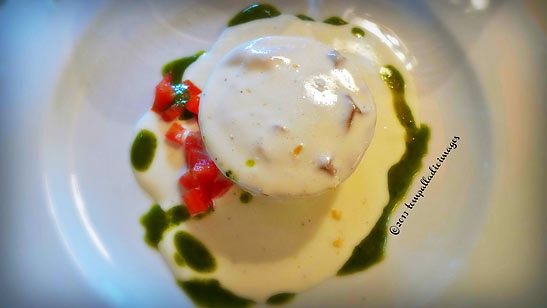 As if on cue, waiters begin delivering plates of culinary art: a zucchini and herbs flan underneath a pecorino cheese fondue. (CLICK!)
The dish turns out to be the perfect balance between the meadows and the garden, and the Vermentino proves to be quite the shepherd. I take my sweet time getting through it, as I don't want this dish to ever end.
Still looking dapper in his tan sport coat, Dr. Mazzei, now a.k.a. "the Hunk," returns to the head of the table cradling a bottle of red – Fonterutoli Chianti Classico (CLICK!) – and explains: "Selected from among our estate's 120 different terroirs, and following in the footsteps of its 'big brother,' Castello di Fonterutoli (which we did not taste), this Chianti Classico is our estate's second best wine."
We swirl, smell and sip again.
The highest appellation in Italy, this DOCG (Denominazione di Origine Controllata e Garantita – Guaranteed Controlled Origin of Designation) classic – a blend of 90% Sangiovese and 10% Malvasia Nera, Colorino and Merlot – comes from the hills just outside the osteria's front door, is dark berry-red in color, intense, but well proportioned with an elegant body, spicy flavors and a very smooth taste.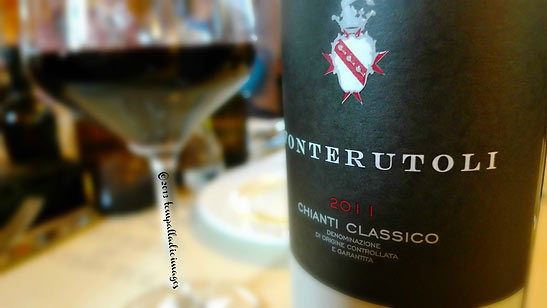 As our matinee idol, Dr. Mazzei, points out, "Fonerutoli Chianti Classico is our estate's most widely known and distributed label. It goes exceedingly well with aged affettati (cold cuts), grilled meats, fried vegetables and dark sauce pastas."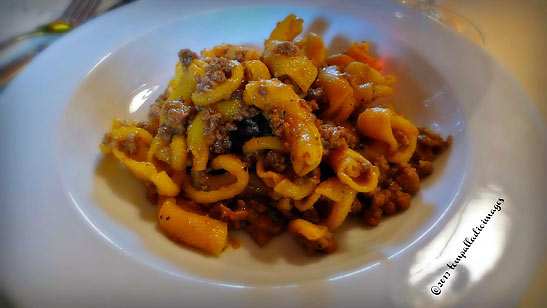 Again, as if on cue, waiters place another mouth-watering dish before us: a fresh, eggs-and-flour, macaroni pasta in a wild boar's sauce. (CLICK!)
THE classic ragù of Tuscany, the boar was not boring at all, the pasta was al dente, and mixed together they paired fabulously well with the other classic, the Chianti we were drinking.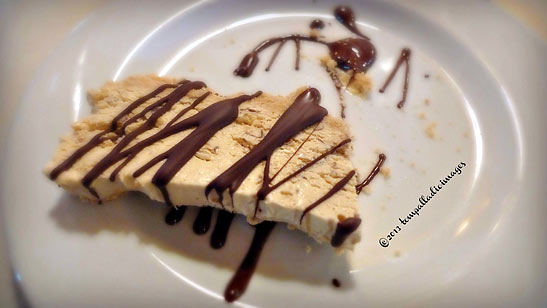 The wine tasting over, waiters returned with the final dish, the one that everyone craves: dolce (dessert). And what a treat it is. A hazelnut, semifreddo, ice-cream cake topped with a drizzle of dark chocolate. (CLICK!) Paired with a caffè macchiato, it's the perfect ending to a perfect pranzo.

But, this afternoon-heading-into-sundown isn't over by a long shot. We gather outside the osteria, then cross the street as Dr. Mazzei – now upgraded to GQ cover status – and Belinda, Insight's tour director-slash-storyteller (she's always a 10), take us on a walking tour of Castello di Fonterutoli, including the doctor's residence, where he posed for the lens with our band of merry media. (CLICK!)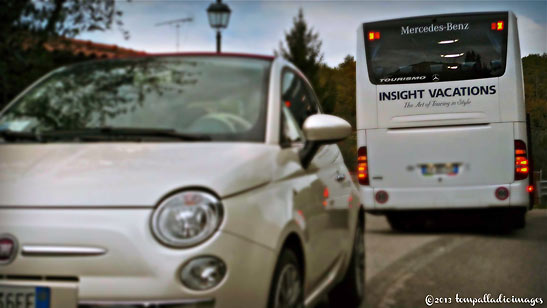 Back on board the motorcoach, seats reclining and faces smiling, Belinda delivers our new GPS coordinates: We're now heading to the Borgo San Luigi, a gorgeous Tuscan villa estate, where you'll be spending the next two nights.
Someone from the distaff side of our band of merry media – I guess she just couldn't contain herself about Doctor-slash-Marchese Mazzei's good looks – blurts out: Wasn't Francesco the absolute bomb? He could give Clooney a run for his money. (CLICK!)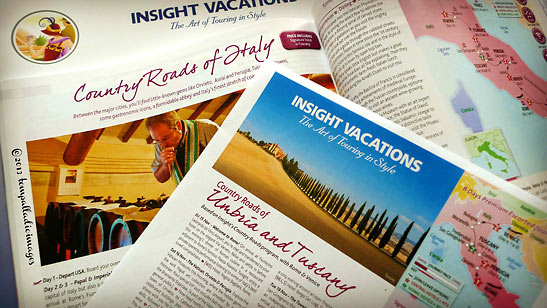 For complete information on Insight Vacations' 12 Italian premium and luxury-escorted itineraries and over 100 journeys throughout Europe, just click HERE, or call toll free (888) 680-1241, or contact your travel agent.
See you tomorrow when we head to San Gimignano, the Manhattan of medieval Italy. (CLICK!)
Ciao for now.
Related Articles:
Chianti Pours Forth from Fonterutoli; Cortona: Under the Renovated Tuscan Sun; Linnertime in Spello; Take Me Home Country Roads; The Olive Groves of Ragani; Saintly Assisi; Underground in Perugia