Story of Lost Luggage
By Steve Rosenfield
On Friday, December 17, 2010, my wife Elaine and I boarded a flight from Los Angeles non-stop to London Heathrow for the purpose of attending our daughter Amanda's engagement party in London. The engagement party was to take place in Loughton, Essex, just north of London, beginning on Sunday, December 19th at 3:30 PM. The engagement party was being hosted by our future in-laws, Gary and Suki, and was specifically scheduled during the Christmas holiday so that my wife and I could attend. There were over 200 guests expected to attend the engagement party.
Our American Airlines flight was scheduled to arrive in London Heathrow at 1:30 PM on Saturday, December 18th where our in-laws had arranged for a car service to pick us up and bring us to Loughton.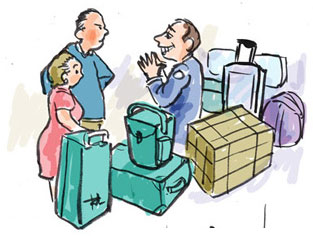 As the flight approached Heathrow, the plane could not land due to poor weather conditions. After circling over Manchester, England for an hour, we were advised by the flight crew that Heathrow was closed and the flight was being diverted to Brussels. We landed in Brussels at about 4:30 PM local time and sat on the plane for about 2 hours when we were told that busses would soon be arriving to transport all passengers to the terminal from where we would be bused to the Holiday Inn for the night. The flight crew also advised passengers that luggage could not be off-loaded because there were no ground crew personnel available to do the work. We were eventually bused to the hotel where we spent the night and were told to return to the terminal Sunday morning to hopefully re-board the plane around 11:00 AM and make the short flight back to London Heathrow.
My wife and I arrived back at the American Airlines terminal in Brussels at about 9:00 AM Sunday morning and stood in line with many other diverted passengers to find out about the continuing flight to Heathrow. Unfortunately, Heathrow was still closed and the airline was handing out hotel room vouchers for Sunday night. We were told that the luggage was still on the plane which was still on the tarmac in Brussels.
The local time was now about 10:00 AM in Brussels - 9:00 AM in London. My wife and I had to make a decision - abandon any hope of attending our daughter's engagement party (which was not a good option) or finding another way to get to London by 3:30 PM that afternoon.
When inquiring about our luggage (three suitcases) if we were to get to London by other means, we were told by the AA agent in Brussels that the luggage would end up at its final destination (Heathrow) and that we could then have the luggage delivered to our local address in the London area.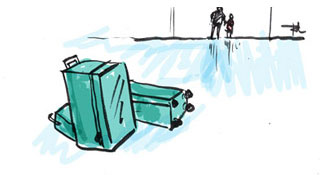 After listening to other travelers, who were in a similar predicament, trying to get onto other flights to Birmingham or Manchester, England, or trying to get tickets for the EuroStar train from Brussels to London (which they were told was sold out), we opted to look into renting a car and driving to Paris, and from there boarding the train to London. I spoke with an agent at
the Hertz car rental desk in the airport who told me that I did not need to drive to Paris, but instead could drive to Calais, a couple of hour drive, and catch the EuroStar from there to London. In the interim, my wife rented a mobile phone in the airport so that we could stay in communication with our daughter and future in-laws as we made our way back to London.
The drive to Calais took about 2 hours in the snow getting us to the train station by about 1:30 PM local time. We found the train station in Calais and went to the ticket window with the intent of purchasing two tickets for the EuroStar from Calais to London, but were told that the next passenger train was not scheduled to leave until 6:00 PM that evening. Obviously, if we had waited until 6:00 PM for the train, the engagement party would have ended by the time we arrived in London. The ticket agent suggested that we take the next car-train which was scheduled to leave about 3:00 PM local time, arriving in Dover, England about 35 minutes later. With the UK being one hour behind France, we would arrive in Dover about 2:45 PM local time which would hopefully give us enough time to get to our daughter's engagement party before it ended at 6:30 PM.
The train was late and we finally arrived in Dover at about after 3:30 PM making our way to Loughton, Essex, arriving at the engagement party about 5:30 PM, and were fortunate to at least having been able to spend about an hour meeting our future son-in-law, his parents and family, and all of the other guests.
The next day, I returned the rental car to a local Hertz office and began calling American Airlines to check up on our luggage which we assumed was still in Brussels since we were told that Heathrow was still closed. Getting through to American Airlines on Monday was impossible and Tuesday was not better. We called our daughter back in Los Angeles who contacted American Airlines in Dallas and put us on a conference call with the delayed baggage department personnel. We filed our delayed/missing baggage report and were told that we would receive a call (to our local London number) once the bags were found. We were also told that the airlines would reimburse my wife and me up to $300 US for both to buy replacement toiletries and clothing.
My wife and I did go shopping for basic toiletries and some clothes, but ended up borrowing clothes and cold weather gear from our soon to be in-laws. We were hoping that our bags would arrive and the need to purchase much of what we were missing would not be necessary.
We continued to check the AA website for updates and tried calling a few times, but nothing changed. Then, on Thursday, December 23rd, we talked to an AA agent who told us that one of our bags (the smallest one) was found and that we could arrange for delivery as soon as we filled out the customs forms and sent them in. The forms were emailed to us, filled out and returned that evening. We received confirmation that the custom forms were received and that the bag was scheduled for delivery hopefully within two days due to the backup. The bag never arrived nor did we hear any news from American Airlines for the remainder of our stay in London.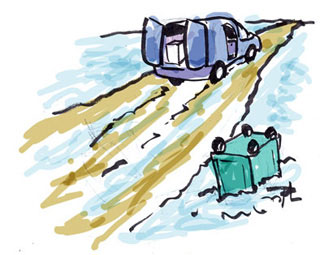 Our scheduled departure from London to Los Angeles was on Sunday, December 26th at 11:10 AM. My wife and I arrived at Heathrow at about 8:00 AM with the intent of going to AA baggage and trying to find any of our luggage. We were escorted to the pen where all of the missing/ delayed bags were being stored and, with the assistance of the AA personnel there, searched all of the bags without finding our luggage. When we asked about the one bag that American had told us was found and was to be delivered to our London location, no one could tell us what happened to that bag despite someone from the baggage department having physically seen and touched that bag several days earlier.
As of this writing, our bags apparently have still not been found. We are waiting for claims forms to be mailed to us from AA in Dallas who we were told is now handling the lost luggage claim because the bags have been lost for more than six days.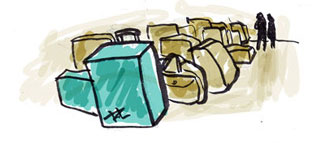 It is now over two weeks since we last saw our luggage in Los Angeles.