D DAY Through German Eyes –
The Hidden Story of June 6th 1944 (Paperback)
The most fascinating 1st person account book you'll ever
read about (and by) the German soldier in Normandy, June, 1944
As a longtime travel journalist, and someone who was born in London back in the days when Great Britain was fighting for her life (WW2!) and because I've always been, well, "mesmerized" by various aspects of the Nazi "military machine," I found this unique, intriguing, fascinating book totally awesome.
I have countless books about WW2, and almost 98% of them are written from the British, American and Canadian point of view. Few are written about the German/Nazi view. To have a book like this in one's collection is a goldmine. The fact that these ARE first hand, unvarnished words from soldiers who were ACTUALLY there, is priceless. A cliché phrase for sure, but this riveting book is a "page turner." I read it cover to cover in 3 days.
As it mostly encompasses the events in Normandy, it was for me as mesmerizing as a flickering neon sign, because as a journalist I've been to Normandy 5 times. There's another aspect to this brilliant book that makes it even more compelling – the words and thoughts comes from military men TEN years AFTER the event. Why is that important? Well, it gives the person relating his experiences, 10 years to think about and in many cases VIVIDLY remember, how awful, terrible and beyond comprehension, the fight was. How "mentally disturbing" it is to come face-to-face with the enemy, and know it is either you or him.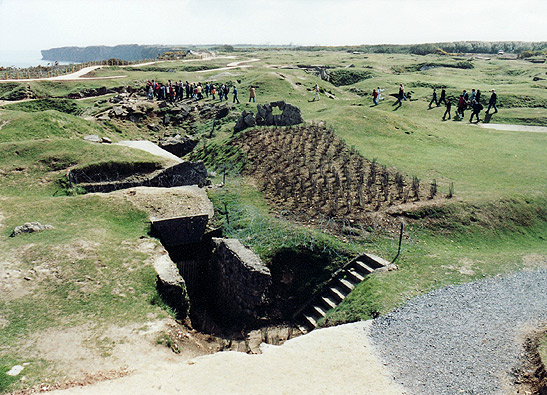 Even if you are not interested in WW2, and even if you don't like the German military of that era, this is still a "Must Buy" book as it provides an absolutely fascinating insight into how human beings face being in combat. I wish there were many more books like this. My photo above shows French schoolchildren visiting the famous Pointe du Hoc – June, 2004.


---
7 Frequent-Flyer Tricks
Worth Learning
By George Hobica
A Special from Airfarewatchdog.com
Master the art of earning miles, attaining elite status, and working the system to earn free flights and other perks.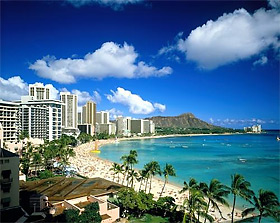 Photo courtesy of Frommer's
I honestly don't know how some frequent flyers manage. Travel can be so discombobulating and disruptive, yet some road warriors spend half their lives on planes (sometimes just to collect miles and attain elite status). Many of these expert travelers know how to maximize their elite status. Here are seven tips and tricks worth following.
Get in the airline lounge even if you have an economy-class ticket.
Airports aren't much fun, but one way to make the whole flying experience more pleasurable is to wait for your flight in an airline lounge. Savvy travelers know that even if they are flying in economy class, they can access business-class lounges when flying overseas. If you're a member of Air Canada's Maple Leaf Lounge, Continental's Presidents Club, the United Red Carpet Club, or the US Airways club, you can access any Star Alliance business-class lounge when flying internationally. No matter what class of service you are flying or elite status, show your club membership card and you gain access to alliance member lounges across the globe.
Earn elite status.
Elite status is an important tool in every road warrior's bag of tricks, but achieving status can be troublesome if your travel patterns change each year. Did you know that most airlines award elite status for life upon reaching the milestone of flying one million miles? Sure, it takes a lot of flying to get there, but you are a road warrior and you will live a long time. Which airlines offer this valuable benefit? And speaking of elite status, the smartest travelers know that if they attain status in one airline's program, they can often get a competing airline to match that status.
Reach elite status faster.
Want a fast track to Grand Poobah status in your fave airline? There are easier ways to achieve alliance-wide status if you are willing to collect miles in foreign programs. Aegean Airlines, for example, awards Star Alliance Gold elite status at a much lower threshold than many of its alliance partners bringing with it lounge access benefits and baggage fee waivers.
Know when it's wise to buy miles.
Ever seen those promotions about buying miles and wondered if it was worth it? Well, there are some promotions (often with US Airways) where buying miles can save you big bucks and help you to fly business class overseas for as little as $1,000, a bargain since most business-class fares cost $4,000-$7,000. And if you collect American Express Membership Reward points, check their site frequently for bonus transfer offers. Recently, for example, British Airways was offering a 50% bonus on transferred points (transfer 100,000 points and you actually get 150,000 miles).
(And speaking of American Express points, you're probably aware that later this year Continental Airlines will no longer participate. But since Continental has merged with United, you can take advantage of your Amex points with Continental after the cut-off date by transferring points from Amex to Continental now, and then immediately transfer them, if you wish, to United.
Find secret ways to book award seats on partner airlines.
When you have miles burning in your account, what's the best way to redeem them? The process can be complicated, and calling an agent to have them do the work for you is a bad idea. Because they may not do a great job! You have to do the homework first. Star Alliance has a secret backend tool to finding the award availability for your next trip, thanks to partner airline ANA All Nippon Airways of Japan.
SkyTeam has its own method of searching for availability (that luckily does not involve the clunky Delta.com site. Sign up for Air France-KLM's Flying Blue frequent flyer program to search for award inventory on Delta, Air France, KLM, CSA Czech, Alitalia, Kenya Airways and other partners.
There's also an easy way for oneworld alliance fans to find seats on partner airlines. If you collect miles in any of the oneworld alliance member programs, you can scour award availability by using the British Airways and Qantas Airways websites. These give access to most partner availability online so you can do your homework before calling your airline's reservation number to make the booking.
Shop for bonus miles.
Experienced mile collectors know that it's a sin to buy anything online without checking first to see if there are bonus miles to be had. Sure, they collect a mile or maybe 1.5 miles for each dollar charged to their credit cards, but that's chump change compared to the bonus miles. Buying a Mac iBook? How about collecting your additional 5,000-10,000 miles? Continental might be awarding an additional four miles for each dollar spent at Apple.com, but only if you reach Apple's website by clicking over from Continental's shopping mall first. Buying a $200 pair of shoes at Saks? You might earn an additional 2,400 miles with British Airways. Each airline has their own shopping portal through which you can access your favorite stores (you know, the ones you already go online to use for your shopping). And, of course, online shopping is a fine way to prevent your miles from expiring.
Get award seats even when you're told no.
Yes, it seems to be getting harder to cash in those hard-earned miles (especially on popular routes) even when following the advice above. Tim Winship, editor of FrequentFlier.com, offers this advice on how to get the seats you want even when the website says there aren't any.