Switzerland:
A Country of Unsurpassed Beauty
And Refinement
Story and Photos by Beverly Cohn

nce in a while a trip comes along that is the quintessential luxurious experience and for me the tour of Swiss Deluxe Hotels gets the prize. Combining the ultimate in luxury with the kindness of strangers would best describe my most unforgettable adventure.
DAY 1: The kindness portion began at the Zurich airport where the signage for baggage suddenly disappeared. A lovely lady guided me to the steps leading downstairs and were it not for her, I would have been aimlessly wandering in search of my luggage. I was helped onto the train leaving for Lausanne where I had only six minutes to make the connecting train to Montreux. Arriving at the Lausanne train station, I struggled a bit with my luggage and before I knew it, a Swiss gentleman picked it up, took it down a flight of stairs and up another flight to the connecting platform. I asked if he was going to Montreux and he answered that he was not, but just wanted to help me. I wasn't positive if the train was the correct one and I must have looked a bit confused, as a young woman actually got off the train, reassured me that it was going to Montreux, and picked up my luggage, placing it on the train.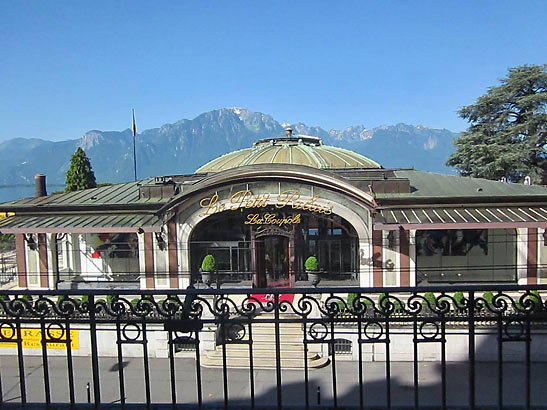 After many hours of traveling, our group enjoyed a most delicious "welcome to Switzerland" dinner at the Petit Palais restaurant.
I arrived safely at the Fairmont Le Montreux Palace, the first of the family of Swiss Deluxe Hotels, where I met the rest of my group. A sumptuous welcoming dinner awaited us at the Le Petit Palais, directly across the street from the hotel, which was most appreciated after the almost thirteen hours of traveling.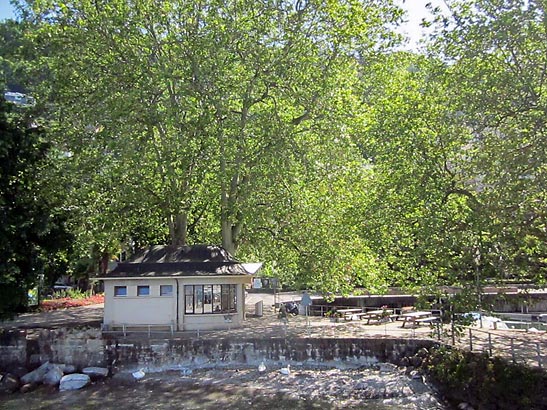 One of the charming little buildings dotting the shores of Lake Geneva.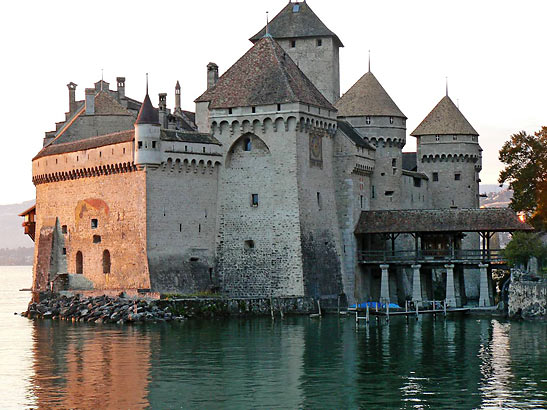 The Chateau de Chillon Castle made famous in Lord Byron's poem
"The Prisoner of Chillon."
DAY 2: With a menu of activities from which to choose, I opted for a boat cruise. With spectacular Alpine peaks serving as a backdrop, the boat quietly glided through the pristine waters of Lake Geneva, passing charming homes and historic landmarks, which dotted the shores. One very famous landmark is the Chateau de Chillon Castle made famous in Lord Byron's poem "The Prisoner of Chillon."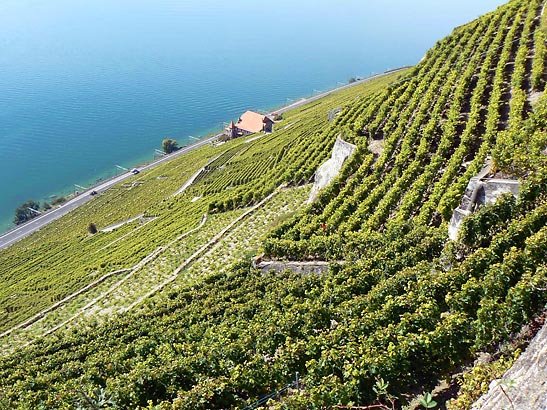 The sloping terraced vineyards of the Lavaux which earned a UNESCO World Heritage Award.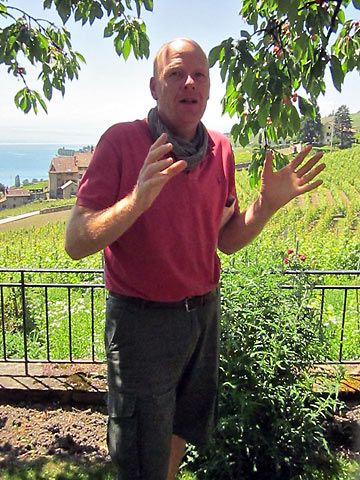 Blaise Duboux is the 17th generation vintner to carry
on his family's wine-growing tradition.
After a brief break, we headed for a fascinating tour of the Lavaux Vineyard Terraces of the Swiss Riviera wine country on the slopes of Lake Geneva, which earned the coveted UNESCO World Heritage Award. The Lavaux is a region in the canton of Vaud in Switzerland and is known for its award-winning wines. Swiss wineries produce a limited amount of wine and because of that, only one percent of their production is exported – the rest is for domestic consumption.
We were hosted by Blaise Duboux, an extremely knowledgeable vintner whose family have been Lavaux winemakers for 500 years, with Mr. Duboux being the 17th generation to carry on the tradition. He explained that the root system currently being used is American and about one-half of the wineries around the world also use this root system. Being organically minded, he does not use herbicides as, "They kill the soul of the grape and have a negative impact on the water supply." This dedicated winemaker is trying to get the other wine growers to not use herbicides as well.

Mr. Duboux laid out snacks, which included is tasty "Surprise Bread."
During his informative talk, a tempting array of snacks were laid out on the table, including a delicious savory treat called "Surprise Bread." As far as the next generation, this vintner registered some concern as he has three daughters, none of whom has expressed interest in joining the family business. He hopes one of them will change her mind.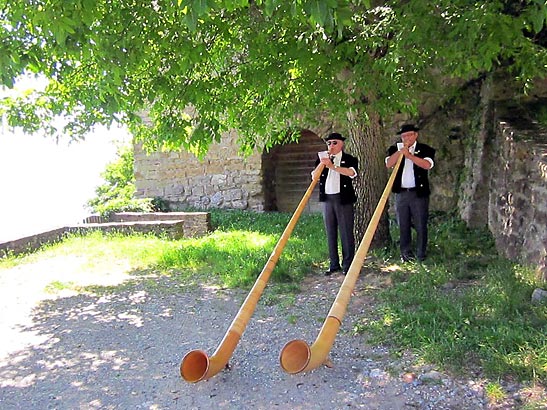 Dressed in the traditional Swiss costume, these gentleman welcomed us by playing the Alphorn, an instrument generally used for herding animals and on special occasions.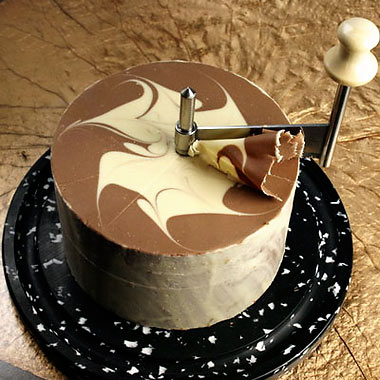 This dandy little device called a Girolle is used to create charming rosettes made out of Swiss cheese.
Visiting a small, neighboring vineyard, we were royally greeted by two gentlemen playing the distinctively long horn or Alphorn. Some of us tried our hand at playing which is not a simple as it may look, as you need good breath control and strong lungs. As you would expect in wine country, the tour culminated with a delicious wine and cheese tasting. Using a gadget called a Girolle, the cheese is shaved into the shape of a rosette, which is pleasing to the eye and delicious to eat.
DAY 3: The next day, after our tummies were satisfied with a typical Swiss breakfast consisting of assorted cold meats, hot and cold cereals, and a delicious array of tasty breads, jams and fruits, our next adventure was a scenic train ride from Montreux to Lucerne aboard the Goldenpass Panorama coach, which took us from Lake Geneva towards the Alpine summit and then on down to Lake Lucerne, the birthplace of Switzerland. Here's a tip: Stay alert as you enjoy the bucolic vistas unfolding before you as you might spot a whole range of "animals" on the hillsides. We had a contest to see who spotted the most. As a sidebar, be sure to purchase a Swiss Pass, which will give you access to the various forms of transportation, including travel by train, bus, or boat.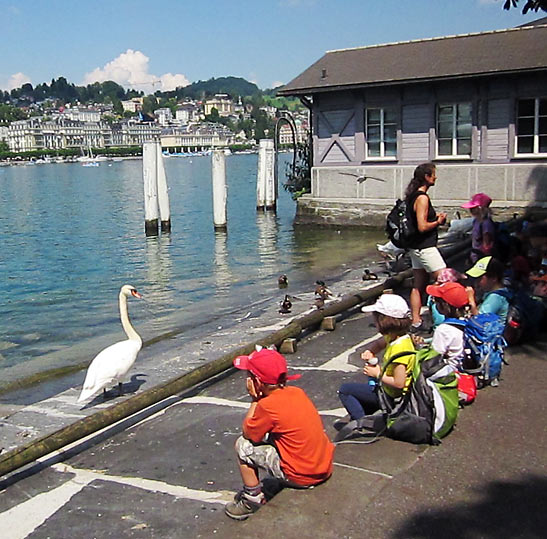 Children waiting for the boat to Weggis are entertained by a feathery friend.
Speaking of boats, our next mode of transportation was a boat to Weggis, a charming little town located on the shores of Lake Lucerne in the Canton of Lucerne, lying at the foot of the famous Mount Rigi, a massif in Central Switzerland. (Massif: A large mountain mass or compact group of connected mountains forming an independent portion of a range.) Often described as the Riviera of Central Switzerland, it is the home of the beautiful Park Hotel Weggis, another of the 38 independent Swiss Deluxe Hotels located throughout the country, which has earned the five-star quality endorsement. Framed by the beautiful lake and mountains, the hotel sits squarely in this picturesque region.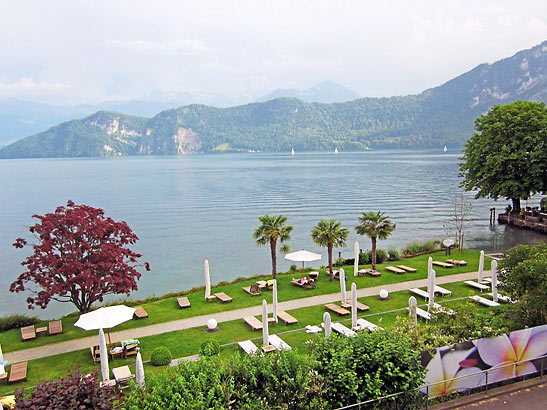 Stunning view from my room at the Park Hotel Weggis.
As with the other hotels, the accommodations were extraordinary, featuring a sunken living room and a splendid, sprawling bathroom fit for a king or queen, as well as a full spa and beauty care services. Perhaps the one and only challenge was to figure out the rather complicated lighting system, which took all of us quite a bit of time to figure out. Press one button and one light went out, press another button and that light came back on, and another one would go out, and at one point all the lights went dark. I had to open the door to let some light in so I could figure out what button to press next. I continued this exercise of pressing different buttons until, at last, I stumbled upon the correct pattern and this delightful room was ready for sleeping. A little advance guidance or diagram would help in sorting out this complex, but wonderful lighting system.
The Park Hotel Weggis is home to Sparks, a French cuisine restaurant which has earned 15 Gault Millau points, a rating system which scores from 1-20 and is similar to our Michelin star rating system. In addition, the hotel has the largest wine selection in Switzerland. Hosted by General Manager Peter Kämpfer, who manages two hotels, our perfect, mouth-watering dinner began with a Sommerly salad of raw vegetables with cresson and croutons, followed by pike-perch with braised fennel and barley, and topped off with an unbelievably delicious cheese cake in a glass with apricot.
During the meal, I asked Mr. Kämpfer what was the key ingredient in sustaining a five-star rating and he replied, "Besides the high-end amenities and services offered by the family of the Deluxe Hotels, the staff makes a huge difference in customer service," adding that, "My hotels have an extremely low employee turnover which means the employees are happy and in turn offer exemplary service."
DAY 4: After a rather full day yesterday, some of us kicked back in the morning and enjoyed the Park Hotel Weggis' beautiful spa, the beach, or the pool. Later on, we were soon off on another fun adventure. We boarded the Mount Rigi Railway, followed by a scenic ride up the mountain on a gondola to Rigi-Kaltbad. When we reached that destination, we transferred to the first cogwheel railway of Europe, which took us up to Rigi-Klum, at the top of the mountain, where we experienced a breathtaking view of rolling hills and green fields dotted with crystal clear lakes.
Sitting atop the mountain is the Rigi-Kulm Hotel, where we were treated to a salad with beets and corn, chicken with veggies, and a mouth-watering chocolate dessert. One amusing moment, and a reminder of my generation, was when one of the younger members of our group saw something on the wall and had no idea what it was. It was a pay telephone and we both had a good laugh.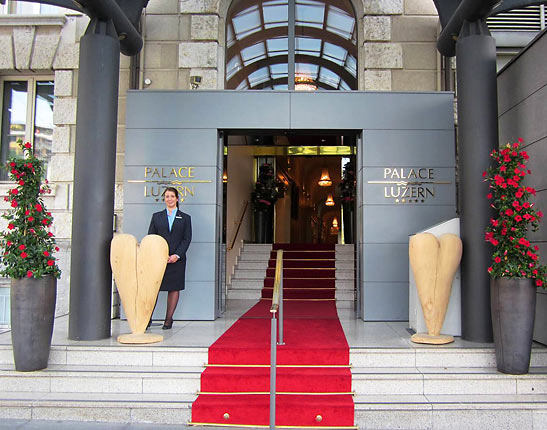 Hotel Palace Luzern, a member of the family of the 38 independent Swiss
Deluxe Hotels.
Fortified with a most satisfying lunch, we were once again on the move and arrived in Vitznau where our luggage awaited us. We then embarked on a steamboat to Lucerne and on arrival, it was a short walk to the iconic Palace Luzern, the next fabulous 5-star hotel we were about to experience. The hotel, which reached the 100-year mark in 2006, is surrounded by a breathtaking Alpine storybook landscape, so just point your camera in any direction and shoot.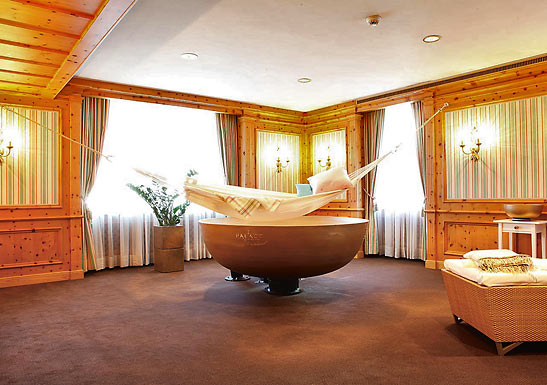 Palace Luzern is the home of the world's first giant singing bowl. Courtesy Photo
A unique feature of this hotel is, in addition to featuring Tibetan spa treatments, it houses the world's first giant singing bowl based on smaller Tibetan versions. While either lying in a hammock or actually standing in the bowl, electrical pulses are emitted that flow through the body. Two members of our group tried it with very different experiences; one was elated and quite wired, while the other participant was extremely sleepy and a bit disoriented.
Incidentally, Lucerne is the capital of the canton of Lucerne and is said to be the most important city in Central Switzerland and is often referred to as the City of Lights. (Sorry Paris.)
After a brief break, we had yet another fabulous dinner at Restaurant Des Balances located in the Hotel des Balances. The fare was outstanding, consisting of a U.S. beef filet in an olive crust, pralines with balsamic juice risotto with artichokes, and petite vegetables, with the finale a sinful dessert of raspberries, caramelized puff pastry, and vanilla cream with apricot yogurt ice cream. It's a lucky thing we did lots of walking.
DAY 5: Today we had a "light lunch" at the Palace Luzern comprised of pickled salmon with passion fruit dressing, mint salad and olive focaccia, followed by roasted saddle filet of lamb with sweet peppers puree and eggplant-goat cheese cannelloni. This scrumptious meal was crowned with a trilogy of sorbets – Granny Smith apple, strawberry, and mango-passion fruit. To burn off some of those calories, we had a brief walking city tour where we saw the famous Chapel Bridge, which was built around 1300 and is said to be the oldest preserved wooden bridge in Europe. It also serves as a museum where 17th Century paintings are on display, surviving what could have been a devastating fire in August 1993.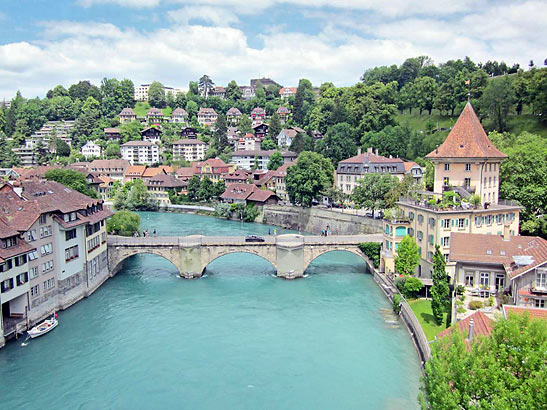 Bern's bucolic Old Town was honored as an UNESCO World Heritage Site.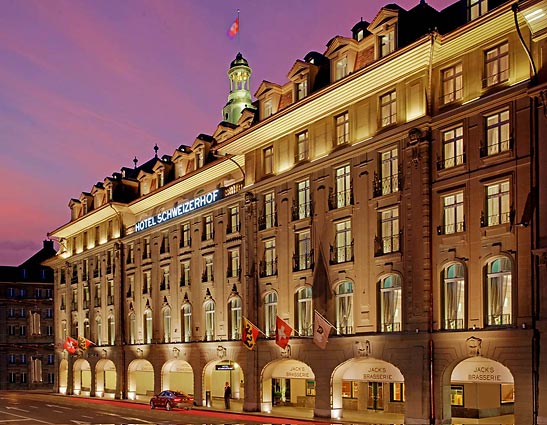 The historic Hotel Schweizerhof is another member of the family of independent Swiss Deluxe Hotels. Courtesy Photo
Our next train ride was to Bern, the Swiss capital, whose Old Town is an UNESCO World Heritage Site since 1983. Its premiere hotel for 150 years, the Hotel Schweizerhof is listed as one of The Leading Hotels of the World as well as a member of the coveted Swiss Deluxe Hotels and is the only 5-star superior hotel in Bern with a state-of-the-art spa.
After check-in, an apéritif awaited us on the Sky Terrace, which offered a breathtaking 360-degree view of the city. With the wind stirring up the napkins, our snack consisted of taboule, baba ghanoush, and hummus, accompanied by the appropriate wine pairing. We had to save a little room for dinner following this roof-top experience.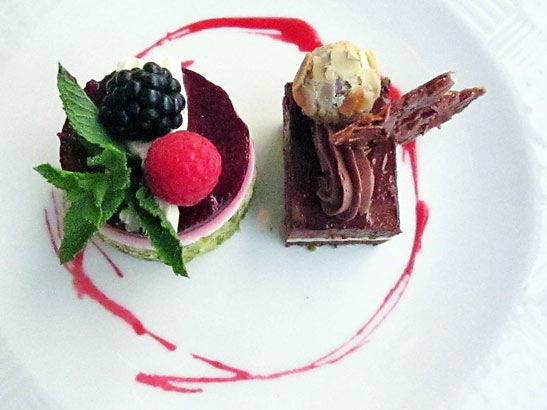 A little bit of heaven on your plate.
Just when you thought the food couldn't possibly get any better, here comes a meal truly fit for the gods in Jack's Brasserie housed in the hotel. The decoration is quite spectacular and the service impeccable. The bill of fare consisted of mint risotto with crunchy goat cheese, and green pea puree. The dessert was simply listed as Dessert Variation "Schweizerhof," but could have been described as a little bit of heaven on your plate. It must be said that dining in all these spectacular settings makes one feel like you've just stepped into a fairy tale and you are the fairy princess.
Day 6: Breakfast served in Jack's Brasserie offered a full range of food from eggs, hot or cold cereals, a fabulous assortment of breads, croissants, and brioche, various Swiss cheeses, or anything else your heart may desire. A walking tour was a perfect way to follow breakfast and off we went to explore Bern's picturesque Old Town, framed by the Aare River with spectacular views of the Alps.
A famous landmark is Bern's 800-year old Zytglogge (Clock Tower), an astronomical clock, which sounds its bell every hour on the hour. Available only on a guided tour, you will walk up around the 130 winding, narrow steps leading up to the observation platform from which you feast your eyes on a stunning view of Old Town. Bern, whose name was derived from "bear," also has Bern Bear Park, an enclosed sanctuary for bears that generates mixed reviews depending on your outlook.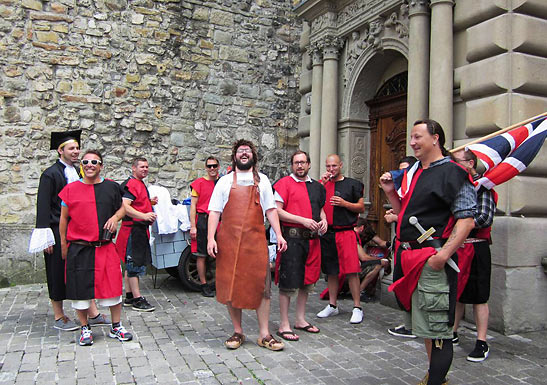 The bridegroom (brown apron) has a big smile as his friends throw him a bachelor party medieval style. The bride-to-be is Swiss but he's English - hence the Union Jack.
Part of the wonder of travel is the unexpected and one such moment happened during a walking tour. A group of young men dressed in medieval costumes were gathered in a square and it turned out to be their version of a bachelor party. When I spoke to the groom, he said the festivities would continue all day into the evening. As far as his bride-to-be, he really didn't want to know what form her "bachelorette" party would take but hopefully she will be having as much fun as he and his friends.
The other serendipitous experience was when Switzerland beat Ecuador 2-1 in the 2014 FIFA World Cup games. Bern exploded in celebrations, with cars snaking through the streets honking their horns and waving the Swiss flag, which, by the way, is the only square-shaped national flag in the world. The joy was contagious and I felt really lucky to be able to bask in a proud moment for Switzerland.
With so much to experience in Switzerland, you definitely owe it to yourself to put this trip as Number 1 on your Bucket List. Your travel agent or Swiss Tourism can help you plan a trip tailored to your specific needs. I assure you that once you visit Switzerland, with a population less than Manhattan, you'll understand why it has earned the distinction of being a country of unsurpassed beauty and refinement.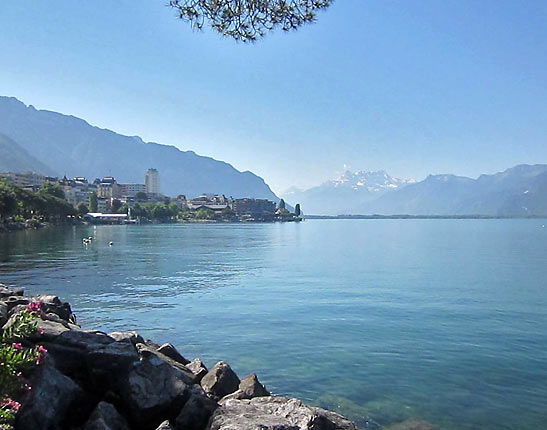 Fairmont Le Montreux Palace
Avenue Claude-Nobs 2
CH-1820 Montreux
Montreux, Switzerland
+41 21 962 1212
www.fairmont.com/montreux
Domaine Blaise Duboux (winery)
Sentier de Creyvavers 3,
1098 Epesses
Epesses, Switzerland
Phone: +41 21 799 18 80
www.blaiseduboux.ch
Park Hotel Wiggis
Hertensteinstrasse 34, 6353
Weggis, Switzerland
+41 41 392 05 05
www.parkweggis.ch
Palace Luzern
Haldenstrasse 10 6002
Luzern, Switzerland
+41(0)41 416 16 16
www.palace-luzern.ch
Schweizerhof Hotel Bern
Bahnhofplatz 11, 3001
Bern, Switzerland
+41 31 326 80 80
www.schweizerhof-bern.ch
Related Articles:
Switzerland: Europe's Jewel Box; Exploring Switzerland's Graubunden Region; 3 Things About the Lake Geneva Region; Images of Basel, Switzerland; Switzerland and the Romantic Movement; 3 Things About Bern, Switzerland