I Met a Couple Who Loved Their Champagne
Story & Photos by Richard Frisbie
Rows of grape vines stretch into the distance

he taxi was a five-seat hatchback with six passengers. I rode in steerage, contorted and uncomfortable, like some forgotten piece of luggage, desperate for a limbering walk among the rows of grape vines I could see stretching up and down the slopes on either side of the road. (Note to self: next time remember to tell the cab company how many "adult" seats we'll need.) Fortunately, it was a short ride. We were just minutes outside of Reims in Champagne country, about to visit Fresne Ducret, one of 4700+ small growers who make French Champagne.
Our destination was Villedommange, a typical French village growing up the slopes of a valley, what we would call a clove in the Catskills of New York. It looked picturesque from the surrounding hills, but on closer inspection was a collection of walled and gated properties on a warren of streets with no shops or village center where people could congregate. Little more than 10 minutes by car from the bustling metropolis of Reims, it could have been a bedroom suburb rather than the enclave of champagne growers it was.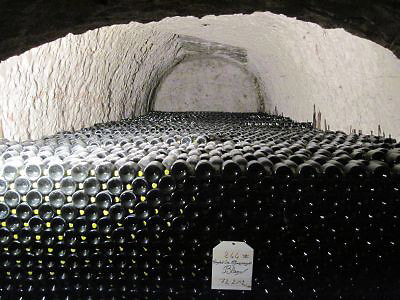 Taittengier's chalk caves filled with aging champagne
I crawled out the hatchback and stood stretching in the gravel courtyard, feeling more like the family pet than one of the visiting foodies they were expecting. They were a young couple, Pierre and Daniella Fresne, the 8th generation of Champagne producers on this land. Having just toured the Taittengier vineyards, with hundreds of hectares under cultivation and millions of bottles in annual production, Fresne Ducret was quite a contrast. "We have 6 hectares (about 15 acres) of vines that produce about 50,000 bottles a year." Pierre offered as we toured the ancient timbered building where production used to take place.
Stepping through history into a modern two-storey addition, Pierre proudly showed off the changes he's made since taking over from his father and uncle in 2007. "We've consolidated three separate work areas into this one location. On this floor we press the grapes. Downstairs are the new stainless steel tanks where the first fermentation takes place. As soon as I can afford to insulate and heat this area, the bottling will be done here too." Bottling usually takes place in January a year after the harvest, so heat is a necessity.
So far he was all business, still warming to our presence. It was a family profession, his roots were here, and he reminded me of a capable but reticent Maine farmer talking to tourists. He became more animated as he described the champagne-making process, his vinter's genes allowing some mischief to peek through his professional veneer. Eventually he relaxed, visibly enjoying our attention and questions, happy to climb into one of the tall stainless steel tanks to show how easy it was to clean. Then, with an elfin smile, he stuck his head out of the tank. All boyish charm, he was a man in his own element. That element is Champagne.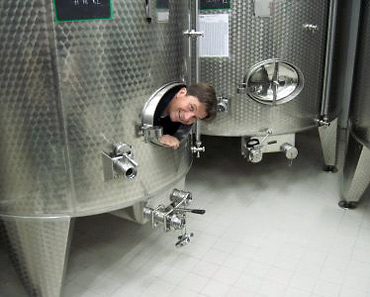 Pierre Fresne up to his ears in an empty wine tank
Talking about the succession of the business through the generations, Pierre explained "In family companies the children, or one child takes over. My dad's generation worked with their parents longer than us. First, because they started younger, but our generation has our children older, and we start working for our parents later. My dad started at 15, while I was 25."
By this time we were walking along a dusty road through the vines just outside the village. Pierre stopped to look down the hillside to the valley below. He went on, "Typically, a family would start with a field of vines in one block. It would be divided among the children, and some would go with the daughter when she married. Sons marrying would acquire rows of vines in their wife's family fields. Until, through the generations, with marriages and inheritances, the large fields were divided into many small plots. We have six hectares of vines, but not together. Some are there where the rusty end-poles are; I have rows over beyond those trees there, and some along this road and up the hill. It is a relaxing break to get in the car and drive 5 or 10 minutes between plots."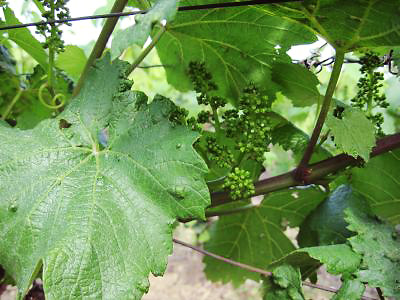 A grape cluster just beginning to develop
At first, the division of the fields was almost imperceptible. What appeared to be a hillside of grapes became, upon a closer look, a patchwork quilt of vines owned by different vintners. There could be as few as 5 rows owned by one grower in a field of hundreds of rows. Close inspection showed the delineations. Some growers allowed a groundcover of vegetation to grow throughout their plot, believing that encouraged the grape roots to go deep into the chalky subsoil. French law prohibits irrigation of the vines, so sturdy deep roots are needed for grape production during dry spells.
Some growers weeded only between the vines, while others cultivated between the rows, leaving weeds between the vines. Each block was different. Each grower confident their method is the best way to grow healthy vines.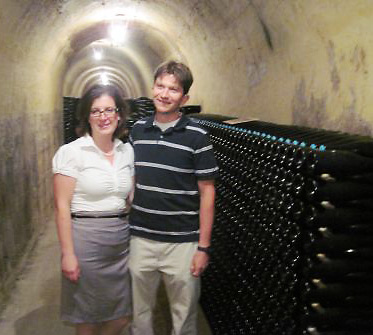 Pierre and his wife, Daniella, in their wine caves
Even the subtle difference of color divided the growers. The end posts could be different colors. Shades of foliage could betray the ages of the vines, and/or the type of grapes grown. In champagne country, Chardonnay grapes are grown mostly for the Blanc de Blanc, with some for blending, while Pinot Noir and Pinot Meunier are grown for the blends and roses. While the first two have green leaves, the meunier leaf is distinguished by what appears to be a light dusting of flour. Hence its name, meunier, which translates as miller in English.
Pierre replaces about 3.5 % of his vines every 3 years. The vines start producing in three years, with full production reached in six. The vines themselves have a life expectancy of 75 – 100 years, their roots eventually reaching 45 feet down into the chalky soil. As the deep roots of the old vines decompose, the new vine's roots follow their literally "ground breaking" path to the moisture and nutrients that give champagne its distinctive flavor.
Pierre harvests grapes from vines his grandparents planted, as he plants vines for his great grandchildren to tend. As the new roots follow the old, each successive generation of grower follows the path of their ancestors. It is this viviculture, this sense of continuity a grape grower fosters as he shepherds his children and the vines through his tenure as vinter. It is how eight generations (and counting) of the Fresne family have prospered on these fields.
A display of Fresne Champagne
with their awards


Reflecting further on the history and nature of wine makers, I wondered if the boundary-less fields were a release from the sanctuary of their walled-in homes, or if the structured confines of their homes comforted them after a day in the open and unprotected fields. Eight generations and two World Wars suggest the latter. The wars we hold in distant memory were fought on their grandfather's doorsteps. This part of France was The Front. These grapes grow on the battlefield, and the champagne caves carved through these chalk hills were the sanctuary of a war-torn populace. In that perspective, the gated, walled compounds the men came home to made perfect sense.

We walked back, our throats dry, as much from the dusty road as the anticipation of tasting the Champagne Pierre produces. He heightened our expectations with this tidbit: "We bottle one rose, one vintage, 2 Brut (one younger than the other) 2 demi-sec (rose & white) all in different sizes to add up to 10 or 11 different products to sell. All are champagne." I could almost taste them as he spoke.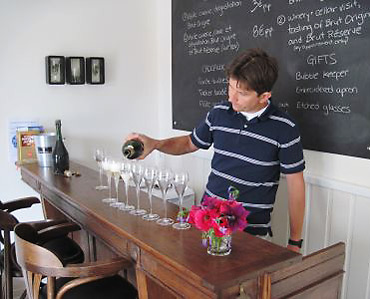 Pierre pours the champagne
Back in the tasting room, Pierre readied a trifecta of Brut Origine, Brut Réserve, and Brut Rosé Céleste, but the aroma coming from the adjoining kitchen distracted me from the champagne. Daniella, Pierre's Canadian-born wife and business partner, had whipped up some canapés to go with the tasting. Besides handling all the bookkeeping and shipping, "those customs forms are complicated!" and caring for their daughter and son (aged 4 and 2 respectively) she told us, "I have a cooking school here. People come for a class to learn how to cook food to serve with champagne, then we sit down and have a tasting with the meal they just prepared."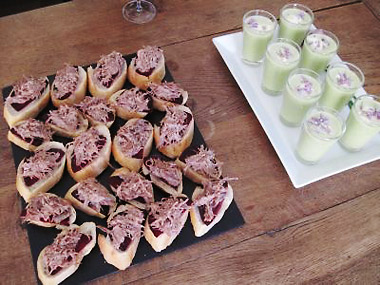 Some of the appetizers Daniella prepared
I love the idea, especially after I tasted the goodies she'd prepared. Highlights included a cannoli looking parmesan cracker stuffed with farmers' cheese that I thought was brilliant in concept, besides being excellent tasting! It was deliciously savory, not sweet, but it looked like dessert. Her riff on rillettes de canard, a particular favorite of mine, was tasty and, she confided, "It's easy to make. If you don't have duck rillette, you can take some duck confit, the legs are available in most supermarkets, shred the thigh meat and add ratafia along with some of the duck fat. Mix it up and spread it on baguette rounds. It's that simple."
By coincidence, just the day before I'd tasted ratafia in a specialty shop of local Reims products. It is a sweet liquor made from aged champagne and grape juice. (see below) This canapé is one I'll serve often. It is so good, and odds are your guests haven't tasted anything like it!
Ratafia de la champagne is a natural aperitif drink made from fresh grape juice obtained exclusively from the Champagne region and fortified with spirits from the region. During aging the ratafia acquires its mellow and bright amber color. The syrupy flavor of the ratafia comes from the natural sugar contained in the grape juice.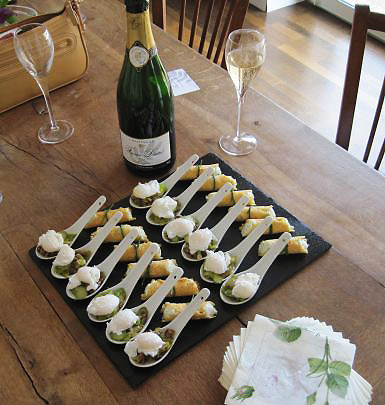 More of the delicious appetizers served with the champagne
The time spent at her table swapping recipes, (see below) with Pierre pouring and describing the Champagnes they produce, made for one of the nicest tastings I can remember. Daniela and Pierre have created a warm working and living environment, and some damn good champagne. I'm sure they'll gain more accolades (and an American distributor) before the next generation continues the family's champagne-making tradition.
When visiting the champagne region of France, naturally you will visit the various champagne houses for a tasting. Instead of the "group tour cattlecall" of a tasting you'll get in the big houses, cheek-to-jowl with busloads of grumpy tourists, why not combine a personal and intimate champagne tasting with a cooking class by Daniella Fresne? You'll have the award-winning Fresne Ducret Champagne and an entertaining few hours in the kitchen with this delightfully talented cook. I can't think of a nicer way to spend an afternoon in France.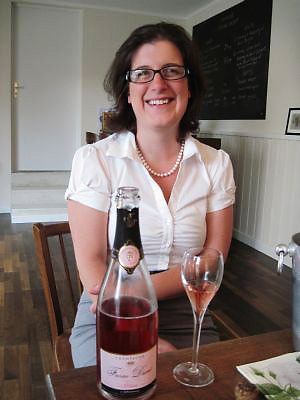 Daniella sharing her recipes as she passes the food
Champagne and pea soup (Crème Ninon) recipe graciously shared by Daniella Fresne
2 cups fresh or frozen peas
1 onion, chopped
2 tbsp butter
1 tbsp flour
1 celery stalk, chopped
200 ml homemade chicken stock
1 ¼ cup heavy cream
1 tbsp fresh lemon juice
½ cup champagne
Salt, pepper
Crème fraîche*
Chive flowers and/or chives
Melt butter over medium heat in a large saucepan and cook onion and celery until tender but not browned. Add flour and stir well; this makes a sort of fragrant roux that will make the soup creamier. Add stock, heavy cream and lemon juice. Reduce heat and simmer 10 minutes. Season with salt and pepper. Add peas and leave on heat just until the soup is warm – don't boil it, or the peas will overcook and lose their fresh flavor! Purée soup in the pot with an immersion blender or in batches in a blender. Strain through a mesh sieve or a food mill with a fine plate. Stir in champagne, season with salt and pepper. Serve hot or chill until cold. Serve with a dollop of crème fraîche*, chopped chives and/or a sprinkling of chive flower petals.
Tél: (0)3 26 49 24 60
10, rue Saint Vincent, 51390 Villedommange
Facebook: Champagne Fresne-Ducret
General information: contact Daniella Fresne by email (Champagne.Fresne.Ducret@Gmail.com)
Cooking classes can be in English and/or French. The classes are private, by reservation, and the price depends on the size of the group. Usually 135€ to 155€, including the class, the three-course meal the class prepares, champagne throughout both, plus all recipes and a visit to the winery and cellars. Classes last around 5-6 hours.
Tourism Info:
Related Articles:
The Lorraine Region, Spirits of the World, Montpellier, France
---
*Crème fraîche is very easy (and inexpensive!) to make yourself if you can't find it at your supermarket. Pour 1 cup heavy cream into a glass bowl and stir in a tablespoon of yogurt or buttermilk. Cover loosely with plastic wrap and set in a warm place (in the winter I put it on the radiator, in the summer I put it in a sunny spot in front of a window, you can also put it in the oven on the bread rising setting if you have one – but you want to keep it below 40°C/100°F) for about 24 hours until thickened. Then refrigerate it until it's clotted, at least 3 hours. Before serving, gently push aside the clotted crème fraîche and pour off the whey that's settled at the bottom of the bowl (if you don't pour it off, your crème fraîche will be quite runny). Stir and serve.