A Marriage of Opposites:
Zürich Dada and Business Class
Story and Photos by Gary Singh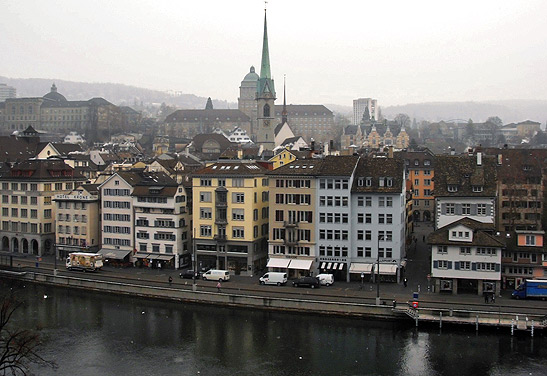 Old Town Zürich on the Limmat River

he Swiss psychologist Carl Jung seemed to reinterpret alchemical terminology as a strategy for personal transformation via the reconciliation of opposing forces. Since I cannot travel through Switzerland without thinking of Jung, I recently found myself in a two-day process of travel writing-as-self-realization via the marriage of two polar opposites: Zürich Dada and Business Class.
Both art and anti-art, Dada was a paradoxical nihilistic anarcho-cabaret fusion of antiwar propaganda, sound-poetry, noise, art-demolition philosophy, culture-jamming, social critique and transnational nonsense-performance whose influence reverberated throughout the 20th century. It first crystallized in Zürich, when Hugo Ball and friends inaugurated the Cabaret Voltaire on February 15, 1916. With the horrors of World War One as a backdrop, they turned an old tavern at Spiegelgasse 1 into a performance space that launched an explosive revolt against a bourgeois culture they felt was responsible for the war. Those involved at the beginning came from many different geographical, cultural and linguistic backgrounds, but what they all had in common was disgust for the bourgeoisie and all its conventions.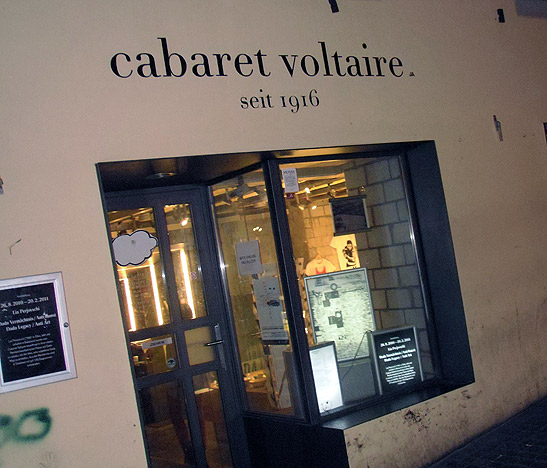 Dada began at this address, Spiegelgasse 1
The original Cabaret Voltaire itself only lasted a few years, but Surrealism, Lettrism, Fluxus, The Situationists and even punk, it can be argued, all straddled trajectories that Dada helped crystallize. In his famous book, Dada: Art and Anti-Art, Hans Richter explained how Dada could only have begun in Zürich:
It was here, in the peaceful dead-centre of the war, that a number of very different personalities formed a "constellation" which later became a "movement." Only in this highly concentrated atmosphere could such totally different people join in a common activity. It seemed that the very incompatibility of character, origins and attitudes which existed among the Dadaists created the tension which gave, to this fortuitous conjunction of people from all points of the compass, its unified dynamic force. The real, unmythologized history of Dada is the sum of the achievements of all these individual particles of energy. This is the key to that 'unification of opposites' which became an artistic reality, for the first time in history, in the shape of Dada.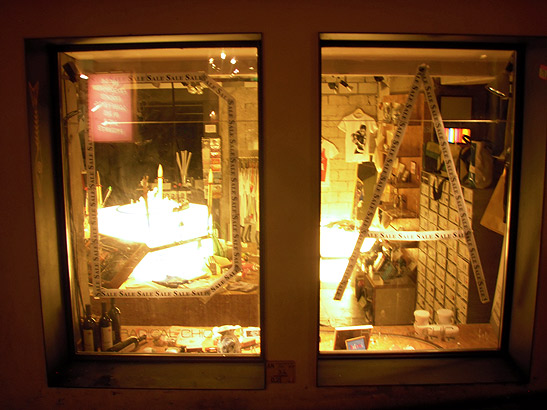 The anti-souvenir shop on the street level of Cabaret Voltaire
About ten years ago, a group of neo-Dadaists squatted the original space at Spiegelgasse 1 and created a sequence of events that led to the building's rechristening in 2004. It now features a design and anti-souvenir shop on the street level (Dada shirts!) with a café/bar and performance space upstairs. Near the bar, one can browse any number of Dada volumes, mostly in German. Graffiti, flyers and Dada posters adorn the walls, and the facility stages events, gigs, lectures, presentations, artist events and propaganda on a regular basis-just like 95 years ago. According to the website, the building has "once again opened its doors under the name of Cabaret Voltaire, welcoming scientists, school children, art lovers, exhausted shoppers, business people, tourists, socialites and localites alike."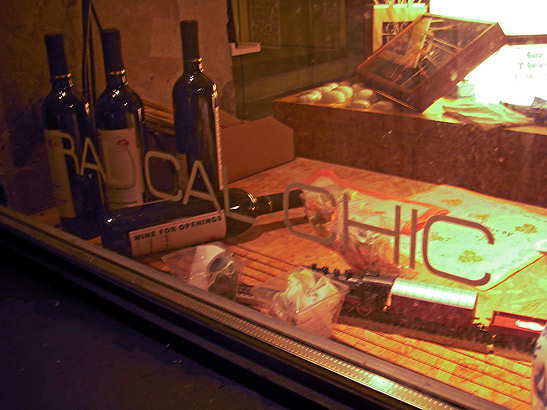 Spiegelgasse 1 is Radical Chic: A perfect combination of opposites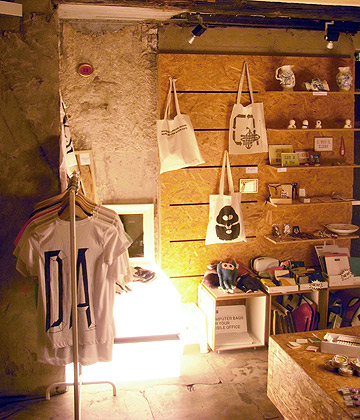 The Cabaret Voltaire boutique
I wandered in on the below-freezing night of February 23, 2011, which turned out to be one day after Hugo Ball would have turned 125. That fact alone would have been enough of a synchronicity to indicate Jung's concept of the active imagination was at work, but it didn't stop there. I ordered black tea from the bar upstairs and wandered into the salon/performance space to see what was going on. About ten patrons sat at random tables while watching a series of artists presenting slide shows of their projects. All was peaceful.
As I sat down, artist Zoë Dowlen was giving a lecture and presentation of her project, The Intertextual Tourist Tearoom Archive, about 19th-century English-speaking tourists in Switzerland and the notion of the Intertextual Tourist as a traveler between texts and places. Somehow, I felt in tune with nature. I saw myself in the Cabaret Voltaire of 1916. After all, Hugo Ball was a poet, a philosopher, a musician, a journalist and a frustrated mystic. What a combination. I looked down at my black tea and saw personal transformation on the rise.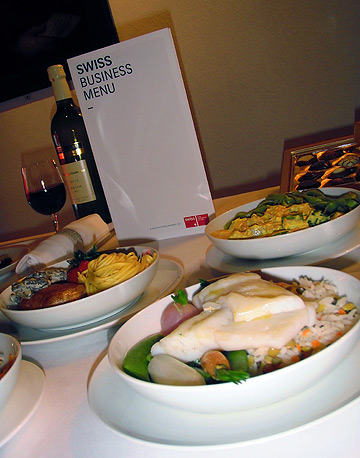 SWISS Business Class menu, as prepared by Stefan Meier of the Rathauskeller in Zug
The next afternoon I found myself in Zug, a town 30 km from Zürich, where chef Stefan Meier was being announced as the next three-month featured chef in the "Taste of Switzerland Program" of the country's airline, which goes by the name, SWISS, in all capitals. SWISS teams up with a leading chef from a different region of Switzerland every three months to present that region's gastronomy aboard its flights.
Meier presides over the Rathauskeller, one of the most celebrated restaurants on the Central Swiss gastronomic scene. With 16 Gault-Millau points to his name, he's been serving up exclusive, creatively diverse and authentic dishes for almost 30 years. Meier is a perfectionist. He only allows the freshest natural produce in his culinary compositions, the aim being to draw out the true, original flavors of the vegetables, meat or fish, and to play their individual aromas off and against each other, thereby allowing them to develop fully. The freshly caught fish from Lake Zug, for example, is a real treat, as are the cherries, which are the culinary hallmarks of Zug.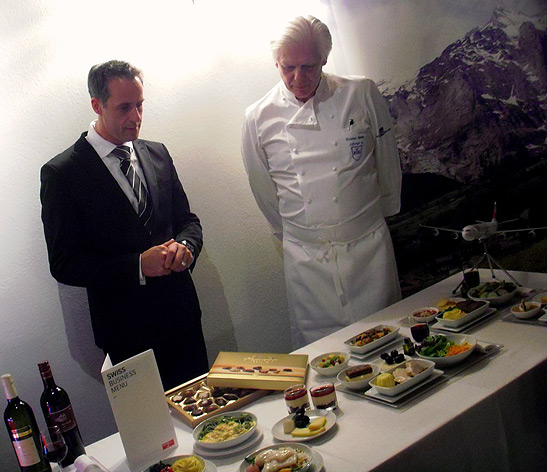 Meier, at right, explains the menus for media
On exclusive display for the press, we observed new dishes to be featured on the SWISS Business Class menu over the next three months. Traditional Swiss braised veal and beef roulade with Bramata Polenta, leek and carrot julienne shared a table with pan-fried pike-perch fillets, wild garlic sauce, Basmati rice, mange-tout peas and daikon radishes. Vitello-Tonnato-an Italian-style veal and tuna terrine-with sliced tomatoes and green asparagus, looked spectacular, as did the tiramisu with rhubarb mascarpone and strawberry coulis. A fillet of Balik salmon occupied a rectangular plate, where it sat like royalty, as part of the First Class menu.




Above: Roast fillet of beef from the SWISS Business Menu; Left: Fillet of Balik Salmon, from the SWISS First Class menu

At the event, SWISS also introduced new china and glassware to be used in First Class cabins. Fine bone china by ASA is replacing the former SWISS porcelain dishes. Larger restaurant style glasses by Riedel are replacing the current and more mundane airline glassware. Plates and salt & pepper grinders from ECAL/University of Art & Design Lausanne will now be featured in First Class.
The idea behind all of this, according to SWISS, is that by working with local restaurants, food producers, designers and the regional tourist boards, the airline can help familiarize its guests with Switzerland in all its geographical, cultural, linguistic and culinary variety. Such a concept could only emerge in Switzerland. In fact, it's almost alchemical.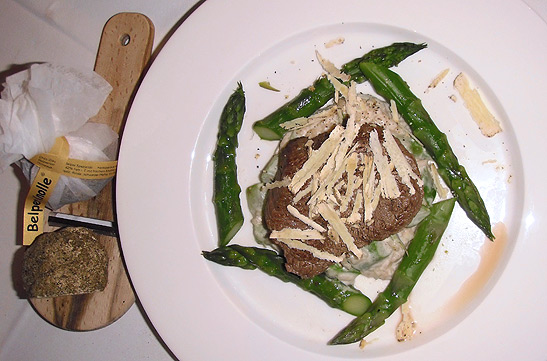 From the First Class menu: Roast fillet of beef, Grated Belper Knolle cheese, brown butter Risotto, green asparagus
Half of my psyche inhabits the scratchy anti-bourgeois disgust exemplified by the Zürich Dadaists. The other half operates in the comfortable milieu of business class. Such an inherent polar opposition must be reconciled if I am to achieve any degree of sanity.
Which is why the art of travel writing chose me in the first place. It can fuse the disparate parts of one's personality. It seems to serve what Jung would call the transcendent function, necessary to mediate any struggle between polarized segments of consciousness-the transformation of personality through the overcoming of contradictory components, leading to new and previously unknown potentialities. The ideal goal would be to transcend Zürich Dada and SWISS business class-allowing a third component to emerge, one that rejects neither. I am on my way and traveling.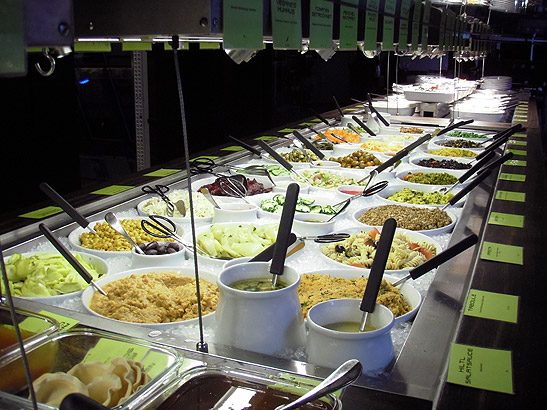 The vegetarian restaurant Hiltl supplies the no-meat dishes for the SWISS Business and First Class menus
Related articles:
Graubunden Switzerland, Zurich Christmas, Les Portes du Soleil, Bernina Express, Switzerland, Swiss rail trips, Eichhorn Schwyzerorgelfabrik and Musikhaus