A Desert Oasis At
Morongo Casino Resort & Spa
Story and photos (unless otherwise noted) by Greg Aragon

ince opening in 2004, the luxurious hotel at Morongo Casino Resort & Spa has become an icon in the desert. Standing 27 stories tall, the giant sweeping structure is an oasis of relaxation, casino fun, and fine dining.
I recently snuck away to Morongo for a memorable day and night of spa indulgence, poolside lounging, shrimp fajitas, blackjack and much more.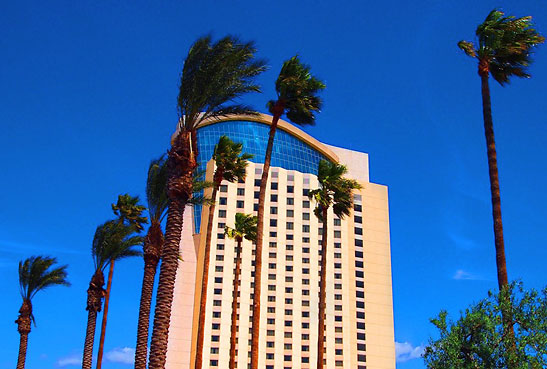 Morongo Casino is an oasis in the Palm Springs Desert
My getaway began when a friend and I rounded a bend on the 10 Freeway just west of Palm Springs and saw the majestic casino tower protruding from the desert floor. The next thing we knew, we were checking into a gorgeous suite overlooking the San Gorgonio and San Jacinto mountain ranges and desert landscape surrounding Palm Springs.
Located on 19th floor, the suite came with a big comfy king bed, mini bar, large flat screen TV, office area with free wireless Internet, and a big window overlooking the desert valley. The room also featured a beautiful bathroom with a walk-in glass shower.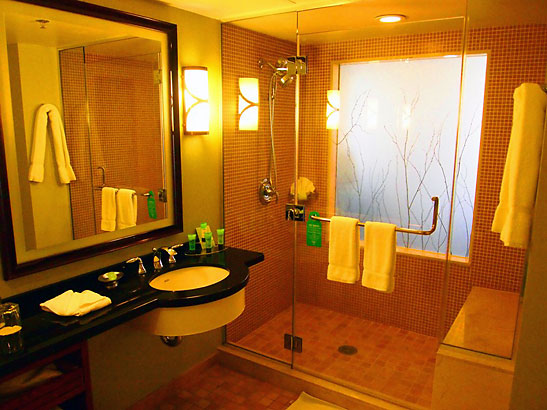 Our suite featured a luxurious bathroom with walk-in glass shower
Besides our quarters, the resort features 310 deluxe rooms and suites, and six secluded casitas next to Oasis Pool. All rooms are softly colored in desert hues and beautifully appointed with quality hardwood furniture and artwork. They offer free high-speed Internet, two phone lines, 27-in. plasma TV and mini bar.
After checking into the room, my first order of business was a visit to the resort's Sage Spa. Named after the fragrant white sage that grows throughout the hills and canyons on Morongo Indian Reservation, the spa offers 14 treatment rooms, sauna, steam room, Jacuzzi and cold dip to pamper yourself.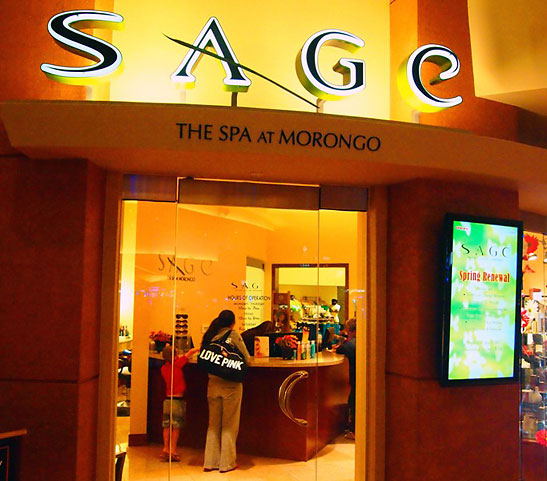 Sage Spa is named for the fragrant white sage that grows in the local hills and canyons
I choose a stimulating deep-tissue massage. The 50-minute rub left my muscles loose and my entire body rejuvenated and prepared me for an incredible lunch at T&T -Tacos Taquila restaurant.
Located next to Sage Spa, T&T is an exotic delectable world of vibrant colors and delicious aromas. The place was created by renowned chef Richard Sandoval and T&T's Executive Chef Saul Ortiz to give diners an authentic Mexican cuisine experience with dishes such as classics like carne asada, al pastor and alambre tacos.
Our meal included shrimp ceviche with citrus broth, anise tomato, tomatillo, cilantro, sesame seeds; and an appetizer platter, with chicken tamale, shrimp quesadilla, nachos, beef flautas, guacamole. This was followed by shrimp fajitas and traditional carne asada with steak, chile morita salsa and poblano rajas.
We washed it all down with couple tasty and powerful Pineapple Margaritas with Herradura Silver Tequila and Dutch Orange Curaçao, shaken with fresh lime and pineapple juice, and mixed with Monin pineapple chipotle syrup, and a dash of Tabasco chipotle hot sauce.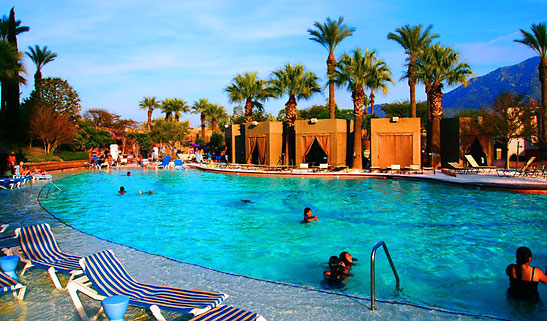 Morongo's Oasis Pool is the place to be wet fun in the sun
After lunch we relaxed on the banks of Morongo's South Pacific Islands-inspired Oasis Pool and Water Park. Here, with warm sun rays shining down, we sprawled on a sandy beach, napping, crawling in and out of the heated pool and sipping iced tea. The area also offers two spas and an exciting waterslide and lazy river.
Back at the room, I changed into my James Bond sports coat and then hit the 150,000-sq. ft. casino. Featuring 2,000 slot machines and 85 table games, Morongo Casino is the next best thing to Las Vegas – and it's a lot closer. While here I played blackjack and my friend hit the quarter slots. After an hour of gambling, we took our $20 winnings up the elevator to the 27th floor of the resort, where we experienced Cielo, Morongo's signature restaurant.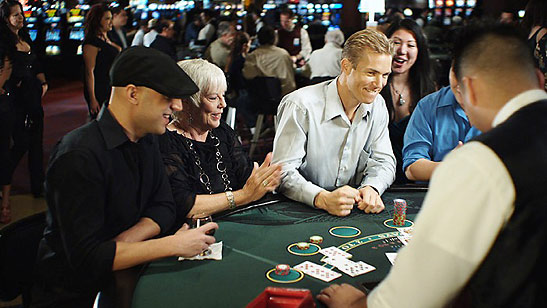 Morongo Casino boasts 2,000 slot machines and 85 table games.
Photo Courtesy Morongo Casino Resort & Spa
Sparkling high above the desert floor, Cielo is visually stunning, with large windows overlooking the desert and chandeliers that change colors throughout the evening to echo the brilliant oranges, blues, purples and golds of the nightly sunset.
The Pacific Coast steak and seafood restaurant celebrates an eclectic Californian fare. Our dinner began with apple martinis and crab cakes, followed by a giant "porcupine shrimp" with saffron basil tomato risotto appetizer.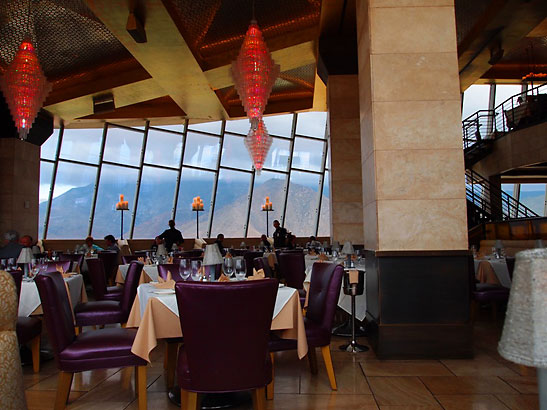 Sparkling high above the desert floor, Cielo is visually stunning
steak and seafood restaurant
For the main course I had memorable San Francisco-styled Cioppino seafood stew with halibut, prawns, mussels, clams, lobster scallops, and crab in a tasty tomato broth, served with sour dough bread. I am a big fan of this soup and this rendition holds its own against most that I've sampled.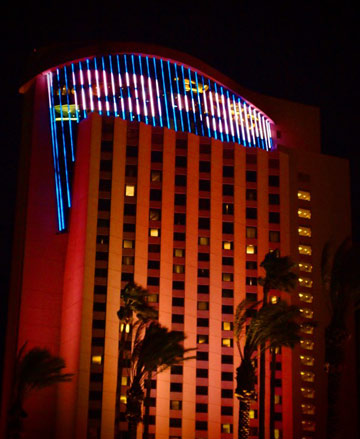 Morongo lights up the desert night in brilliant colors
My friend went with the pan seared Chilean Seabass, with grilled asparagus, potato puree, lemon beurre blanc and capers. Tender and fresh as the ocean, the fish was perfect and went well with a white wine. While eating we watched the sunset behind San Gorgonio Mountain.
Morongo Casino Resort & Spa is located at 49500 Seminole Dr. Cabazon, 92230. For more info and reservations, visit www.morongocasinoresort.
com or call (800) 252-4499.
Related Articles:
Palm Springs Aerial Tramway; Fall Fun in Santa Monica; 4 Seasons Hotel, Westlake Village; The Grand del Mar; San Luis Obispo; Palm Springs Aviation Museum