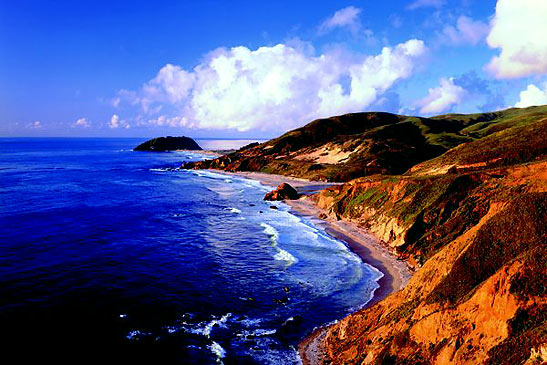 Photo courtesy: Pismo CVB
Cool Country
On the California Coast
From San Diego to Pismo Beach
Story by Ringo Boitano

hey came by the thousands. It was not the first time, nor would it be the last. These were young Americans, many of whom who had never lived more than forty-miles from their place of birth. This all changed with the bombing of Pearl Harbor. Most of the U.S. military bases were located in California and the recruits were shipped to an unfamiliar landscape of wide-open spaces, eternal sunshine, crystal-clear ocean waters and groves of citrus trees where you could pick an orange right from the branch. When WWII ended, many of those who were fortunate enough to return home remembered this paradise found. Winters didn't mean having to dig your car out of the snow each morning or wearing your heaviest boots and gloves to the factory. Many of these families packed their bags and headed to this promised land of the West – where the beaches were wide and expansive, and the Pacific horizon seemed to say that anything was possible.
This California no longer exists. The citrus groves have been razed and track homes have taken their place. Factories and industries have flourished on the once inexpensive and seemingly limitless terrain. Southern California, has now become something else, and, like all things in our land, will continue to grow and evolve.
With endless attractions along the way, there is still a piece of paradise that resembles this dream of the post WWII years. Although it too has changed, this area still remains the closest to reflecting the California of that bygone era. It begins on the Pacific Coast Highway in San Diego, and a week-long car journey from America's Finest City to Pismo Beach on the Central Coast was my goal for the week.
Must See Destinations on the Road to Pismo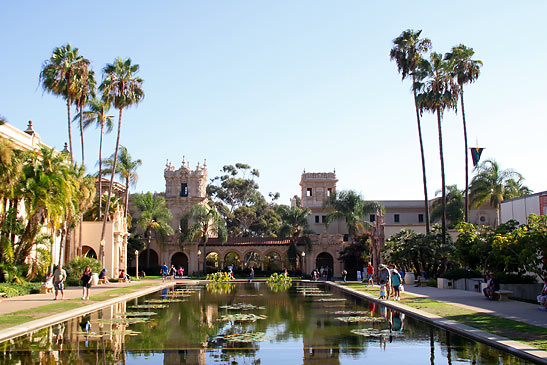 Photo courtesy: Deb Roskamp
San Diego – "America's Finest City"
Arriving at the Santa Fe Depot, I discovered that I didn't need a car or even want one. So I ditched my car and headed to the San Diego Metropolitan Transit System Bus and Trolley, which allows you to be car-free while exploring the city. The purchase of a three-day Day Tripper pass would transport me to all the attractions.
A short trolley ride took me to the heart of the vibrant East Village. Once a derelict warehouse district, the East Village redefined itself with the completion of PETCO Park baseball stadium. Now downtown's hippest neighborhood, the area features luxury hotels, condominiums, residential/work lofts, restaurants and galleries. Who would have thought that unassuming San Diego would become a national role model for urban renewal? The historic Gaslamp Quarter, which spills into (or is part of) the East Village (everyone seems to have a different opinion), is lined with Victorian-era buildings, housing restaurants, pubs, galleries, theaters and shops. For history buffs, the Victorian-style Horton Grand Hotel was once the seven-year home of Wyatt Earp.
Accommodations were at the chic Hotel Indigo, the only LEED certified green hotel in San Diego. Virtually all the building materials used were recycled products, with a design reflecting Fibonacci numbers and plant spirals, creating a harmonious ambience. Creature comforts included spa-like baths, 37" flat panel HDTVs, designer furnishings, plush bedding, sleek hardwood floors and complimentary high-speed Internet access. Sitting at the 9th floor Phi Bar Terrace, I gazed in wonder at PETCO Park's field, even though there wasn't even a game in process.
Old Town is the first permanent European settlement in California. In 1769, Father Juniper Serrano established a chain of 21 missions; each situated a day's horse ride away. Today the San Diego Mission overlooks a collection of historic adobe buildings, shops and restaurants. The Old Town Trolley tour is the best way to get an overview of what is considered the birthplace of California.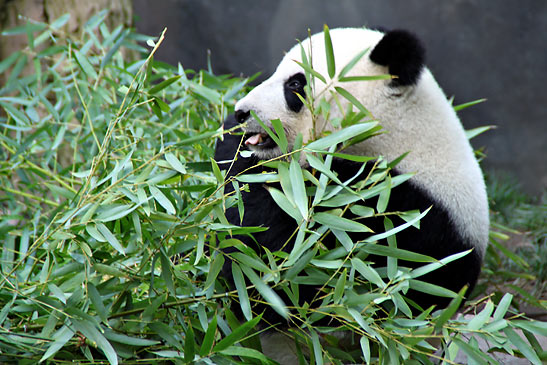 Photo courtesy: Deb Roskamp
The 100-acre San Diego Zoo is a sanctuary for over a thousand animals; a place to learn of conservation efforts to protect wildlife from extinction. The setting is stunning, with exotic plant life utilized throughout the park. Start your tour with a tram ride, which offers a comprehensive overview of the zoo.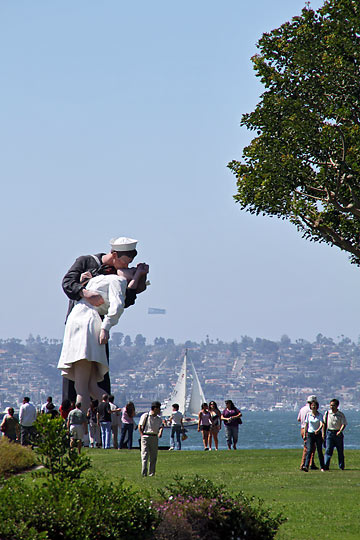 Photo courtesy: Deb Roskamp
Balboa Park is the nation's largest urban cultural park. Home to 14 museums, performing arts venues, spectacular gardens, it is a must-see attraction. Admittance is free to the grounds, but there is an admission charge for a number of the attractions. The Stay-for-the-Day pass offers admission to your choice of any 4 of the 14 participating attractions.
Little Italy, now the largest in the States, dates back to the days of San Diego's fishing industry when generations of Italian fisherman called the area home. Today Little Italy is a vibrant neighborhood of restaurants, pubs, galleries and shops. It also features a world-class Saturday farmer's market.
A trip to the USS Midway Museum was how I wanted to end my San Diego stay. The collection of 60 exhibits and 25 restored aircraft aboard the aircraft carrier was a heartfelt tribute to the men and women who have served our country. The tour colored my thoughts as I strolled back to my car in preparation to for next stop of my journey. I had done San Diego, but knew there was still more to see. I will be back.
Where to Stay in San Diego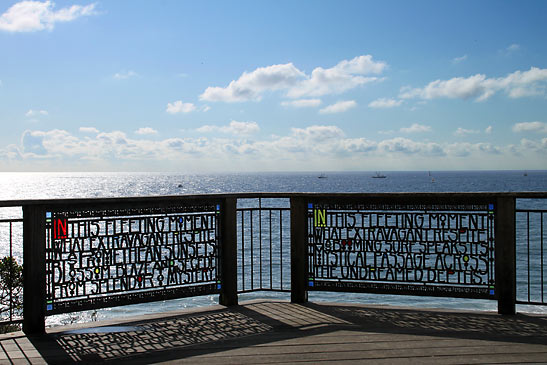 Photo courtesy: Deb Roskamp
On to Laguna Beach – The Riviera of California
Laguna's history dates back to the arrival of Native Americans – believed to originate from the Shoshone family. Attracted by the plentiful supply of fish and shell fish, they also hunted deer in the surrounding canyons. They referred to the area as Lagona (lakes), due to the fresh water lakes in the canyon. In 1933 a 17,000 year-old-skull was found in Laguna, indicating their early presence in the area. In the 1800s, the Spanish titled the area "Canada de las Lagunas" (canyon of the lakes).
The first settlers arrived in 1870, followed by tourists who came for the cool ocean breezes as a reprieve from California's brutal inland weather. Accommodations were in tents, but this all changed with the building of the Hotel Laguna in 1889. Now christened Laguna, the area was on its way to becoming a popular tourist resort. Hollywood was not immune to Laguna's charm, with the likes of Bette Davis, Mary Pickford, Judy Garland, Rudolph Valentino, Charlie Chaplin and Mickey Rooney maintaining homes in town. Laguna was transformed into an arts community when painter Norman St. Clair first set his eyes on this stunning landscape. He was so taken by the beauty of the area that he spread the word to his artist colleagues in San Francisco. Today Laguna boasts over 100 galleries, the Laguna Art Museum, Sawdust Festival, Art Walk and the Pageant of the Masters, an once-in-a-lifetime re-creation of paintings, staged using real people. The city fathers have established several measures that ensure slow growth and preservation of Laguna's terrestrial and marine environments.
Soon we arrived at the tree-lined streets of Laguna's Downtown Village, complete with aforementioned galleries, quaint boutiques, restaurants, palatial resorts, intimate bed and breakfasts and seaside cottages.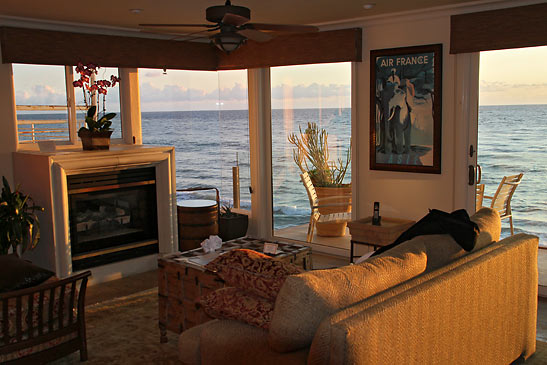 Photo courtesy: Deb Roskamp
Our accommodations were at Sunset Cove Villas, a selection of eight themed luxury villas, nestled on a bluff overlooking the ocean in the heart of the village. We scored big time by booking the two-bedroom, two-bath, fully-equipped Seychelles Villa – a mere few steps to the beach.
We could have stayed there forever, luxuriating on the private deck, but then remembered there was an important appointment on our schedule – a painting class at the home of the Sawdust Art Festival.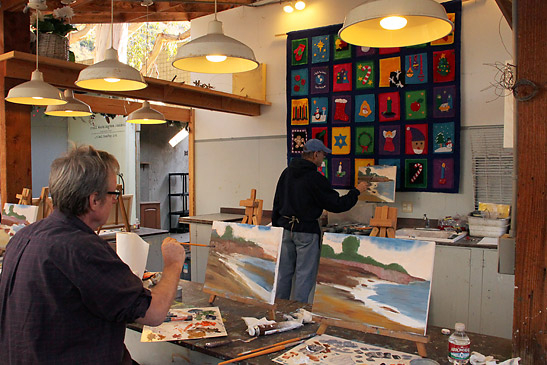 Photo courtesy: Deb Roskamp
The intimate class was conducted by John Eagle, a former stockbroker who became a full-time painter in his mid-fifties. He's listed in "Who's Who in American Art." After a few brush strokes, it became clear that I was not destined to be another Monet, but John was patient with me and I found the experience both insightful and, above all, relaxing.
After a day of beachcombing and gallery hopping – two of which featured John's inspiring Impressionist-style paintings – I decided that painting was destined to be part of my future and planned on purchasing my own art equipment. We also concluded that an annual trek to Laguna Beach would now be part of my life.
Where to Stay in Laguna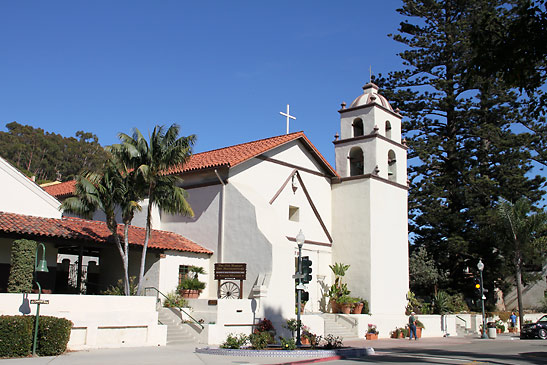 Photo courtesy: Deb Roskamp
Ventura – "The Real California"
I gazed in wonder at the spectacular land and seascape. Once again I was reminded of the stunning destinations in our own backyard. The place: Ventura – nestled between Malibu and Santa Barbara on the southern-most part of California's Central Coast. Billed as 'The Real California,' we couldn't wait to see what it had to offer.
Archaeologist findings indicate that for over ten thousand years the Chumash Tribe were the first inhabitants in the central and southern coastal regions of California. With the arrival of the Spanish in the 18th Century, Mission San Buenaventura was established by Father Junipero Serra. He named it after the Italian St. Bonaventure, hence the nickname: "city of good fortune." Ventura was incorporated in 1866, and grew due to the establishment of the Union Oil Company and an influx of settlers from the east. Located between the Ventura River and the Santa Clara River, settlers found the soil so fertile that citrus grew better there than anywhere else in the state. In 2005, the City Council adopted a visionary plan, focusing on delivering key services within available means and promoting sustainable prosperity.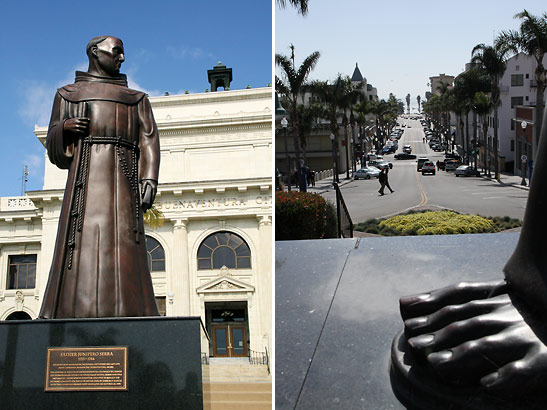 Photo courtesy: Deb Roskamp
"Hey, wanna hit some thrift shops," Deb gleefully shouted as we strolled down Main Street. Indeed, there were scores of them lining the avenue. What I liked best is that Ventura's revitalized downtown reflects a hybrid of a bygone era and the glitz of new boutiques, wine bars, restaurants, inns, galleries and stage theaters. Suggested stops: the Mission San Buenaventura, Museum of Ventura County and Albinger Archaeological Museum. Make sure to pick up a complimentary Historic Downtown Walking Tour Guide at the Ventura Visitors & Convention Bureau.
The Ventura coast possesses vast stretches of uncrowded beaches, surf spots, harbor cruises and a gentle 13-mile coastal bikeway – which made me aware that I need to get into better shape. With the sun at my back I remembered that early Spanish settlers coined Ventura the "land of endless summers" with its year-round daytime temperatures averaging 70 degrees.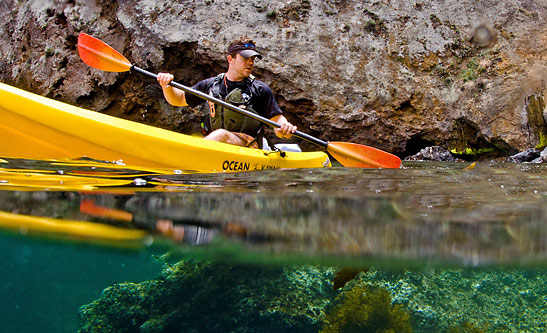 Photo courtesy: Anthony Lombardi
Ventura's most amazing attraction lies 14 miles out to sea; Channel Islands National Park comprises five of the eight Channel Islands off the California coast: Anacapa, Santa Cruz, Santa Rosa, San Miguel and Santa Barbara Island. This stunning nature preserve is often referred to as the "American Galapagos" because it is home to more than 2,000 species of plants and animals – 145 of which are unique to the islands and found nowhere else on earth.
Hosted by Channel Islands Outfitters and Island Packers, the voyage begins on an Island Packers bio-diesel boat to Scorpion Harbor on Santa Cruz Island. Even the ride over was a great experience, spotting whales, dolphins and thousands of sea birds. Once we reached the island, recreational options abound, including hiking, camping, snorkeling and kayaking.
We opted for a kayak tour guided by the gentle hands of Channel Islands Outfitters' Clay Downing. Paddling through arches and into sea caves was something that I will never forget.
Where to Stay in Ventura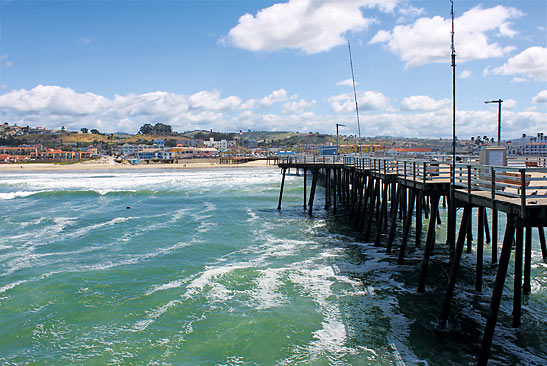 Photo courtesy: Pismo CVB
Pismo Beach – "Classic California"
Pismo Beach got its name 9,000 years ago from the indigenous people, the Chumash Indians, who referred to the area as a place to find pismu, or tar. Spanish archeologists called these early coastal residents 'playano' ('beach people'). The Chumash, renowned for their magnificent redwood plank canoes, subsided on a staple of ground acorns, wild game and the (now almost depleted) Pismo Clam. The Chumash's way of life almost ended during the Spanish Missionary Period, but the remaining decedents found a rebirth with their new Las Vegas-style casino in Santa Ynez – the Chumash Casino.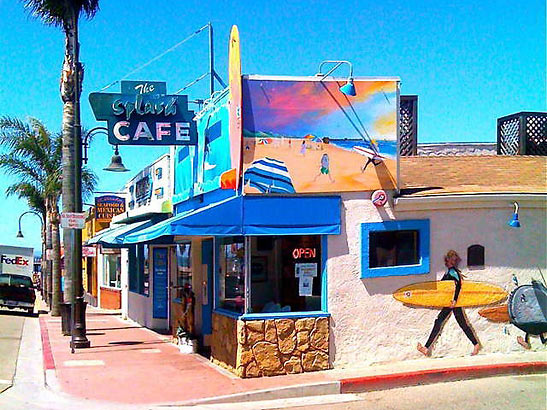 Photo courtesy: Pismo CVB
The city of Pismo Beach was incorporated in 1951 and from the beginning was a natural as a tourist destination with its long white beaches, great weather, and spectacular views. This is not the town, though, where time has stood still. However, it has done its best to embrace the best of the past and has engineered tourist friendly packages that showcase all the wonders the area has to offer today. As I explored Pismo, I could see it was a place where everyone seems to fit – surfers and seniors walking their dogs share the same beach. Fishermen try to catch the big one from the iconic Pismo pier. You can drive and camp on the beach just down the coast at the Oceano Dunes State Vehicular Recreation Area. Pismo boasts over 30 restaurants and more than 50 motels, hotels, and RV parks. You can enjoy bicycling, golfing, hiking, nature walks, water sports, Hummer adventure tours and horseback riding – also right on the beach!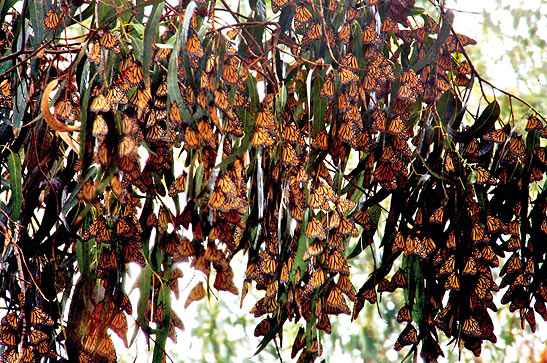 Photo courtesy: Pismo CVB
Pismo Beach is the winter home of the Monarch butterfly that comes to stay annually from October to February. Pismo also makes a wonderful home base for exploring the Central Coast's other attractions that include the Danish Village of Solvang (Danish for 'sunny field'), a stunning village nestled in the Santa Ynez Valley. Founded in 1911 by a small group of Danish teachers, Solvang is the place for fine restaurants serving authentic Danish cuisine, import shops, windmills, hayrides, Danish festivals and activities for all ages. It is also home of theOld Mission Santa Inés.
Pismo also serves as the gateway to Hearst Castle, a home base for exploring well-over 100 wineries (Think the film, "Sideways."), the shops, boutiques and little B&Bs of the quaint village of Cambria, and the previously mentioned Chumash Casino. Yes, Pismo lived up to its Classic California moniker. But the real attraction was the Pacific Ocean. Yes, paradise found. We couldn't wait to explore the expansive and pristine beaches. We could spend some serious time here. But now after seven-days on the road it was time to relax.
Where to Stay in Pismo Beach
Related Articles:
To San Diego By Train; 3 Things We Didn't Know About Pismo Beach; California's Central Coast: A Tale of Three Cities; Morro Bay, Central California; Cambria and Paso Robles; Wine, Waves and Whimsy in Pismo Beach; King Crabs at Pismo Beach