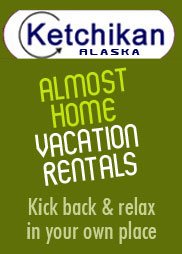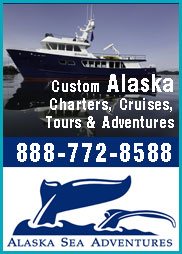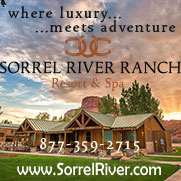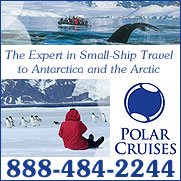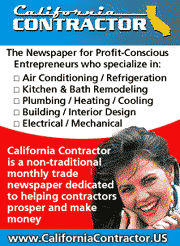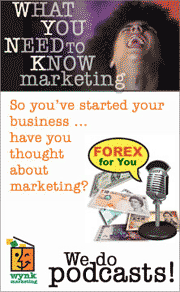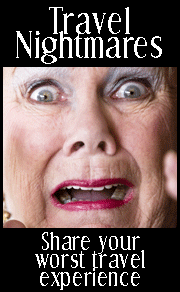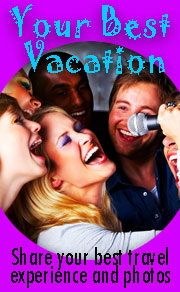 Juneau – "Alaska's Wilderness Capital City"
Story by Ringo Boitano
Photographs by Deb Roskamp

et's face it, Alaska is a big place. With over 3,000 rivers and more than 100,000 glaciers, the state is one-fifth the size of the continental United States and two-and-one-half times the size of Texas. Vast expanses of wilderness encompass Alaska, with millions of acres of national parkland and wildlife refuges. When I took my first Alaska Inside Passage cruise, I could see that there were a number of ports of call that deserved more than a day tour -- and this was never truer than when I first set my eyes on Juneau.
A City Built on Gold
For thousands of years, the Tlingit tribe had dominated Juneau and Southeast Alaska, developing sophisticated art work and elaborate ceremonies as well as a complex cultural life. In 1880, Joseph Juneau and Richard Harris discovered gold. Fortune-seeking miners soon followed along with a plethora of trading posts, saloons, and missionaries. The Juneau settlement became a real town, the first to be established after Alaska's purchase from Russia. The Alaska-Juneau gold mine was one of the largest mining operations in the world. Juneau experienced rapid growth with the arrival of fishing, canneries, transportation services, and a sawmill through the early 1900s. In January 1959, Alaska was christened the U.S.'s 49th state with Juneau becoming the state capital.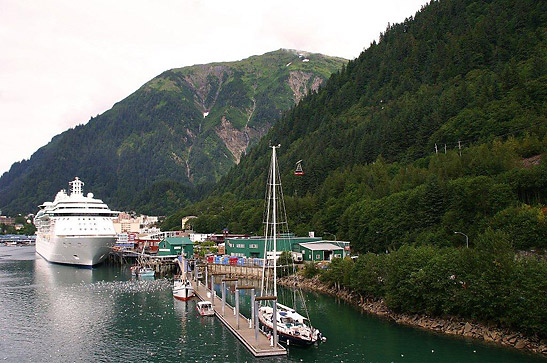 Today, Juneau is a thriving city with a blend of urban amenities nestled in the heart of majestic mountains, rivers, glaciers, and forests. With a population of 31,000, the infrastructure is based on government workers, tourism, mining and fishing. It still has a friendly, small town ambiance with everyone seemingly fitting in, united in their love of the surrounding beauty.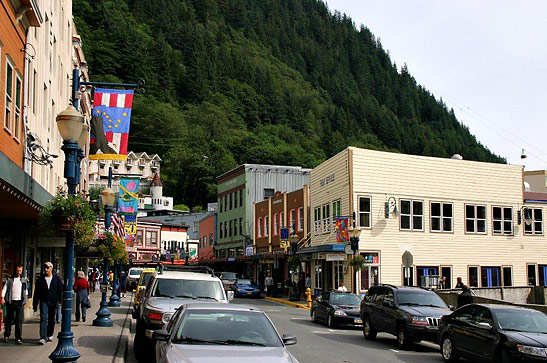 My Own Private Juneau
What I enjoy in Juneau is getting out of the tourist area, and wandering around the city. One evening I strolled up a quiet main street. I couldn't help but notice there was a man on the other side of the street, carrying something that looked suspiciously like a sledgehammer. Suddenly, he took a full swing, smashing a store front window. I'd often wondered how I would react in such a situation. Would I be a "Dirty Harry" and demand the man to stop or confront him by force? But my 6th sense told me to do something else: run the other direction as fast as my legs would take me. As I did, locals poured out of bars, and soon the police arrived. The officer pointed a gun at the assailant and calmly said: "Okay, Larry, let's go." Larry smiled, put his sledgehammer down, and amiably climbed into the back of the car. How I love small city life.
Sitting in an Internet cafe the next day, I told a local about the incident. "Unusual for Juneau," the man smiled. "Plus he couldn't get far for Juneau is inaccessible by road." I asked if the invasion of cruise ship tourists bothered him. "They're only coming here to see the reasons that make us live here. One of my favorite things to do is go to Mendenhall Glacier at night after the cruise ships have departed, and we have the whole place to ourselves." That night I did just that; with the late summer sun glistening off the glacier, it was truly a spiritual experience.
Selected Highlights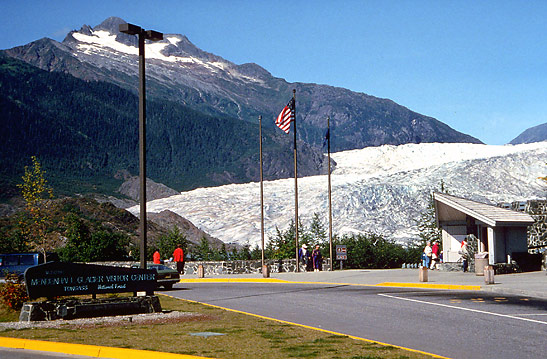 Photo credit: Juneau CVB
Mendenhall Glacier and Visitor Center
The Mendenhall is one of the 38 major glaciers that flow from the Juneau Icefield, covering more than 1,500 square miles. You can drive to the visitor center on your own, but tour companies also offer trips. Flightseeing groups feature aerial tours and helicopter companies land you right on the glacier for a short hike.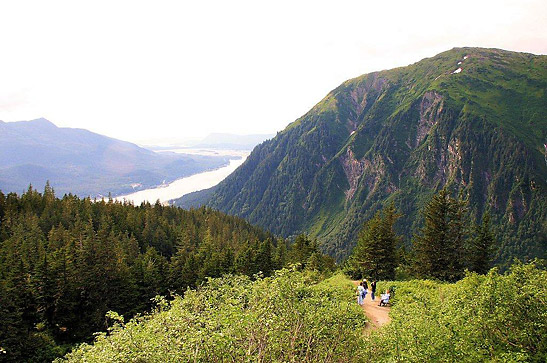 Mt. Roberts Tramway and Alpine Hiking
From the cruise ship pier, take a six-minute tram ride to the 1,800-foot level of Mt. Roberts for sweeping views of Gastineau Channel and downtown Juneau. There's wildlife viewing platforms, Nature Center, a live bald eagle display, restaurant, gift shop and a self-guided hiking trail marked by Native totem carvings.
Juneau Museums
The Alaska State Museum showcases exhibits on Alaska's Native culture, history, art, and natural history including a Tlingit Clan House, while the Juneau-Douglas City Museum features exhibits and videos of Juneau's history and gold mining heritage.
Boat Tours
Day boat tour companies offer tours of the twin Sawyer Glaciers in Tracy Arm Fjord. Glacier Bay National Park features a remarkable collection of tidewater glaciers and 3 million acres of wilderness.
Whale Watching and Wildlife Viewing
Juneau is the place to see humpbacks and orca killer whales, seals, black bears, and eagles. For brown bear viewings, visit Admiralty Island National Monument, based in the Kootznoowoo -- a Tlingit word meaning "Fortress of the Bears."
Sportfishing
An array of Coast Guard licensed charter fishing boats offer charters for Pacific halibut and all five species of Pacific salmon.
For further information, log-on to www.traveljuneau.com
Related Articles:
Return to Alaska; Alaska's Interior; Tongass National Forest, Alaska; Holland America Alaska Cruise; Denali National Park; Alaska Railway; Small Ship Cruise, Alaska; Sitka, Alaska; Skagway, Alaska



I love Ringo's piece on historic hotels. I once stayed at the Laurentian in Montreal - is it still around, is it historic? And then there was the Heups in Bismark.
It is interesting that two of your entries are in CANADA.
Brent, Seattle, WA

It's no mystery that you are great at what you do.
Sandee, Seattle, WA
* * * *
The Mystery on the Oasis pics are very funny!
Ramon, Kansas City, MO
* * * *
Ha ha ha ha ha...love your "schtick" Ringo!!
Dolly, Las Vegas, NV

Hello the travelling Boitano's hope you enjoy. Best wishes.
Elsa Magdalena Berno-Boitano, Laussane, Switzerland

My Irish roots understand terrible beauty. So do my human roots. The concept has such a ring of truth to it, doesn't it? Great article, Ringo. I hope to get to Ireland eventually, and thanks for blazing the trail!
Sandeee Bleu, Seattle, WA
* * * *
No wonder I've been hearing all these wonderful stories about Ireland. I used to think that it was just for Irish Americans seeking their ancestral roots but your article seems to call out to the non-Irish like me. Fascinating and intriguing.
Peter Paul, Pasadena, CA

Thanks for this great post wow... it's very wonderful.
Key Logger, New York
* * * *
Lets not forget that the Marriot Harbor Beach is within walking distance to the world famous Elbo Room - Fort Lauderdale's oldest bar.
Jeff, Fort Lauderdale, FL
* * * *
Jeff–
Thanks for taking the time for the message and reminder. Indeed, I had a quick drink at the Elbo Room. My trip to Ft. Lauderdale would not have been complete without a visit to this historic institution.I have been reading about it for years, and was not disappointed. It felt like a real local's hangout.
- Ringo

Ringo,
I thoroughly enjoyed your article about Dick and Liz. I remember seeing that article back in the heyday of Life Magazine.
To remember the "behind-the-scenes" stories like that makes you genuine fan of the 60's. The famous couple's turbulent relationship was just a precursor of today's headline-grabbing media stars like Britney Spears and her colleagues. Life was simpler then. The paparazzis still had some sense of decency. You "coulda" been a good paparazzi. I say "coulda" because you kept this to yourself all these many years.
Looking forward to other media trivia you can remember.
Peter Paul, South Pasadena, CA

Hey, Ringo –
Enjoyed your article on Antarctica --- cool photos, too. One thing, you mentioned that Ushuaia in Argentina is considered the most southern city in the world. I read that Chile lays claim to that distinction, with Punta Arenas, the southernmost city in the world.
Mick, Greenbay, WI
* * * *
Mick –
Now that football season is over --- I've often wondered what you Packer fans did in the off season ---- it's great that you took the time to visit TravelingBoy. Great question, unlike my older brother, I adore all lamb products, and Patagonian Lamb --- cooked in a restricted area at the restaurant in an opened wood-fueled fire pit --- is amazing. The chef actually uses an ax to carve it. Frankly, I found it superior to Norwegian fjord lamb, Irish Burren lamb and even those much esteemed creatures down in New Zealand. The crab in Ushuaia is the other thing to eat. Wait a sec, you asked about Punta Arenas vs. Ushuaia as the furthermost city in the world. Well, they both have little disclaimers re populations --- you know, what's a city, which one is a town, ect – so better let Chile and Argentina brass it out. They seem to be able to argue about any subject.
- Ringo


Journey to the Bottom of the Globe: Exploring the White Continent of Antarctica

As a travel journalist I am constantly asked what are some of my favorite travel experiences. The list is endless. But there is one destination that seems to raise the most eyebrows. That destination is a cruise to Antarctica. Sadly, that cruise line I was on is no more, but today there is a plethora of cruise lines that offer similar packages. Here's a look back at my Antarctica cruise.


Treasures of Ireland: The Quiet Man (Dispatch #17)

The Palladian Traveler follows in the footsteps of some Hollywood icons as he goes "on location" in Cong to pay his respects to his all-time fave movie.


Would You Believe She Can Carry 800 (Yes, 800!) People!

As she came around the corner we could not believe how big she was. Massive, and yet incredibly beautiful – almost elegant in fact. Her lines were so symmetrical she seemed to blend into a classic example of astonishing good looks. The other fact that amazed all of us was how quiet she was. We felt sure that with the obvious overwhelming power she evidenced, she'd be extra loud. It's a cliché, but she was as quiet as a church mouse – or "as quiet as dreaming trees."


Highway 49 Revisited: Exploring California's Gold Country

In the 1840s, the population of California was only 14,000, but by 1850 more than 100,000 settlers and adventurers had arrived from all over the world – and they came for one reason: gold. James Marshall had discovered the first gold nugget at Sutter's Mill in El Dorado County, creating the largest gold rush in history.


Lake Charles' Family-Size Low-Key Mardi Gras

The Southwest Louisiana Mardi Gras in Lake Charles, the second largest in Louisiana, does not need parents there to avert their children's eyes. This is family entertainment and children are very much part of it. The main office of the Lake Charles CVB has costumes from last year's Mardi Gras but it also has figures to fascinate little ones from country boys fishing for their dinner to alligators who have already fed and are rubbing their stomachs.


Cedar Hill: Frederick Douglass' Home is as Imposing as the Man who Lived There

Having recently received a misguided shout-out from the president during Black History Month – Frederick Douglass has done an amazing job... – it seems a good time to revisit the cultural icon's legitimate place in history. And a visit to his home in Washington, DC – surely a place the current president might want to consider visiting himself – would be a good place to start.


Discovering Art, Culture and Cuisine in Lancaster

Lancaster has always been one of those cities that I pass through on the way to some other destination. But last week was different. I finally took the time to explore the place and wow, was I surprised! I discovered a downtown full of charm, culture, cuisine and community spirit. My recent getaway began when a friend and I drove about 60 miles north of Los Angeles toward the Mojave Desert and checked into the Towneplace Suites Lancaster.


Richard Gere and Joseph Cedar Discuss "The Moderate Rise and Tragic Fall of a New York Fixer"

Richard Gere is one of America's acting treasures. He has an uncanny knack for selecting scripts with the most interesting characters. Included in some of his vast body of films are "American Gigolo, "An Officer and a Gentleman," "The Cotton Club," "Internal Affairs," "Pretty Woman," "Primal Fear," "Unfaithful," and "Chicago." Joseph Cedar, writer and director of the critically acclaimed "The Moderate Rise and Tragic Fall of a New York Fixer," was born in New York City but when he was five, his family moved to Israel where he was raised.
---
© TravelingBoy.com. All Rights Reserved. 2015.
This site is designed and maintained by WYNK Marketing. Send all technical issues to: support@wynkmarketing.com