The Nira Caledonia:
A Warm Edinburgh Welcome on a Stormy Night
By Ruth J. Katz
Photos courtesy of the Nira Caledonia Hotel

don't think I was ever so happy to check into a hotel than I was one stormy, blustery night nigh unto a year ago, when I landed – finally, after having left my home in New York nearly 30 hours earlier – at the warm and embracing Nira Caledonia Hotel in Edinburgh. I had touched down in London at a wee early-morning hour that day, but when I arrived at the Nira Caledonia, I felt as if that arrival had been an eternity ago.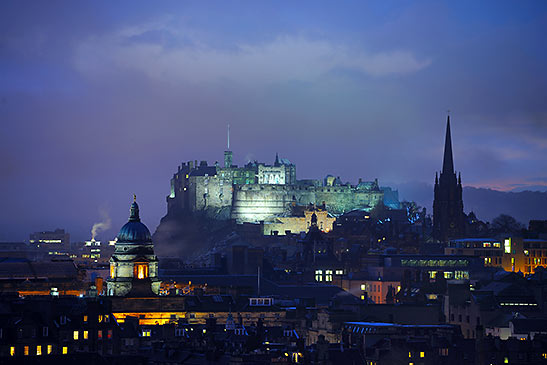 Edinburgh by night
After clearing Customs and Immigration, I blithely checked the train schedules to determine whether I should take the coastal route or the more inland route up to Edinburgh on Brit Rail. My decision was based solely on which direct train I would be able to catch, when I arrived at Paddington with the Heathrow Express. From Paddington, I would have to cast the die, and choose one of two train stations; I did not want to have to change trains after the transatlantic flight, and trains departed from different stations, depending on the route...so I felt as if I were navigating the strategic air command, trying to outsmart the system, to get the soonest train, the fastest train, the easiest train. And so it was, I cast my lot with the inland route, through the pastoral Lake District, to get to Edinburgh in the most expeditious fashion. All I can say now is, ha ha.
And so, unwittingly (not a clue there was a tempest afoot already), I blithely chose the WRONG route, and ended up pretty much stranded in Carlisle, after countless false starts, bus rides, and angst. (And that is entirely another story.) As torrents of rain cascaded toward the bruised earth, trains were gradually suspended north and south, tracks were blown out or flooded, and ultimately, the motley group from our no-longer-direct train was stranded out-of-doors, hoping for more buses to shuttle us another few miles northward, each time, praying we were inching closer to Edinburgh. In truth, though, by the time we reached Carlisle, we were just plain stuck: We were going nowhere.
If it had not been for one particularly enterprising Scotswoman, who was simply not willing to sleep in the train station without a hope or prayer of getting out the next day, I might still be snoozing on the cement in the open-air station in Carlisle. But, somehow this resourceful woman found a taxi driver who (for the right amount of silver across his palm), would drive us to Edinburgh. Two more recruits joined us to help split the stiff tariff, and off we went... sloshing through daunting mini-tarns along the roadways, buffeted by fierce winds right and left. And yet, we made it. I had called the hotel to say I would assuredly not make it there by mid-afternoon, as planned, but to not give away my room! When I arrived, soaking, distraught, chilled to the bone, and a wide-eyed mess, all I cared about was a hot shower and hot coffee.

Exterior of the Nira Caledonia Hotel
Management had saved a cozy room for me, and I was never so happy to see a Nespresso machine in a hotel room... several cups of tea and cocoa (not to mention, a plate of shortbread and a welcome cheese platter) later, my hunger was slaked at last. While the hotel boasts 24-our room service, I didn't have the heart to ask anyone to prepare something elaborate for me at 1 a.m. So, thrilled to have my clash with the rails behind me, I lingered in a steaming-hot shower, and then happily nestled under the soft covers of the downy, enveloping bed.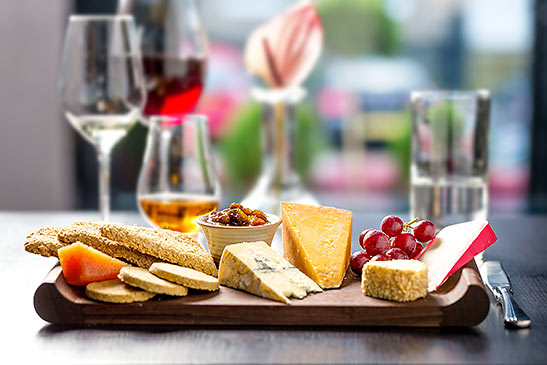 A warm welcome on a stormy night
Management had promised that I would be moved the next day (while I was out, at the party I had come for), to one of the largest suites in the hotel – on the garden level – with enough room in it to throw a cocktail party for 50. When I returned from my day's outing, I settled happily into the gorgeous Dean Suite, with its massive living room, huge TV, bucolic garden view, and sundry amenities. It was perfect.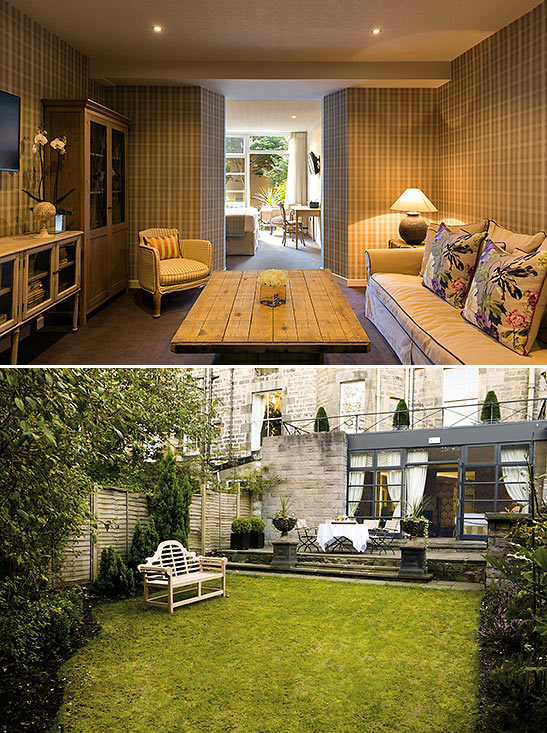 Dean Suite and the Garden
Located in two handsome buildings on Gloucester Place, which is a quaint, cobbled street in New Town (and is among the city's most prestigious addresses), the romantic, 28-room Nira Caledonia combines five-star-hotel luxury with the intimacy of a townhouse. Designed in 1823 by possibly the greatest of Edinburgh's neo-classical architects, William Playfair, the structures are classic examples of Georgian architecture and were anointed with World Heritage Site status by the city in 1995.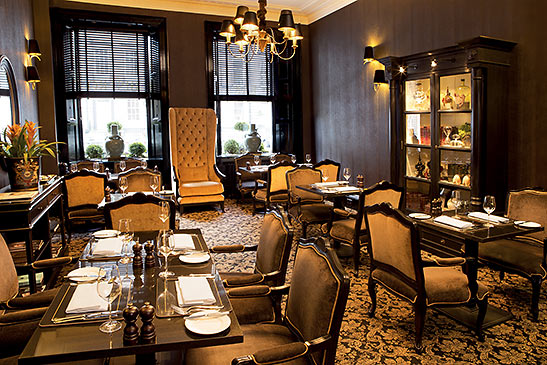 Nira Caledonia Dining Room
The broad, quiet terrace is flanked at both ends with Georgian crescents, and dotted in between with charming, private gardens and stunning homes. This highly exclusive part of the city drew aristocrats and professional gentry from far and wide. As the reputation of Edinburgh* grew as a center of banking, insurance, science, and philosophy, many of the most esteemed literary figures of the age took up urban residence, including John Wilson, who domiciled literally at this address from 1826 until his death in 1854. Wilson was one of the most popular and prolific early 19th-century magazine writers, penning his pieces under the nom de plume Christopher North. A flamboyant bon vivant and larger-than- life grandee, Wilson is perhaps best remembered for his searing reviews, poems, and essays published in Blackwood's Magazine. In 1820, he was appointed Professor of Moral Philosophy at Edinburgh University, where his passionate and eloquent lectures attracted generations of students to the subject. He became one of Edinburgh's most important literary figures and as a testament to his influence, a statue was erected to his memory in 1865 in Princes Street Gardens, between the celebrated Scott Monument and the Royal Scottish Academy.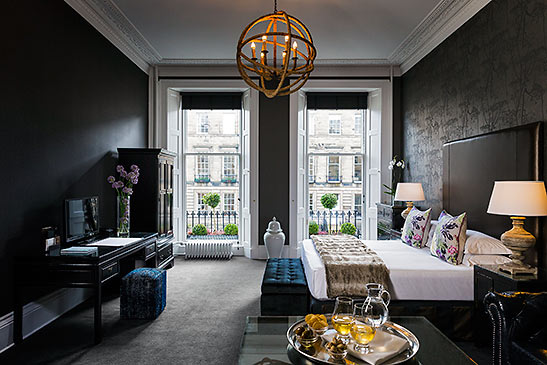 A typically glamorous and comfortable room
The interiors of the buildings are a successful blend of Georgian-period features, accented with original cornicing and decorative plasterwork, high ceilings, dado rails, and Georgian sash windows. The guest rooms are bathed in contemporary furnishings, antique carpets, ornate gold mirrors, overstuffed armchairs, and sumptuous textiles, all providing striking counterpoint to the canvas of the architecture. (The property underwent a refurbishing in 2011 and reopened in January, 2012.)
The hotel is a member of the prestigious collection of Small Luxury Hotels of the World, a hand-selected group of some 500 boutique properties in 80 countries, all with the highest standards of excellence and top-flight service. All are singularly individual – whether a cutting-edge design hotel; a historic, country manse; or a private-island, villa-style retreat. The prestigious SLH group receives over 1,000 applications a year from hotels seeking SLH inclusion and a mere 5% is accepted into this rarefied group; the appellation is a telling badge of distinction, one that seasoned travelers know signifies cosseting treatment and a unique experience. The Nira Caledonia is the only SLH property in Edinburgh and is the first of three member hotels in Scotland.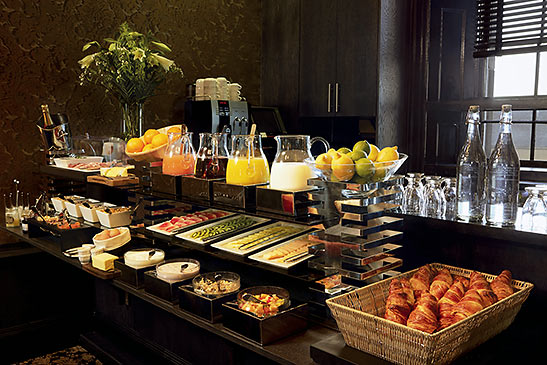 Breakfast at the Nira Caledonia
At the Nira Caledonia, one sign of that individualistic expression is the door hanger, designed to alert housekeeping to the fact you are out and that your room could be made up: The charming announcement reads: "We are out living like a local. Please return my room to its former glory."
©2016 Ruth J. Katz / All rights reserved.
*You cannot utter "Edinburgh" without referencing the world-renowned Festival. And it is not too soon to think about tickets for the nearly month-long 2017 Festival. Click here for information about the Festival.
Related Articles:
Hopscotching Around Scotland; Mary King's Close, Edinburgh, Scotland: 400 Years of History; My Scotland, My Perthshire; Pittormie Castle; Harry Potter's "Hogwarts Express"