Young Blood… Old Souls
…The Casey Hensley Band
By T.E. Mattox

itting down in an Oceanside coffee house with Casey Hensley and Evan Yearsley you suddenly feel old. Both of these creative artists have been around music their entire, albeit short lives and have experienced more than their share of the emotional highs and lows associated with this chosen profession. Yet, they still maintain an open and energetic enthusiasm for the blues they play and share a deep-rooted respect and admiration for the originators that created it.
Hensley and Yearsley appear wise beyond their years, and could easily be the millennial poster children for future blues. Totally aware that the path they've chosen is an uphill fight at best, they are laser-focused on what they want to achieve and even have a plan in place to make it happen. With support from family, friends and fellow musicians the Casey Hensley band looks and sounds like it's ready for the challenge.
It seemed obvious to begin our conversation with just how they would describe the music they make. "It's very blues-rooted," Casey says. "But also pretty heavy in rock and roll. I grew up listening to a lot of Led Zeppelin and Joplin along with the Allman Brothers so it has a lot of that influence in it as well. But we've been doing Big Mama Thornton songs and things like that. I don't want to just stick to one style, I want to venture out." Band co-founder and drummer, Evan Yearsley adds, "It's roots blues, roots rock and roll, and soul for sure."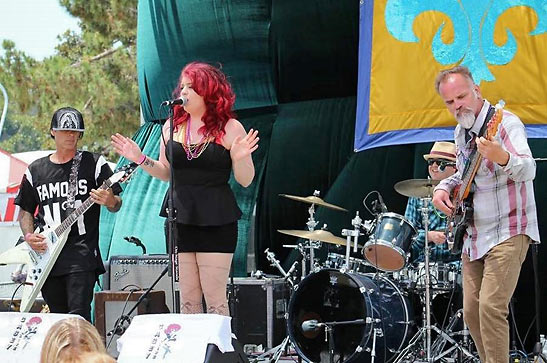 The Casey Hensley band at the Gator by the Bay Festival. Photo: Eli J. Medellin
There must have been motivating circumstances behind that decision? "I like to call it trial by fire," Evan says. "Growing up with (parents) Candye Kane and Thomas Yearsley of the Paladins, the first band that I saw when I was a very young kid, my mom would take me to X practices at the Hully Gully. I grew up watching '80s L.A. punk rock and being backstage at the Palomino and sleeping on the couch and watching the Paladins, Black Flag and Buck Owens. Country, blues and punk rock were all on one bill, on the same night. It really brought the music scene together."
Early exposure to some of the highest profile West Coast bands of that era must have really made an impression even at that young age. Evan nods. "Being able to watch Brian Setzer when he was just starting to climb the ladder in the '80s… It was all around growing up, Los Lobos and the Beat Farmers…" Evan starts to shake his head at the memory, "…stepping over Country Dick (Montana) who was sleeping on our floor while I'm getting ready to go to school. I remember stepping over Country Dick to turn the cartoons on and eat a bowl of cereal…while he's snoring logs. It's been a great upbringing; I wouldn't change it for the world." As for his own direction in music, Evan says. "When I was 16, practicing with my buddies I remember my mom calling me and saying, 'You have to come to the Belly Up (Tavern) right now, my drummers in traffic in Long Beach, he's not going to be here for another hour and you need to come play the first set.'"
It's becoming much clearer why Yearsley refers to it as 'trial by fire.'
"Just listening to this music." he said. "When my parents made a new record we probably heard it a hundred or two hundred times before the album was ever released, a lot of it just became second nature to me but you have to practice and you're always learning and always progressing, like anything in life. But growing up with them has really been one of the most amazing things, music-wise and family-wise. They are amazing parents."
I want to ask Casey if she ever found Country Dick asleep on her floor, but I don't. How about the Hensley family's musical roots? "My grandfather was a bass player and he was playing in bands," she says. "…and doing 'battle of the bands' with Aerosmith. To this day if you put on Aerosmith, he's like, 'I don't want to listen to it.' (laughing) And just going through my mom's records and finding Aretha Sings the Blues at like three years old and Etta James and Ella Fitzgerald. Standing on a chair in my living room, lining up all my stuffed animals (she sings a single, sustained note) just singing to them all when I was supposed to be cleaning with my mom. To this day… I wake up, it's like seven in the morning and she's blasting music. It's just constant at my house."
One would think a child, at that age would be more interested in dolls and tea parties…but blues?
"The reason I began clinging to the blues," Casey confides, "When you hear the feeling in the voices, you can't fake that, you know? They have auto tune and everything now… but when you hear those early recordings it's…" Evan finishes her sentence. "Organic!" Casey nods, "Exactly! Thank you."
Evan then drops another Hensley family secret, "And…Casey is a distant relative of Patsy Cline!" She smiles and says. "Which I found out about a year ago and think is super cool." (Patsy Cline's given name was Virginia Patterson Hensley)
If you were listening to Aretha and Etta at three, you probably realized that entertainment was also in your future? "Yeah, the first time I was on stage, there are actually pictures I still have of it, I was five. It was funny, I was up on stage and my parents said, 'Ok, make sure you move when you're on stage.' And there's a video of me just swaying back and forth… making the crowd seasick. (laughing) And the first time I was in a studio, I think I was eight. We recorded my first song which was called 'I Wish' and it was really cute, it's talking about my dreams trying to be a singer, moving and growing and making albums. It was really cute and it was with Stevie Wonder's cousin, I believe. So that was cool. I mean I really got immersed in it right away."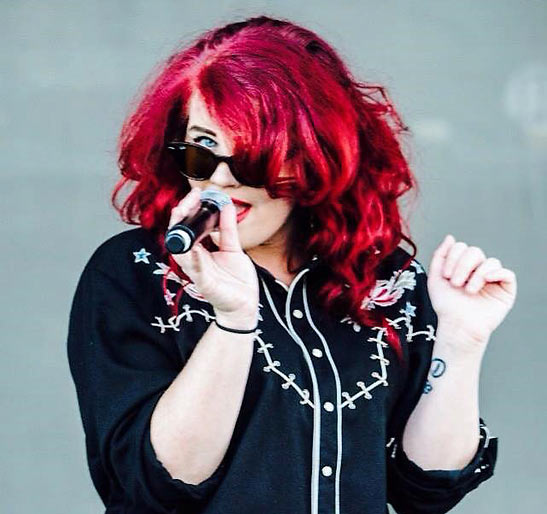 Casey Hensley. Courtesy photo
Music wasn't the only avenue open to the young Casey; she also worked on perfecting her acting chops. "I acted and did Disney stuff and as a Disney kid that's a whole other…" She pauses to reflect. "I kind of think of the acting phase as dark, I think kids doing that is… I wouldn't do it. I wouldn't do it to my kid. It was a great experience and I wouldn't change it, but I wouldn't do it to my kids, ever. When I decided I wanted to stop, my parents were supportive. I said, 'I just want to focus on music, I don't want to act anymore.' It wasn't good for my soul."
So you decide to focus on music, and not just any music…but blues music? (laughing) "As long as the music had some kind of soul in it, some kind of feeling, that's what I would cling to."
Other than the current gig with the Casey Hensley band, Evan continues to play with multiple bands in Southern California, but just how many is up for debate. "I sub when anybody gives me a call." He admits. "I like playing all types of music really; I like the challenge of it, the chameleon aspect of being able to do not just one type, but all types of music. At one point I was playing in about seven bands at one time. I really like it and look at it like relationships or different families of mine." He grins. "…and I'm having a great time doing it."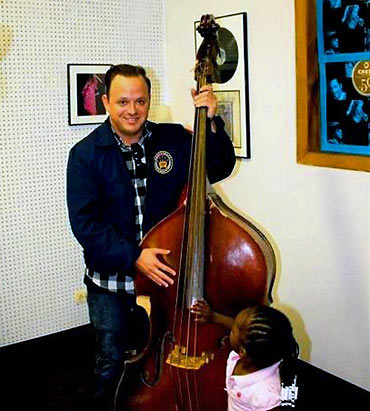 Evan gets some instructional time on Willie Dixon's bass
I recently noticed a photo of Evan on social media… you went over to Chess Records in Chicago? "We were on the road with the 44's." Evan says. "We were in Chicago and decided, 'Hey, let's go over to Chess.' And it was a trip, man. You would think it would be really crowded and you would think it would be a real attraction, like Disneyland. In Chicago, you go to Chess Records!" Evan suddenly becomes a tour guide. "So everybody, if you're in Chicago, you get your butts to Chess Records and support Chess and keep those doors open! (laughing) It was great, we walked in and there was nobody in there and I think it was Willie Dixon's grandson; Alex came out, and we had no idea he was related to Willie Dixon and he took us all around and pulled out a standup bass and said, 'this was my grandfather's bass.' And then it hit me, wait, you're Willie's… wait, what? (laughing) Yeah, you guys want to hold it, and take pictures with it? Is that okay? And then the granddaughter came up and showed us the backstairs where Muddy would come up. He would actually be painting houses and would be late for a session and there's paint splatter down the hallway where Muddy was brushing up against the walls. And they just left all the paint that Muddy had splattered, just because it's so cool."
Casey can you give us a little insight on the song 'Till You're Gone?' "It was about my first heartbreak." Casey says. "I was… I don't know 18. He was a surfer who cheated on me. So what better revenge, I'll write a song. I was in the studio with my producer, Andrew Lane who I still work with from time-to-time, he's incredible. He played me this thing on the piano and I thought, 'God, that's heartbreaking, that's how I'm feeling.' He put it on a loop and I took it into a room in the studio and I stayed in there for like an hour and a half, locked myself in the room and wrote it. I just had tears running down my face, and when I was recording it too, I was crying. But for the video, the guy was a surfer; I'll kill him in the video! I'll kill him and he'll drown!" Note to self: Don't ever upset Casey Hensley.
Hensley's background also includes movie trailer and film studio work. Let's talk about the INXS cover you recorded, 'The Devil Inside.' "Actually," Casey says. "Their manager called my producer, and said, 'Michael (Hutchence) would have loved this.' And to hear that from their manager was insane. But movie trailer stuff is really fun; I get to use my voice like an instrument."
How did you become involved with the business of recording movie trailers? "Andrew Lane said he had a friend who does movie trailers and can I send him your information? And I was like, 'Absolutely!' That would be so fun, and I'm still working with him (Jay Singh is better known in the Film and TV Industry as J2) to this day. We've done, I'm gonna' say like seven or eight tracks and I'm on three of his albums."
Can you guys tell me how the Casey Hensley Band came to be? "Evan had a jam he used to do." Casey says. "And I started going to that and I couldn't believe how the blues community just accepted me with open arms. I wasn't used to that, I was used to the L.A… nose in the air, total competition thing. And I was like, 'I love this!' And you know I fell in love with him. (laughing) And I sang on his mom's record about a year earlier and she gave me a bunch of advice and I was…'This is so cool, I love this genre. This is what I want to do, and this is what my voice was made for.' So we got together and Evan said, 'Let's start a band.' So we're doing it and it's everything I've ever wanted to do. You know I feel like for the first time I have control of what I'm doing." Her eyes widen ever so slightly. "But, it's kind of scary at the same time, though."
Tell me about working together on the song, 'Searching for a Man.' "I wrote a couple of lyrics of it and Evan just took it and wrote like 75% of it, maybe more. He was playing a couple of chords on guitar and he 'bluesified' it for me. And we recorded it in like, two hours." Evan adds, "It's exciting, and every artist is very, very critical of themselves and their music. The process of writing the song was really done in one night. She had some lyrics, we added some more, we played a ballad blues. It's so awesome to sit together and play piano and throw ideas back and forth. It's kind of our normal process." Casey smiles, "He's taught me something on almost every instrument."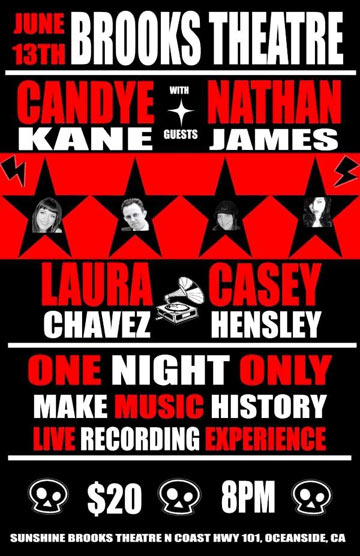 Show poster
You're playing a lot around San Diego, and now some of your music can be heard on local radio? Evan starts grinning. "To have the support behind us, I can't thank everybody enough. Thank you! Tim Pyles and 91X. To get a blues song on mainstream radio and hear it when we're driving back from a buddy's house, it was really exciting. We're high-fiving, 'Oh My God, they're playing blues on 91X.' I think it (blues) is coming back around, people are hungry for it. And there are so many others to thank, Peter Oliver @ Gator By The Bay, Ann the Raven @ 88.5FM KCSN, Tim Mays @ The Casbah, Candye Kane, Laura Chavez, Thomas Yearsley @ Thunderbird Analog Recording Studio, Boogie Magazine…"
Tell me a little about the current lineup in the Casey Hensley band. "We've got Jimmy Zollo on guitar right now," Evan says. "And Mark Campbell on the bass, who plays with Joe Wood and he was one of the singers with TSOL. They're really great guys and I play drums and Casey's on vocals. Zollo also plays with Red Lotus Review and he's a great guitar player and really fun guy and has gone out of his way to make the project come together. Thank you Jimmy… and Mark." Casey jumps in, "And the beginning stages are hard, you gotta' be patient as far as pay in the beginning and getting an album together. It's a lot of patience." Evan adds, "Well they feel strong about it, they're very supportive… and obviously Casey is a force to be reckoned with. Just hearing her sing before we even had a band, I mean we met about five years ago, maybe longer and when I first heard her sing, I was like, 'Wow! Who is this girl?' As time went on and the stars aligned, we started hanging out and she was coming to my jam and helping me with the jam." Evan glances at Casey. 'Thank you for doing that.'
The band performed at a charity gig not long ago… Cancerstock. "We love to be a part of it and feel very honored to be a part of such a noble cause." It's become a personal thing for you. "Yes, we live with it every day. My mother, Candye Kane is living with and battling pancreatic cancer, she was diagnosed in 2008 and is the strongest person I know, man. She tours almost 200 plus days a year." (At the time of this interview, Candye Kane had been released from an extended hospital stay only to get on an airplane and perform a month's worth of shows throughout Europe.) "You know I played in her band for eight years and toured the world with her and she gave me the greatest opportunity to cut my musical teeth on her stage."
Casey also admires and can't speak highly enough about the legendary singer. "I'm learning so much being around her… as a singer. I have to hold back, because I want to ask her so many questions." (laughing) Evan says, "She's one of the hardest working people in show business. I mean she works just as hard as James Brown did, I swear."
The Casey Hensley band is playing a lot of live shows, any plans to get in the recording studio? "Yeah, we have the whole blueprint pretty much done," Casey says. "We just need to get in and record it. We're doing it at Thunderbird Analog in Oceanside. You know, his dad (Thomas Yearsley of the Paladins) has been incredible. He's teaching me how to use tape and he'll sit there and take the time and then he'll say, 'now you do it.' And I'm just, 'Oh My God, I just learned how to use analog stuff, this is so rad.'"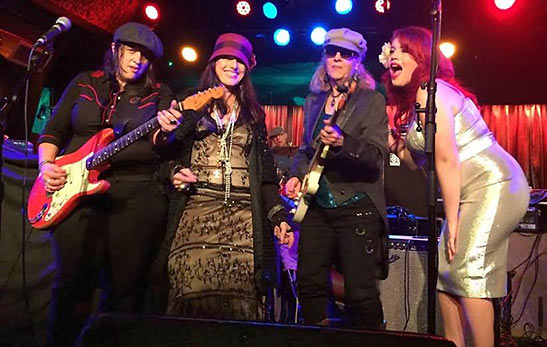 Belly Up Tavern with Laura Chavez, Candye Kane, Debbie Davies, and Casey Hensley. Photo: Dan Chusid
Can't let you go without asking, either of you have any crazy club or bar stories you'd like to share? "When I was touring with the Candye Kane band," Evan volunteers. "The place was called the Blues on Grand in Des Moines, Iowa. A great club but it's gone now. The bartender was such a great man; every time we would play he had these jars at the bar. I remember the first time playing there with my mother and we go to the gig and it's the end of the night and he says come over here to the end of the bar, I want to show you our collection. I say, 'Okay, what kind of collection is this?' So he pulls out these jars and he's got all these pickled pig parts. And he goes, 'Now check this one out.' And you're looking in these jars and he's got a flashlight and he's showing us pig body parts that are in these jars and he's going, 'Yep, and you see that right there, there's always one stray hair!' (laughing) And we're just cracking up, what a great bar… we really miss it."
Related Articles:
The 44's; Laura Jane Willcock and The Tighten Ups; 2013 San Diego Blues Festival; Big Blues from Big Jon Atkinson; 2011 San Diego Blues Festival; Missy and Heine Andersen; Nathan James: Southern California Roots