Curated by Ed Boitano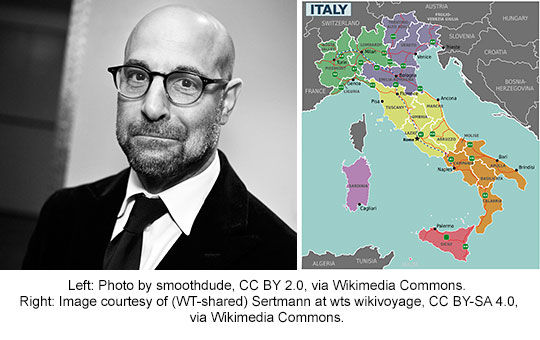 The Stanley Tucci series, Searching for Italy, covered six of Italy's regions: Campania, Emilia-Romagna, Lazio, Lombardy, Sicily and Tuscany. With season II in the works, fourteen other regions will be covered: Abruzzo, Basilicata, Calabria, Friuli-Venezia Giulia, Latium, Liguria, Marche, Molise, Piedmont, Puglia, Sardinia, Trentino-Alto Adige, Umbria, Valle d'Aosta (Aosta Valley), Veneto.
To bring you up to speed: The culinary regions can be divided into three distinct groupings of Northern, Central, and Southern Italy. Italian food can include risotto in the north, Bistecca alla Fiorentina in central Italy, and pizza in the south. The kingdom of Italy was established in the 1860s and the Republic of Italy was founded after the Second World War resulting in the regional culinary traditions separate from greater Italy.
Global Trivia 53
Congratulations!
You have completed Global Trivia 53.
You scored %%SCORE%% out of a possible 5 points.
Your performance was:  %%RATING%%
Your answers are highlighted below.