By James Martin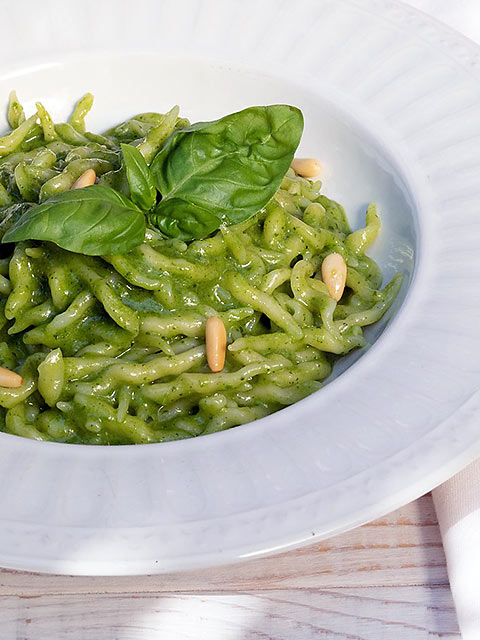 The fertile little crescent upon the sea you find on a map of Italy offers much more of culinary interest than you might think. Liguria isn't in the top 10 of regions invaded by "foodies", yet some of Italy's best olive oil grows on those steep slopes to the sea. The sunny yellow liquid is said to have come from trees were cultivated by Benedictine monks, who brought them to Liguria. The golden liquid makes humble food like Mesciua into a sublime feast, and the vaunted focaccia into a substantial bread that's not just for sopping up the sauce.
Pesto
But let's start with Pesto, the one dish everyone thinks they know. Like other Italian food, a good pesto is deceptively simple. If you haven't had it outside of the United States, you have reason to go to Genoa province to taste the real thing; it uses several ingredients unique and protected and grown in Liguria, the tiny, tender leaves of basilico genovese D.O.P. that easily turn to foam under the slight weight of the pestle. It is made in a marble mortar with a made-to-fit wooden pestle. This attention to detail makes quite a difference — until you've tasted pesto made the traditional way right beside one made in a blender you might not understand. It is an explosion of summer in your mouth.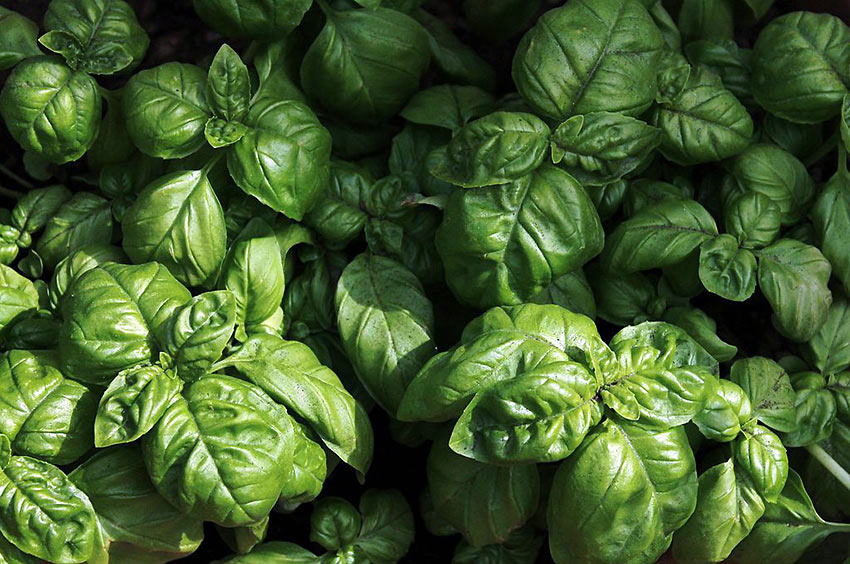 So here's what's in pesto genovese: the basil mentioned above, garlic from Liguria, pine nuts, Ligurian olive oil, salt, and cheese. Folks these days use Parmigiano Reggiano, but the traditional cheese used was a Sardinian Pecorino called fiore Sardo. Sardinia, you see, was once aligned with the Republic of Genoa. A Genovese tradition is to add green beans and boiled potatoes, making it a heavier dish.
Here's how to make pesto right.
On most menus you'll find pesto as a condiment to a pasta called trofie, as you see in the picture below.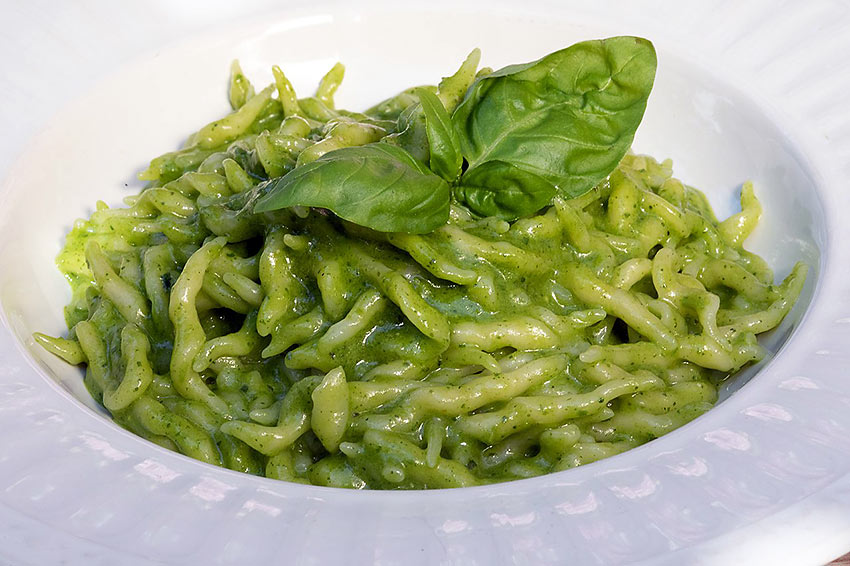 Read Deb Roskamp's Nonna's Pesto Pasta Recipe: Traveling Boy
Focaccia
The Ligurian flat bread typically benefits from that fine olive oil and sometimes a bit of rosemary and some coarse salt. There is nothing quite like a small square of focaccia with a couple of thin slices of prosciutto stuffed inside for a mid-morning snack after a bit of touristing. Wineries of the area might keep some around in the tasting room.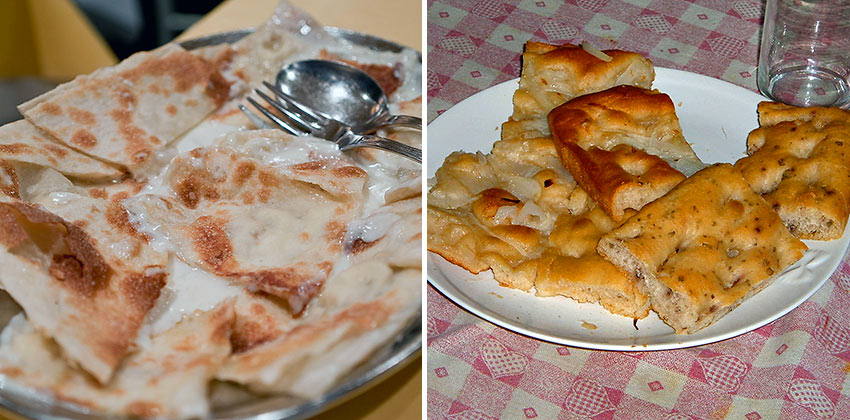 Farinata
Farinata is a chickpea flour unleavened "pancake" often cooked on a large diameter metal pan inside a wood burning oven. It's simply composed of chickpea flour, salt, water, and a healthy glug of that fabulous olive oil. Farinata stands dot the Ligurian landscape. You can even slice open a focaccia and insert farinata for a sandwich, which is surprisingly good.
Focaccia di Recco IGP
The town of Recco makes a very interesting version of focaccia stuffed with a tangy white cheese that has a consistency somewhere between yogurt and cottage cheese called prescinseua. Focaccia di Recco is so famous it has its own FaceBook page.
Mesciua
If you end up seeking cucina povera in Liguria, chances are this soup will meet any criteria you may have encountered. It began at the docks in La Spezia. After the ships were unloaded, women would come and forage the decks for the bits that had escaped the bags. They might have come across chickpeas, grains of all types including the region's farro, a specialty grain often mistakenly called "spelt". Find out more about Mesciua.
Stamped Pasta
Croxetti with a Pine Nut Sauce consists of pasta disks stamped with a croxetti stamp in a sauce of pine nuts and marjoram or thyme. You can even buy the stamps.
Fish and Shellfish
As you'd expect, there's plenty of fresh seafood along the Italian Riviera. Iconic dishes of the region include the antipasto called Polpo con Patate, or octopus with potatoes drizzled in that fine olive oil. Here's another thing you can't get legally in many restaurants in the US. You see, it's one of those Italian dishes meant to be served tepido or just barely warm, where it shines. Many states forbid anything to be served that's not at refrigerator temperature or above 160 degrees Fahrenheit. Yet another excuse to go to Liguria and enjoy "Italian" food as it has come to be. A tepid octopus hasn't killed anybody yet. Read more about polpo con patate.
Fish Ligurian style is baked with sliced potatoes, cherry tomatoes, taggiasca olives, DOC extra virgin olive oil from Liguria and salt.
Fried anchovies, especially those from the coast around the Cinque Terre (specifically Monterosso) are eaten many ways, including fried.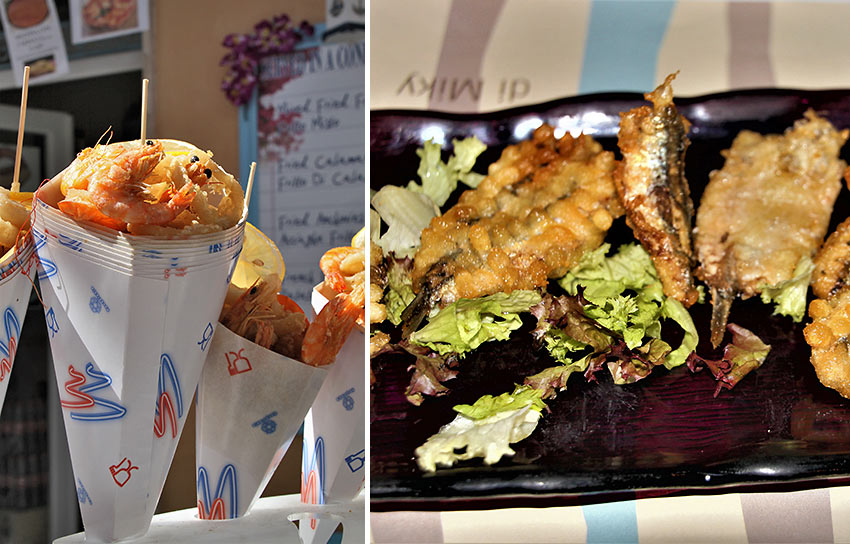 Cappon magro or Cappun Magru is a stacked Genoese salad of seafood and vegetables over hardtack, known here as Gallette dressed with a rich sauce.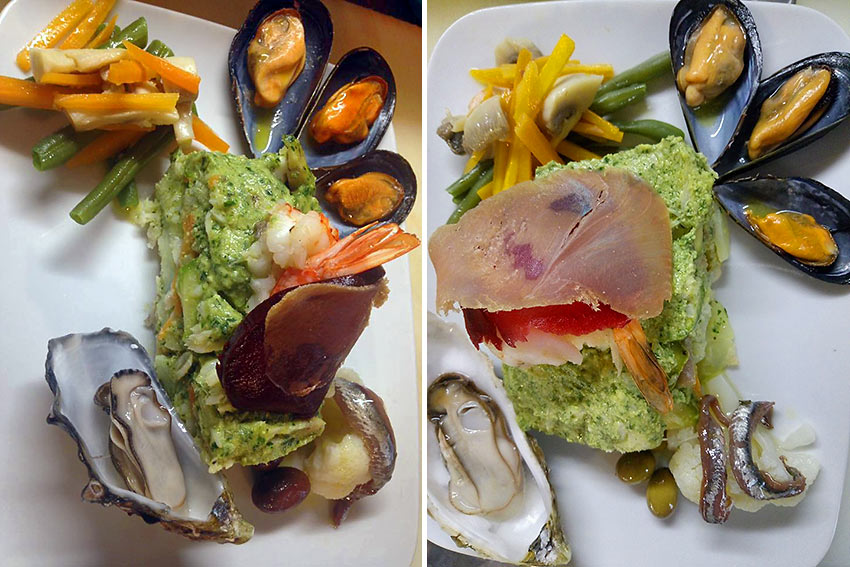 A Ligurian sauce used on fish is called Agliata. Derived from an ancient Roman recipe, it consists of breadcrumbs, ample amounts of garlic, vinegar, olive oil, parsley and salt.
Meat
Stecchi e Crocchini alla genovese, both come with a base of "carne" or meat, which is respectively…brains and pancreas.
Stecchi are covered in a bechamel-like "cream" before being dusted with bread crumbs and fried. They are sometimes garnished with threads of smoky pepper.
Crocchini has its offal wrapped in milk-soaked ostie, which are thin "waffles" and a word also used to describe the communion wafer in church. Then they're breaded and deep fried.
Unique? You betcha! You can find them at the Albergo Ristorante Amici in Varese Ligure.
Ligurian meat sauces offer a twist on the ground meat sauces of the rest of Italy. A ragu "u tuccu" is made from a solid hunk of meat and cooked until it falls apart.
A Few Words on Potatoes in Liguria
Italy has one of the lowest levels of potato eating in Europe (blame the pasta like everyone else does), and yet you'll find them in many Ligurian dishes. If you start a meal with octopus and potatoes and then move on to fish Ligurian style, you'll have your fill. I have yet to find out why the potato has such a large place at the Ligurian table, but when those sliced potatoes soak up the juices of a roasting fish, there's nothing better in the spud world.
And Then There's the Wine
Liguria is home to over 100 varieties of grapes including 8 DOC wines. Excellent with seafood are the white Pigato and Vermentino wines. While these are very similar, the Pigato DOC is considered the more complex of the two.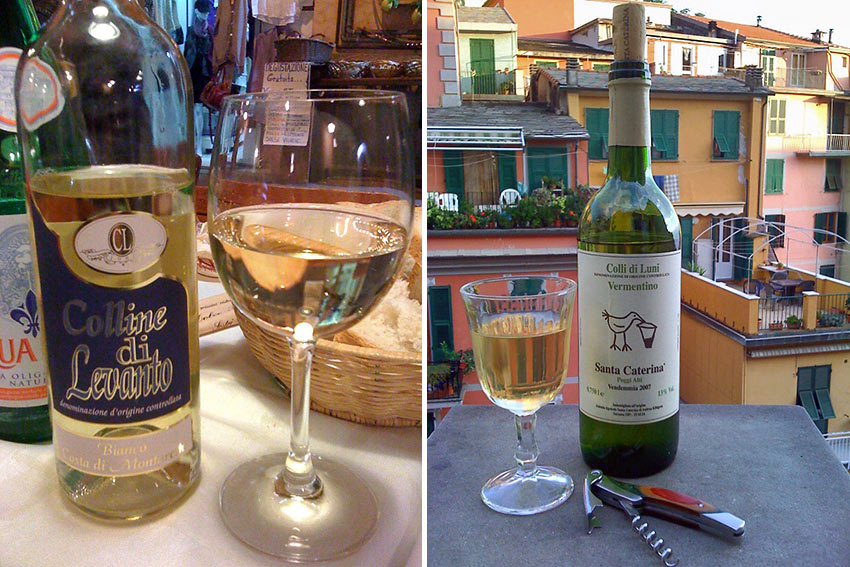 What Food is Liguria Famous for? originally appeared on WanderingLiguria.com Jun 21, 2020, updated: Jun 25, 2020 © James Martin