Rainy Season Bargains In
Sunny Puerto Vallarta
Story and photographs by Richard Frisbie

ate summer through early fall is the rainy season in Puerto Vallarta, meaning partly to mostly sunny days and usually a rain storm late afternoon or evening. Often the rain holds off until quite late. It is a delightful time to visit this popular resort town. You'll find fewer crowds, no lines and reservations are easy to make. The rates are lower, too!
Days end dramatically in the tropics. Shortly after a cinematic rose-colored sunset, the stars came out crisp, clean and bright. The spectacular day settled into a clear, late summer night, the speckled darkness above illustrating why early man connected the dots to make pictures of legends in the sky. As the constellations could be traced in the natural planetarium above us, from our vantage on the heights of the western slopes of the Sierra Madres, the week's vacation itinerary could be traced through the sparkling streetlights below. Countless ocean swims, spa treatments, walks along the shore and through Old Town, the cathedral, art galleries, delicious meals of the freshest local produce and fish, and the pulsing rhythms of the club scene were all highlighted from the beach-driven days and nights just past. Only a shooting star could make the evening more perfect.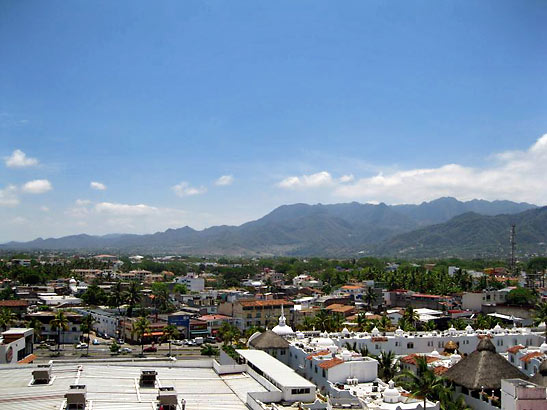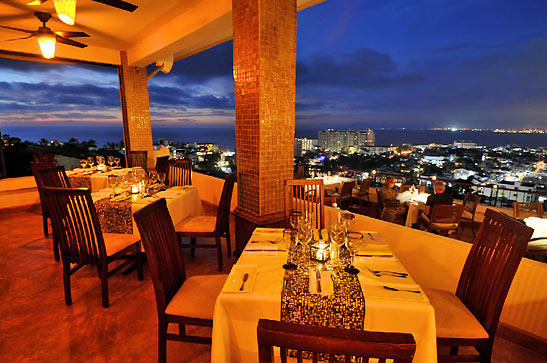 Instead, perfection of a different sort was achieved by a sudden clap of thunder and the flash of lightning as storm clouds boiled up over the mountains and poured down onto crescent-shaped Puerto Vallarta below, obscuring the ancient stories drawn in the heavens before rolling out over Banderas Bay to the sea. The sleepy crowd lingering over after-dinner drinks at Vista Grill became livelier as the pounding rain on the roof roared in waves across the covered dining room, its fine spray driven through the open walls as the scurrying staff tried, almost too late, to lower awnings and blinds to keep the patrons dry. Suddenly the night was vital and alive. It was the fitting end to a perfect day in paradise, the last of several.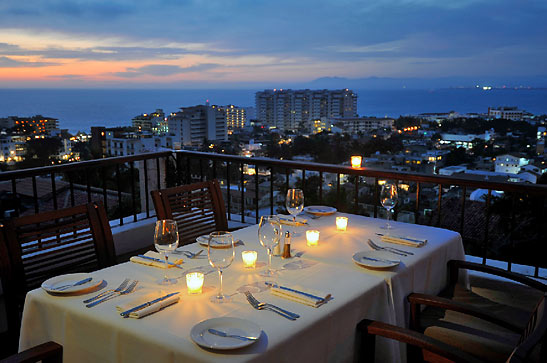 Dallas airport is bright and new, efficient in its vastness and daunting to enter for the first time. But, the signage is excellent, the staff courteous and the novelty of a Texas twang distracting enough to make it an exciting, not a taxing, layover. I'd been awake since 2:00 a.m. that morning for a drive from my Catskills' home to Newark airport that was longer than the first leg of my journey, and the even longer wade through the TSA security hell created after 9/11. The brief Dallas layover before American Airlines' flight to Puerto Vallarta was a welcome change of pace. I relaxed over a leisurely glass of white wine and a salad, both surprisingly tasty and fairly priced, before boarding was called.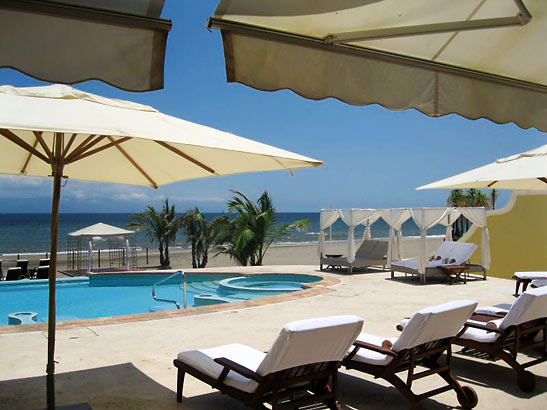 I found myself in a genial crowd, the plane packed to the gunnels with a corporate group attending a conference in the Marriot CasaMagna Resort and Spa (translation: 5 days of party possibly interrupted by brief meetings at one of Puerto Vallarta's better-known all-inclusive luxury resorts) and everyone seemed to know each other. I was quickly included in their camaraderie, which made the flight fast and friendly. Coincidentally, my return flight later in the week was with the same group. After casual inquiries of my new "old friends", I don't think any of them left their hotel grounds. I spent a half day in the spa at the Marriot CasaMagna Resort and don't blame them. There was no reason to leave – ever! The food, facilities and service were unparalleled.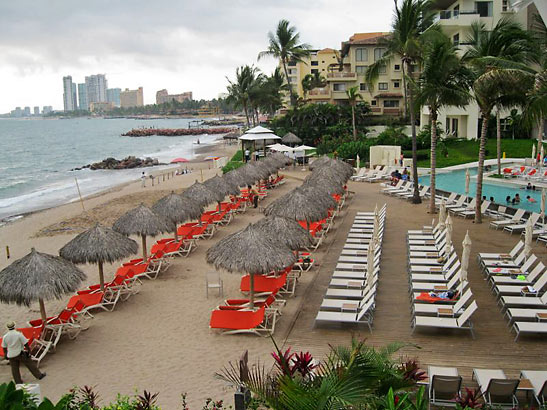 But, there is so much to do in Puerto Vallarta that it is a shame to spend all your time in one place. I was first booked into one of the AMResorts group of hotels, the adults-only luxury all-inclusive resort Secrets Vallarta Bay, but split my time to stay at the only slightly less glamorous (meaning less expensive but perfectly fine) Sunset Plaza Beach Resort & Spa, located a short drive up the beach.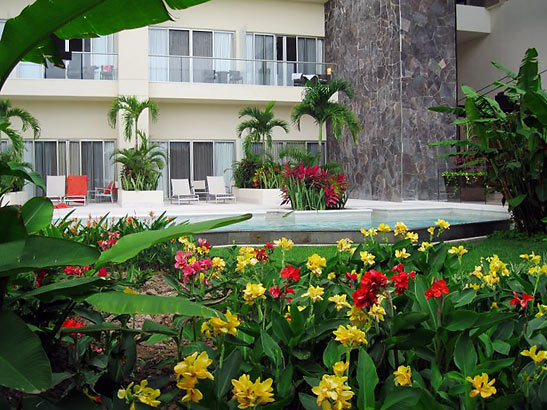 Both had beaches that were wide and lovely, but the rocky underwater entry made the many pools more attractive for getting wet. Secrets even had a swim-up bar, my first, allowing me to combine two of my favorite pastimes. If they served food, too, I'd only leave the underwater barstool for bathroom breaks. Thinking about that made me wonder how many people actually left the pool to use the nearby restrooms. Then I decided to ease my mind in a dry beachfront chaise where the many roving waiters were more than happy to help in my hydration.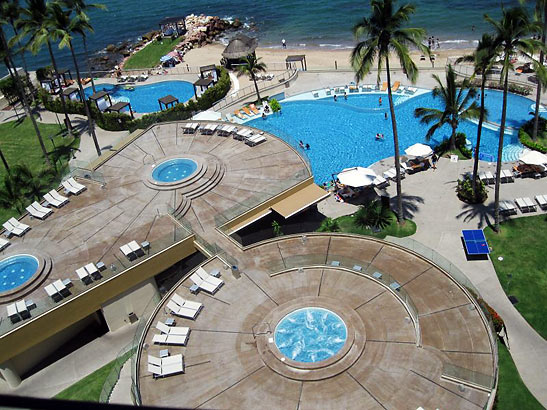 All-inclusive has its perks. Outdoors I lived in a bathing suit, flip flops and a reddish tan, identifiable only by the credit card-style room key I stashed in my trunks. A quick change to shorts and a flashy shirt made me presentable in the many restaurants. (Secrets breakfast buffet is unbelievable!) Surrounded by unlimited, high quality food and booze, not to mention sun, surf and sand, I could see why guests wouldn't want to leave the property, but the lure of Puerto Vallarta outside the gated hotel tugged at me daily. There is so much to see and do in this town perhaps best known for Elizabeth Taylor's and Richard Burton's antics while he filmed Night of the Iguana.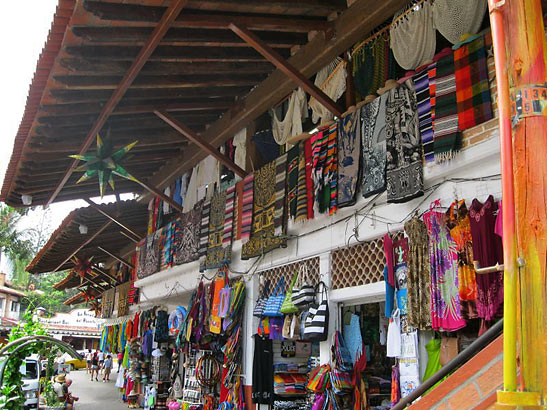 Cobblestone streets filled with places for locals to shop, as well as craft vendors catering to the tourists, show Puerto Vallarta's colonial roots. This "Old Town" sprawls inland from the newly extended, pedestrian-only beach promenade called Malecón, with rainbow signs identifying the gay-friendly establishments. Old hotels, funky, their inviting central courtyards visible through the shaded entrances, announce rates of $15 to $45 a night. Hawkers call out from the stores, offering goods from tequila to piñatas and jewelry to clothing, with everything in between colorfully displayed in the crammed doorways and on the shelves of countless cubicles and shops. It is a warren of ethnicity and culture and bad taste jumbled together with native good humor.
A swinging bridge leads to a narrow island in the river delineating this neighborhood, with a canopied "botanical gardens" walk lined with shops the length of this 'hippy haven', ending at a refreshing natural pool filled with local children splashing away the heat of the day. Here, the river is reunited before coursing under the Malecón and across the wide beach to the sea, with surfers drifting in the swells beyond, hoping for the perfect wave. Puerto Vallarta is truly a picturesque place to visit.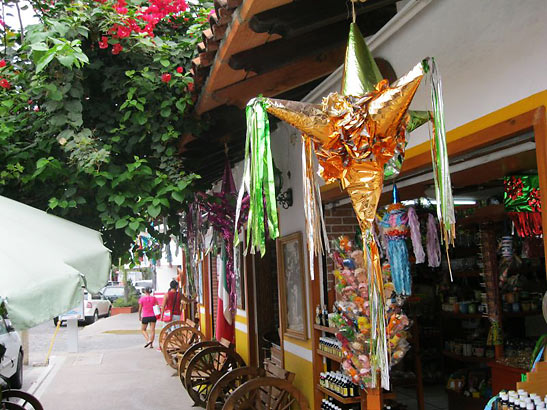 Some tourists complain about the vendors, saying they are too aggressive. I enjoyed their pitches, politely shaking my head no and thanking them. I got to speak to many of them just because I would stop and show an interest, if not in their wares, in them. One fellow called to me from a shop entrance to remind me that we met at the airport on my arrival. (I meet and talk to people everywhere I go.) After the obligatory sales pitch, he wanted to know how I liked his town and if I was having a good time. Behind the sometimes crass commercialism, there is an openness and friendliness to the people of Puerto Vallarta that I grew to love. They share a pride in their home, even as they work hard to make a living. No wonder so many American, British and Canadian ex-pats have chosen to settle here – the people, the climate and the scenery are all inviting.
While it is tempting to say that the highlight of my trip was the free time I enjoyed at Secrets Vallarta Bay, or the incredible lunch and massage at CasaMagna, or even the fabulous view and delicious food at Vista Grill, if I were totally honest I'd have to admit that the sometimes hokey, always endearing and wildly entertaining Rhythms of the Night show tops the list of best things to do in Puerto Vallarta. You have to experience it to believe it. It is a sumptuous candlelit dinner on a remote beach followed by a performance featuring a muscular, nearly naked, writhing ball of energetic young performers in a Cirque du Soleil meets Lion King pyramid of drums and fire dancing.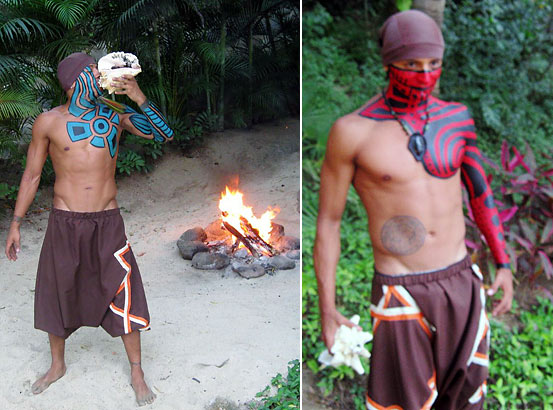 Spectacular lighting, dramatic entrances, intricate designs painted on the glistening bodies slithering through the audience, in character and athletically acrobatic, transport you through a collection of Mexican legends stitched together to make a unifying, if not entirely historic, story. Spoiler alert – young love conquers all. (Wedding planners – all or part of this can be arranged on a private beach-front altar that is truly WOW! inspiring.)
Not to be outdone, what could be a boring late-afternoon boat ride across the bay to the remote beach became a fun-filled voyage. A sure-footed young staff kept the alcohol flowing while they alternated turns entertaining the quickly lubricated passengers with dances, jokes and lip-synching old rock anthems. They were a hoot! The ride back was even more liberating, in a good, clean, family fun kind of way. Not only can those boys run a boat, they can put on a great show doing it! All-in-all, Rhythms of the Night is the one thing to do in Puerto Vallarta above all others – then do everything else, too!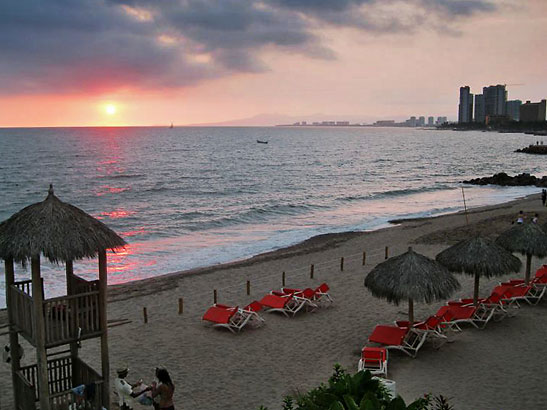 To read more about the fantastic things to do in Puerto Vallarta, see my article on the mountain top Terra Noble Spa and one on the charming ocean-front Rosita Hotel.
More links if you need them . . .
American Airlines
Vista Grill
Puerto Vallarta
AMResorts
Secrets Vallarta Bay
Sunset Plaza
Marriot CasaMagna Resort and Spa
Rhythms of the Night
Related Articles:
Playa del Carmen Blossoms; Mayan Ruins, Mexico; Inside Cozumel; Las Alamandas Awaits;
The People of Guadalajara; Dick and Liz in Puerto Vallarta; La Paz, Baja California Sur