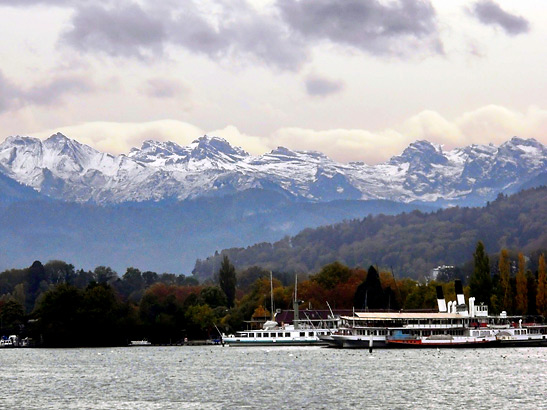 Picturesque Lucerne forms the backdrop of the Rosengart Collection
The Rosengart Collection: It All Happened by Accident
Story and Photographs by Gary Singh


he professional art dealer is a profession that only makes sense if you do it with your heart," explains Angela Rosengart, as she leads me through the ground floor of the collection that bears her name. But she warns that an art dealer shouldn't get too attached to the paintings. Then you're in trouble, since you might find it difficult to sell them and maintain the business.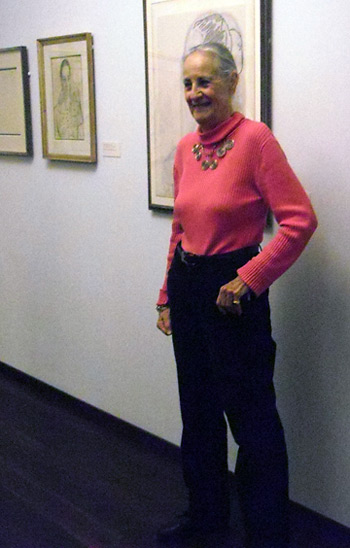 Angela Rosengart is a living connection to Picasso, Chagall, Matisse and Klee
Angela's father Siegfried passed away in 1985 after a lucrative career as one of Europe's most distinguished art dealers, based in Lucerne. Together, he and Angela ran the business for decades, often purchasing works for their own personal appreciation rather than for any intention of moving them as product. Being close friends with Pablo Picasso, Marc Chagall and several renowned artists, the Rosengarts amassed an unrivalled collection. They purchased pieces by their own subjective choice, for their own personal reasons. As dealers, they knew everyone from Miro to Matisse.
The austere neoclassical building at Pilatusstrasse 10 formerly housed the Swiss National Bank, but the Rosengart Collection of over 300 works has occupied the building since 2002. At that time, Angela created a foundation to keep the works and make them available to the public.
Angela hired the Basel-based architect Roger Diener to refurbish the building and make it suitable for a collection of classic modern works. Cosmetically, Diener retained the original structure of the building, but successfully converted it to a museum space with subtle lighting and wide spaces to enhance the viewer's experience of the artwork. Much of the original ornamentation remains. He wanted a simple look — nothing superfluous, nothing grandiose.
"He understood painting and he was fond of old buildings," Angela tells me.
Picasso was a friend of the family, so the entire ground floor features his works, mostly from the later decades. One moves through the work chronologically. For example, one gallery is primarily dedicated to the '50s, while the next covers the early '60s. There are many paintings of Picasso's various mistresses and he even painted Angela Rosengart herself.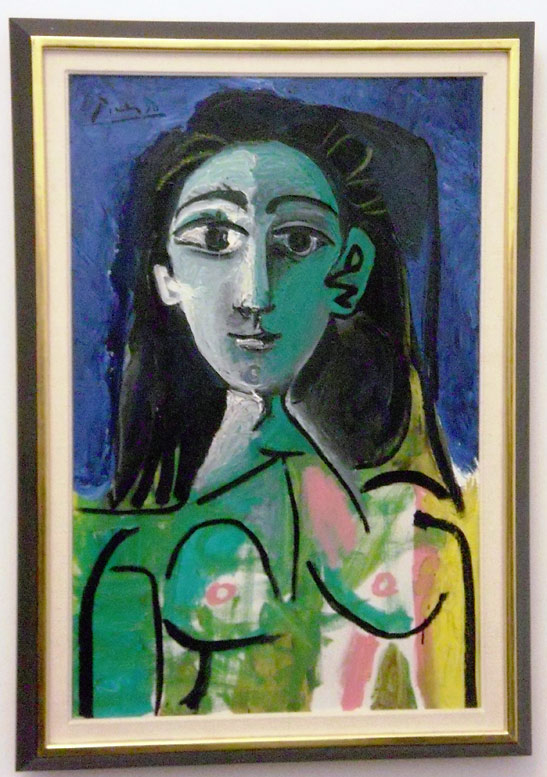 Pablo Picasso, Buste de Femme (Jacqueline), 1963. From the Rosengart Collection
Other rooms on another floor feature David Douglas Duncan's photographs of Picasso at work in his studio. A few depict scenes from October, 1963, with Angela sitting in a chair, as Picasso draws her.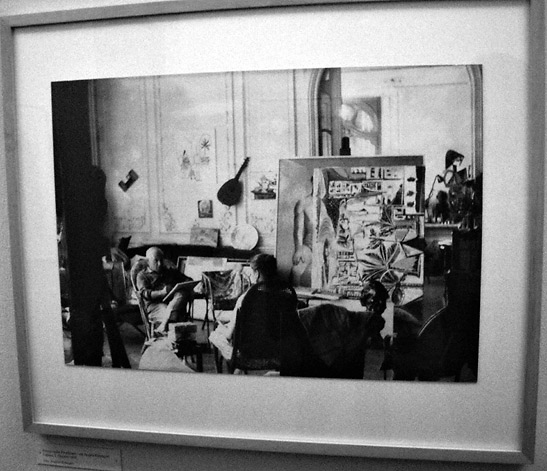 Picasso drawing Angela Rosengart, 1963. Photo by David Douglas Duncan
"I had to sit there and endure the looks from his eyes,"Angela recalls. "The looks were like arrows."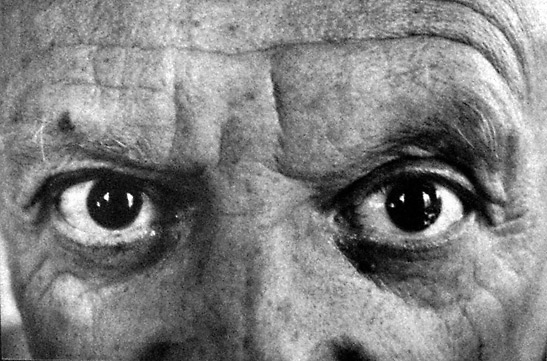 The eyes of Picasso, as photographed by David Douglas Duncan
All in all, one can feel the sheer vitality of Picasso's output emanating from the walls of Pilatusstrasse 10. It's like stepping into his very own studio. For example, as we turn a corner, Angela leads me into another room featuring some of Picasso's etchings from 1968.
"He did something like 347 etchings that year," she explains. "He would complete one after the other."
Exploring the three-floor building, guided by the benefactress herself, is downright inspiring. Tourists who show up ask the inevitable vacuous question: Which painting is your favorite? But she says there's no way to answer. It changes every day. In fact, with the utmost of humility, she won't even refer to the works as a collection. Instead, she repeats over and over that she "simply has beautiful pictures."
Aside from Picasso, the beautiful pictures include works by Paul Klee, Matisse, Monet, Kandinsky, Leger, Braque, Seurat, Renoir, Cezanne and more. With even more humbleness, Angela reiterates that the entire collection happened by accident. There was never a plan.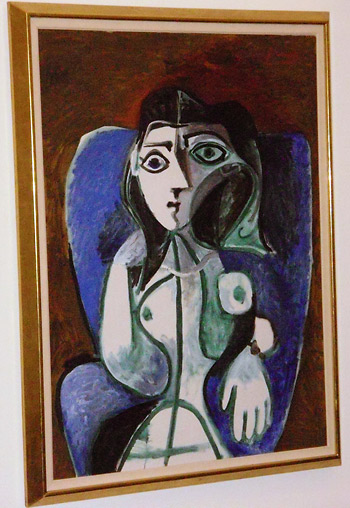 Pablo Picasso, Femme dans un Fauteuil bleu (Jacqueline), (1960). From the Rosengart Collection
"The paintings were acquired over the years and we just didn't want to part with them," she admits.
In fact, her father never even planned to be an art dealer in the first place. That also happened by accident. He served as general manager of the Lucerne branch of the Munich-based Thannhauser Gallery before taking over the gallery himself in 1937. After that, he operated the business as sole owner under his own name. His life just unfolded in such a way that he became a world-renowned dealer and agent.
Eventually Angela joined on as co-owner of the business and although the father and daughter made a living buying and selling works of art for decades, they often found themselves in a dilemma. In their hearts, they really didn't want to get rid of anything. They developed a personal attachment to many of the works, resulting in what's now the Rosengart Collection.
Angela simply grew up with it all. At age 17, she purchased her first work, a piece from the Paul Klee estate. She paid fifty Swiss Francs, one month's salary at that time, for a piece titled Little X. The piece now adorns one wall in the museum.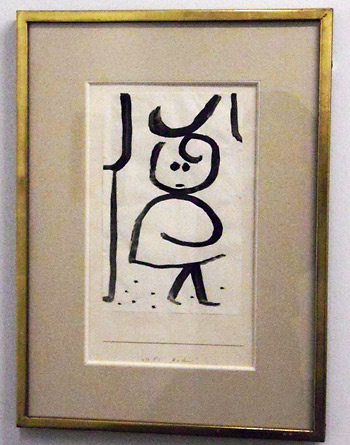 Little X by Paul Klee, Angela's first purchase
Growing up, Angela never dreamed that Pablo Picasso would eventually draw her five times. He gave her the drawings and a few also hang in the collection.
"I like to say I snuck into immortality through the back door," she tells me. I get the feeling she's said these lines many, many times before. But if I had received my own portraits directly from Picasso, I'd probably repeat myself a thousand times over.
We then move into yet another room. Gracing one wall is the painting, Dancer II, by the Catalan master Joan Miro.
"He was a friend too," she adds.
Finally, we descend into the basement, formerly the vault of the Swiss National Bank, now split into separate rooms dedicated entirely to the Swiss artist Paul Klee. Over 100 of Klee's watercolors, drawings and paintings are hung chronologically, providing tremendous insight into the evolution of his various styles and themes.
In the basement, the walls seem three feet thick. It cost $100,000 to break through one wall in order to divide up the space. The concrete floor is now covered with 100-year-old wood flooring that Diener discovered in an old home. The flooring gives the basement a homey feel.
"It has a new life," Angela says.
Angela is now pushing 80. Through her, I have experienced a living connection to some of the twentieth century's most illustrious artists. No matter what happens, she will live forever through this immaculate collection, forever inspiring those whose lives have unfolded by accident.
Rosengart Collection
Pilatusstrasse 10
CH-6003 Lucerne
E-Mail: info@rosengart.ch
Website www.rosengart.ch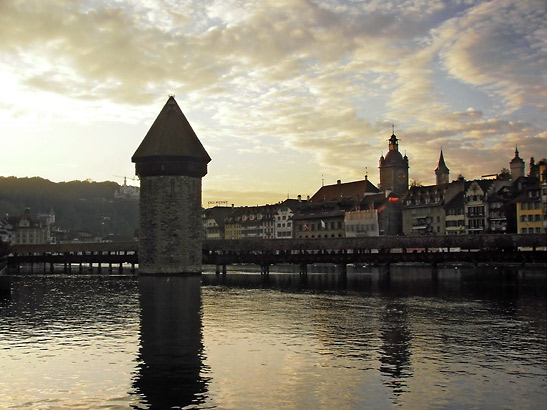 The Rosengart Collection sits a few blocks away from the famous
Chapel Bridge in Lucerne
Related Articles:
Switzerland Tour, Graubunden Switzerland, Zurich Dada and Business Class, Bernina Express, Switzerland, Swiss rail trips, Eichhorn Schwyzerorgelfabrik and Musikhaus