Wine, Pâté and Famous Rocks in Rustic Los Angeles
Story and photographs by Greg Aragon

os Angeles never ceases to amaze me. Just when I thought I've covered all the cool spots around, I discover a place like Agua Dulce and the Sierra Pelona Valley Viticultural Area. Located in the hills near Santa Clarita, the area is not only famous for rustic Hollywood movie shoots, but also boasts a burgeoning wine country and a renowned French restaurant.
My getaway to area began last Sunday, when I headed north on the 5 Freeway, switched to the 14 Freeway, and found myself on a beautiful, winding road cutting through rustic hills and ancient rock formations. As I continued on, I past ranches with cattle and horses and saw hawks soaring against the backdrop of iconic Vasquez Rocks. I was only about 40 miles from Pasadena, but the scenery took me much farther away.
In a few minutes I drove through a tiny town, and followed a sign down a dusty dirt road to Reyes Winery, where I rendezvoused with a friend. We then met winery owner Robert Reyes, who gave us a tour of the property and showed us to the tasting room, where we sampled some of his award-winning grapes.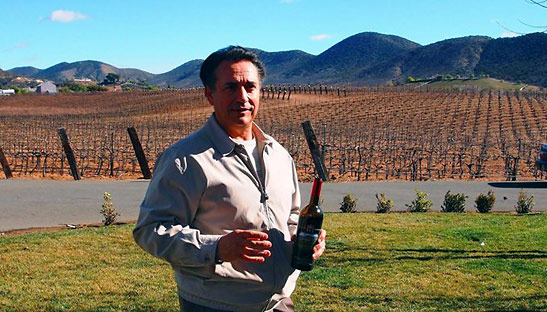 Reyes Winery is located in Agua Dulce, just north of Los Angeles
Located at an elevation of 2800 ft, in the newly established appellation officially known as the Sierra Pelona Valley Viticultural Area, the winery started in April of 2004 when Reyes and his family planted Cabernet Sauvignon, Merlot, Syrah, Chardonnay, and Muscat on his 16-acre plot. Since then, his love of wine and wine-making turned from a small harvest for family and friends into a thriving enterprise that has to date won 18 significant medals and awards.
During our wine flight we sampled two gold medal-winning Cabernet Sauvignon and Merlot and I quickly understood why Reyes has made a name for himself in the industry and why the Sierra Pelona Valley was recently granted American Viticultural Area (AVA) status.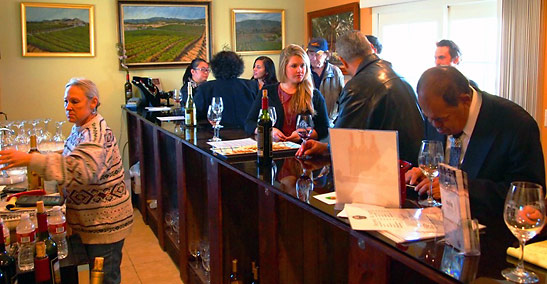 With award winning wine and beautiful vistas, Reyes Winery makes a great day trip
While sampling various varietals, I examined some of Robert's vineyard-inspired paintings. Besides an expert vintner, he is also an accomplished painter with his pieces displayed around the property.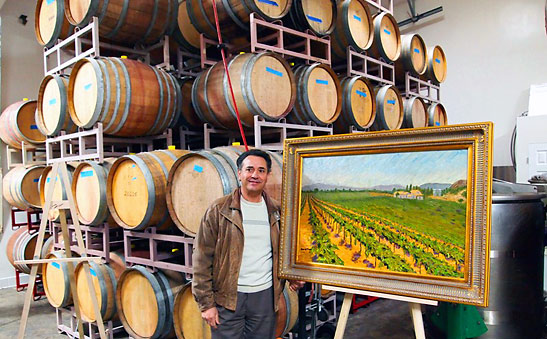 Besides an expert vintner, Robert Reyes is also an accomplished painter
We also learned about the upcoming First Annual Sierra Pelona Valley Wine Festival, which will be held Saturday January 26 at Reyes Winery. Attending the event will be Sierra Pelona Valley Vintners, local winemakers and other wineries and breweries from all across southern California. There will also be gourmet food, live music by Still Moving Project and much more.
After the tasting, we drove a mile to Vasquez Rocks Natural Area, where we were transported into a strange and wonderful world of giant rock formations. We then grabbed an area map at the ranger station and proceeded down a bumpy dirt road, past beautiful desert vegetation, toward the megalithic monsters. At the base of the stone towers we parked next to a few cars and a tour buses and began our ascent up of Famous Rocks, the most prominent structures in the park.
Shooting from the ground like a jagged, 150-ft. stone tidal wave, Famous Rocks angle toward the sky at about 50 degrees and can be climbed on all fours if you have the will and aren't afraid of heights. At the summit we took in a memorable view of the 25 million-year-old rock valley, including the San Gabriel Mountains to the west and the Sierra Pelonas to the north.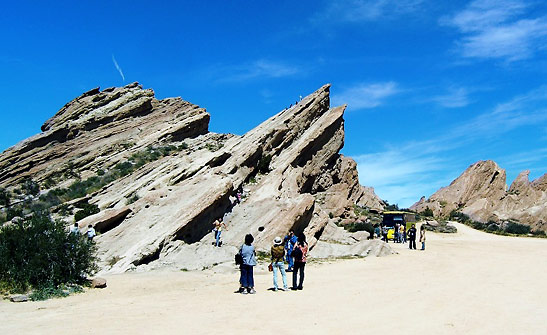 Vasquez Rocks Natural Area is a strange and wonderful world of giant formations
I could see why the area has been a Hollywood filming favorite for the past 100 years. Filming credits at the park include television shows such as "Bonanza," "Big Valley," and "The Lone Ranger," as well as big screen productions such as "The Flintstones," "Planet of the Apes," "Rat Race," and "Wild, Wild West."
Back at the bottom I read how the rocks got their name. It all started in the mid-1880's when a bandit named Tiburcio Vasquez, and his band of desperados, began using the craggy rocks as a hideout. The group roamed up and down California rustling horses and cattle, robbing staging coaches and pillaging. With the law on their tale, the outlaws escaped justice for years until being captured in a shack in the Cahuenga Pass in 1875. The bandito is gone but his legend lives on at Vasquez Rocks.

Famous for great wine, traditional French dishes and romantic atmosphere, Le Chene is a secluded gem
From the rocks we headed a couple miles down Sierra Hwy to Le Chene French Cuisine for lunch, where we met chef-owner Juan Alonso and experienced a memorable lunch in an historic castle-like structure made of river rock and surrounded by centennial oaks.
Famous for great wine, traditional French dishes and romantic atmosphere, the place is a secluded gem. It was also the "diner" used in Steven Spielberg's movie "Duel." Alonso, who was born in Spain and raised in France, opened Le Chene in 1980 and is also an expert vintner. He says his restaurant offers over 900 different French and Californian wines.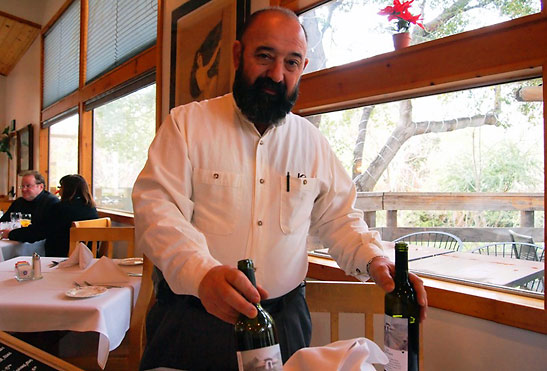 Born in Spain and raised in France, Juan Alonso opened Le Chene in 1980
And then there is the Le Chene food. Our lunch began with tasty duck pate, accompanied with tomatoes, tiny pickles and caramelized onions. I then experienced the exciting Eggs Fisherman, with rice, potatoes, scallops, shrimp and mushrooms, covered with lobster sauce and topped with two poached eggs. While I was devouring this masterpiece, my friend was sipping Juan's red blend of Syrah, Grenache and tannat, and enjoying a tasty plate of Arctic Char Meuniere, potato au gratin and sweet potato puree.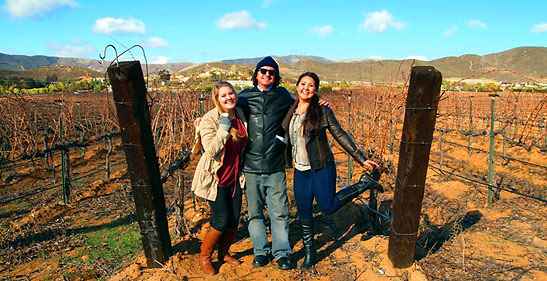 Just north of Los Angeles, Agua Dulce makes a great day trip
Reyes Winery is located at 10262 Sierra Highway Agua Dulce, 91390. For more info, call (661) 268-1865 or visit: www.facebook.com/ReyesWinery or www.ReyesWinery.com. Vasquez Rocks Natural Area is located at 10700 W. Escondido Canyon Rd, Agua Dulce, CA 91390. For more info, call (661) 268-0840. For more info on Le Chene, call (661) 251-4315 or visit: www.lechene.com.
Related Articles:
Fall Fun in Santa Monica; Fairmont Miramar Hotel, Santa Monica; 4 Seasons Hotel, Westlake Village; Laguna Beach; The Grand del Mar; Ojai, California; Orange County Oceanfront, San Luis Obispo