Fabulous Fall Season
In Big Bear Lake
Story and photos by Greg Aragon

verybody knows that Big Bear Lake is a wonderland in winter, perfect for skiing, snowboarding, memorable Alpine vistas and more. But the mountain paradise is equally fantastic in fall, when leaves change colors, fish are biting, mountains trails beckon, and beer flows from large Oktoberfest mugs.
A friend and I recently escaped to the 7,000-ft-high city for a day and night of adventure and discovery.


Big Bear Lake offers fabulous fun in fall
Our getaway began at Creek Runners Lodge, where we checked into a romantic room with a full kitchen, a tub and shower, a comfy king bed and a huge, inviting Jacuzzi in the middle of the room. Located across from the lake and a 10 minute walk to downtown, the lodge is a great place to stay while exploring the area.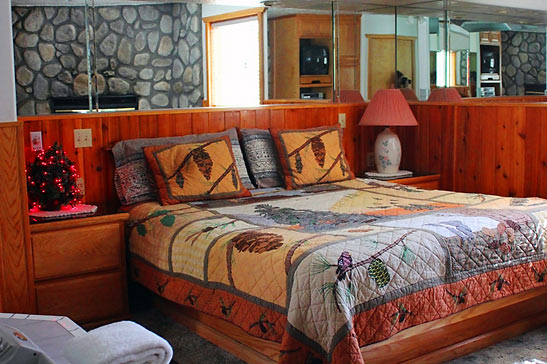 Creek Runners Lodge is a romantic retreat in the Big Bear
After unpacking and testing the spa tub, we took the Scenic Sky Chair at Snow Summit to the top of Big Bear mountain. This breathtaking, mile-long journey takes guests on ski lift chairs up to an 8,200-ft oasis of hiking and mountain biking trails, while offering incredible aerial views of the San Bernardino National Forest and Big Bear Lake. At the top of the mountain, we enjoyed a homemade BBQ lunch of Alaskan salmon, an Angus hamburger, and salad on the outside deck at View Haus restaurant.
We then hiked the Skyline Trail, which opened last year. Boasting awesome views of Mt. San Gorgonio and Big Bear Lake, this moderately difficult trek passes through pine and oak forests filled with wild life and rare plants. The trail is also popular with mountain bikers. In fact, Big Bear was put on the map in the 1990s as a mountain biking Mecca when it hosted national mountain bike races including National Off-Road Bicycle Association (NORBA) National Championship Series.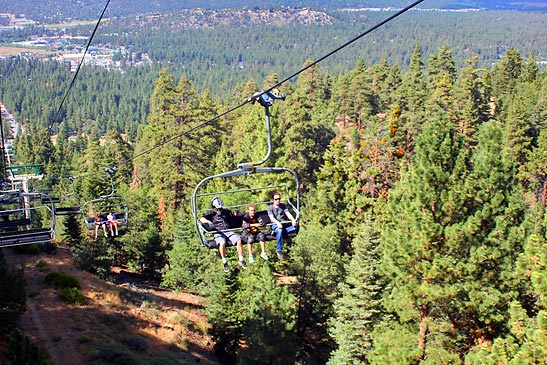 The Scenic Sky Chair takes visitors 8,200 ft up to an oasis of hiking and mountain biking trails, while offering incredible aerial views of the San Bernardino
National Forest
Big Bear's network of more than 100 miles of trails has been ridden by both professional riders and recreational weekend warriors who return for all levels of fun. Mountain bike enthusiasts appreciated the great selection of single track trails. Cross country bikers also love the trails. One of the most popular is Skyline Ridge (2N10), which also passes through Snow Summit Ski Resort.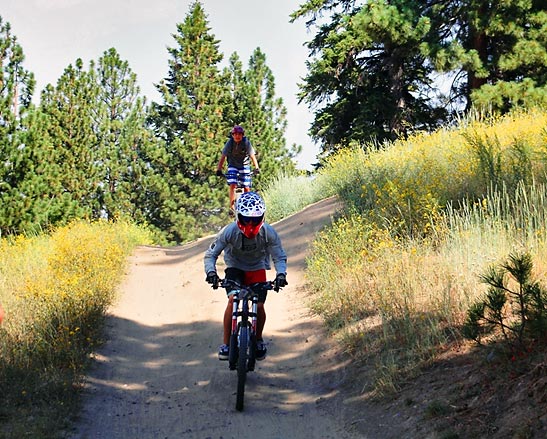 Big Bear has become renowned for great mountain biking trails
After hiking we took the Scenic Sky Chair down the mountain and headed back to Creek Runners Lodge to rest before having an authentic and delicious Indian and Nepalese – inspired dinner at The Himalayan. Featuring authentic and delicious Indian and Nepalese food from Nepal and Tibet to the North of India, the restaurant was packed with locals when we sat down by the window.
Our meal was highlighted by Chicken Vindaloo with boneless chicken in a tasty Himalayan-styled sauce made from tomatoes, potatoes, onions, garlic, ginger, and lime juice; and lamb curry with boneless lamb in a succulent garlic, onion and ginger sauce.
Back at Creek Runners Lodge we soaked in our in-room Jacuzzi and sipped champagne. In the morning we climbed a tree with Action Tree Rope Climbing Tours (ATRCT). This unique outdoor adventure gives visitors a chance to be a monkey and scale trees in a pine forest. Designed for kids of all ages over 12, the tour begins with an orientation led by a certified tour guide who explains safety, the proper way to climb, and how to use the provided climbing gear.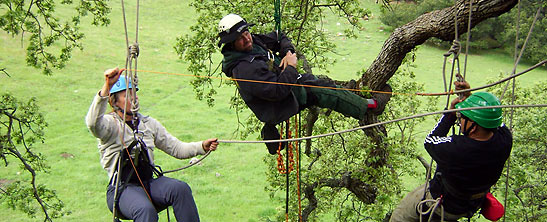 Action Tree Rope Climbing Tours gives kids of all ages a chance scale trees
in a pine forest.
Once we had our helmets, saddles and ropes in order we began to scale the towering pine trees to a height of 45 ft, before repelling down like navy seals. In addition to climbing trees, guests on the three-hour excursion also learn facts about tree biology and conservation.
Fall in Big Bear is also a great in time for admiring fall colors at places like Aspen Grove, where numerous local trees, including the "glowing" aspen, transform from flourishing greens to spectacular hues of gold, ambers and yellows; and for sipping beer during the town's popular Oktoberfest celebrations.
The spirit of Bavaria comes to life in Big Bear Lake for seven consecutive weekends starting Saturday, September 13 and ending October 25, 2014. Big Bear Lake Oktoberfest prides itself as the closest thing to the original celebration in Munich, Germany. Big Bear Lake is situated in an Alpine environment with evergreens trees, mountain vistas, and a town-square village that reflects the scenery and heritage of the Bavarian Alps of Germany.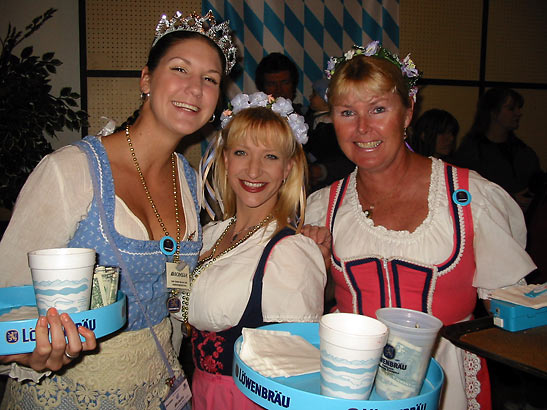 Oktoberfest in Big Bear Lake brings spirit of Bavaria to life with German beer, concerts, food, costumes and more (photo courtesy of Big Bear Lake)
Big Bear Lake Oktoberfest serves Warsteiner and Spaten beer (imported from Germany), dance troupes perform customary dances, the bratwurst is from a German butcher in Los Angeles, and fresh apple strudel is delivered weekly from a German bakery in Downey!
Fun competitions and contests at Oktoberfest include log sawing, stein carrying, shoot & yodel, a version of beer pong, sausage eating, stein holding, and limbo dancing. Children's fun and games include pretzel eating contests, kiddy mug holding matches and Midway carnival-style games. The Chicken Dance is the definitive favorite dance at Oktoberfest and always amusing. Every weekend expect to see a huge dance floor filled with hundreds of revelers clucking away to the Chicken Dance.
For more information on Big Bear Lake, Snow Summit, and on staying at Creek Runners Lodge, visit: www.bigbear.com or call 800.424.4232.
Related Articles:
Hitting the Slopes at Big Bear Lake; Big Bear Summer Family Vacation; Braving Mammoth Mountain; Highway 49 Revisited; Wine, Pâté and Famous Rocks in Rustic Los Angeles