Traveling with Beautiful Boots
And a Bison Backpack
Story & photos by Greg Aragon

eople often asked about my favorite travel apparel and gear. This happened to me at the airport recently. One question came as I was putting back on my clothes after going through the TSA checkpoint striptease. Before leaving the area, I heard a soft voice say, "hey, I really like your boots. Where did you get them?" Looking up, I found a uniformed employee staring at my feet.
Appreciating her obvious sense of style, I smiled and told her I got them online from Orvis. "These are their new Leather Walking Boot," I replied, "handmade in the USA, very comfortable and perfect for travel."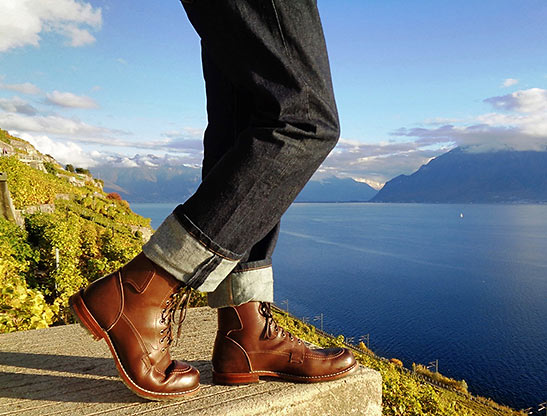 The Orvis Walking Boot is rugged, classy and comfortable
Moving on to my terminal gate, I stopped for a coffee and was approached by a man who wanted to know where I got my backpack and what type of leather was used on it. "It's the new Bison Redwood Backpack #515 from Coronado Leather," I replied. "It's handmade in San Diego, California and the leather is American bison."
As the compliments on my travel fashion went to my head, I pondered the quality of fine, American-made leather products.
The Orvis Walking Boot is hand-sewn in the USA by skilled bootmakers in Wynne, Arkansas for Orvis. As America's oldest mail-order outfitter and longest continually-operating fly-fishing business, Orvis offers a wide assortment of men's and women's clothing and sportswear, as well as luggage, travel accessories and outdoor gear.
Rugged and classy, with a hint of "combat boot" style, the Orvis Walking Boot is at home in the office, on the trail, or strolling around town. The boot is crafted from a beautiful cowhide leather finished with a slightly waxy touch.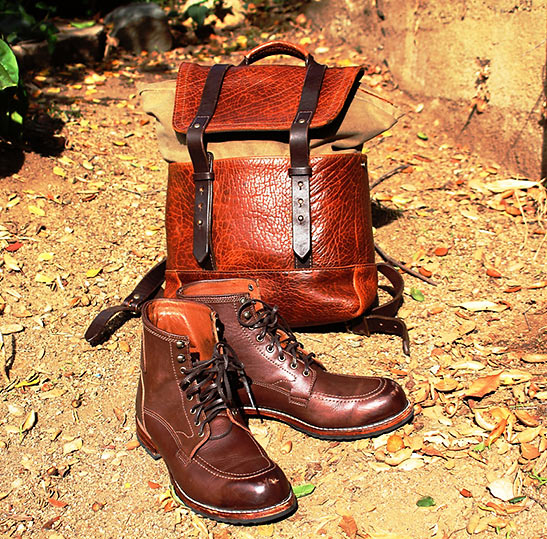 The Walking Boot is handmade in the USA by expert bootmakers
Besides being sturdy it is also very comfortable. I wore these puppies everywhere on my recent trip to Switzerland and they held up perfectly as I walked more than five miles a day over cobble stone streets, through lush vineyards, up mountain trails and more. My feet always felt comfortable. I am looking forward to many years of good, solid use from them.
A highlight of the chocolate colored boots is the double-stacked leather midsole and storm welt around the toe and up the side of the vamp for protection from the elements and added durability. They feature traditional toe-lasted construction finished with a faux-moc toe stitch detail and a rubber outsole. They also boast six lace-up eyelets, with two speed laces at the top, for easy on and off.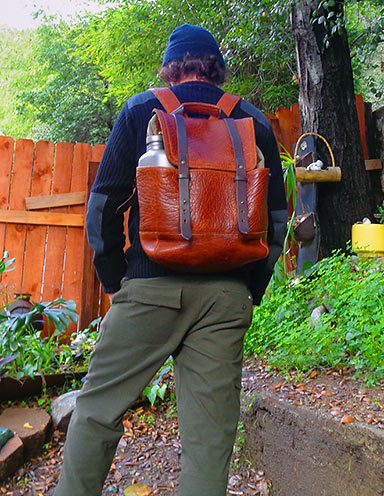 The Bison Redwood Backpack is handmade in San Diego, California
Then there is my latest backpack. Hand built and sewn by Coronado Leather in San Diego, California, the Coronado Bison Redwood Backpack is a masterpiece. The company, which has been handcrafting leather bags and accessories for more than 25 years, sources the finest materials from around the world for its products. It gets leather from Horween in Chicago and waxed lined cable thread from France.
For the Bison Redwood Backpack, Coronado Leather uses its signature American Bison leather which is tanned exclusively for the company in Milwaukee, Wisconsin. Coming in rich walnut or deep black color, the backpack features a combination of three amazing materials: bison leather, waxed canvas, and Horween leather. This trio makes it lightweight, rugged and water resistant.
To create the pack, craftsmen start with 10oz. waxed cotton canvas and sew it with shrunken bison leather. They then add straps, handles and trim pieces are cut from stout 10oz. Horween Latigo leather for durability and limited stretch.
The backpack, which comes with a limited lifetime warranty, is also spacious. Measuring 16 inches tall by 12 inches wide by six inches deep, it has enough room for me to pack a week's worth of clothing and computer accessories. It features a huge main compartment, two interior zipper pockets for storage, an interior sheath with snap closure for a laptop or documents, three large exterior leather-lined pockets for easy access to necessities, and a key-locking, concealed carry weapon's pocket on the back, which I used for valuables. The backpack is rounded out with premium brass hardware and zippers, a bison wrapped top carry handle, and a meticulous diamond quilt design on the rear with added foam for impact reduction.