Cambria and California's
Central Coast in the Fall
Story and photographs by Greg Aragon

all has arrived like a beautiful morning fog along the beach. And one of my favorite places to experience this wonderful time of year is the seaside village of Cambria, located along California's romantic, Central Coast Wine Country.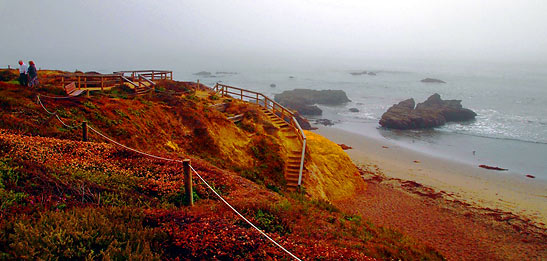 Cambria is a charming seaside village along California's romantic Central Coast
To celebrate the season, a friend and I recently escaped to Cambria for a couple nights of relaxation, adventure and fine dining.
Our getaway began at the FogCatcher Inn, located across the street from the ocean and breathtaking Moonstone Beach. Highlighted by rounded thatched- roof styled architecture, flower-lined brick paths and fireplaces in every room, the FogCatcher boasts Old English feel with modern comforts. Our room came with two queen beds, a 37" flat screen TV, mini-fridge, microwave, coffee maker, free wireless Internet and an incredible views of the ocean.

With quaint Old English feel, The FogCatcher Inn sits across from the ocean, offering breathtaking views of Moonstone Beach
The views are so great, that the second we looked at our window we threw down our luggage and went exploring. It was a gorgeous afternoon, with the sun peeping through a layer of fog, exposing the outlines of surfers and people walking along the sand. Moonstone Beach is one of the area's most dreamy and unspoiled beaches. It's also a great place to go tide pooling or see elephant seals and migrating whales from one of many coves.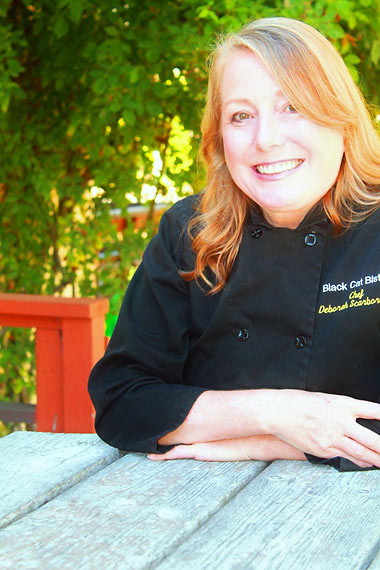 Led by chef/owner Deborah Scarborough, The Black Cat Bistro offers a farm-fresh intimate dining experience
After wondering along the beach and wooden boardwalk we drove a mile to Downtown Cambria for a gourmet dinner at Black Cat Bistro. Led by chef/owner Deborah Scarborough, the restaurant sits in a house-like building and yields an intimate dining experience, with farm fresh food and a creative seasonal menu.
Our meal began with Cayucos Ocean Rose Abalone, with potato puree, grapefruit vanilla beurre blanc, hazelnuts and dulce salt. For the main course I devoured rare seared yellowfin ahi tuna with butter braised jasmine rice, ginger wasabi sauce, Vietnamese slaw, peanuts, roasted shiitakes, and crispy shallots. My friend enjoyed wild sockeye salmon with beet, kale, coconut cream, pickled watermelon, basil, light and black sesame seeds.
Back at the hotel, we soaked in the Jacuzzi, while listening to the waves crash on Moonstone Beach. In the morning, we hit the FogCatcher's free bountiful buffet breakfast of sausage, eggs, toast, cereals, juices, coffee and more.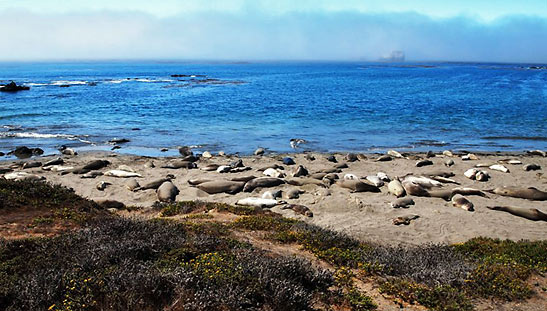 Elephant seals love the Central Coast as much as people
We then drove a few miles up the coast to San Simeon, where we found a large rookery of elephant seals sunbathing on the beach and posing for pictures. Weighing between 900 and 5,000 pounds, the seals are the city's biggest attraction – aside from Hearst Castle of course.
Continuing up the coast we past fields of cattle, reindeer and a even a few zebras, until we reached majestic Ragged Point. Sitting on a cliff 400 ft above the ocean, Ragged Point offers one of the finest ocean vistas around. It also boasts a restaurant, hotel, gift shop, rest area, and an incredible hike down to the water. The hike is a little tricky going down, but the rewards at the bottom are definitely worth it. They include a tall waterfall, a secluded beach with hidden coves, tide pools and lots of serenity.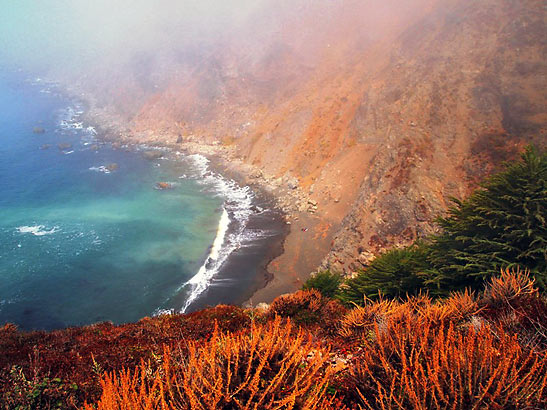 Ragged Point sits on a 400 ft cliff and boasts some of the finest ocean vistas around
Back in Cambria, we experienced true relaxation at Sojourn Spa, where we had two soothing, 60-minute treatments that featured elements of Swedish, deep tissue, warm stones, along with aroma and herbal therapy.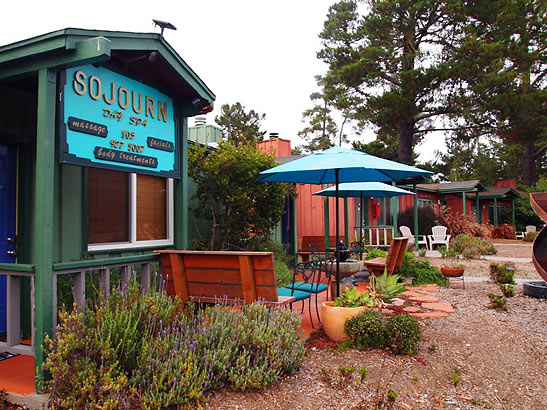 Sojourn Spa is a quaint, full-service spa located in a serene setting with
fountains and gardens
Popular Sojourn treatments also include the signature, full body Swedish massage that helps alleviate pain, relieves muscle tension and reduces stress; the Side-by-Side Massage, which allows guests to be next to their partner and share the experience; and the Yogassage, which gives visitors a massage in the studio and a private yoga session later in the day.
The rub downs were the perfect precursor for dinner at Robin's Restaurant. Located in an historic adobe house, surrounded by gardens and rustic nooks, Robin's serves a unique and delectable array of curries, seafood, meat and vegetarian dishes. Our meal started out with two tasty appetizers: Crispy Vietnamese Spring Rolls with kim-chee, chili oil, sweet chili sauce; and spice roasted pork belly with marinated summer beans and tomato jam.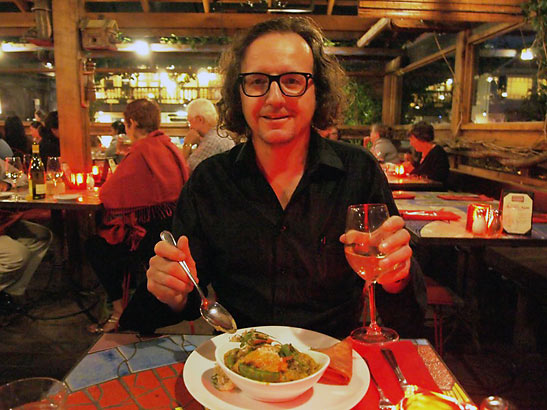 Set in an historic adobe house, surrounded by gardens and rustic nooks, Robin's serves delectable curries, seafood, meat and vegetarian dishes.
For the main course I had the heavenly Malaysian Chicken with spicy yellow coconut curry, toasted coconut, sugar snap peas and cucumber salad. My friend went with the Slipper Tail Lobster Enchiladas, with lime crèma, avocado, white cheddar, tomatillo salsa verde, cumin black beans, and brown basmati rice.
California's Central Coast Wine Country is a 10-city region in San Luis Obispo County, midway between Los Angeles and San Francisco, "where the best of northern and southern California meet." Spanning 101 miles of prime Pacific coastline, the area is consists of the diverse artisan towns and seaside villages such as Ragged Point/San Simeon, Cambria, Cayucos, unincorporated Morro Bay, Los Osos/Baywood Park, Avila Beach & Valley, Edna Valley, Arroyo Grande Valley, Oceano, and Nipomo. From lush farmland to beaches, the area boasts rugged coastline, renowned wineries, the world famous Hearst Castle, bucolic farmland, wildlife, pristine forests, state parks and much more. For more information on visiting the region, visit: WineCoastCountry.com.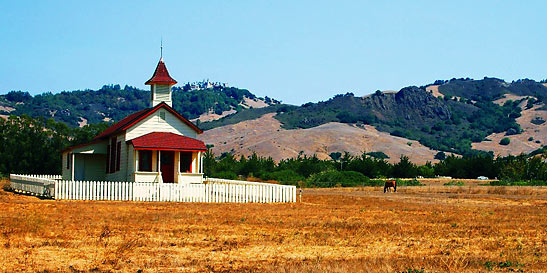 California's Central Coast is teeming with incredible views, wildlife
and exciting adventure
Related Articles:
Cambria and Paso Robles; Pismo Beach: Classic California on the Central Coast; Avila Beach; Central Coast Oyster Festival; San Luis Obispo County; Take the Cure in Paso Robles; Monterey Bay