Escape to the Island of Lanai
Story and photos by Greg Aragon

often dream of secluded islands with deserted beaches, hidden treasures and sunken ships. Well I recently found it all – and much more. I discovered Lanai.
My recent getaway to the Hawaiian paradise began in Lahaina, Maui, where a friend and I boarded a ferry and journeyed 14 miles across the Auau Channel. Led by Expeditions, the comfortable trip was highlighted by spectacular views of the islands Maui, Molokai, Kahoolawe, and the Big Island. And since it's now whale season, we also saw a couple giant humpbacks poke their tales out of the water, as well as dolphins and colorful sail boats.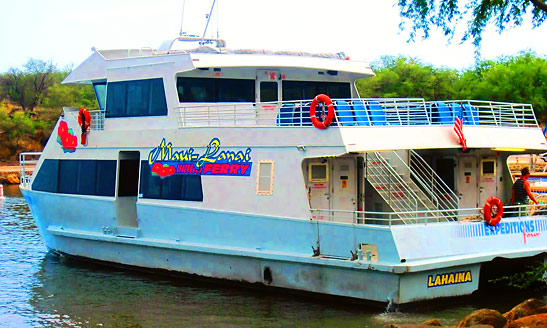 The Expeditions Maui-Lanai ferry is a great way to visit both the islands
After about an hour we cruised into tiny Manele Bay Harbor, where we caught a shuttle to Lanai City. Here we rented a Jeep at Dollar Rent a Car and drove to enchanting Lanai Hotel.
Built as a retreat in 1923 by pineapple pioneer James Dole, the inn sits on the edge of town in a lush garden setting, beneath towering Norfolk pine trees. The place features 11 charming guestrooms, a gourmet restaurant, and lots of Hawaiian atmosphere. Our cottage suite was lost in time and highlighted by local Hawaiian artwork and quilts, hardwood flooring, ceiling fans, and a romantic plantation feel.
The room also came with a private yard with hammock and dining area, complimentary Wifi and continental breakfast each morning.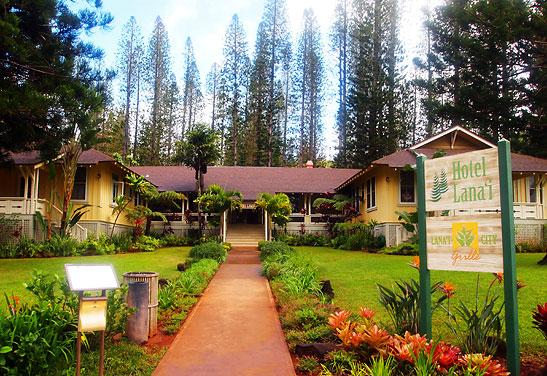 With a charming Hawaiian plantation feel, the Lanai Hotel sits in a lush garden setting, beneath towering pines
Once acquainted with the room, we grabbed a map, hopped in the Jeep and headed to mysterious Kaiolohia, or Shipwreck Beach. To get there we drove up a mountainous road lined with volcanic rock and red clay. In a few miles we came to a narrow turnout, where the road became a tunnel of trees, paved with deep sand and bumpy rock and we had to put the Jeep in four-wheel drive. The real fun had begun.
For the next 1.6 miles we bounced along the northeast coast with intermittent views of the ocean and the outline of Maui. The road ended at big rock, where we parked next to fresh wild goat hoof prints in the sand, and then continued on foot to find the sunken ship. Over black volcanic rock and sandy beach and through warm tropical water we pushed on until we saw the rusting vessel, leaning in the reef and water about 100 yards off the shore.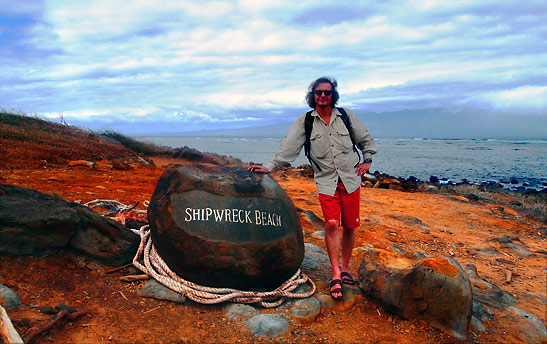 Shipwreck Beach is a beautiful secluded spot on Lanai
Built in the 1940s, the ship was once a ferrous-concrete oil tanker that the navy unsuccessfully tried to sink after WWII. Today, it provides a hauntingly beautiful backdrop to Lanai.
We stayed at Shipwreck Beach for a couple hours, swimming and lounging on the sand with nary a soul in sight. From the beach, we drove back to the hotel and walked across the lawn to Lanai City. Consisting of one block separated by a large park, the picturesque little town boasts about a dozen storefronts, made up of few gift shops, restaurants, clothes stores and an art gallery. The town was founded in the early 1900's around the booming pineapple industry.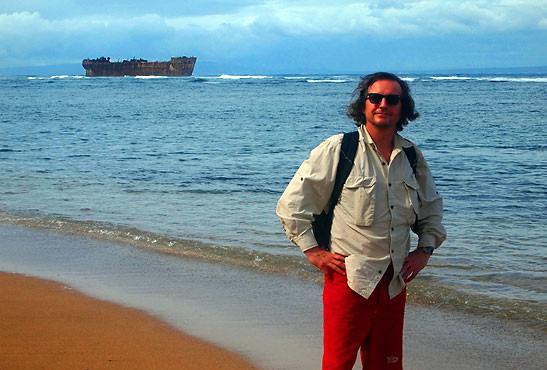 Once a WWII oil tanker, the vessel at Shipwreck is hauntingly
beautiful and mysterious
Back at the hotel we changed into our best Hawaiian shirts for dinner at Lanai City Grille, the hotel's signature eatery. Offering locally caught fresh seafood, prime meats and legendary rotisserie chicken, the restaurant is probably the tastiest on the island.
Our meal began with Mai Tais at the bar, before sitting down to succulent crab cakes with tomato corn salsa and chipotle remoulade, followed by a delicious Caesar salad with white anchovies; and pulled pork won tons, with sweet chili boursin aioli and dipping sauce.
While devouring the appetizers we met Michelle Kommes, who runs the hotel along with her fiancé Michael Charles. Michelle told us how she moved to the Lanai a few years ago from Arizona, and how she loves the charming, plantation feel of the hotel and island.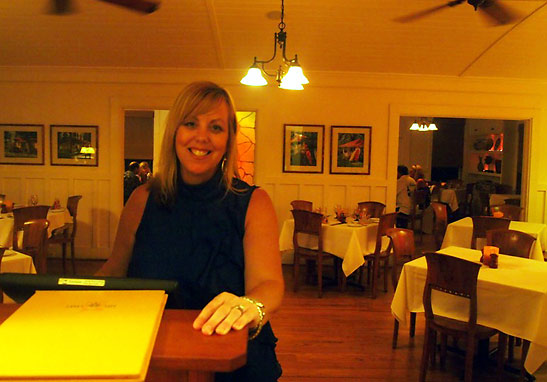 Michelle Kommes, who runs the Hotel Lanai with her fiancé, welcomes guests with lots of charm and a big smile
When Michelle left the table, my cioppino arrived and the ocean came to life in my bowl. With a savory mix of shrimp, scallops, oysters, clams and fish in a tomato wine sauce, this soup was so good I demanded to meet Chef Gabriella Juliano and personally thank her. In few minutes she appeared and informed me the recipe was inspired by her family and the dish was one of her specialties. No kidding!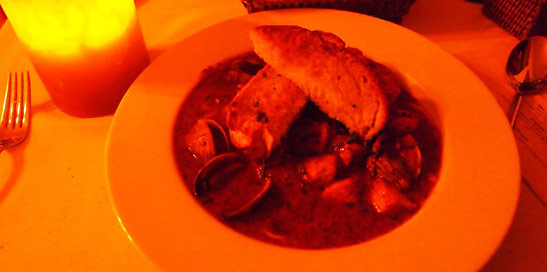 The cioppino at Lanai City Grille is a must for any seafood-lover on Lanai
On a tasty side note, my friend's main course was a chef special pecan crusted mahi mahi, with chipotle honey butter, chorizo mashed potatoes and veggies, which was also a delight.
After dinner, we drove to Hulopoe Beach to watch the sunset and swim in the 80-degree water. Surrounded by cliffs, white sand and clear blue waters, Hulopoe is often rated one of America's Best Beaches.
The next morning, we enjoyed complimentary continental breakfast in the lobby and then it was back in the Jeep for a drive down rustic Munro Trail. Beginning just north of Lanai City, this 12.8-mile, one-lane dirt road offers sweeping vistas amongst majestic Cook pine trees, as it climbs through a rain forest filled with ohia lehua, ironwood, eucalyptus and pine trees, and offers stunning canyon views of Maunalei gulch as well as neighboring islands. The trail, which can also be biked or hiked, also goes to the top of Lanaihale (House of Lanai), Lanai's highest peak at 3,370 ft.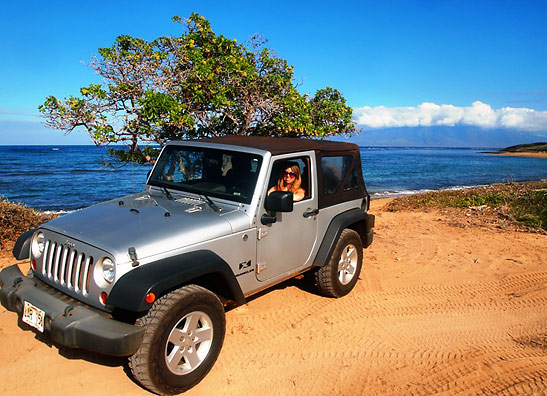 Lanai offers miles of sandy beaches and off road trails to explore
For more information on visiting Lanai, taking the Maui/Lanai ferry and other activities, visit www.gohawaii.com/lanai. For more information on staying at Hotel Lanai, call (808) 565-7211 or visit: www.hotellanai.com.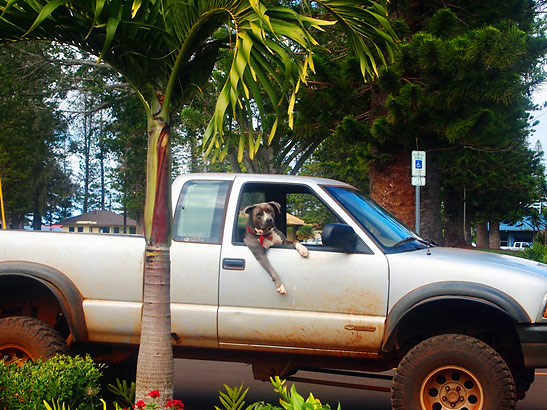 Everybody loves sightseeing in Lanai
Related Articles:
The Garden Island of Kaua'i; Oahu's North Shore; Kaunakakai, Molokai; Big Island Hawaii; Maui's Upcountry; Lahaina, Maui; Hana Highway; Hawaii Surfing