Lounging in Luxury at The
Luxe City Center Hotel
Story and photos by Greg Aragon

ometimes I like to be in the middle of the action and sometimes I just want to getaway and relax. Thanks to the Luxe City Center Hotel in Downtown Los Angeles I recently experienced both of these scenarios in one night!
The adventure began when a friend and I checked into the luxurious boutique hotel and made our way through a modern lobby full of chic furniture and a beautiful, streaming Vincent van Gogh at the front desk. We then took an elevator up to our stylish 7th floor suite.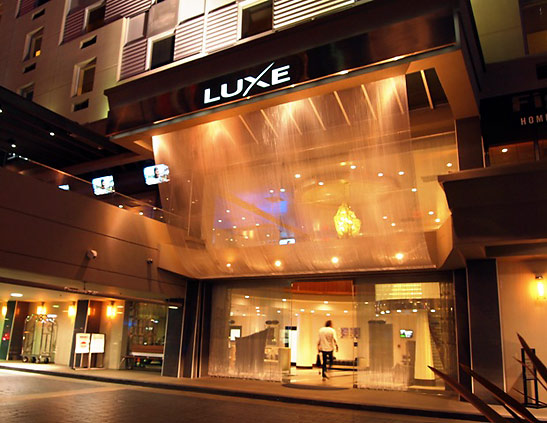 The Luxe City Center Hotel offers boutique luxury in Downtown LA
Overlooking Staples Center and LA Live, the room was smack dab in the middle of downtown fun. Out my window I could see, and almost touch the ESPN Zone, the Grammy Museum, Staples Center, Nokia Theater, and scores of hip restaurants and nightspots.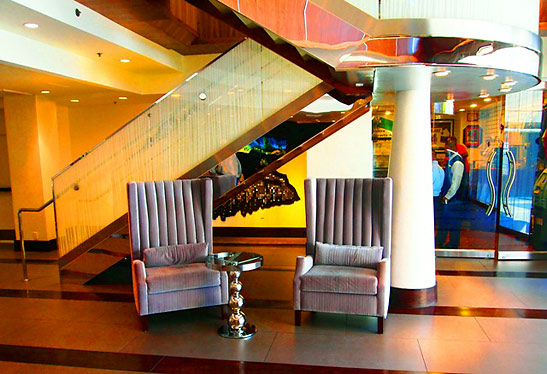 The chic hotel lobby features distinct styling and a trendy atmoshpere
I could gaze out the room's big, exciting window for hours, but when I wanted privacy, all I had to do was shut the thick curtain and relax in front of the 42" large screen TV, or soak under the giant rainforest shower head, or play at the computer desk, with free wireless internet and the innovative GuestLINK system which connects business and entertainment portals seamlessly. Or I could admire the large sculpture of a human hand on the window seal, or the painting of singer Madonna on the wall.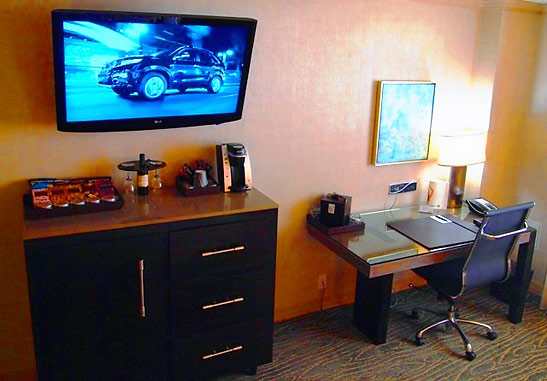 Luxe rooms are comfortable, modern and artsy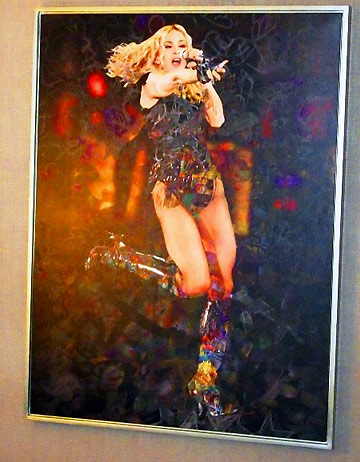 Celebrities such as Madonna adorn the walls of every Luxe room
Besides 164 cool rooms and 16 luxurious suites, the Luxe also offers many other exciting features. The property boasts a compact fitness center, business center, gift shop, and meeting/banquet space with audio-visual equipment, a hip second floor bar, and an eclectic gourmet restaurant called Figoly.
Led by celebrity Chef Alex Reznik ("Top Chef," Season 7), Figoly is named after its prominent location on Figueroa and Olympic streets, and serves an eclectic California-inspired brand of Northern Italian fare. The menu is highlighted by tasty items such as Fritto Misto, with local squid, pig ears, sweet onion, asparagus and tomato marmalade; Tagliatelle, a noodle dish with wild boar, lamb, tomato and pickled mustard seeds; or Brasato al Borolo, with oxtail, cheek, gorgonzola and polenta.
Figoly serves an eclectic California-inspired brand of Northern Italian fare

During our Figoly dinner, we sat on the patio enjoying a summer breeze and great Los Angeles views, while devouring a plate of steak fries; Bruschetta with chicken liver, garlic bacon, smoked salmon and more; a fresh garden salad; and veal chops with mushrooms, green tomatoes and parmesan cheese.

After dinner, we hit the hotel's swanky bar and enjoyed a couple unique cocktails that were infused with the likes of bourbon, mushrooms and finely aged balsamic vinegar. While sipping away, we made new friends from Japan, Germany and Italy. From the bar we walked across the street to LA Live and immersed ourselves in the action of thousands of lights and people.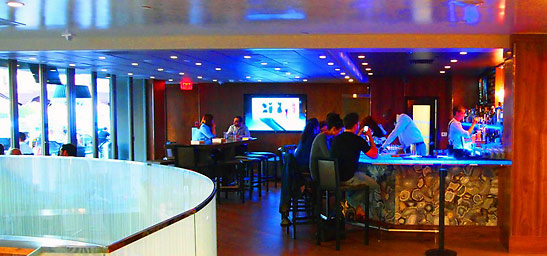 The swanky bar at Luxe serves unique cocktails and awesome views
In the morning we walked across the street to the Grammy Museum, a state-of-the-art, four-level gallery, exploring and celebrating the legacies of music; the creative process; the art and technology of the recording process; and the history of the Grammy Awards.
Our visit began with an elevator ride to the fourth floor. When the doors opened we followed colorful lights to a long table called "Crossroads." Looking like something from "Star Wars," the blinking interactive table is a giant touch-screen offering guests access to more than 130 genres of music.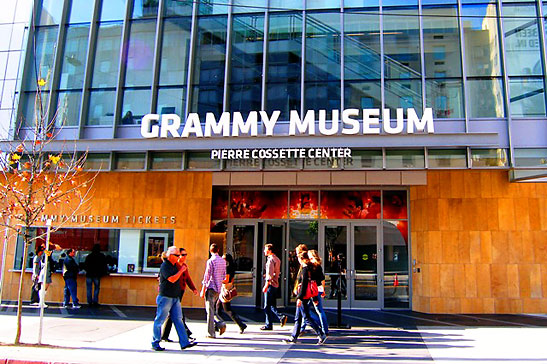 Near "Crossroads" we found incredible musical memorabilia, such as Buddy Holly's 1943 Gibson guitar, Elvis' 1942 Martin guitar, and Don Henley's hand-written lyrics to his classic song "End of the Innocence."
Moving down to the third floor we were immersed in "Life of a Recording," where video screens and interactive exhibits tell the story of how a song is recorded and brought to life from its beginning until it is ready for the radio. To help demonstrate the process, the museum features various recording booths, where guest can learn how to record, mix, and master a recording.
We next explored a new exhibit entitled: Whitney! Celebrating the Musical Legacy of Whitney Houston. This exhibition explores the extraordinary life and career of the six-time GRAMMY Award winner and provides an in-depth look at all aspects of her creative life. The display is highlighted by authentic stage costumes, albums and career scrapbooks from her early career, rare photographs, ticket stubs, concert posters and more.
Back at the Luxe we had lunch and learned about the hotel's full-service boutique spa, which offers treatments such as a rhythmic Thai massage, an exfoliating Body Polish or a clarifying "Be Well Facial." In addition to massages, facials and body treatments, the spa also features waxing services, hair and makeup, private sessions in yoga, Pilates and tai chi, along with an assortment of deluxe spa packages.
The hotel is currently offering a Be Well Package, which includes an hour European facial and a one hour full body massage for $170 per person, not including gratuity. For appointments, call (213) 300-0456 or email Spa@luxecitycenter.com.
The Luxe City Center Hotel is located at 1020 S. Figueroa St, Los Angeles, 90015. For more information and reservations, call (213) 748.1291 or visit: info@luxecitycenter.com.
Related Articles:
Fairmont Miramar Hotel, Santa Monica; 4 Seasons Hotel, Westlake Village; Laguna Beach; The Grand del Mar; Ojai, California; Orange County Oceanfront, San Luis Obispo, Hotel del Coronado