A Winter Escape to Redondo Beach
Story and photos by Greg Aragon

here is something special about Redondo Beach in the "offseason." Summer crowds have retreated, the weather remains wonderful, and of course it is still an awesome California beach town full of charm and beauty.
A friend and I recently snuck away to the city for an exciting and relaxing mid-week getaway. Our adventure began at the luxurious, water-front Crowne Plaza Redondo Beach & Marina Hotel, where we checked into a sleek and modern 7th-floor room overlooking three marinas and hundreds of colorful sailboats.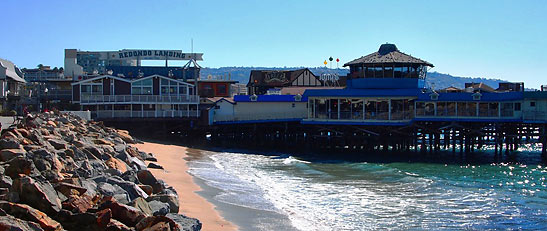 Redondo Beach is a classic, year-round California beach city
The room was highlighted by two comfy queen beds, 43-in flat screen TV, high-speed Internet, office desk/station, coffee-maker, and a balcony with table and chairs and great views of beautiful King's Harbor and the Pacific Ocean.
Beyond its 342 guest rooms, the Crowne Plaza exudes class and California beach charm. Set on Harbor Drive, across from the Redondo Beach Pier, the hotel boasts a spacious marble-laden lobby, with giant fish tank and gift shop. Next to the lobby is the signature restaurant, Splash Mediterranean Bistro, and on the 3rd level there is a rooftop pool and Jacuzzi, which also overlooks the ocean.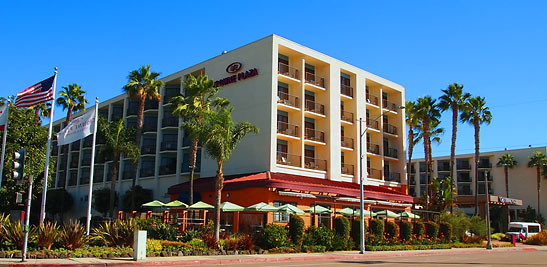 The Crowne Plaza combines luxury and ocean-front style
Once acquainted with the hotel, we walked across the street to the city's historic pier area, where we strolled around Fisherman's Wharf and the marina. Along the way we encountered fisherman with their lines stretching from the wooden planks down to the water, a fish market with fresh lobsters and crabs, gift shops, a few taverns and eateries, and scores of giant pelicans standing guard atop numerous posts. We also discovered a statue of George Freeth, the country's first surfer, and Kincaid's, where we had a delicious lunch.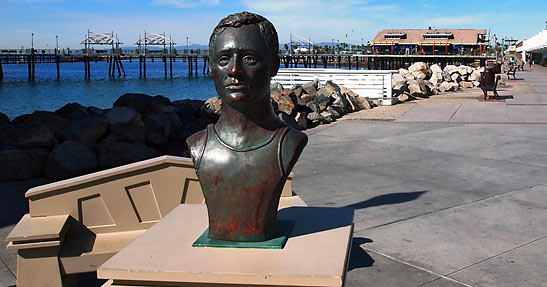 Redondo Beach's pier is full of things to do and see
Located above a rocky cove in Fisherman's Wharf, Kincaid's serves classic American surf and turf in a memorable location. Our lunch began with jumbo shrimp cocktail and a couple spicy Bloody Mary's. I followed this with an open-faced crab sandwich and a cup of clam chowder and my friend enjoyed a club sandwich and fries. While eating, we sat on the patio, absorbing a wonderful sea breeze, while watching schools of fish swim below us and pelicans and other birds fly above and dive in the water.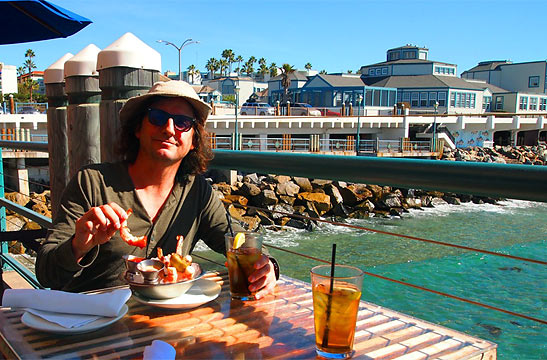 Kincaid's on Fisherman's Wharf serves surf and turf above the water
After lunch I hit Fitness Evolution, which is located next to the hotel and is open to hotel guests. I then relaxed with a magazine and a nap at the Crowne Plaza's rooftop pool and Jacuzzi area. Back at the room, we changed and headed to the hotel's exclusive Concierge Lounge for happy hour with complimentary drinks and Hors d'oeuvres.
When happy hour ended we started right back up again with a happy night. As the cool, crisp ocean air drifted in our room, we put on jackets and strolled across Harbor Drive to Portofino Marina, where we experienced Baleen Kitchen, hidden behind a fleet of beautiful yachts and fishing vessels.
While sitting beside large bay-front windows we dined on scrumptious lobster sliders with crispy jalapenos, garlic roasted shrimp, Caesar salad, and a super tender grilled pork chop with grain mustard mashed potatoes, with roasted apple. This romantic dinner was enhanced by a couple glasses of red wine and incredible views of the boats bobbing in marina a few yards away.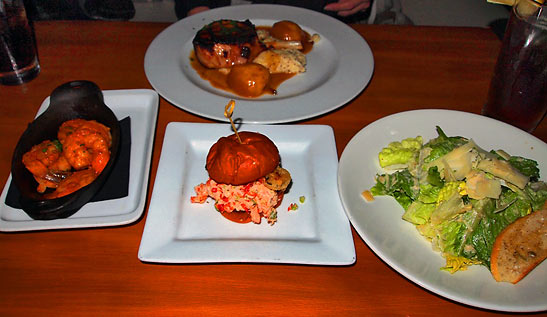 Nestled in Portofino Marina, Baleen Kitchen is a romantic restaurant
In the morning we rented a bike from the hotel and rode down the ocean front bike path that meanders 21 miles along the coast, through Venice and Santa Monica, all the way to Malibu.
With winter here, Redondo Beach is also a great place to go whale watching. One of my favorite places for this is Voyager Excursions, which begins its season on December 27 and runs through April. The excursions take place aboard the 65-ft, 125-passenger "Voyager" and follow gray whales around the Palos Verdes Peninsula and Catalina Channel as they make their way from Alaska to Baja, Mexico and back.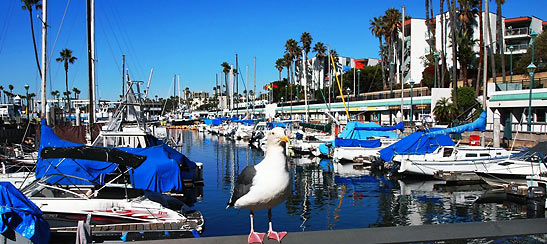 Redondo Beach is a perfect winter beach getaway
The Crowne Plaza Redondo Beach & Marina Hotel is located at 300 N. Harbor Dr., Redondo Beach, CA. 90277. For more information on staying at the hotel, call 310-318-8888 or visit: www.cpredondobeachhotel.com. For more information on Redondo Beach, visit the Redondo Beach Chamber of Commerce and Visitor's Bureau website at: www.redondochamber.org.
Related Articles:
Bahia Resort Hotel, San Diego; Fairmont Miramar Hotel, Santa Monica; Central Coast California; 4 Seasons Hotel, Westlake Village; Laguna Beach; The Grand del Mar; Orange County Oceanfront, San Luis Obispo