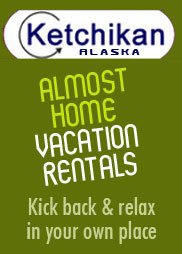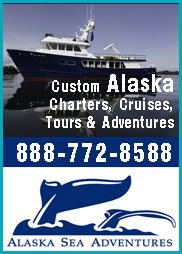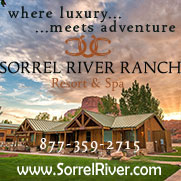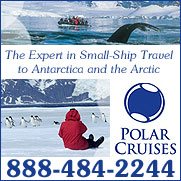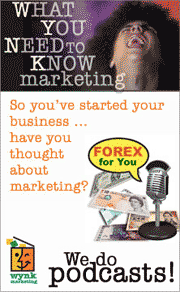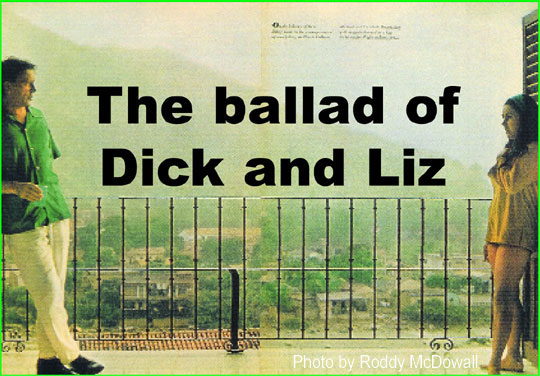 Hollywood's Most Famous Couple in Puerto Vallarta

By Ringo Boitano

ichard Burton was in the doghouse. He had just had another apocalyptic argument with his wife, Elizabeth Taylor, and now was banished to his own casita, which meant marching over a miniature version of the Bridge of Sighs, which connected their two casitas. The bridge, modeled after the original in Venice, is where the couple reportedly fell in love while filming "Cleopatra" in 1962. Later the lover's arch would become the El Puente de Reconciliation, where one of them would unlock the door on their side of bridge, then wait on the middle of arch for the other to meet them, offering a declaration of love and forgiveness. Dick liked to drink and read --- apparently up to three bottles of vodka and three books a day --- and Liz liked to throw tiny porcelain objects. It was a system that seemed to work for they were married twice, 1964-1974 and 1975-1976, which wasn't bad for what was easily Hollywood's most famous couple.
BACKSTORY
In 1962 Richard Burton followed director John Huston and stars Ava Gardner and Deborah Kerr to a remote Mexican fishing village on the Pacific called Puerto Vallarta to do a film version of Tennessee Williams' "Night of the Iguana." Elizabeth Taylor followed Burton. They were married, but not to each other. Burton loved the beauty and privacy of this jungle paradise, and purchased his multi-level rental home in the hills over the little village, which featured stunning views of the mountains and Banderas Bay. Later, he gave it to Liz, now his wife, as a 32nd birthday present. Burton soon bought the smaller casita across the cobblestone street, this one with a swimming pool, and connected them with the bridge. He filled the house with furniture from his native Wales and mementos from their careers. To avoid the 30 or so paparazzi (then international press) that would camp outside of the property, Burton had a secret escape route built. Due to their presence and the famous friends that they would invite --- Peter O'Toole, who later purchased his own nearby casita, Roddy McDowall and John Wayne --- Puerto Vallarta became popular with the Hollywood crowd. It was soon coined the City of Love, while the hillside area by their home was dubbed Gringo Gulch.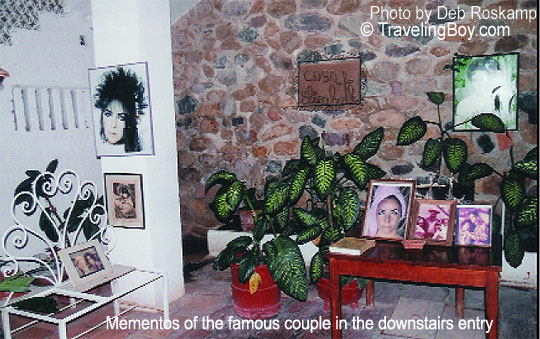 TODAY
After Richard Burton's death, Elizabeth Taylor reportedly was emotionally unable to return to the home and sold the property in 1991. Now called Casa Kimberley, it is open for tours and also serves as a bed and breakfast. What's amazing is that virtually everything inside is just how Burton and Taylor left it: photos, furniture, personal effects and mementos fill each area. It's like taking a time capsule back to the 1970s.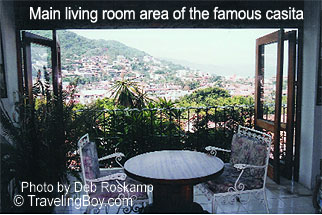 The game room features a former church altar, complete with paintings of Catholic Saints, which Burton turned into a bar. Ornate chairs from his native Wales line the counter. A day bed, still sits prominently in the middle of the lounge, where Burton would sleep if he was too inebriated to climb the stairs to their master penthouse suite. Each of the sleeping rooms is now named after one of the ten films that Burton and Taylor made together. The master suite, with its sweeping views and sunken bathtub --- which was suppose to be shaped like a valentine, but amusingly looks more like a human heart or kidney, due to translation errors - is the main prize. It's name? "The Cleopatra Suite," of course.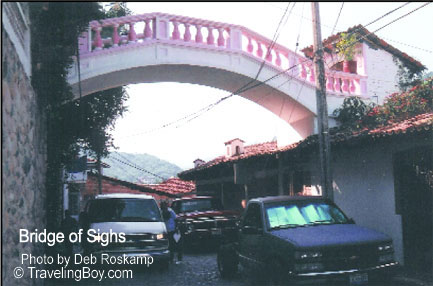 Tours of Casa Kimberley are offered Mon-Sat from 9am - 4pm. For further information about Casa Kimberly, contact 011-52-322-222-1336 or CasaKimberley.com.
For further information about travel to Puerto Vallarta, contact the Puerto Vallarta Tourism Board at 888-384-6822 or Visit PuertoVallarta.com

Tell Ringo what you think about his article.


Three Musical Pilgrimages: Mozart, Grieg and Hendrix

Johann Chrysostom Wolfgang Amadeus Mozart (1756 - 1791) could read and compose music, plus play the violin and piano, when he was five years old. Born into a musical family in Salzburg, Austria (then the Holy Roman Empire), he had a unique ability for imitating music, which first became evident when he recited a musical piece by simply observing his father conducting a lesson to his older sister. This led to a childhood on the road, where the young prodigy performed before many of the royal courts of Europe.


Treasures of Ireland: The Irish Goodbye (Dispatch #20)

The Palladian Traveler brings to a close his 20-part series on the Emerald Isle from an upscale restaurant in downtown Dublin where he files his final dispatch and then quietly slips away.


Two "MUST SEE" Truly Spectacular Places in Europe. Here's Why.

The Han Grotto and Culzean Castle. As the name of my Traveling Boy feature is "Travel With a Difference," it's important to me to always bring you offbeat and unusual tourist places around the world you may not know about. These two fit that category to a T, and they're absolutely worth a visit. One's in Scotland and one's in Belgium. Culzean (pronounced CULLANE) Castle is located near Maybole, Carrick, on the Ayrshire coast of Scotland.


Highway 49 Revisited: Exploring California's Gold Country

In the 1840s, the population of California was only 14,000, but by 1850 more than 100,000 settlers and adventurers had arrived from all over the world – and they came for one reason: gold. James Marshall had discovered the first gold nugget at Sutter's Mill in El Dorado County, creating the largest gold rush in history.


Lake Charles' Family-Size Low-Key Mardi Gras

The Southwest Louisiana Mardi Gras in Lake Charles, the second largest in Louisiana, does not need parents there to avert their children's eyes. This is family entertainment and children are very much part of it. The main office of the Lake Charles CVB has costumes from last year's Mardi Gras but it also has figures to fascinate little ones from country boys fishing for their dinner to alligators who have already fed and are rubbing their stomachs.


Puerto Vallarta: Magic and Mayhem on the Malecon

So I heard that you could spend from dawn to dusk on the Malecon in Puerto Vallarta, Mexico and never get bored and I thought, "Okay, I'm up for that challenge." Well, maybe not the dawn part – I'm not a morning person – so I had no problem leaving those early hours to the joggers and those seeking an early start to catch their red snapper for dinner.


Tahiti and Her Islands

Just their names (pronounce each vowel!) conjure up romantic images: Tahiti Nui, Moorea, Bora Bora, Huahine, Ra'iatea, Taha'a. Her people are gentle; the air, tiare-perfumed. Warm lagoons, majestic peaks, tropical fruits from the land and bounty from the sea all tantalize the senses. Paradise! As near as can be found on planet earth. And, in my experience, the finest way to explore her is on a ship designed for that single purpose.


Monte Verità: In the Footsteps of Anarchy

Just as I reach the end of a squiggling, multicolored path, an acorn plummets from an oak tree above me. It lands at my feet, just as the path culminates at a mandala of Venetian glass, eight feet in diameter. On the worn-out front lawn of Monte Verità, the Mountain of Truth, this path, Chiara's Rainbow, evolves through the colors of the spectrum – red, orange, yellow, green, blue, indigo and finally violet – before arriving at the mosaic mandala where psychic energies supposedly prevail. The falling acorn brings me to the present moment.
---
© TravelingBoy.com. All Rights Reserved. 2015.
This site is designed and maintained by WYNK Marketing. Send all technical issues to: support@wynkmarketing.com