Juneau – "Alaska's Wilderness Capital City"
Story by Ringo Boitano
Photographs by Deb Roskamp

et's face it, Alaska is a big place. With over 3,000 rivers and more than 100,000 glaciers, the state is one-fifth the size of the continental United States and two-and-one-half times the size of Texas. Vast expanses of wilderness encompass Alaska, with millions of acres of national parkland and wildlife refuges. When I took my first Alaska Inside Passage cruise, I could see that there were a number of ports of call that deserved more than a day tour -- and this was never truer than when I first set my eyes on Juneau.
A City Built on Gold
For thousands of years, the Tlingit tribe had dominated Juneau and Southeast Alaska, developing sophisticated art work and elaborate ceremonies as well as a complex cultural life. In 1880, Joseph Juneau and Richard Harris discovered gold. Fortune-seeking miners soon followed along with a plethora of trading posts, saloons, and missionaries. The Juneau settlement became a real town, the first to be established after Alaska's purchase from Russia. The Alaska-Juneau gold mine was one of the largest mining operations in the world. Juneau experienced rapid growth with the arrival of fishing, canneries, transportation services, and a sawmill through the early 1900s. In January 1959, Alaska was christened the U.S.'s 49th state with Juneau becoming the state capital.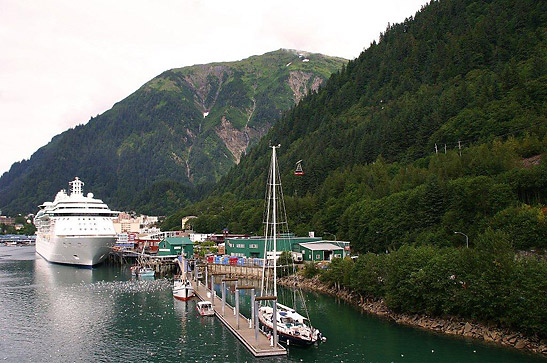 Today, Juneau is a thriving city with a blend of urban amenities nestled in the heart of majestic mountains, rivers, glaciers, and forests. With a population of 31,000, the infrastructure is based on government workers, tourism, mining and fishing. It still has a friendly, small town ambiance with everyone seemingly fitting in, united in their love of the surrounding beauty.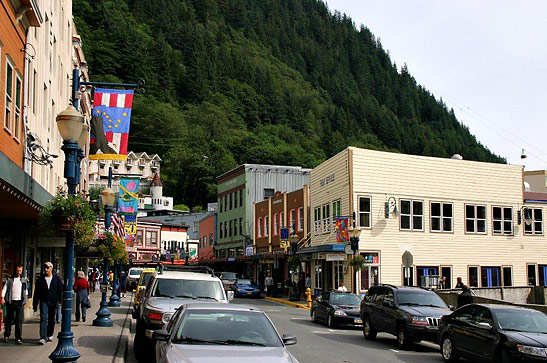 My Own Private Juneau
What I enjoy in Juneau is getting out of the tourist area, and wandering around the city. One evening I strolled up a quiet main street. I couldn't help but notice there was a man on the other side of the street, carrying something that looked suspiciously like a sledgehammer. Suddenly, he took a full swing, smashing a store front window. I'd often wondered how I would react in such a situation. Would I be a "Dirty Harry" and demand the man to stop or confront him by force? But my 6th sense told me to do something else: run the other direction as fast as my legs would take me. As I did, locals poured out of bars, and soon the police arrived. The officer pointed a gun at the assailant and calmly said: "Okay, Larry, let's go." Larry smiled, put his sledgehammer down, and amiably climbed into the back of the car. How I love small city life.
Sitting in an Internet cafe the next day, I told a local about the incident. "Unusual for Juneau," the man smiled. "Plus he couldn't get far for Juneau is inaccessible by road." I asked if the invasion of cruise ship tourists bothered him. "They're only coming here to see the reasons that make us live here. One of my favorite things to do is go to Mendenhall Glacier at night after the cruise ships have departed, and we have the whole place to ourselves." That night I did just that; with the late summer sun glistening off the glacier, it was truly a spiritual experience.
Selected Highlights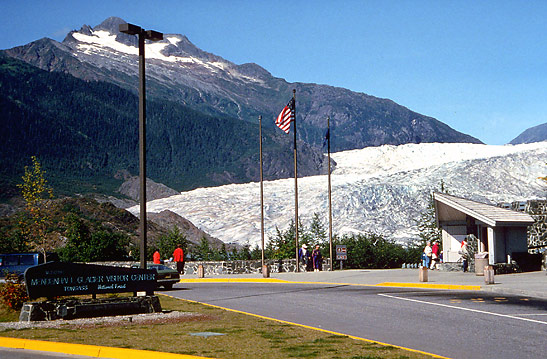 Photo credit: Juneau CVB
Mendenhall Glacier and Visitor Center
The Mendenhall is one of the 38 major glaciers that flow from the Juneau Icefield, covering more than 1,500 square miles. You can drive to the visitor center on your own, but tour companies also offer trips. Flightseeing groups feature aerial tours and helicopter companies land you right on the glacier for a short hike.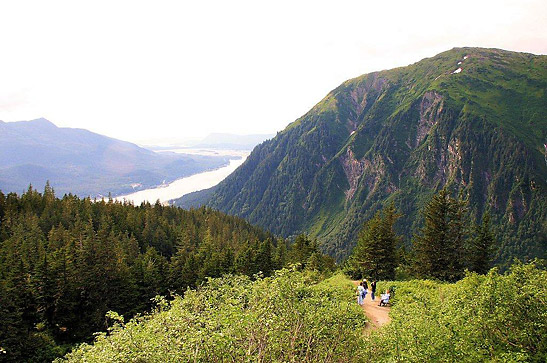 Mt. Roberts Tramway and Alpine Hiking
From the cruise ship pier, take a six-minute tram ride to the 1,800-foot level of Mt. Roberts for sweeping views of Gastineau Channel and downtown Juneau. There's wildlife viewing platforms, Nature Center, a live bald eagle display, restaurant, gift shop and a self-guided hiking trail marked by Native totem carvings.
Juneau Museums
The Alaska State Museum showcases exhibits on Alaska's Native culture, history, art, and natural history including a Tlingit Clan House, while the Juneau-Douglas City Museum features exhibits and videos of Juneau's history and gold mining heritage.
Boat Tours
Day boat tour companies offer tours of the twin Sawyer Glaciers in Tracy Arm Fjord. Glacier Bay National Park features a remarkable collection of tidewater glaciers and 3 million acres of wilderness.
Whale Watching and Wildlife Viewing
Juneau is the place to see humpbacks and orca killer whales, seals, black bears, and eagles. For brown bear viewings, visit Admiralty Island National Monument, based in the Kootznoowoo -- a Tlingit word meaning "Fortress of the Bears."
Sportfishing
An array of Coast Guard licensed charter fishing boats offer charters for Pacific halibut and all five species of Pacific salmon.
For further information, log-on to www.traveljuneau.com
Related Articles:
Return to Alaska; Alaska's Interior; Tongass National Forest, Alaska; Holland America Alaska Cruise; Denali National Park; Alaska Railway; Small Ship Cruise, Alaska; Sitka, Alaska; Skagway, Alaska