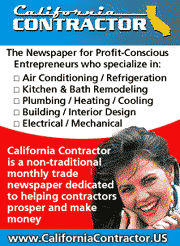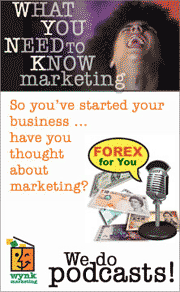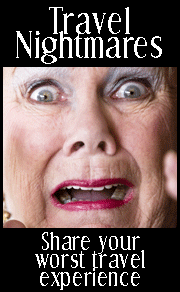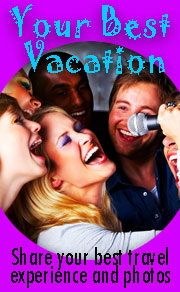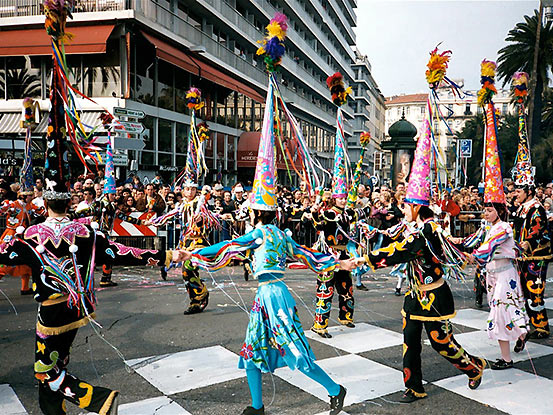 Nice, France: Before the Massacre
A Time for Celebration
Story & Slideshow by Skip Kaltenheuser

he recent shock and awe from a broken mind had me recalling when I joined celebrants watching fireworks from Nice's Promenade des Anglais. It's a sadness now to envision the tragedy of Bastille Day, the vulnerability of those looking skyward. But those who know the city, and who have felt the joy of crowds on the promenade – La Prom – can also recall the city's irrepressible spirit.
Starting in the 1700's, much of the English aristocracy wintered in Nice, drawn to the splendid coastal panorama. Egalitarian roots were planted in 1820, when a rough winter brought beggars from the north. The English dreamed up a project for them, constructing a walkway, paid for by the English barrister and reverend, Lewis Way. Christian charity at its best.
The beautiful Mediterranean backdrop is a good fit for one of the most artful and whimsical cities in Europe. Art museums are an embarrassment of riches, from the Museum of Modern and Contemporary Art to museums specific to individual artists including Matisse and Chagall, with loads more up and down the Cote d'Azur. Contemporary galleries that stretch the imagination testify to the quality of artists still drawn to the magnetic region.
Overlooking the beach It is hard to imagine a more innocent seven kilometers than when La Prom is filled with families. Baby carriages, skaters, bicyclists, skateboarders, walkers and joggers – it stays in happy motion beneath the palm trees. It is also hard to imagine a more artful place than when I was there in February of 2003, for Carnaval de Nice.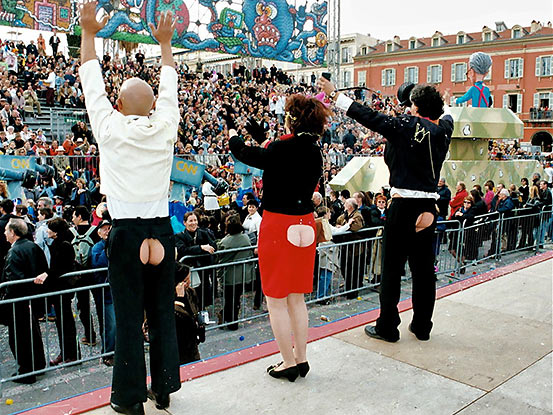 One of Carnaval's treats, the Batailles des Fleurs – Battles of Flowers – comprises five parades on La Prom, interspersed with other parades over a couple weeks. Twenty or so painstakingly decorated flower floats, each with thousands of stems refreshed on the design in a single day, carry costumed models throwing one and a half million or more locally grown flowers at the crowd. Floats are accompanied by artful dancers, bands, jugglers, acrobats and stilt walkers. It's a jolting contrast, the recent tragedy and flowers flung at delighted crowds.
Satire reigns in other carnaval parades scattered over the celebration, including the parades of "big heads" and parades of a couple dozen or more elaborate two-ton floats built by volunteer artists over six months, based on winning themes submitted by cartoonists from around the world. The biggest worry was string in a can.
The satirical theme when I was there was the King of .comMedi, with plenty of hard jabs at media's oppressive and intrusive aspects. I remember a float of a papier-mâché Larry King driving a giant tank, firing confetti from the turret with a CNN microphone at the end. Easy to reflect now on the pundits of major bellwether media that cheer-leaded for the invasion of Iraq. Shortly after that parade, the neo-diss and dats, Nut'nyahoo and the other geniuses got their way. Afghanistan was back-burnered and Iraq was invaded, unleashing waves of hell that destabilized the region, displaced desperate millions and lost the childhood of generations. It incubated Daesh and gave broken minds wherever they might surface the illusion of higher purpose, even for massacre by lorry. As prescient was a float of a giant grim reaper with a video cam.
The port city is strengthened by its international melting pot. The sadness Nice suffers won't disappear as easily as a Carnaval's King burned in effigy, taking away a year of woes. But this city's artistic sensibilities and playful humor will survive any assault from madness.
The 2017 Carnaval theme is the King of Energy. Perhaps global warming, another great displacement in the queue, is on the mind. It's on mine, as the heat dome settles in.
Any part of the year is a good time to uncork a lunch bottle of rose' on the French Riviera, but if you want to join Nice poking fun at society's foibles, check out Nice Carnaval. Nice tourism, French tourism.
Whenever you explore, bet on the triumph of Nice culture over those unable to grasp and embrace it.
Related Articles:
3 Things We Didn't Know About France; Hiking Through History In Southern France; Montagne: Destination Southwestern France; Montpellier, France; Art Ancient and Contemporary in Southwestern France



Let Skip know what you think about his traveling adventure.
* * * * *


Three Musical Pilgrimages: Mozart, Grieg and Hendrix

Johann Chrysostom Wolfgang Amadeus Mozart (1756 - 1791) could read and compose music, plus play the violin and piano, when he was five years old. Born into a musical family in Salzburg, Austria (then the Holy Roman Empire), he had a unique ability for imitating music, which first became evident when he recited a musical piece by simply observing his father conducting a lesson to his older sister. This led to a childhood on the road, where the young prodigy performed before many of the royal courts of Europe.


Treasures of Ireland: The Irish Goodbye (Dispatch #20)

The Palladian Traveler brings to a close his 20-part series on the Emerald Isle from an upscale restaurant in downtown Dublin where he files his final dispatch and then quietly slips away.


Two "MUST SEE" Truly Spectacular Places in Europe. Here's Why.

The Han Grotto and Culzean Castle. As the name of my Traveling Boy feature is "Travel With a Difference," it's important to me to always bring you offbeat and unusual tourist places around the world you may not know about. These two fit that category to a T, and they're absolutely worth a visit. One's in Scotland and one's in Belgium. Culzean (pronounced CULLANE) Castle is located near Maybole, Carrick, on the Ayrshire coast of Scotland.


Highway 49 Revisited: Exploring California's Gold Country

In the 1840s, the population of California was only 14,000, but by 1850 more than 100,000 settlers and adventurers had arrived from all over the world – and they came for one reason: gold. James Marshall had discovered the first gold nugget at Sutter's Mill in El Dorado County, creating the largest gold rush in history.


Lake Charles' Family-Size Low-Key Mardi Gras

The Southwest Louisiana Mardi Gras in Lake Charles, the second largest in Louisiana, does not need parents there to avert their children's eyes. This is family entertainment and children are very much part of it. The main office of the Lake Charles CVB has costumes from last year's Mardi Gras but it also has figures to fascinate little ones from country boys fishing for their dinner to alligators who have already fed and are rubbing their stomachs.


Puerto Vallarta: Magic and Mayhem on the Malecon

So I heard that you could spend from dawn to dusk on the Malecon in Puerto Vallarta, Mexico and never get bored and I thought, "Okay, I'm up for that challenge." Well, maybe not the dawn part – I'm not a morning person – so I had no problem leaving those early hours to the joggers and those seeking an early start to catch their red snapper for dinner.


Relaxing at The Inn at Laguna Beach

There is nothing like sleeping in an ocean-front room and awakening to the sounds of waves crashing against the sand. It is one of the finer things in life. And it is exactly what I experienced recently on a memorable getaway to The Inn at Laguna Beach. The adventure began when a friend I pulled off the 5 Freeway in Orange County and took SR 133 south nine miles through winding lush hills and wilderness areas to the ocean.


Tim Robbins On His Road To Stardom

Award-winning Tim Robbins began his career on episodic television. Robbins' film work, however, is what catapulted him into becoming a major movie star including "Bull Durham" and "Mystic River" for which he won multiple awards. Equally at home behind the camera, he directed the riveting "Dead Man Walking." He is Founder and Artistic Director of The Actors' Gang, which he formed thirty-five years ago and has directed multiple provocative productions.


Monte Verità: In the Footsteps of Anarchy

Just as I reach the end of a squiggling, multicolored path, an acorn plummets from an oak tree above me. It lands at my feet, just as the path culminates at a mandala of Venetian glass, eight feet in diameter. On the worn-out front lawn of Monte Verità, the Mountain of Truth, this path, Chiara's Rainbow, evolves through the colors of the spectrum – red, orange, yellow, green, blue, indigo and finally violet – before arriving at the mosaic mandala where psychic energies supposedly prevail. The falling acorn brings me to the present moment.




Rolling Through the Outback on the Indian Pacific's Christmas Train





It was mid December and a heat wave had embraced the country. Record setting temperatures were searing the land from high 90s in Sydney and Adelaide to blast furnace heat in the great Outback. Fires were raging throughout the country. But we were cool, riding the air-conditioned Indian Pacific railway across the southern expanse of Australia to the west coast city of Perth, a four-day transcontinental tour...


Leviticus 20:13
Sent by Tom of Pasadena, CA



It all makes sense now. Gay marriage and marijuana was legalized in the last election. Leviticus 20:13 states
"If a man lays with another man, he should be stoned..." We've been interpreting it wrong all these years!


John January and Linda Berry Have Chemistry

Chemistry by its very definition is the spontaneous reaction of two people to each other, especially that sense of mutual attraction and understanding. This month John January and Linda Berry release their new project, Chemistry 101 and together they explore a range and depth of musical styles on both organic and physical levels. As a joint labor of love, January says Chemistry 101 is pretty straight-forward.


Remembering My Dad

My father died while I was roaming through Northern Italy. He was 52. He passed away peacefully in his sleep in his home in Florida. I found out about it at the American Express office in Istanbul three weeks later when I opened a letter my brother sent me. This was 1970. There were no computers, no smartphones, no Skype.


Dia delos Muertos: The Day of the Dead – All Saints Day

October draws to a close with a melancholy air. Days are colder, dead leaves flutter to the ground after a last burst of color, before finally drifting away to be tossed by the winds in all directions. Something about this image that inspires vintage, romantic songs like "Autumn Leaves"… and brings memories of a Love, once held close.


Costa Rica's Green

Sitting at an umbrella table in downtown San Jose overlooking the Plaza de la Cultura is like a page out of Hemingway's "The Sun Also Rises." The plaza is laid out in a maze of stalls where passive vendors sell sparkling silver jewelry by the trayfull, hand-carved clay masks, colorful Guatemalan belts, area rugs, and hammocks perfect for a midday siesta. Three men play an old wood marimba over the buzz of the crowd while a steaming plate of Gallo Pinto (rice and beans) is served to an elegant lady who was performing with her guitar...


The Shortest Road Trip

The Canadian side of Niagara Falls has a 35 mile linear park, called Niagara Park, with seemingly endless attractions stretched along the full length of the Niagara River. I recently spent several days driving to each, sampling fantastic wines and great food while enjoying the rugged beauty of the Canadian side of Niagara Falls. It became one of the shortest road trips ever. From tunnels under the falls, to zip lines into the gorge, and from a soaking boat ride to the base of the falls, to a challenging hike along the shore of the rapids, Niagara Park's attractions are amazing.


Tahiti and Her Islands

Just their names (pronounce each vowel!) conjure up romantic images: Tahiti Nui, Moorea, Bora Bora, Huahine, Ra'iatea, Taha'a. Her people are gentle; the air, tiare-perfumed. Warm lagoons, majestic peaks, tropical fruits from the land and bounty from the sea all tantalize the senses. Paradise! As near as can be found on planet earth. And, in my experience, the finest way to explore her is on a ship designed for that single purpose.


NOLA: New Orleans, Louisiana

Mardi Gras, the French Quarter, the Garden District, the streetcar (now a bus) to Desire, the jazz clubs, the beignets at the Café du Monde and breakfast at Brennan's come to mind when you think of New Orleans. But that's not all there is to this unique American city, filled with treasures both culinary and cultural.


Telling Tales through Travel


As I ambled through the verdant and sometimes wild, untamed off-road "savannahs " of Sherwood Forest in Nottinghamshire, England, I was glad that Robin Hood was my trailblazing Sherpa. Robin, known outside of the forest as Ezekial Bone, is an actor/interpreter of history, an extraordinary story teller, and font of information, much of which will supply me with fascinating cocktail-party persiflage for years to come. During this stroll, his merry band consisted of me and a few other Sherwood Forest interlopers, there to learn from a man who calls these woodlands home.


California Road Trip

You would never guess that you didn't have to leave the mainland USA to find an Island with lush gardens, oceanside views and fabulous food all minutes away from downtown San Diego. I wondered what exactly we were heading towards, an Island in the middle of a city? It sounded slightly absurd, never-the-less, we drove onto the property of Paradise Point Resort and Spa and were pleasantly surprised.
---
© TravelingBoy.com. All Rights Reserved. 2015.
This site is designed and maintained by WYNK Marketing. Send all technical issues to: support@wynkmarketing.com