Ashford Castle:
Regal Elegance Wrapped in Irish Charm
Story and photos by Tom Weber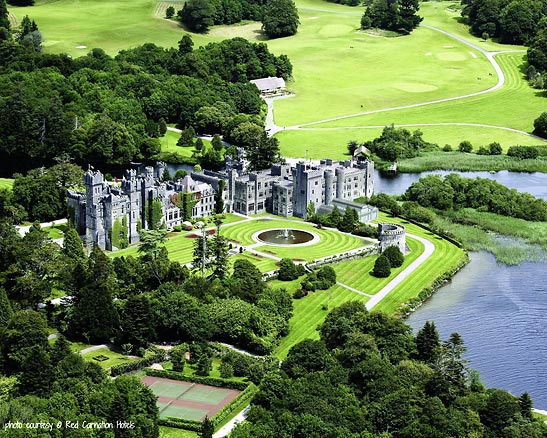 rom the moment my name is acknowledged on the guest list, the distinguished-looking guard resplendent in kelly-green livery, doffs his top hat, bids me a hearty Fáilte! (Welcome!), raises the barrier and directs me through a stone archway between two turreted towers.
"Just follow the road until you reach the castle," the gatekeeper says with a smile. "You can't miss it."
Steering my compact rental car down the pavement that effortlessly meanders around undulating grassland in Cong, County Mayo, I can't help myself and begin humming Rakes of Mallow from the Academy Award-winning movie The Quiet Man: Dum-ta. Dum-ta. Dum-ta. Diddle-diddle...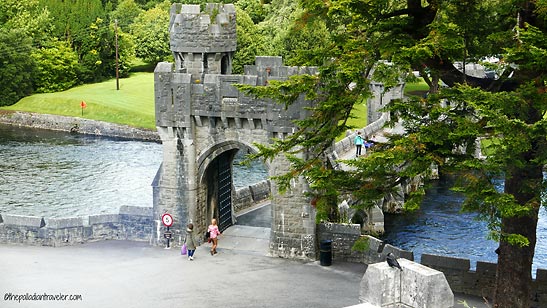 Five minutes later I cross over the Cong River via a narrow stone bridge and arrive safely at my destination.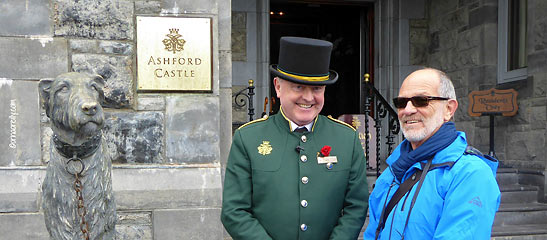 "Welcome to Ashford Castle," bids Frank, the doorman, as he, too, doffs his top hat and smiles. "Reception's straight ahead," he tells me as I hand him the key fob. "We'll park your car and have your luggage brought to your room shortly."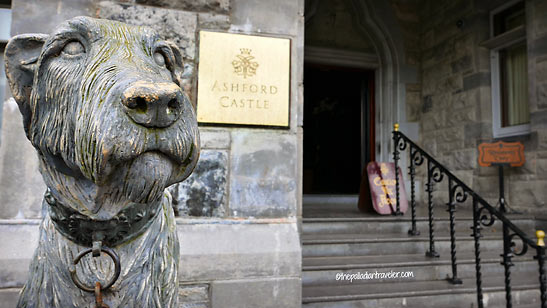 Up a flight of stairs, flanked by a pair of Irish Wolfhound statues – four-legged guests are always welcome here – my feet touch the bespoke carpeting as I enter into a magical world of regal elegance sprinkled with Irish charm that defines Ashford Castle, recognized by Virtuoso, the international luxury travel network, as the 2015 Hotel of the Year.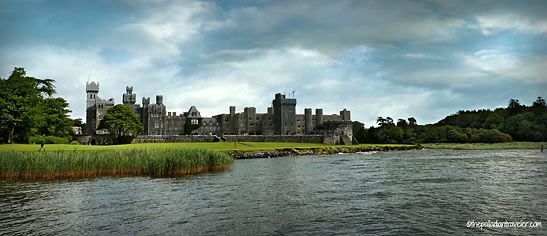 The five-star castle-resort, set amid 350 acres of well-manicured greenery, gardens and rustic paths and trails, overlooks the postcard-perfect shores of Lough Corrib, Ireland's second largest lake that's reportedly dotted with 365 islands, one for each day of the year.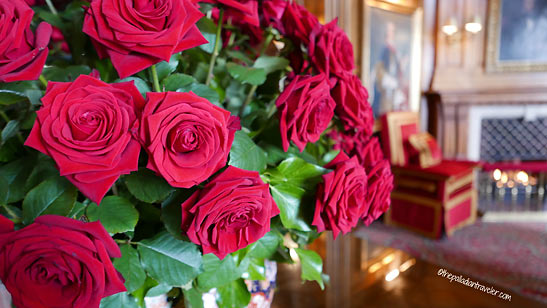 With a heritage dating all the way back to 1228, Ashford Castle, the oldest fortress on the Emerald Isle, recently turned the page on its history when it was purchased by Red Carnation Hotels (TRC) – only the seventh owner of the property – and immediately underwent a multi-million dollar renovation and refurbishment that was unveiled to much fanfare this past April.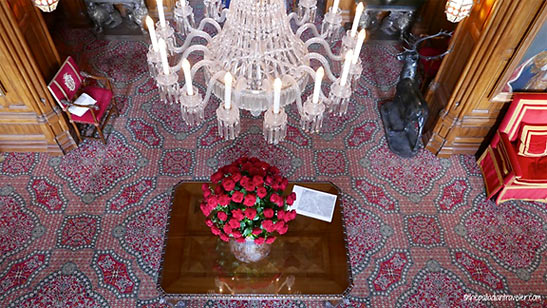 And, that is where I come in, as a guest of RCH for a two-night stay so that I can experience, firsthand, the renaissance inside this nearly 800-year-old castle-turned-resort, one of the jewels in The Leading Hotels of the World collection.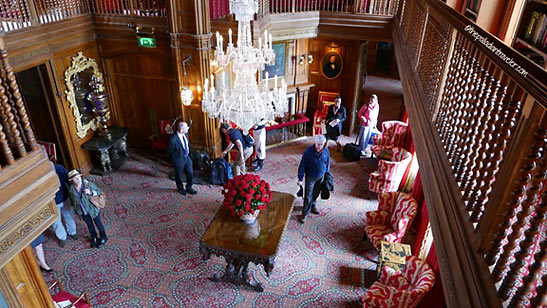 Met at reception by Magdalena, a warm, friendly and highly-efficient front-desk supervisor – dressed impeccably in a vest, smart skirt and long coat with the company logo, a fresh red carnation, pinned to the lapel – I'm checked in quickly, my planned itinerary for the next 48-hours confirmed, and then I'm escorted to my accommodations.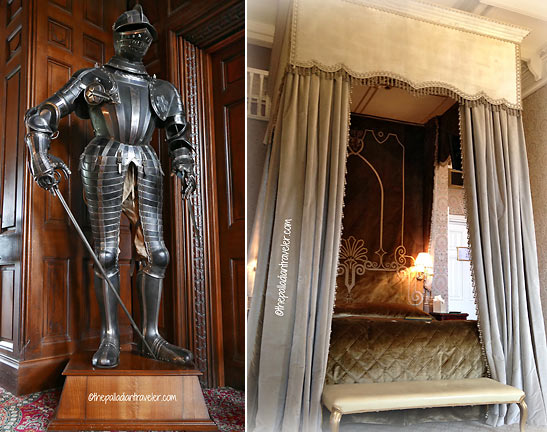 It's a circuitous route over more luxurious bespoke carpeting, past a 16th century, armor-clad guardian, up wooden staircases, across several landings and then down a corridor until we reach the very top of the historic residential area.
Magdalena inserts the key card to room 430, pushes back the door and my jaw drops in OMG fashion.
"Welcome to the state room once used by Lady Ardilaun, wife of Sir Arthur Guinness," she informs me as I remain transfixed by the surroundings: four-poster bed, original fireplace, artwork, exquisite antiques, complimentary VOYA seaweed-based organic bath and beauty products, the convenient USB ports just above the bedside tables, and the panoramic lake view.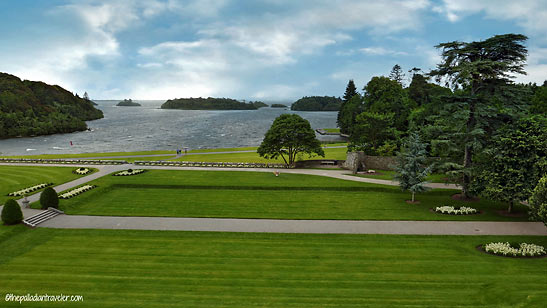 One of only six 13th to 17th century state rooms, my opulent and spacious retreat is located in the oldest part of the castle.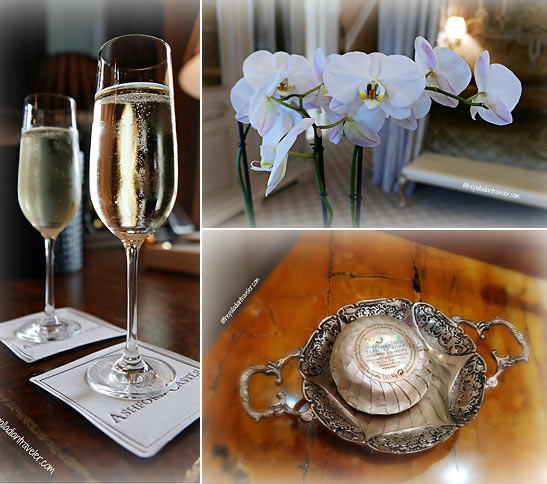 "Can I offer you a glass of Prosecco while you settle in before dinner?," she asks me, a deer caught in the headlights. Barely able to utter "yes" from my trance-like state, I don't even hear Magdalena quietly leave the room. Can you blame me?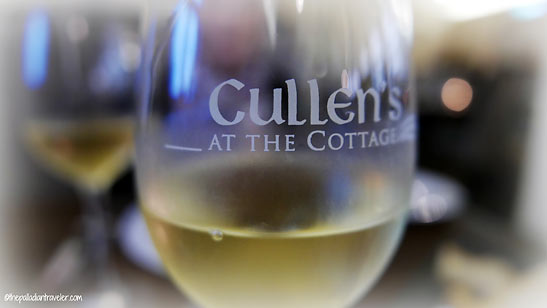 The evening gives way to nighttime as lashing rain and howling wind assault the castle while I prepare for my dinner reservation over at Cullen's at the Cottage. Just across the bridge from the castle, Cullen's is a short, five-minute stroll in good weather, hours away in bad. Not to worry. Hotel staff has me covered as I board one of the castle's Land Rover Defenders for the quick, chauffeur-driven dry hop across the Cong River.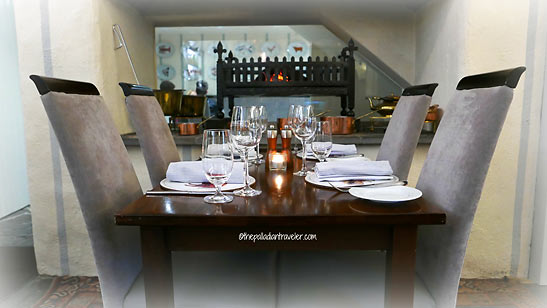 A summer-only bistro restaurant occupying a traditional thatched-roof cottage, Cullen's serves up international and local dishes inspired by Beatrice Tollman, owner of Ashford Castle, in a casual atmosphere accented by friendly Irish hospitality.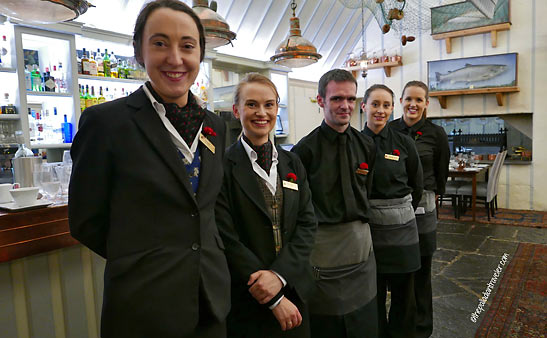 Greeted warmly by Sinead, the restaurant manager, she and her young and eager wait staff go above and beyond the call of duty to ensure my dining experience at Cullen's is memorable. And, it is.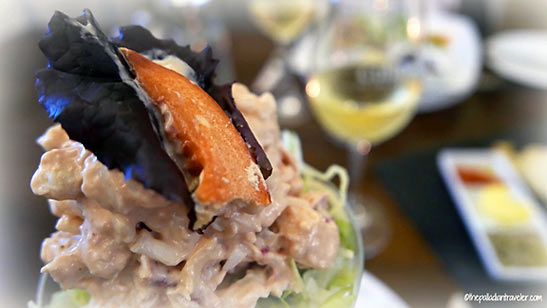 An assortment of fresh breads and a bottle of Crocodile's Lair Chardonnay from the Bouchard Finlayson Winery of South Africa get's dinner underway.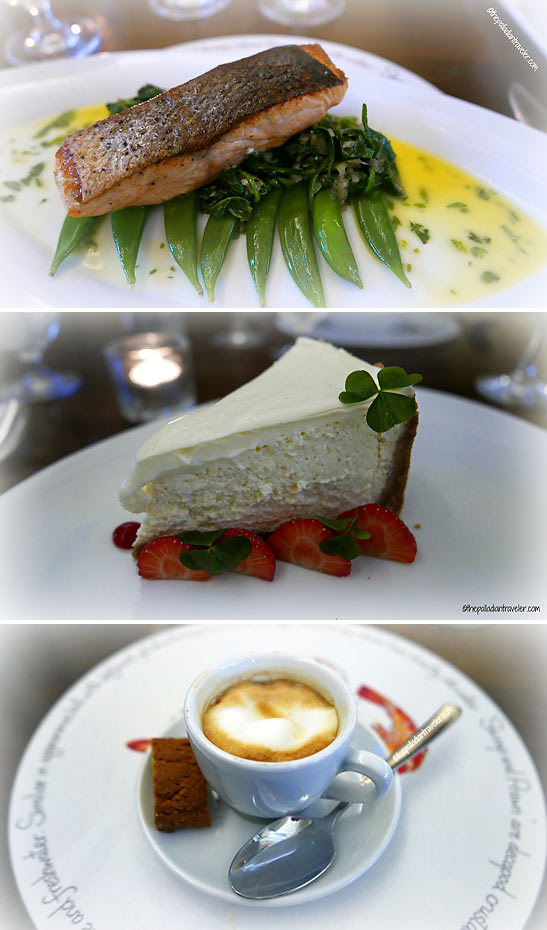 I order fish for both the starter and the main course: a prawn and lobster cocktail and grilled Irish salmon. And, for dessert, I savor a slice of Ms. Tollman's signature cheesecake.

With apologies to Vaughn Monroe, the late American crooner, the weather outside is [still] frightful, so I take the complimentary ride back over the river and into the warmth of Ashford Castle. No one told me Ireland was this cold in August. Where did the summer go? Did it even arrive? Brrr.

A nightcap is in order, both to celebrate my first visit to Ashford and to warm up, so I retire to The Prince of Wales Cocktail Bar where Tom, the on-duty mixologist, preps a Courvoisier, neat. Seated around a glass covered table showcasing a few antique flintlock pistols, I sip from a crystal snifter wondering all the while if these weapons were ever used in a duel at 15 paces.
Sleep is just around the corner as I tuck myself into the inviting four-poster bed – turned down by evening maid service – and its soft 400 thread count Egyptian cotton linen highlighted by a complimentary box of Lily O'Brien's chocolates resting atop one of the pillows.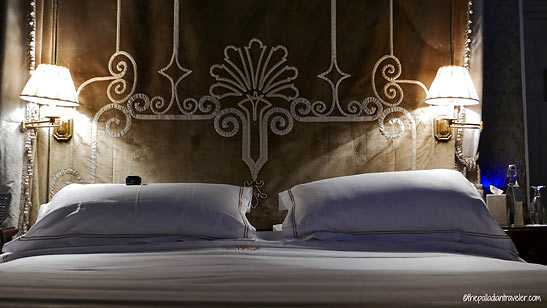 I've been told that a "history" cruise around Lough Corrib, shoving off daily at 11 bells from Ashford Castle's pier, is a terrific way to explore the camera-ready surroundings of some of the lake's 365 isles and take in the panoramic views of the Connemara Mountains in the distance. That is, of course, weather permitting. Unfortunately, not today, as the skipper of my boat announces that due to choppy waters and imminent rain I won't be going anywhere. Bummer.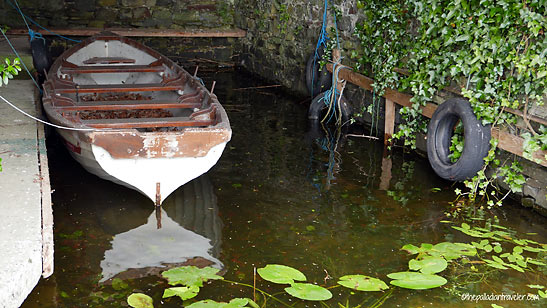 When it's not raining on your parade, there are plenty of activities to keep you busy in between breakfast, lunch and dinner.

Tee it up at the parkland golf course; play singles or doubles on two all-weather tennis courts; go fishing; grab a kayak and paddle around the lake; mount a horse and hit the woodland trails, or take a carriage ride with the entire family; hire a bike and cycle the castle's vast estate; take aim at clay pigeons and bull's-eyes with skeet and archery; play billiards; screen The Quiet Man and other box-office hits in the velvet-seat cinema; relax in the spa; or, do what I'm about to do: experience the ancient form of falconry.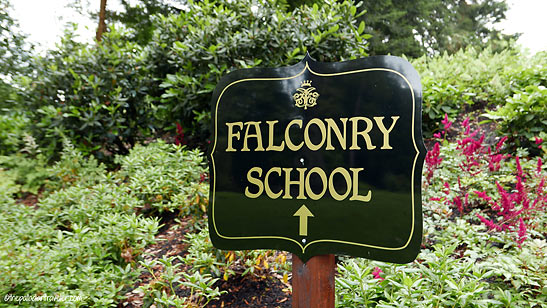 Ireland's School of Falconry, located on the grounds of Ashford Castle, is the oldest established falconry school in Ireland. Here, castle guests can book a once-in-a-lifetime "hawk walk" and fly their very own Harris's hawk around the castle's woodlands.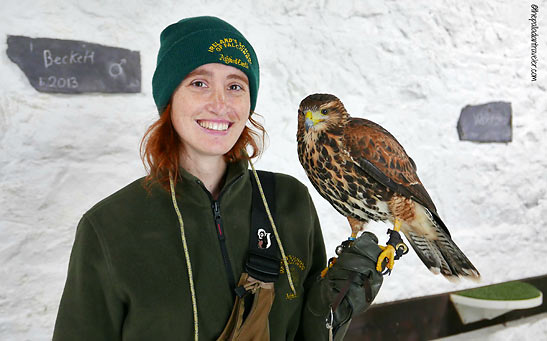 Meet Jamie and Lima. Jamie's the smiling redhead from California in the watchman's cap and a bona fide falconry instructor; Lima's the female Peruvian Harris's hawk. Together, they're schooling me in the fine art of falconry, a 4,000 year-old hunting sport.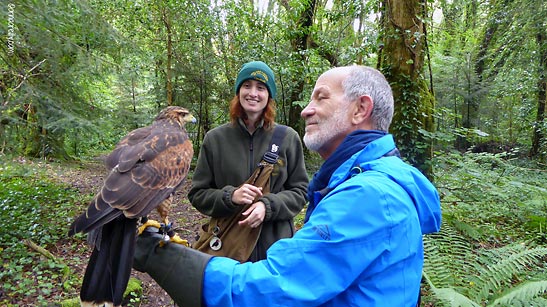 Following its handler – that would be me – from tree to tree, Lima periodically swoops down into your gloved hand, grabs a "snack," and then flies off again. You know she's somewhere nearby from the sound of the tiny bells attached to her talons.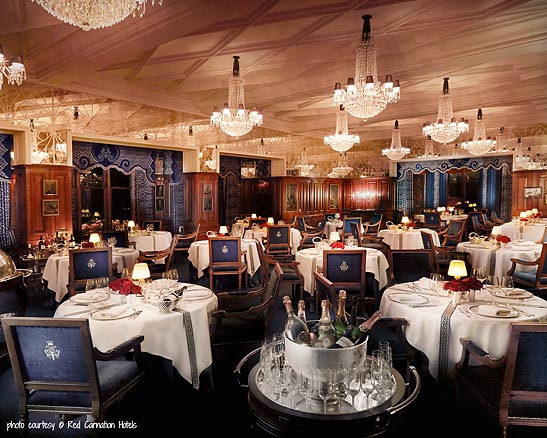 In 1906, the Prince of Wales was a guest of the Guinness family, owners of Ashford Castle at the time. The prince went on to become England's King George V. In honor of the king's visit, the Guinness family built a special dining room, which still bears his name.
Dressed in a suit and tie (jacket mandatory, tie optional), I'm ushered into the graceful setting that is the George V Dining Room and prepare to dine like royalty.
From acclaimed Chef Philippe Farineau's kitchen, I select fish for my starter, west coast cured blue fin tuna. For my main, I go for the monkfish tail and fennel. Both dishes pair nicely with a delightful bottle of Blanc de Mer, a Riesling blend from Bouchard Finlayson Winery of South Africa.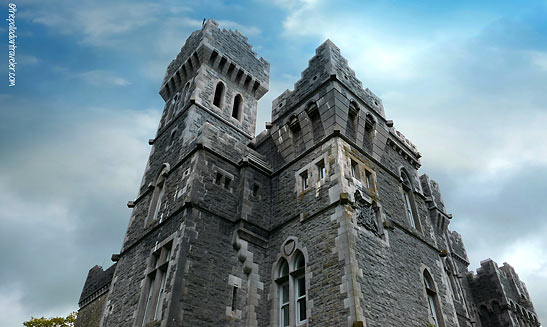 When visiting the West of Ireland, there's absolutely no getting around the threat of inclement weather. Unfortunately for me, I'm catching Mother Nature in one of her very foul moods.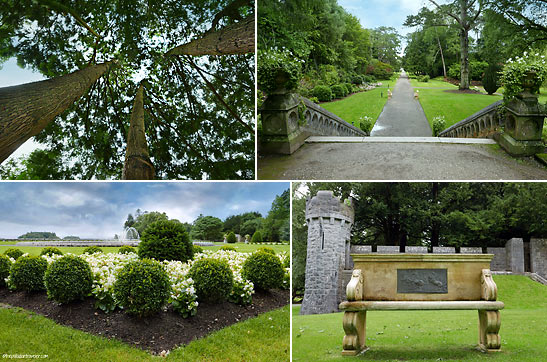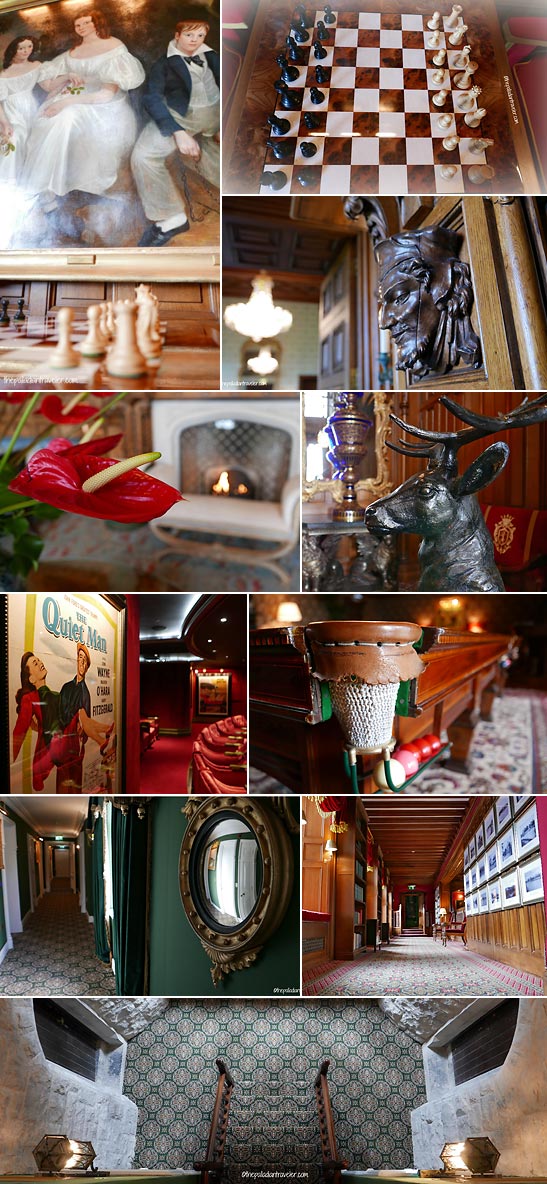 Despite intermittent, sideways falling rain-to-partly cloudy conditions, my camera's holding its own as I capture the magnificence of this idyllic setting, indoors and out, where John Ford and crew filmed part of The Quiet Man – one of my fave movies and viewable on your in-room, flat-screen TV – and where the late United States President Ronald Reagan once stayed during his official visit to Ireland, now honored with his name on the hotel's Presidential Suite.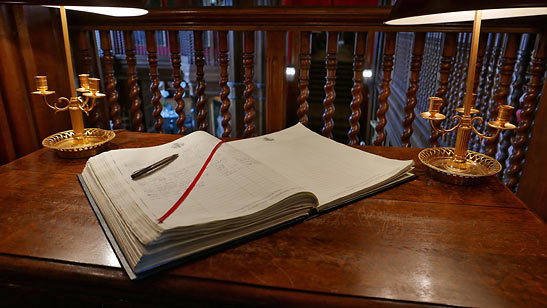 With my 48-hour fairy tale-like stay coming to an end, I'm really sad to say goodbye as I add my name to the guest book to ensure that I'm part of the Ashford lore.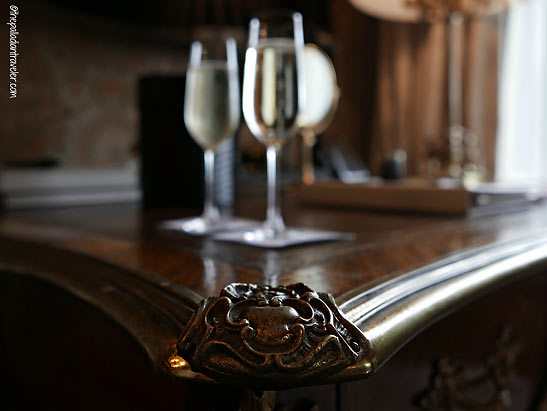 Red Carnation Hotels has done an exemplary job of restoring this pristine country estate to its former glory, breathing new life into her to carry her forward, hopefully, for another 800 years. But, it is the staff, those warm and friendly individuals led by affable General Manager Niall Rochford, who have made my visit unforgettable. I thoroughly enjoyed the regal elegance of Ashford Castle, but found its Irish charm simply irresistible.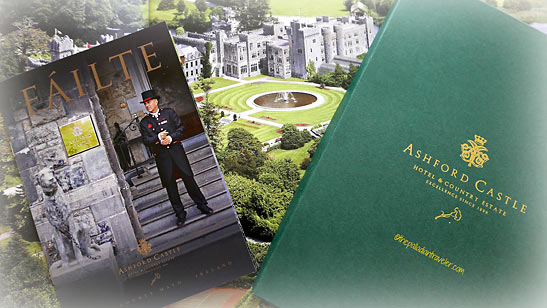 For complete information on Ashford Castle, just click HERE. And, for complete information on the entire Red Carnation Hotel collection, just click HERE.
Related Articles:
A Return to the Emerald Isle; Ireland: Magical, Mystical, Delightful, Enchanting; Northern Ireland: The Land of Castles, Legends & Myths; My Irish Dream Vacation; Ireland – Land of Smiling Irish Eyes; The Aran Islands: Ireland's Living History