ISCHIA: Eat, Drink and Whistle
Story, photos and video by Tom Weber

schia, a picturesque and inviting little dot out at sea.
The late American author Truman Capote, who stayed a while on Ischia with pen and paper in the late 40s, called her, "the timeless island."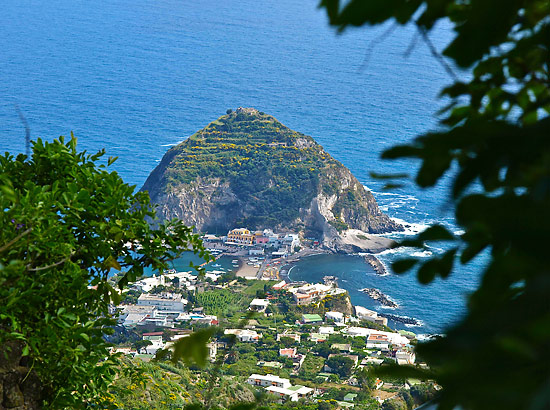 Panoramic view of San Angelo, Ischia down below
The largest island in the Phelgrean Archipelago – just off the coastline of the Campania region of southern Italy at the northern end of the Bay of Naples in the Mare Tirreno (Tyrrhenian Sea) – Ischia (pronounced EE-skee-ah) is where about six-million tourists annually come to enjoy la dolce vita (the sweet life) – for a week, a month or for a season.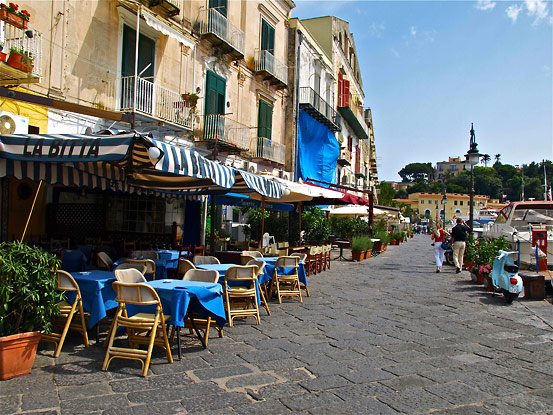 Street scene along Porto Ischia, Ischia
Carefree, open and relaxed, Ischia, as well as the entire Italian peninsula, jokingly refers to itself as the island where one comes to eat, drink and whistle – "Si mangia, si bevi, si fischia."
Now, if that isn't LAID BACK, I don't know what is.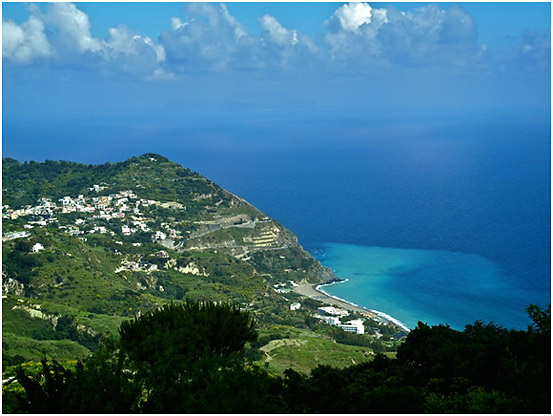 Panoramic view from the top of Ischia looking out at the Tyrrhenian Sea
A non-active volcanic isle, Ischia's big draw are all of its numerous and natural thermal baths. Mainland Italians and curious outsiders ferry across the Bay of Naples to be pampered morning, noon and night; and, the friendly Ischiani put out their "welcome mat" in three primary languages (Italian, English and German) as the majority of the 60,000 islanders are multi-lingual.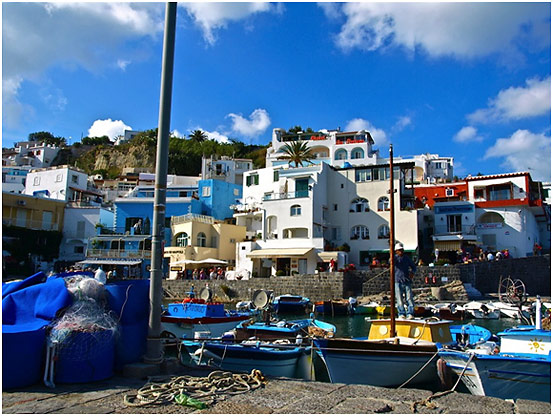 View of the terraced houses in the fishing village of San Angelo, Ischia
Along with the abundant underground therms and world-class wellness programs found on this mostly mountainous dot in the sea, Ischia is picture-postcard perfect and boasts a delectable kitchen (rabbit, not fish, headlines the menu), fragrant lemon groves and hillside vineyards (think sweet Limoncello and dry Biancolello wine), breathtaking panoramas, and inviting beaches, little bays and quaint, tucked-away coves.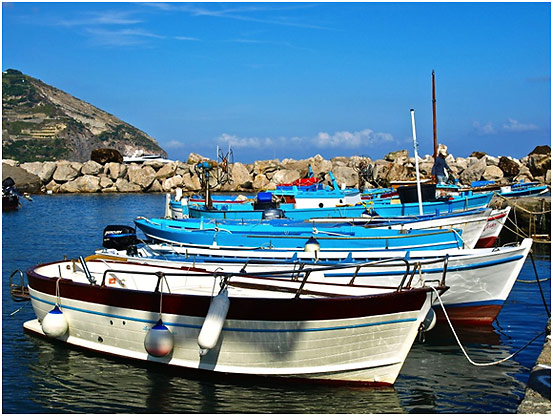 Fishing boats lined in a row – San Angelo, Ischia
Discovered by the Mycenaeans of ancient Greece sometime between 1600-1200 BC, legend has it that the all-powerful mythical god Zeus exiled two miscreants, one to the nearby island of Procida and the other to Ischia, changing them both into monkeys along the way.
There's no documentation that monkeys of any kind roamed Ischia long ago, but given the fun-loving nature of the locals, I'd say any haplorhini primates worth their weight in bananas would go ape if they could simply while away the days – like their hominidae primate counterparts – eating, drinking and, perhaps, whistling.
IF YOU GO
Getting There
By car: Unless you're already in Naples, or south of the Campania capital, avoid the hassle of driving through her and catch a ferry crossing out of Pozzuoli – birthplace of Italian film starlet Sophia Loren and just northwest of the metropolis – and arrive at Porto Ischia.
By train: You can either arrive at the Naples' Stazione Centrale (Central Station) or at the smaller Mergellina stop. If at Naples, you'll need to grab a taxi or bus for the 2 km ride to the ferry embarkation point at Beverello. If you arrive via at Mergellin, you can simply walk to the ferry.
By air: There is no airport on Ischia. The closet one is Naples International. Once you land, take a taxi or bus to either one of the nearby ferry crossing points – Beverello or Mergellin – or, better yet, hop on the Alibus line outside the terminal and go directly to the port at Beverello and your hydrofoil ride across the bay.
Recommended Accommodations
Poggio Aragosta Hotel & Spa, Via Borbonica, 80074 Casamicciola Terme, Ischia (t. +39 081-980236).
Just like its name indicates, this "hilltop lobster" sits high above Ischia in Casamicciola Terme, one of the island's six communities. With breathtaking 180-degree views of the mainland's Neopolitan coastline, this sprawling spa hotel as a variety of room accommodations with either a garden or sea view.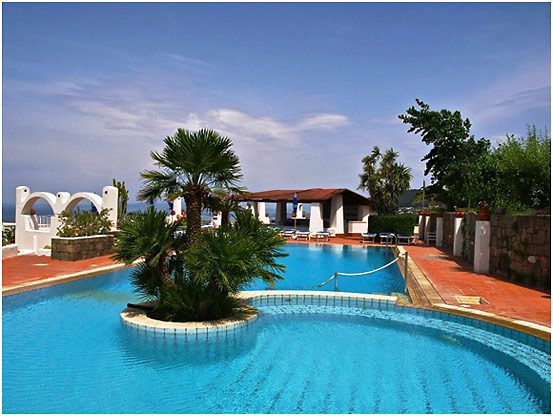 Pool-side at Poggio Aragosta Hotel & Spa
The on-site wellness center – complete with licensed therapists, massages, hydrotherapy, Turkish and thermal baths, and a large outdoor swimming pool with those spectacular views of the deep-blue sea – coupled with full or partial meal plans in the hotel's restaurant – with its traditional and delicious island fare – and your well-appointed room, you're sure to be pleased and happy at how easy la dolce vita takes hold.
For complete information on Poggio Aragosta Hotel & Spa, visit its non-English language website.
For complete tourist information about the island, visit Ischia Online.
Side Trip for the Day
While on Ischia, you're only a short, 20-min. ferryboat ride to an even smaller dot out in the Tyrrhenian, Procida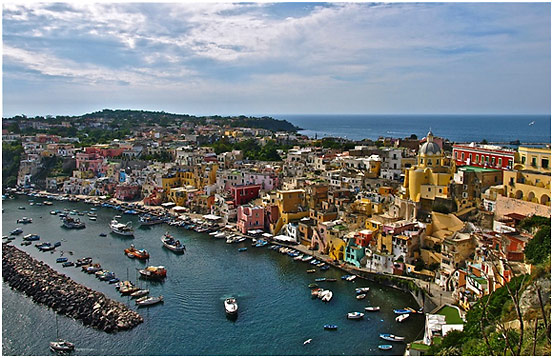 View of Marina Correcella from Terra Murata overlook on Procida
Beloved for its simplicity, panoramic views and typical Mediterranean architecture, too, Procida, over the years, has served Hollywood and Cinecittà, it's Italian counterpart, well. Procida has been the colorful locale for numerous films, including The Talented Mr. Ripley (starring Matt Damon and Jude Law) and Il Postino (The Postman), the low-budget, must-see Italian classic that stars Massimo Troiso in the title role, a role that would be his final act. Get the feel of being "on location." Take take a day trip to Procida, and don't forget to ask for more Limoncello.
Related Articles:
Vicenza: The City of Palladio; Basilica Palladiana; Riviera di Ulisse; The Little Village Atop the Hill (Castelluccio di Norcia); Norcia, Umbria; Cape of Circeo, Italy; Piovene Rocchette, Italy; Northern Italy; Lake Como