Country Roads:
Scraping the Tuscan Sky
Story and photos by Tom Weber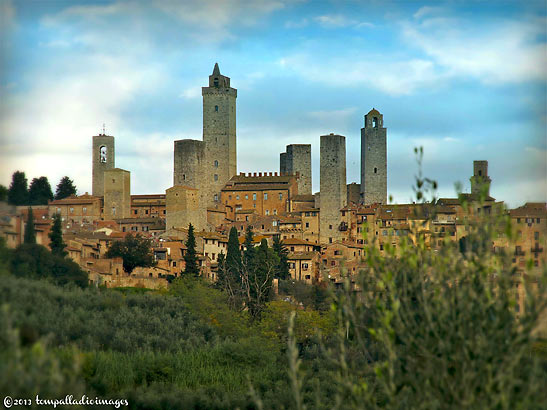 ong before Peter Minuit, the Director of New Netherland, a Dutch colony established in the New World, purchased the island of Manhattan from Native Americans in 1626, there was already a place back in the Old World that had established itself as Skyscraper City: San Gimignano.
Repeat after me: sahn jeem-een-YAH-noh.
Perfetto!

Originally an Etruscan village, San Gimignano, or San Gim, evolved into a medieval walled city perched on a hilltop overlooking kilometers of undulating vineyards and olive groves in the province of Siena in Italy's Tuscany region. Known throughout the Bel Paese as the Town of Fine Towers, in 1990 the United Nations Educational, Scientific and Cultural Organization (UNESCO) proclaimed San Gim's centro storico (historic center) a World Heritage site.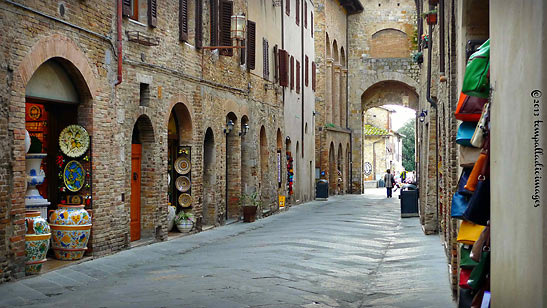 My band of merry media, guests of Insight Vacations' (Insight) abbreviated Country Roads of Italy journey through Umbria and Tuscany, just hopped off the motorcoach in a large parking lot only a few paces outside the main arched entryway into the past.
Lens caps off, we're already shooting away at the rock and mortar while we follow close behind Belinda, Insight's tour director-slash-storyteller, as she starts to paint the scene.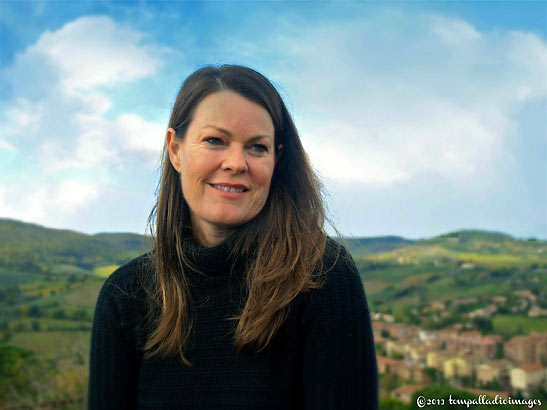 Back in the early 12th century, she begins, the peace around San Gim came apart as the two political factions of the time – the Guelphs, who supported the Pope, and Ghibellines, who favored the rule of the Holy Roman Emperor – faced off in a bloody civil war that would last nearly 200 years.
But, why so many towers?, someone interrupts.
This struggle for dominance also involved a battle for prestige and status, Belinda continues, as both political factions, along with their respective allies, built tower houses to outdo the other. The higher one group went, the other group would go just a little beyond. And, by the end of this "construction boon," San Gim's skyline was dotted by no less than 72 towers, some reaching as high as 70 meters, or 230 feet.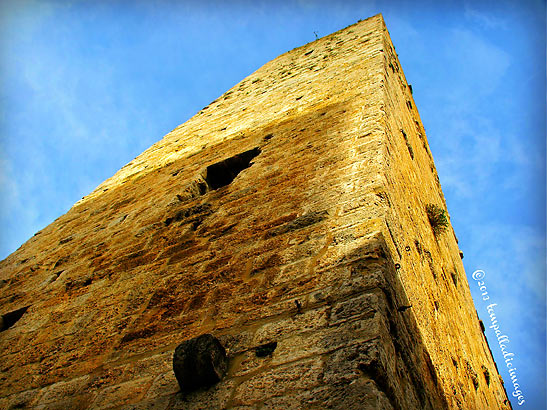 Before we scatter in different directions with our camera gear, Belinda wraps up her History 101 lesson by telling us that only 15 of those original 72 towers still remain today, as some were demolished in battle while others were reduced in height once the war was over, the devastating Black Plague arriving, and San Gim ultimately falling under the rule of mighty and powerful Florence.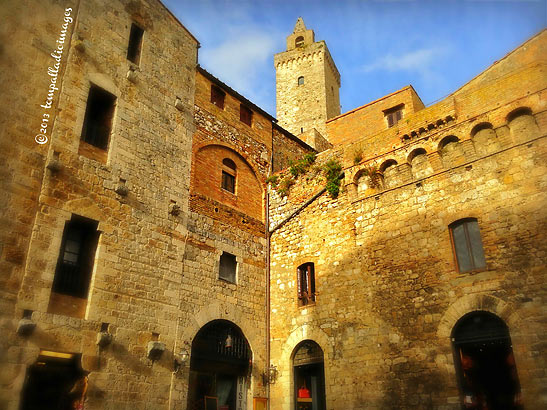 This well-kept medieval town is, without a doubt, my fave locale thus far on this Insight Country Roads journey. Maybe it's all these towers climbing upward to scrape the sky, coupled with the great street scenes below and peekaboo panoramic views outside the walls, but my cameras and me are having a field day clicking away at photogenic San Gimignano.
Here's what we've framed so far.

Midway through the visit, our band of merry media agrees to muster in Piazza della Cisterna, San Gim's prettiest square lined with shops and outdoor cafes, for a pit stop.

It's also the perfect opportunity for Belinda to excitedly announce: Time for an Insight SIGNATURE moment. Care to meet the World Champion of gelato makers? His shop's right over there. And, I've got vouchers for each of you for a complimentary tasting of his artisan ice. What do you say to that?
All together now: GELATO! GELATO! GELATO!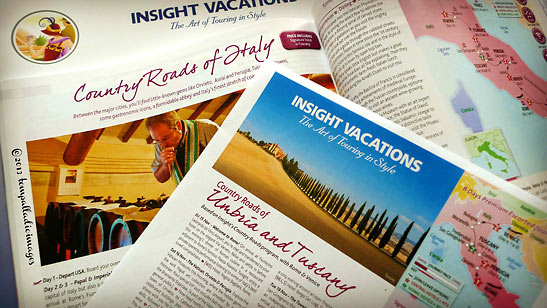 For complete information on Insight Vacations' 12 Italian premium and luxury-escorted itineraries, where you'll touch the sky above and feel the rolling hills below, and over 100 journeys throughout Europe, just click HERE, or call toll free (888) 680-1241, or contact your travel agent.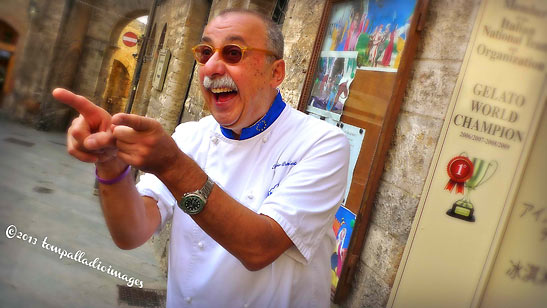 I'll save the, "I scream, you scream, we all scream for ice cream" scene for tomorrow's dispatch, when we get up close and personal with San Gimignano's fun-loving, World Champion gelato maker: Sergio Dondoli.
Ciao for now.
Related Articles:
Paparazzi at the Osteria; Chianti Pours Forth from Fonterutoli; Cortona: Under the Renovated Tuscan Sun; Linnertime in Spello; Take Me Home Country Roads; Saintly Assisi; Underground in Perugia