Country Roads:
A Dark and Foodie Night
Story and photos by Tom Weber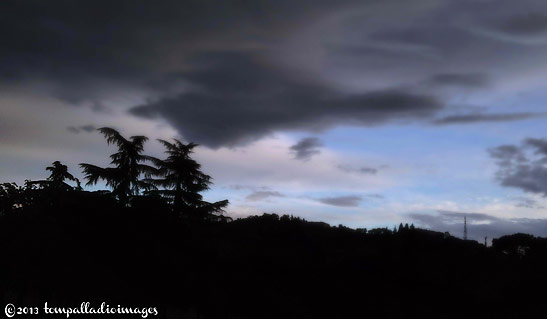 "It was a dark and stormy night..."
These seven words, joined at the hip, form an often mocked and parodied phrase quilled by English novelist Edward Buwler-Lytton in the opening sentence of his 1830 novel Paul Clifford.
Literary criticism aside, Buwler-Lytton's narrative just happens to set the stage perfectly for what I'm about to transcribe.
With my umbrella at the ready, the skies above a foreboding preamble of what's to come, I join my band of merry media – special guests of Insight Vacations on its abbreviated Country Roads of Italy journey – for a dark and stormy night of wine tasting and regional food in the piccolo borgo (little hamlet) of Scorgiano overlooking the Val d'Elsa in the Bel Paese's Tuscany region.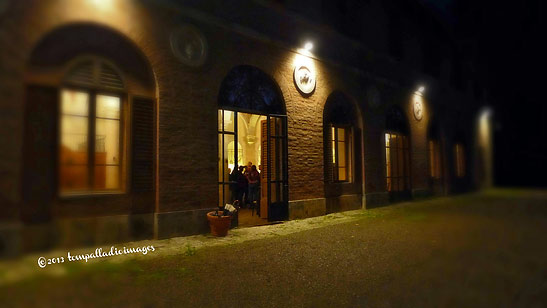 It is here, in the heart of Chianti wine country, that our Insight motorcoach comes to a full stop.
We dismount and head inside the renovated scuderie (stables) of a 17th century villa on the grounds of the Tenuta Bichi Borghesi (TBB) estate.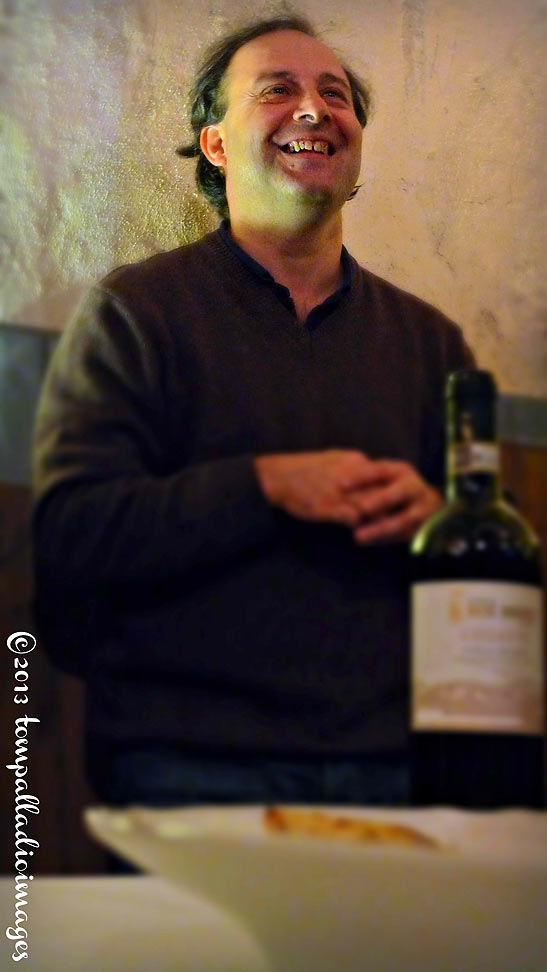 Welcomed by our gracious host, Niccolò Simonelli, we get down to serious business straight away underneath the barreled, brick stable ceilings, where horses and farm equipment once stood.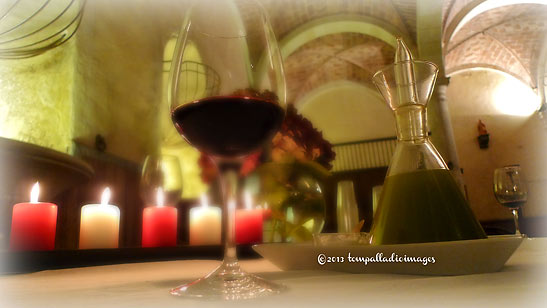 Around crunchy bruschetta drizzled with delicious extra virgin olive oil, and locally made salami and cheeses, the vintner-owner-general manager describes in detail the estate's trio of superb wines, all grown in the family's vineyards and blended and aged on site.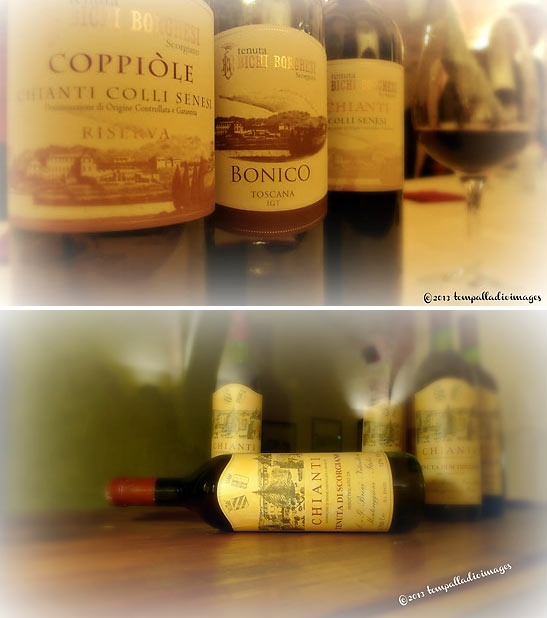 As each label is announced, eager attendants appear and pour generous portions of the grape into each of our glasses.
Coppiole Riserva DOCG. Swirl. Smell. Sip.
Bonico IGT. Swirl. Smell. Sip.
Chianti Colli Senesi DOCG. Swirl. Smell. Sip.
Two hours later and way too much wine consumed, but thoroughly enjoyed, we thank Niccolò and staff for their hospitality, exit the scuderie of TBB, passing well-lit glass cases along the way spotlighting bottles of long-ago vintages, and step out into the rain.
Our dark and stormy night of epicurean delight continues as we make our way on foot through the hamlet, clutching at umbrellas struggling to stay open against the windy downpour, and make our way to the launching pad.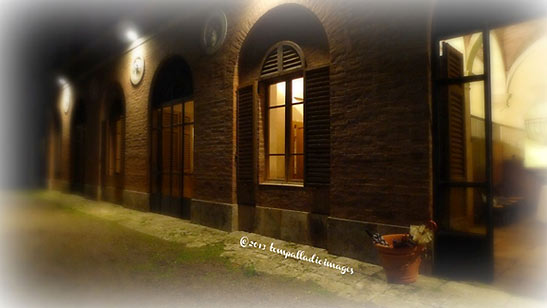 It's Ristorante L'Astronave, or Spaceship Restaurant, a former disco turned eatery, where the locals come for authentic, regional dishes. Nothing more, nothing less.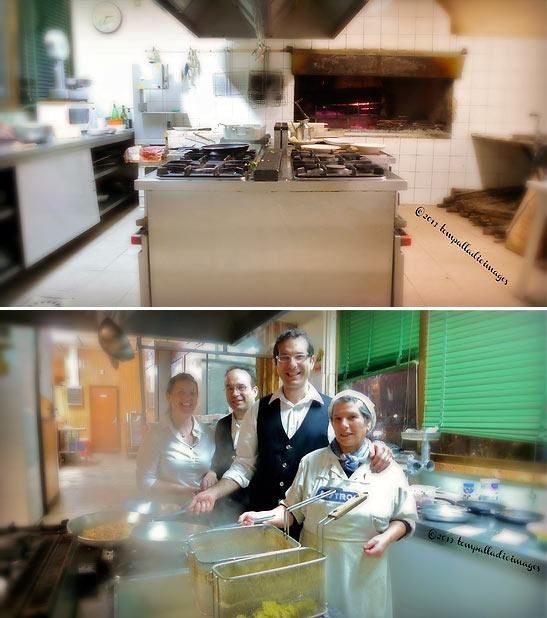 Nary the look of either the Kennedy Space Center or NASA's mission control, L'Astronave is a simple, straightforward, family-run trattoria. Mamma Flavia's the chef, son Marco's the headwaiter, and younger brother Franco and English fiancé Sarah bring up the rear. To be frank, the ambience is bare bones, but the kitchen's why we're here.
Already about half tossed from the wine tasting over at TBB, our band of merry media takes their places at one very long tavola, covered in lily-white tablecloths and accented by candlelight, that runs the length of the restaurant.
We've been promised authentic down-home Tuscan cooking by Belinda, Insight's tour director-slash-storyteller, and, by golly, we're going to have it!
Bottles of local red and white jump-start our dinner party, as Marco, brother and fiancé begin the parade of our five, count 'em, FIVE-course meal.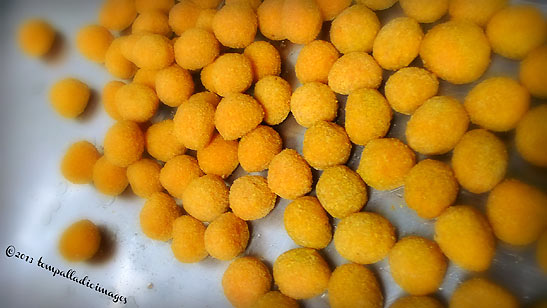 Gigantic trays of antipasti arrive filled with cold cuts, cheeses and olive Ascolani – minced meat-stuffed olives Ascoli Piceno style, battered and quickly deep-fried.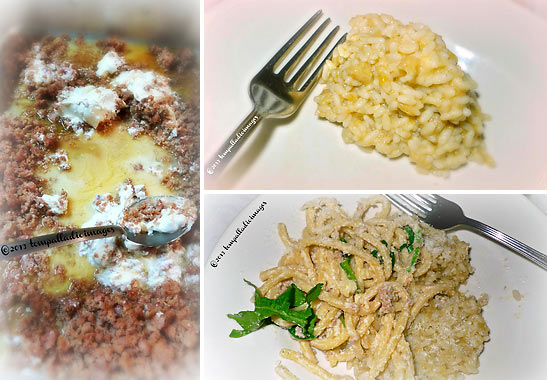 Our primo (first course) is a bis (two) of pasta: risotto and the Tuscan classic, pici (thick, hand-rolled strands) in a white pork ragù.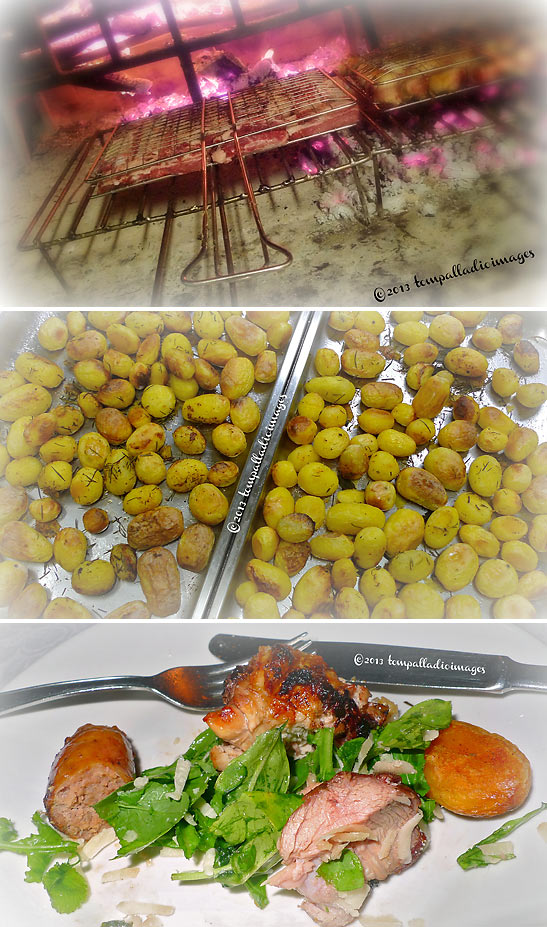 Next, a mixed-grill main course of pork chops, sausages, chicken and Tagliata Toscana (thin cuts of Tuscan beef cooked rare over an open fire), complimented with roasted new potatoes and market-fresh baby greens.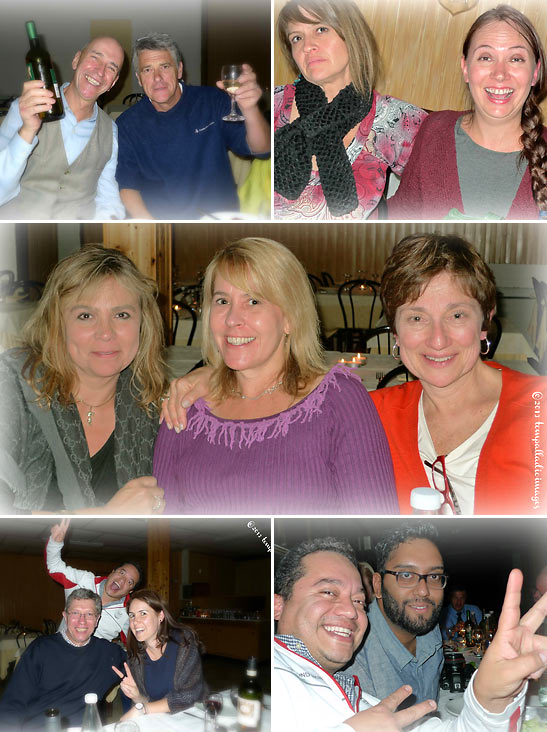 At this stage of our version of La Grande Abbuffata (The Big Feast) – the Franco-Italiano flick about four BFBs who gather at a country villa and gorge themselves into oblivion – a short pausa (break) is needed to allow the wait staff time to clear the table of spent dishes and prep for i dolci (desserts). Why don't we take five, too, and see how some of the band of merry media are holding up.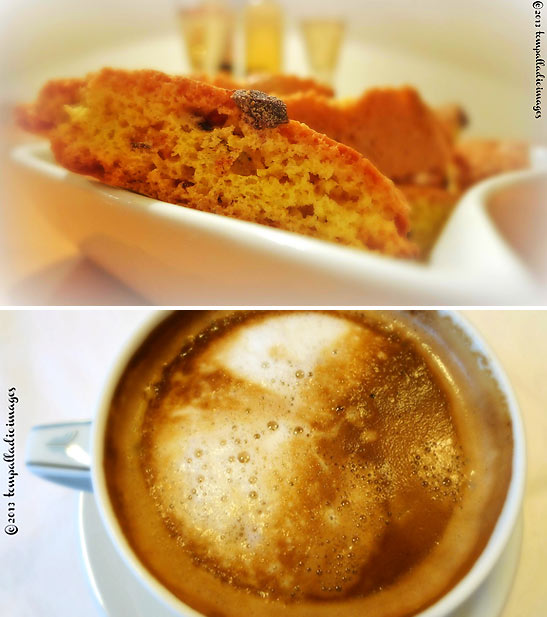 The best part of la cena (dinner) arrives, desserts in the form of the classic Torta della Nona (Grandmother's cake) and cantucci (or biscotti, twice-baked cookies) served with cordials of vin santo (sweet "holy" wine). And we close the book on this rather long feedbag with cups of strong espresso – Macchiato, per favore – all around.
Bellies full and heads slightly a buzz – no surprise there – we pub crawl our way out of Ristorante L'Astronave, through the still "dark and stormy night," clamor aboard the motorcoach, and head for our temporary abode, Borgo San Luigi, the sprawling Tuscan villa-estate, just over the hill and around the bend.
On the way, Belinda gives out tomorrow's marching orders: Luggage packed and standing outside your doors no later than 7:00 a.m. as we MUST depart for the Ferrari Museum in Maranello by 8 o'clock sharp.
YES, DRILL SERGEANT! someone anonymously yells out from the back of the motorcoach.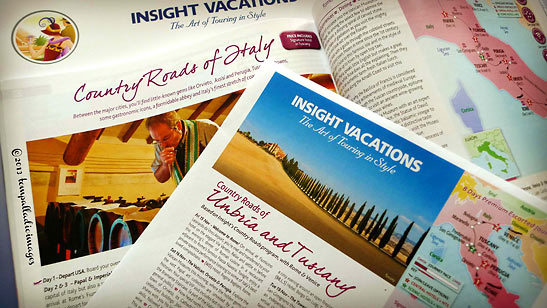 For complete information on Insight Vacations' 12 Italian premium and luxury-escorted itineraries, where you'll savor great wines and fine dining along the way, and over 100 journeys throughout Europe, just click HERE, or call toll free (888) 680-1241, or contact your travel agent.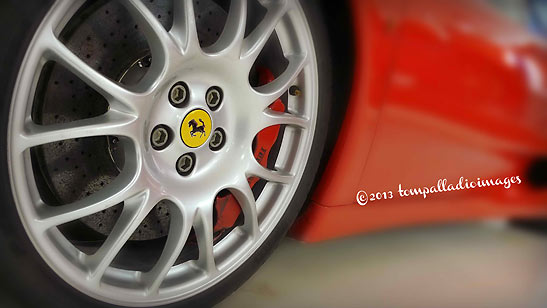 See you tomorrow inside the Ferrari Museum where we'll kick the tires on a few redheads.
BUONANOTTE!
Related Articles:
San Gimignano: Scraping the Tuscan Sky; Paparazzi at the Osteria; Chianti Pours Forth from Fonterutoli; Cortona: Under the Renovated Tuscan Sun; Linnertime in Spello; Take Me Home Country Roads